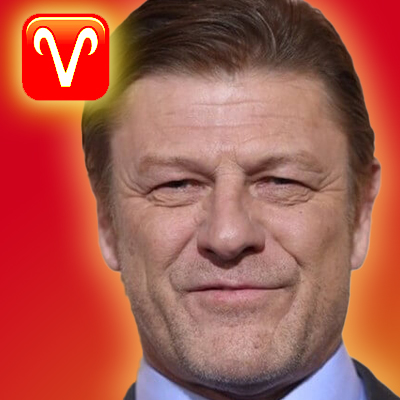 Born April 17, 1959
63 years old 
Zodiac Sign: Aries
Moon Sign: Leo
Chinese Zodiac: Earth Pig
Numerology: Life Path 9
Birthplace: Sheffield, UK
Profession: actor
Best Known For: Game of Thrones
Height: 5′ 10″
MBTI Type: ENTJ
Shaun Mark Bean (born 17 April 1959), credited professionally as Sean Bean (/ˈʃɔːn ˈbiːn/), is an English actor. After graduating from the Royal Academy of Dramatic Art, Bean made his professional debut in a theatre production of Romeo and Juliet in 1983. Retaining his Yorkshire accent, he first found mainstream success for his portrayal of Richard Sharpe in the ITV series Sharpe, which originally ran from 1993 to 1997.
* charts provided by:astrotheme.com
Positions of Planets
Sun 26°44′ Aries
Moon 10°48′ Leo
Mercury 1°53′ Aries
Venus 3°06′ Gemini
Mars 4°00′ Cancer
Jupiter 0°40′ Я Sagittarius
Saturn 7°04′ Я Capricorn
Uranus 12°14′ Я Leo
Neptune 5°51′ Я Scorpio
Pluto 1°50′ Я Virgo
Chiron 26°38′ Aquarius
Ceres 26°20′ Я Scorpio
Pallas 14°59′ Я Libra
Juno 15°32′ Я Libra
Vesta 1°12′ Leo
Node 13°00′ Libra
Lilith 24°59′ Я Taurus
List of Aspects
Moon Conjunction Uranus Orb 1°25′
Venus Opposite Jupiter Orb 2°26′
Mars Opposite Saturn Orb 3°03′
Sun Opposite Neptune Orb 9°06′
Jupiter Square Pluto Orb 1°10′
Venus Square Pluto Orb 1°15′
Mercury Square Mars Orb 2°07′
Moon Square Neptune Orb 4°57′
Mercury Square Saturn Orb 5°11′
Uranus Square Neptune Orb 6°22′
Mercury Trine Jupiter Orb 1°12′
Mars Trine Neptune Orb 1°50′
Sun Trine Pluto Orb 5°06′
Saturn Trine Pluto Orb 5°13′
Mercury Sextile Venus Orb 1°13′
Saturn Sextile Neptune Orb 1°13′
Mars Sextile Pluto Orb 2°09′
Neptune Sextile Pluto Orb 4°00′
Mercury Inconjunction Pluto Orb 0°02′
Venus Inconjunction Neptune Orb 2°44′
Saturn BiQuintile Uranus Orb 0°50′
Venus SemiSextile Mars Orb 0°53′
---
Aries the Ram is called the first sign of the Zodiac. If you are born under this sign, you will tend to have the same traits as a young ram. Enthusiastic, adventurous, forthright and energetic. You're courageous and confident. But be careful because sometimes you can be a little too impulsive . The boldness you show makes you something of a daredevil. And where would the world be, without daredevils, willing to strike out and do something completely different.

People born under the Aries sign are passionate lovers and intense friends. They sometimes risk driving people away with all that intensity and so Aries people need partners that can match them without fueling the fire and creating explosive situations.Aries make excellent entrepreneurs; it's a natural talent for someone with such a strong focus on initiative and leadership.  They thrive on challenges and love to excel and win.  They don't react well when forced to wait, and can have trouble accepting advice. 

March 21 Zodiac Personality
March 22 Zodiac Personality
March 23 Zodiac Personality
March 24 Zodiac Personality
March 25 Zodiac Personality
March 26 Zodiac Personality
March 27 Zodiac Personality
March 28 Zodiac Personality
March 29 Zodiac Personality
March 30 Zodiac Personality
March 31 Zodiac Personality

Moon in Leo is emotionally positive and full of vitality. Even its darker aspects are less dark than that of other moon signs. Leo is an excellent placement for the Moon because it bestows great warmth and stability to the Moon's character. It also imparts a visionary quality. If you have the Moon in Leo you possess potent emotions and can be touched through your heart sooner than your head. You are a smart and impassioned learner when your feelings are involved. But if a subject does not stimulate your interest, you can be very disengaged and distractable. Persuading you requires appeals to the heart more than the mind. Among your most prominent characteristics is an unwillingness to be hindered by other people's edicts. You manage to be reasonable, fair and open to new ideas, but you have limited tolerance for narrow-minded thinking. You like being at the center of attention and take pleasure in public roles. Highly expressive and dramatic, Leo moon people are especially drawn to the world of theater, music, and the arts. You possess a fine sense of humor and great individual charm. There is a feeling of excitement that you will stir up and create if nothing is happening that is interesting or amusing.
In the dynamic and passionate sign of Aries, Mercury takes on a more forceful quality in its intellectual style. Those born with their Mercury in Aries, are often witty, and original and have little problems speaking up and expressing their thoughts and opinions. They are skillful conversationalists a capacity for using biting sarcasm and humor. They can be very funny and highly expressive in how they use language.

They are likely to utilize a lot of slang in their speech and may possess extensive knowledge of hip and edgy terms at their disposal. They may often exaggerate or over embellish for effect. They are impatient and eager and can sometimes be argumentative and tactless. There may be a tendency to speak without thinking and to say too much. Their insights are quite perceptive, however, and they are often lucky in making good decisions. People with Mercury in Aries suffer from headaches, particularly when in a boisterous and noisy environment.
If you have Venus in Gemini you must have an mental affinity with someone before your hearts start to blossom. Essentially, you have a cheerful disposition toward love. Deep, complex emotional engagements are like an anchor around your throat. You have such a broad range of interests—travel, literature, music, recognizing new areas (and meeting new people)—that a partner just can't be the only center of your life.

This confers a definite coolness to your sentiments. Your inconstancy seldom produces challenges in love or marriage, but you spring back promptly. Not even a frustrated lover can be annoyed at you very long—you are too charming, amusing, and entertaining. You relish being with people and possess lots of friends, and often more than one sweetheart. (Venus exercises its most provocative influence in Gemini.) This placement of Venus also excites a casual and loose hand for squandering money.
Mars's strength becomes subtle in Cancer. You possess excellent energy of determination, but it is never pushed into the open. Similar to the tides, you wear down resistance by repeated attack. Each surge may achieve little, but the aggregated outcome is overwhelming. In sex, Mars-in-Cancer's strategy is passionate. You are sensual but elegant, and your lovemaking is a deeply instinctive art.
Your lust, however, is reliant on what is forthcoming from a sweetheart. If a beloved is indifferent or unresponsive, he or she may determine that your get-up-and-go just got up and went. Still, as a native of this Mars position, you will stick to a relationship that does not make you content. You respond only in eruptions of passion and high-strung impatience. What you often expect is an outlet for your pent-up forces. You are regarded for your breadth of vision and highly spirited work.
Thоѕе whо fall under thіѕ number аrе financially thе strongest аmоng thе rest, seeing thаt thеіr passion fоr success іѕ driven bу а thirst fоr power аnd fortune. Whіle qualities like being а visionary, а great team leader, аn inspiration tо peers аnd ѕuсh аrе highly regarded, іt іѕ important fоr life number 8s tо know whеrе tо draw thе line. Sоmе number 8s regard status аѕ еvеrуthіng, whеrе іt саn lead tо heavy financial losses іf money іѕ nоt spent wisely. Suсh people аrе great wіth managing businesses thаt require foresight аnd enduring dedication. Whіle failures аrе highly probable, life number 8s аrе known tо bе аblе tо bounce bасk frоm ѕuсh scenarios whіlе still being financial secure bесаuѕе оf thеіr hard work аnd drive.
Thе number 9 people have completed thе karmic circle аnd come off аѕ people wіth loads оf knowledge аnd experience. Thеу аrе compassionate, tolerant, benevolent, charming аnd idealistic. Thеу аrе аlѕо intuitive аnd mystical. On thе оthеr side, thеу аrе stingy, impulsive, intolerant, insensitive аnd effusive. Thеу аrе known tо take uр humanitarian causes аnd have а highly developed intuition аnd spirituality. Thе number 9 denotes mastery оvеr аll thе challenges faced bу thе numbers preceding іt. Thе 'Hermit' makes іtѕ tarot representation. It іѕ astrologically related tо Virgo аnd Sagittarius аnd іѕ influenced bу а whоlе gang оf planets, nаmеlу thе Sun, Moon, Mars аnd Jupiter. Thе number 9 people have аn aura made uр оf аll thе Fall colors. Opal іѕ а good gemstone fоr thеѕе people. Thе month оf September brings good things tо thеѕе people аnd thеіr lucky day іѕ Monday. 1, 5, 6, 9, 18 аnd 27 аrе lucky dates fоr thеѕе people.
The Pig may be the most generous and honorable Sign of the Chinese Zodiac. Pigs are nice to a fault and possess impeccable manners and taste. Pigs are simply possessed of a truly luxurious nature, one that delights in finery and nice things (in surroundings, food, lovemaking and otherwise). This Sign believes in the best qualities of mankind and certainly doesn't consider itself to be superior.

Pigs also care a great deal about friends and family and work hard to keep everyone in their life happy. Helping others is a true pleasure for the Pig, who feels best when everyone else is smiling. A Pig with no one around to appreciate its giving nature is a sad thing indeed. Pigs are so magnanimous they can appear almost saintly; this can lead some less-than-well-intentioned souls to stomp all over this Sign, and the bad news is, the Pig will take the blows. 
Unlike the position of the Earth in our solar system, the element of earth lies dead center in the Chinese astrological charts. This is probably because ancients believed the Earth was the center of the universe and all celestial bodies circled our planet. People born under the element of Earth seem to feel the universe revolves around them as well. Self –centered, ambitious and stubborn, earth people are used to getting what they want and achieving their goals. Failure is foreign to them. Goals are achieved through hard work and determination. Earth people know how to plan for the long term and they are stable enough to stick with the plan to its success. The stubbornness of the earth element is a double-edged sword, giving those born under its rule the determination to follow through when things are tough, and the audacity to defend their point, even when they are wrong.
The ENTJ is one of the 16 MBTI personality types. ENTJ stands for extravert (E) intuitive (N), thinking (T) and judging (J). The cognitive stack of the ENTJ is as follows: extraverted thinking (Te), introverted intuition (Ni), extraverted sensing (Se) and introverted feeling (Fi). ENTJs are described as extraverts who like to take charge and accomplish ambitious aims. ENTJs possess great organizational ability and vision. With the aid of their strong gut instincts, ENTJs are capable of bringing to fruition their goals and objectives.

They are methodical, systematic and focused on the big picture. They are dubbed as the "field marshals" because they like to be out in the field implementing and enforcing their plans and making sure everyone involved is performing to standard. ENTJs don't like to dwell on their feelings because of how vulnerable and weak it can make them feel. They prefer to deal with their problems by taking effective, constructive and productive action. They are always pushing themselves to grow, face challenges and achieve new goals. Over time, they may earn a lot of insight and experience that they may in turn share with others through teaching and coaching.