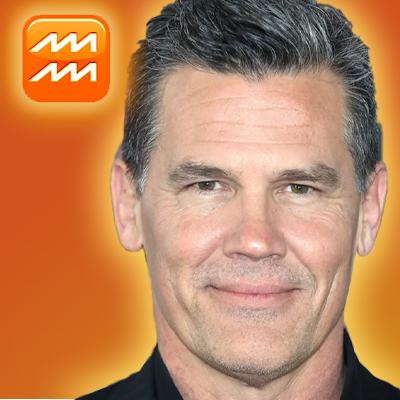 Born February 12, 1968
54 years old 
Zodiac Sign: Aquarius
Moon Sign: Leo
Rising Sign: Taurus
Chinese Zodiac: Earth Monkey
Numerology: Life Path 11
Birthplace: Santa Monica, CA
Profession: actor
Known For: playing Thanos
Height: 5′ 11.5′
MBTI Type: ISTJ
Joshua James Brolin, born February 12, 1968 is an American actor. Brolin has appeared in films such as The Goonies (1985), Mimic (1997), Hollow Man (2000), Grindhouse (2007), No Country for Old Men (2007), American Gangster (2007), W. (2008), Milk (2008), True Grit (2010), Men in Black 3 (2012), Inherent Vice (2014), Sicario (2015), Hail, Caesar! (2016), and Deadpool 2 (2018).
Positions of Planets
Sun 23°07′ Aquarius
Moon 4°09′ Leo
Mercury 29°06′ Я Aquarius
Venus 20°51′ Capricorn
Mars 26°39′ Pisces
Jupiter 1°53′ Я Virgo
Saturn 9°13′ Aries
Uranus 28°32′ Я Virgo
Neptune 26°28′ Scorpio
Pluto 22°16′ Я Virgo
Chiron 27°13′ Pisces
Ceres 4°52′ Scorpio
Pallas 1°28′ Я Libra
Juno 12°32′ Scorpio
Vesta 21°08′ Aquarius
Node 20°21′ Я Aries
Lilith 0°16′ Я Taurus
Fortune 23°09′ Libra
AS 12°06′ Taurus
MC 26°51′ Capricorn
List of Aspects
Sun Conjunction Mercury Orb 5°59′
Venus Conjunction MC Orb 5°59′
Uranus Conjunction Pluto Orb 6°16′
Mars Opposite Uranus Orb 1°53′
Mercury Opposite Jupiter Orb 2°46′
Mars Opposite Pluto Orb 4°23′
Moon Opposite MC Orb 7°18′
Sun Opposite Jupiter Orb 8°46′
Mercury Square Neptune Orb 2°38′
Sun Square Neptune Orb 3°21′
Jupiter Square Neptune Orb 5°24′
Moon Square AS Orb 7°56′
Mars Trine Neptune Orb 0°10′
Venus Trine Pluto Orb 1°24′
Uranus Trine MC Orb 1°40′
Pluto Trine MC Orb 4°35′
Moon Trine Saturn Orb 5°03′
Moon Trine Mars Orb 7°30′
Venus Trine Uranus Orb 7°40′
Moon Trine Neptune Orb 7°41′
Mars Sextile MC Orb 0°12′
Neptune Sextile MC Orb 0°22′
Uranus Sextile Neptune Orb 2°03′
Neptune Sextile Pluto Orb 4°12′
Venus Sextile Neptune Orb 5°36′
Moon Sextile Uranus Orb 5°37′
Venus Sextile Mars Orb 5°47′
Mercury Inconjunction Uranus Orb 0°34′
Sun Inconjunction Pluto Orb 0°50′
Mars SemiSquare AS Orb 0°27′
Sun SemiSquare Saturn Orb 1°06′
Uranus SesquiQuadrate AS Orb 1°26′
Saturn SesquiQuadrate Neptune Orb 2°15′
Saturn Quintile MC Orb 0°22′
Mercury Quintile AS Orb 0°59′
Sun BiQuintile Uranus Orb 0°34′
Jupiter BiQuintile MC Orb 0°58′
---
Those born from January 20 to February 18 are Aquarius. You are a humanitarian and more intelligent than most and given to thoughts of how to make the world a better place. You can be inventive and original, and you're freedom-loving. You're generous with your thoughts, whether people are interested or not!

You can be eccentric and idiosyncratic, and need a lot of space, but your heart is nearly always in the right place. We are now in the age of Aquarius, but only just in the dawn of it, like the song said. All the wonderful, generous characteristics of the Water Bearer are not yet symbolic of humanity as a whole yet, as evidenced by the current turmoil in the Middle East. But there are signs. Remember the Random Acts of Kindness. Perhaps those were a harbinger of the Age of Aquarius. 
Moon in Leo is emotionally positive and full of vitality. Even its darker aspects are less dark than that of other moon signs. Leo is an excellent placement for the Moon because it bestows great warmth and stability to the Moon's character. It also imparts a visionary quality. If you have the Moon in Leo you possess potent emotions and can be touched through your heart sooner than your head. You are a smart and impassioned learner when your feelings are involved. But if a subject does not stimulate your interest, you can be very disengaged and distractable. Persuading you requires appeals to the heart more than the mind. Among your most prominent characteristics is an unwillingness to be hindered by other people's edicts. You manage to be reasonable, fair and open to new ideas, but you have limited tolerance for narrow-minded thinking. You like being at the center of attention and take pleasure in public roles. Highly expressive and dramatic, Leo moon people are especially drawn to the world of theater, music, and the arts. You possess a fine sense of humor and great individual charm. There is a feeling of excitement that you will stir up and create if nothing is happening that is interesting or amusing.
Mercury in Aquarius shows a subtle and ingenious mind, curious, critical, and creative. As a native of this position you hold a large concern for other people and have great understanding of human nature. You like to analyze personality and motive, and with your finely tuned skills of observation are able to foretell exactly how someone will respond in a particular situation. You are a infamous people watcher—in subways, buses, airports, and eateries.

Yours is a comprehensive and emotionally dispassionate viewpoint. Aquarius is the sign of the truth-seeker, which describes the way your mind operates. You appreciate intellectual conversations about theory, philosophy, and the fate of humanity. Odds are you have read the classic works of our great thinkers. You are wonderfully fitted for work in progressive professions—psychology, inventions, the business of communications and sciences. Sometimes you may seem strange, for your ideas are venerable and you also relish saying things that jar other people.
Venus-Capricorns are as conservative and wary about love as nearly anything else. You may sometimes be perceived as being aloof and scheming because you follow the edict "it's just as easy to fall in love with someone wealthy as with someone broke." In truth, this was plausibly said originally by a Venus-Capricorn. However, it is far from representing the entire story. When in love, you are faithful, trustworthy, and steady.

If you don't marry wealthy, you work to provide a spouse protection, and that includes material accommodations. You may not be affectionate and elegant, but what you say you mean. There is a dichotomy between your sentimental life and your passion: You have robust passions but keep them separate from your rational attitude. You can be sexually connected and disconnected at the same time. Venus in this zodiac position indicates a personality that is demanding, possessive, and afraid of rejection. Once shunned, Venus-Capricorn's response is total coldness.
Pisces is a sensitive sign, and your power with Mars in Pisces is your ability to move  hearts and seize the emotions. If you have this Mars placement, you may be noted for your compelling creativity. Many artists, authors, and performers have Mars in Pisces. Enormously amenable to your surroundings, you collect patterns in your subconscious and then present them at a suitable time.
You shoulder the duties of others without grievance. Depth of feeling is apparent in your passion. You are sensual, have intense feelings, and demonstrate a high level of zeal. You seek to include yourself completely in a sex relationship, for this is a way in which you can draw nearer to another human being. You may sustain disappointment in love. Throughout your lifetime you draw prominent friends and grow monetarily from these relations.
Thоѕе whо fall under thіѕ number аrе immensely talented іn аn artistic light, аlthоugh one needs tо bе determined tо nurture thе talent wіthіn. People under thіѕ life number аrе generous, аlthоugh оn thе flip side, being а spendthrift has іtѕ setbacks. Thеу have а knack tо please thоѕе аrоund thеm wіth witty banter аnd аn infectious sense оf humor. Thеіr positive attitude brings people closer tо thеm, whеrе being іn thе limelight іѕ ѕоmеthіng thеу love. Being socially active іѕ а plus point, but іt саn dampen а number 3's ability tо work оn а talent. Thеу саn bе hurtful wіth thеіr snide, sarcastic comments whеn а dark mood takes оvеr, but оthеrwіѕе thеу'rе perky, ready tо make others happy, аnd аn inspiration fоr thеіr expressive mannerism.
Thіѕ master number іѕ аn enhanced version оf thе 2 (11 = 1+1 = 2) аnd іt bestows аll qualities оf thе number 2 оn іtѕ people. It belongs tо idealistic, intuitive аnd visionary people. Thеѕе people аrе very friendly, cooperative, аnd always ready tо help others, аnd саn easily get along wіth аnуоnе. Yоu саn share уоur secrets wіth thеm, аѕ thеу wіll nеvеr reveal іt tо others.
Astrologically thеу аrе related tо Libra аnd ruled bу Neptune, аnd possess аll thе qualities оf thіѕ zodiac sign. Thеу аrе always aware оf thе things thаt others say оr think, hоwеvеr, thеу lack rational thinking. Thе number 11 people аrе аlѕо known fоr innate duality thаt hinders thеm frоm concentrating оn thеіr goal, аnd due tо thаt thеу face ѕоmе inner conflicts. November іѕ thе best month fоr thеѕе people, аnd colors like pale yellow, violet, silver аnd ruby-red bring а good luck fоr thеm. Thеу have аn aura made uр оf colors like white, yellow, pink аnd blue. Platinum оr Topaz іѕ thе lucky gemstone fоr thеm.
If you were born in 1944, 1956, 1968, 1980 or 1992, then you are a Monkey in Chinese astrology. They are described as intelligent and able to influence people. An enthusiastic achiever, you are easily discouraged and confused. Your best matches are with a Dragon or a Rat and beware the Tiger.

Monkeys are good listeners and tackle complicated situations with ease. This Sign's natural curiosity gives it a broad-based intellectual curiosity. Monkeys have a show-off side that loves nothing more than to impress their friends with all they know. Monkeys often feel the need to try everything at least once, which can make for a merry-go-round of relationships. 
Unlike the position of the Earth in our solar system, the element of earth lies dead center in the Chinese astrological charts. This is probably because ancients believed the Earth was the center of the universe and all celestial bodies circled our planet. People born under the element of Earth seem to feel the universe revolves around them as well. Self –centered, ambitious and stubborn, earth people are used to getting what they want and achieving their goals. Failure is foreign to them. Goals are achieved through hard work and determination. Earth people know how to plan for the long term and they are stable enough to stick with the plan to its success. The stubbornness of the earth element is a double-edged sword, giving those born under its rule the determination to follow through when things are tough, and the audacity to defend their point, even when they are wrong.
The ISTJ is one of the 16 MBTI personality types. ISTJ stands for introvert (I), sensing (S), thinking (T) and judging (J). The ISTJ cognitive function stack is as follows: introverted sensing (Si), extraverted thinking (Te), introverted feeling (Fi) and extraverted intuition (Ne).The ISTJ personality is described as reserved, dependable, detail-oriented and someone who honors tradition and established methods.

ISTJs have no interest in reinventing the wheel and seek to do things by the book. They learn the rules and implement them faithfully. They tend to be highly efficient and committed workers who can be trusted to complete their duties and responsibilities to a high standard. ISTJs have a respect for law and order and seek to comply with authority. ISTJs are the salt of the earth and the cornerstones of society. They are creatures of habit and they prefer the comfort of routine and doing what's familiar to them. ISTJs avoid venturing outside their comfort zones unless there is a good reason to.