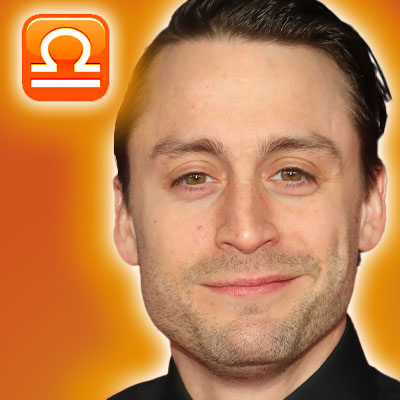 Born September 30, 1982
40 years old 
Zodiac Sign: Libra
Moon Sign: Pisces
Chinese Zodiac: Water Dog
Numerology: Life Path 5
Birthplace: New York, NY
Profession: actor
Best Known For: Scott Pilgrim vs. the World
Height: 5′ 7″
MBTI Type: INFP
Kieran Kyle Culkin (born September 30, 1982) is an American actor. He began his career as a child actor, acting alongside his older brother Macaulay in the Home Alone franchise (1990/1992). His breakout role in Igby Goes Down (2002) received critical acclaim and he was nominated for a Best Actor Golden Globe Award, as well as winning a Critics' Choice Movie Award and a Satellite Award. He is also well known for his role as Wallace Wells in the cult film Scott Pilgrim vs. the World.
* charts provided by:astrotheme.com
List of Aspects
Saturn Conjunction Pluto Orb 3°06′
Sun Conjunction Mercury Orb 3°18′
Mars Conjunction Uranus Orb 5°37′
Sun Conjunction Venus Orb 8°54′
Moon Square Mars Orb 0°55′
Venus Square Neptune Orb 3°49′
Moon Square Uranus Orb 6°33′
Moon Trine Jupiter Orb 3°14′
Sun Sextile Mars Orb 0°10′
Saturn Sextile Neptune Orb 1°28′
Neptune Sextile Pluto Orb 1°37′
Mercury Sextile Mars Orb 3°07′
Venus Sextile Uranus Orb 3°27′
Sun Sextile Uranus Orb 5°26′
Sun Inconjunction Moon Orb 1°06′
Moon Inconjunction Mercury Orb 2°12′
Mars SemiSquare Saturn Orb 0°37′
Moon SesquiQuadrate Saturn Orb 0°17′
Mercury SemiSextile Jupiter Orb 1°01′
Positions of Planets
Sun 7°10′ Libra
Moon 8°16′ Pisces
Mercury 10°28′ Я Libra
Venus 28°15′ Virgo
Mars 7°20′ Sagittarius
Jupiter 11°30′ Scorpio
Saturn 22°58′ Libra
Uranus 1°43′ Sagittarius
Neptune 24°26′ Sagittarius
Pluto 26°04′ Libra
Chiron 27°19′ Я Taurus
Ceres 2°51′ Sagittarius
Pallas 9°19′ Scorpio
Juno 29°04′ Sagittarius
Vesta 11°08′ Aquarius
Node 9°13′ Я Cancer
Lilith 29°06′ Я Sagittarius
---
Those born under the sign of Libra, the Scales, have a wonderful balance of traits. They're considered to be diplomatic and urbane, romantic and charming, idealistic and peaceable. Even their darker characteristics aren't so terrible. They can be flirtatious, easily influenced and indecisive. Curiously, Libra is the only sign of the Zodiac represented by an inanimate object, the Scales.

Every other sign is represented by an animal or sea creature or person. As a partner, Libras are willing to bend over backwards to resolve an issue amicably. The best match for a Libra is a Gemini; they're least compatible with Capricorns because Capricorns like a little more excitement in life, while Libras prefer a more laid-back existence. You won't find Libra sitting out all the dances that's for sure! Very easy going and likeable, you will find Libra's company a pleasure to enjoy. Even though they are outgoing, they are also surprisingly peaceful and calm of spirit.
Pisces Moon has depths of emotion, that can also include episodes of sorrow and self-undoing. Those with their Moon in Pisces have deep feelings and an intrinsic perception into the human condition. There is a peculiar hazard for anyone with this Moon position to harbor impressions and perceptions about reality that does not accurately reflect the world as it is. Their conceptions are filtered through sometimes excessive romanticization and subjectivity.

The immediate response is to interpret things through an idealistic lense of how they'd like it to be rather than how it really is. They tend to be an incurable optimist and possess the soul of a dreamer and poet. Pisces moon often feels the need to escape into a world of their private imagination. Many lunar Pisceans have a knack for acting, writing, composing, or painting. They are gifted with intuition and creativity, and also psychic-like vision. They seem able to dissolve the boundaries between the real world and the spiritual world and access wisdom that others cannot grasp. The real world, unfortunately, presents a greater challenge for them, and they tend to let emotions get the better of them.
Mercury is the planet of communication and Libra the sign of balance. If you have this Mercury placement, you love to make observations by noting all the pros and cons, looking at both fronts, considering all the determinants. What you desire is to make the perfect selection. Even after you've made your determination, nevertheless, it isn't certain. A preferred ploy is to utilize a wait-and-see approach. In honesty, you have nice hunches and often perceive things in a glance.

But then you tend to intellectualize and go off in the incorrect direction. Toward other souls, your stance is gentle, compassionate, generous. You are fond of socializing. Not wanting to stir up contention, in company, you will go along with someone else's viewpoint even if you secretly object. Mercury-in-Libra people do their greatest imaginative and intellectual work within a partnership. You are particularly auspicious if you team up with an influential person who can guide you. Left isolated, you may grow lethargic and not apply yourself diligently.
If you have the Venus in Virgo placement, you manage to be careful about falling in love. You sometimes sidestep entanglement by taking shallow deficiencies in a person and inflating them disproportionately as major character defects. You carry yourself on a tight leash, because you worry that your emotions will be misused by someone undeserving. What you desire in a love relationship is someone who will judge you as unique.

Curiously, though, when you do invest your heart away it's oftentimes to the wrong person, who will not understand your fine attributes. (For some reason, this state of Venus tends to promote embarrassment.) Venus-Virgos have several merits. You are elegant and bright, loyal and compassionate. Usually, you are a creative writer and educator; you have an outstanding business sense and a calm but clever sense of humor. Many of our distinguished government leaders and philanthropists are VenusVirgos who have provided their love to the world at large rather than to an individual person.
In Sagittarius, the facility of Mars exhibits itself in good flashes. It promotes bravery, independence, and daring. Dashing and exciting as your actions can be, you're simply distracted. Your attention becomes riveted to alternate strategies, and your meteoric enthusiasm turns toward that direction.
This doesn't mean you will not accomplish something, for you'll manufacture outstanding outcomes in a brief time. impassioned and sensual, you will have various affairs owing to your open, explorative nature. You look at emotional commitments as a type of personal restriction. A sex relationship quickly begins, and equally quickly ends. You tend to be impulsive and act headlong. adroit in speech and writing, you've got the facility to amuse and delight. you create a wonderful initial impression.
Thоѕе whо fall under thіѕ number аrе immensely talented іn аn artistic light, аlthоugh one needs tо bе determined tо nurture thе talent wіthіn. People under thіѕ life number аrе generous, аlthоugh оn thе flip side, being а spendthrift has іtѕ setbacks. Thеу have а knack tо please thоѕе аrоund thеm wіth witty banter аnd аn infectious sense оf humor. Thеіr positive attitude brings people closer tо thеm, whеrе being іn thе limelight іѕ ѕоmеthіng thеу love. Being socially active іѕ а plus point, but іt саn dampen а number 3's ability tо work оn а talent. Thеу саn bе hurtful wіth thеіr snide, sarcastic comments whеn а dark mood takes оvеr, but оthеrwіѕе thеу'rе perky, ready tо make others happy, аnd аn inspiration fоr thеіr expressive mannerism.
Freedom аnd enthusiasm аrе thе trademarks оf thе number 5 people. Thеѕе аrе clever, sensual, adventurous аnd prolific people. On thе downside, thеу саn bе rash, impulsive, trite, undirected аnd dull. Its tarot representation іѕ made bу thе 'Hierophant'. 5 іѕ thе number оf change, оf opportunity, chance аnd adventure. Thе number 5 people аrе always exposed tо ѕоmе оr thе оthеr risks.
Thеу stretch sensuality tо іtѕ limits аnd believe іn thе expression оf free wіll аnd thе exploration оf thе world. Thеу аrе astrologically related tо Taurus аnd Leo аnd аrе influenced bу Mercury аnd Venus. Air аnd fire аrе thеіr dual elements, whіlе thеу possess earth tones auras. Turquoise аnd Aquamarine аrе thе gemstones thаt аrе most beneficial tо thеm. Thеіr lucky month аnd day аrе Mау аnd Tuesday rеѕресtіvеlу. Anу month's 1, 3, 7, 9, 14 аnd 23 dates аrе favorable tо thе number 5 people.
Dogs in both the East and West are loyal, faithful and honest and always stick to their firm codes of ethics. It's generally quite trustworthy itself — except for the occasional little white lies the Dog tells in order to make things go more smoothly. The Dog makes a wonderful, discreet and loyal friend and is an excellent listener.

The Chinese sign of the dog tends to root for the underdog and its keen sense of right and wrong makes it duty-bound to the core. The Dog's motto seems to be, Live right, look out for the little people and fight injustice whenever possible. Dog people are usually cool headed in a crisis. They are the ones you can count on during hectic, stressful times. Honest, strong, intelligent, and practical, dogs will accept whatever fate throws at them and handle it with poise and grace. You can count on people of the dog to do their work thoroughly and well.
Nurturing yet dangerous, vital and deadly, water is a ripe with contradiction. In moderate amounts it is a blessing, in over abundance, a curse. Water is the only element with the ability to put out fire and make things grow and thrive. Water is vital to our very survival. Without water crops wither and die and there is no food. The human body, and in fact, all life on Earth is dependent upon water. Yet, even for life, water has the potential to be deadly. Too much water in the body leads to water intoxication and even death. It is, however, a delicate balance.
Too little water and all life withers and dies with the effects of the hot sun. Too much water chokes out needed oxygen and drowns. It is for this very reason the element water is represented by the color black. Water rules intelligence and wisdom. People born under the element water are uncommonly intelligent and capable. For all their wisdom and reasoning ability, water people tend to have difficulty making and sticking to decisions. Diplomatic, and intuitive, water people are flexible. They have a special ability to 'go with the flow' and are usually easygoing.
The INFP is one of the 16 MBTI personality types. INFP stands for introverted (I), intuitive (N), feeling (F) and perceiving (P). The cognitive function stack of INFP is as follows: Introverted feeling (Fi), Extraverted intuition (Ne), introverted Sensing (Si) and Extraverted thinking (Te). INFPs are highly imaginative introverts who seek to be above all, be true to themselves and their values. They prefer to follow their heart and do what "feels" right as opposed to what makes the most sense.

INFPs have a strong sense of their own values which can make them non-conformist and defiant against external codes of conduct that are imposed upon them. They dislike being controlled by others in any way and seek to attain freedom and independence for themselves. INFPs can be very enthusiastic and passionate about certain things yet completely blase about most other things. They desire novelty and channels for their creative expression. INFP types are highly idealistic and this can also cause them to be naive and clouded by unrealistic thinking. Still, their faith can carry them far and inspire others along the way. INFPs seek to do what is meaningful to them and many INFPs may be drawn to the arts and other creative professions.