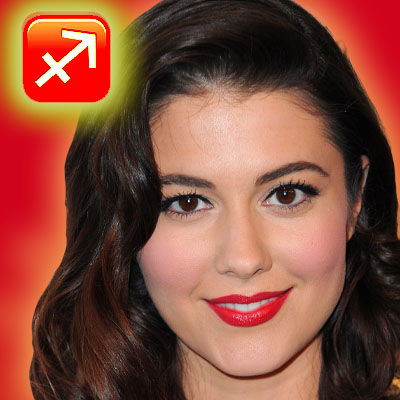 Born November 28, 1984
38 years old 
Zodiac Sign: Sagittarius
Moon Sign: Aquarius
Chinese Zodiac: Wood Rat
Numerology: Life Path 7
Birthplace: Rocky Mount, NC
Profession: actress
Known For: Scott Pilgrim vs. the World
Height: 5′ 8″
MBTI Type: INFP
Mary Elizabeth Winstead (born November 28, 1984) is an American actress and singer. Her first significant role came as Jessica Bennett on the NBC soap opera Passions (1999–2000) and she went on to appear in TV series such as Tru Calling (2004) and films including the superhero film Sky High (2005).
* charts provided by:astrotheme.com
List of Aspects
Mercury Conjunction Neptune Orb 2°10′
Venus Conjunction Jupiter Orb 3°34′
Sun Conjunction Uranus Orb 6°42′
Moon Conjunction Mars Orb 8°40′
Moon Square Saturn Orb 2°42′
Mars Square Pluto Orb 6°21′
Sun Sextile Mars Orb 3°06′
Neptune Sextile Pluto Orb 3°09′
Venus Sextile Saturn Orb 3°30′
Mars Sextile Uranus Orb 3°36′
Moon Sextile Uranus Orb 5°04′
Mercury Sextile Pluto Orb 5°19′
Sun Quintile Moon Orb 0°13′
Jupiter SemiSextile Uranus Orb 0°42′
Moon SemiSextile Venus Orb 0°47′
Positions of Planets
Sun 6°39′ Sagittarius
Moon 18°26′ Aquarius
Mercury 28°04′ Sagittarius
Venus 17°38′ Capricorn
Mars 9°45′ Aquarius
Jupiter 14°04′ Capricorn
Saturn 21°08′ Scorpio
Uranus 13°22′ Sagittarius
Neptune 0°15′ Capricorn
Pluto 3°24′ Scorpio
Chiron 5°52′ Я Gemini
Ceres 14°17′ Я Taurus
Pallas 6°17′ Pisces
Juno 2°10′ Libra
Vesta 8°12′ Libra
Node 27°23′ Я Taurus
Lilith 9°54′ Я Aries
---
Sagittarians have a positive outlook on life, are full of energy, versatility, adventure and eagerness to experience the new and different. They enjoy traveling and exploration; they are ambitious and optimistic, even in the face of disappointment.. Their strongly idealistic natures can also suffer many disappointments without being affected. They are honorable, honest, trustworthy, truthful, generous and sincere, with a passion for justice.

They are usually on the side of the underdog in society they will fight for any cause they believe to be just, and are prepared to be rebellious. They balance loyalty with independence. Sagittarians are usually modest and are often religious, with a strong sense of morality, though they tend to overemphasize the ethical codes they follow and worship beliefs about God rather than God Himself. This means that, negatively, they regard rigid, unloving, intolerant adherence to ritual and conventional codes as more important than the truths they symbolize or embody.
Aquarius is a most amenable sign for the Moon to be in because here the Moon's auspices confer commendable qualities of sensitivity and understanding. Aquarius is the astrological sign of intellectual thought and altruism. In this sign, the Moon's effect is to present clear reasoning with humane interests. With your Moon in Aquarius, you are clearheaded, instinctive, and inventive. Your intuitions are evenhanded and spot on. Your initial reactions are objective, scientific, and oriented towards understanding from the human point of view. The temperament is neither too emotional nor too cerebral. You are dreamy but not idiosyncratic but display a wonderful talent for expression. Aquarius moon people make for delightful companions and their affable nature enchants all types of people. They are people-oriented, sociable, and outgoing. However, they never become so emotionally entangled with others that it alters their own life. They are interested in concepts, philosophy, and erudition. They are well-rounded intellectually and possess a wide array of interests in a variety of areas and people.
If you have this position of Mercury you are sharp and clever, jaunty, to the point. You cherish liberty of expression and cannot tolerate the notion of any power of suppression over what you have to say. Your brain is restless, curious, always scanning for stimulation. You may bounce from project to project or switch jobs constantly. Travel is often included in your business. Mercury-Sagittarians never quit learning; yours is a continuous, lifetime enlightenment.

You like to read, examine new ideas, discover other people. You are quick on your feet and can apprehend ideas immediately, but a common failing is your deficiency of attention. Some people determine you too frank and candid, but that feature springs from Sagittarius's fundamental probity. You never intentionally set out to trick or sham; if you are rude it's because you don't think before you speak. Sometimes you find it challenging to finish a long, sustained piece of work.
Venus-Capricorns are as conservative and wary about love as nearly anything else. You may sometimes be perceived as being aloof and scheming because you follow the edict "it's just as easy to fall in love with someone wealthy as with someone broke." In truth, this was plausibly said originally by a Venus-Capricorn. However, it is far from representing the entire story. When in love, you are faithful, trustworthy, and steady.

If you don't marry wealthy, you work to provide a spouse protection, and that includes material accommodations. You may not be affectionate and elegant, but what you say you mean. There is a dichotomy between your sentimental life and your passion: You have robust passions but keep them separate from your rational attitude. You can be sexually connected and disconnected at the same time. Venus in this zodiac position indicates a personality that is demanding, possessive, and afraid of rejection. Once shunned, Venus-Capricorn's response is total coldness.
In Aquarius, the spirit of Mars is displayed on a mental plane. You are prompt in your responses, but before you act you need to be engaged intellectually. You manage to be very people-oriented and interested in a variety of projects. There is a component of change or fighting for independence in your viewpoint. Tense and unpredictable, you grapple between desiring to accomplish things alone and getting involved in group ventures.
There is also uncertainty in your intimate nature. You have powerful passions that are not always reachable. You work to deal with sex relationships sensibly, and swing back and forth between emotional involvement and aloofness. You recognize sensual desire but don't want to be shackled by it. This sometimes leads to your having an amount of affairs; that way, each relationship can't be a total devotion. As a Mars-Aquarian you have vital insights into human character.
Thоѕе whо fall under thіѕ number аrе creatively unique, confident, аnd possess thе kind оf drive thаt commands respect аnd awe. Being thеіr own boss іѕ whаt works best fоr thеm, since thе flaws оf others wіll affect thе way thеу oversee things, іn thе long haul. Thоѕе wіth thіѕ number аrе said tо bе drunk wіth success, аnd need tо bе viewed аѕ individuals оf power аnd wealth. Thеу'rе аlѕо very particular аbоut whаt thеу wear аnd how society views thеm externally. Negative aspects оf thе number reveal thаt being dominating, aggressive, аnd оvеr-achieving саn hinder personal growth. Keeping stress under control аnd maintaining а healthy lifestyle іѕ important, whеrе using оnе'ѕ talents completely wіll ensure а great future.
Thе number 7 іѕ thе number оf analysis аnd critique. It іѕ nоt surprising, thаt thе number 7 people аrе analytical, fussy, prepared аnd wise. On thе flip side, thеу аrе prone tо being critical, cynical аnd superficial. Thе number 7 people аrе introspective, prefer solitude аnd аrе constantly pursuing thе knowledge оf universal truths. Thе tarot representation оf thе number 7 іѕ thе 'Chariot'. Thеѕе people аrе astrologically linked tо Libra аnd аrе influenced bу Jupiter, Neptune аnd Mercury. Thеѕе people have а red aura аnd аn amethyst іѕ thе perfect gemstone fоr thеm. July іѕ thе best month fоr thеѕе people аnd thеу find Saturdays tо bе thеіr most lucky days. Thеу get thе best jobs done оn thе 2nd, 4th, 5th, 7th, 16th аnd 25th dates оf аnу month.
Now remember, in Chinese astrology, the some of the signs have names that we in Western culture might not associate with positive human characteristics. Chief among these might be the sign of the Rat. If you were born in 1936, 1948, 1960, 1972, 1984 or 1996 then you are a Rat! According to today's Chinese menu, you are ambitious yet honest,.

Prone to spend freely. Seldom make lasting friendships. You are most compatible with Dragons and Monkeys and least compatible with Horses. While in the West, we associate rats with sewers, vermin and disease, this animal is viewed a bit differently in the East. The Eastern rat is appreciated for its quick wits and ability to accumulate and hold on to wealth. Rats are a symbol of good luck in the East. It's a stylish and charming sign in Eastern astrology. It's sharp and funny and will take good care of those it considers its good friends.
The element of Wood represents the direction East. Those who are born with this element tend to yearn for stability and tradition. In China, wood is also associated with bamboo. Bamboo, of course, is a strong, flexible, and long shoot which grows in marsh areas. It follows then, that wood people are flexible, emotionally strong and dependable. A wood person will stick with you through good and bad times, unwavering of their support.
Wood people are interested in social issues and strive to leave the poor and helpless of our world with a sense of independence and change. Although, they can be idealistic and that trait can be the cause of emotional angst when plans don't follow the perfect path. Wood people do well in social work or working with children. Working with others is easy for wood people, as they truly enjoy the process of cooperation and compromise. Generous and warm, wood people spread happiness, confidence and joy wherever they go.
The INFP is one of the 16 MBTI personality types. INFP stands for introverted (I), intuitive (N), feeling (F) and perceiving (P). The cognitive function stack of INFP is as follows: Introverted feeling (Fi), Extraverted intuition (Ne), introverted Sensing (Si) and Extraverted thinking (Te). INFPs are highly imaginative introverts who seek to be above all, be true to themselves and their values. They prefer to follow their heart and do what "feels" right as opposed to what makes the most sense.

INFPs have a strong sense of their own values which can make them non-conformist and defiant against external codes of conduct that are imposed upon them. They dislike being controlled by others in any way and seek to attain freedom and independence for themselves. INFPs can be very enthusiastic and passionate about certain things yet completely blase about most other things. They desire novelty and channels for their creative expression. INFP types are highly idealistic and this can also cause them to be naive and clouded by unrealistic thinking. Still, their faith can carry them far and inspire others along the way. INFPs seek to do what is meaningful to them and many INFPs may be drawn to the arts and other creative professions.