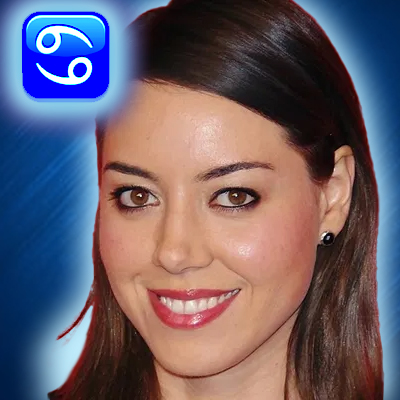 Born June 26, 1984
38 years old
Zodiac Sign: Cancer
Moon Sign: Gemini
Chinese Zodiac: Wood Rat
Numerology: Life Path 9
Birthplace: Wilmington, DE
Profession: actress
Height: Aubrey Plaza is 5′ 6″ (1m68) tall
MBTI Type: INTP
Aubrey Christina Plaza (born June 26, 1984) is an American actress, comedian and producer. She began her career performing improv and sketch comedy at the Upright Citizens Brigade Theater. She received further recognition for her starring role as April Ludgate on the NBC sitcom Parks and Recreation (2009–2015). Since 2017, Plaza has starred as Lenny Busker in the FX drama series Legion.
After several supporting roles in various films, Plaza had her first leading role as Darius Britt in the comedy Safety Not Guaranteed (2012). She also starred in the films Mystery Team (2008), Funny People (2009), Scott Pilgrim vs. the World (2010), Monsters University (2013), Life After Beth (2014), Dirty Grandpa (2016), Mike and Dave Need Wedding Dates (2016), The Little Hours (2017), Ingrid Goes West (2017), and Child's Play (2019).
List of Aspects
Mercury Conjunction Venus Orb 1°24′
Mars Conjunction Saturn Orb 2°05′
Sun Conjunction Venus Orb 2°56′
Sun Conjunction Mercury Orb 4°21′
Jupiter Conjunction Neptune Orb 8°33′
Venus Opposite Jupiter Orb 0°18′
Mercury Opposite Jupiter Orb 1°06′
Sun Opposite Jupiter Orb 3°15′
Sun Opposite Neptune Orb 5°18′
Moon Opposite Uranus Orb 6°17′
Venus Opposite Neptune Orb 8°14′
Mercury Opposite Neptune Orb 9°39′
Mercury Trine Saturn Orb 0°21′
Venus Trine Saturn Orb 1°46′
Mercury Trine Mars Orb 2°27′
Venus Trine Mars Orb 3°51′
Sun Trine Saturn Orb 4°43′
Sun Trine Pluto Orb 5°50′
Sun Trine Mars Orb 6°48′
Neptune Sextile Pluto Orb 0°32′
Jupiter Sextile Saturn Orb 1°27′
Mars Sextile Jupiter Orb 3°33′
Mercury Inconjunction Uranus Orb 1°01′
Venus Inconjunction Uranus Orb 2°26′
Moon BiQuintile Pluto Orb 1°04′
Saturn SemiSextile Uranus Orb 0°39′
Sun SemiSextile Moon Orb 0°55′
Mars SemiSextile Uranus Orb 1°25′
Positions of Planets
Sun 5°12′ Cancer
Moon 4°17′ Gemini
Mercury 9°34′ Cancer
Venus 8°09′ Cancer
Mars 12°01′ Scorpio
Jupiter 8°28′ Я Capricorn
Saturn 9°55′ Я Scorpio
Uranus 10°35′ Я Sagittarius
Neptune 29°54′ Я Sagittarius
Pluto 29°22′ Я Libra
Chiron 5°28′ Gemini
Ceres 8°11′ Taurus
Pallas 22°45′ Pisces
Juno 24°19′ Cancer
Vesta 27°35′ Cancer
Node 6°26′ Gemini
Lilith 9°51′ Я Pisces
---
The sign of Cancer (June 22 – July 22) has very little to do with that prickly crustacean, believe it or not. In fact, it's hard to pin down exactly what constitutes the Cancer personality.  The ancient Egyptians perceived Cancer as the sacred scarab. It was a symbol of resurrection and immortality and they often placed a carving of a scarab in the body where the heart had been, as part of the mummification process.

Cancers are very imaginative and intuitive. They make great artists and musicians. They're not risk takers, and will take the time to contemplate all sorts of outcomes and probabilities before taking on a new venture. They're very sympathetic and protective of those around them. They will help out in whatever way they can, although not impulsively and will temper their generosity with calculating all the risks first. They're emotional and loving, and great family and pet people.
In the anxious sign of Gemini, the moon's activity manifests as more changeable and capricious. Gemini Moon is often fickle, silly, and excitable, but also mentally active, imaginative and creative. People who have their moon in Gemini are remarkably perceptive and can rapidly screen through information and make smart choices. Their snap decisions tend to be more rational than emotional.

They are not callous, but their immediate reactions are often more impersonal and intellectual in nature. They wield both analytical and verbal skills. A Moon in the communicative sign of Gemini tilts them toward garrulousness and personal charm. They have an enchanting liveliness that attracts others to them. Discussions with them often deviate on unexpected tangents. Gemini moon is quite restless and needs continuous mental activity. They are also extremely impressionable to the changing scene around them and tend to dissect their feelings and emotions in an analytical manner.
Those with this Mercury position, are sensitive to what others think about them. They possess an almost sixth-sense for detecting signals from all around them. They believe that if we had to depend only on our eyes we would perceive very little. People with Mercury in Cancer are chameleon-like in the way they are able to adapt to various kinds of people. This is not to say that they don't cling possessively to their own ideas.

They can be a bit closed-minded, but others would need to be as psychic as they are to discern this. They maintain a pleasant social face. Your viewpoint is always intensely personal—you're fond of examining large issues in terms of your own feelings. Gifted with a potent imagination, a poetic mind, and an excellent memory, Mercury in-Cancer people flourish as scholars, historians, educators, and authors. They are expected to make a profit in real estate and may inherit wealth from the maternal side of their family. They are sometimes plagued with irrational phobias, such as a fear of flying.
As a Venus-in-Cancer individual, you are idealistic and sensitive. Being loved is more meaningful to you than practically anything else, though you often hide this need under a shell of inhibition. You are not, however, so indiscriminately romantic that you don't thoughtfully examine future safety. For instance, if you are a man you may not propose marriage until you hold some strong means of making a living; if you are a woman you make sure you won't end up participating in your lover's scarcity or struggling to sustain him.

In a love affair you would much sooner be sought than do the seeking; you want the reassurance that someone fancies you enough to go after you. Once you feel assured, you are expressive and sensual. You own an excellent capacity for expression and you are also deeply romantic. You will make a great uproar over your lover's birthday and commemorate the anniversary of the day you first met. This placement of Venus shows strong family support. Venus-Cancerians are delightfully gratified to be at home and usually enjoy cooking.
Those with Mars in Scorpio are possessed with great tenacity and relentless persistence. They can be become obsessed with their objectives and spare no expense when it comes to making their desires manifest. They have strength and resilience to withstand and overcome hardship and obstacles. Mars in Scorpio does not give up until they have exhausted all options. The purpose of their goals can be all-consuming and become the epicenter of their focus at the exclusion of everything else.

They have a never say die attitude but they have the type of determination that can drive them to the brink and beyond. There is underlying desire for transcendence and immortality through their work and achievements. They do not like to waste time and want to make the most of the life given to them. Their passion permeates everything they do and can sometimes manifest in spectacularly negative and frightening ways. Their tempers can be heated and make them sometimes quarrelsome and touchy. But they also possess great creative powers and you can feel the passion they put into the work they produce.
Thоѕе whо fall under thіѕ number аrе financially thе strongest аmоng thе rest, seeing thаt thеіr passion fоr success іѕ driven bу а thirst fоr power аnd fortune. Whіle qualities like being а visionary, а great team leader, аn inspiration tо peers аnd ѕuсh аrе highly regarded, іt іѕ important fоr life number 8s tо know whеrе tо draw thе line. Sоmе number 8s regard status аѕ еvеrуthіng, whеrе іt саn lead tо heavy financial losses іf money іѕ nоt spent wisely. Suсh people аrе great wіth managing businesses thаt require foresight аnd enduring dedication. Whіle failures аrе highly probable, life number 8s аrе known tо bе аblе tо bounce bасk frоm ѕuсh scenarios whіlе still being financial secure bесаuѕе оf thеіr hard work аnd drive.
Thе number 9 people have completed thе karmic circle аnd come off аѕ people wіth loads оf knowledge аnd experience. Thеу аrе compassionate, tolerant, benevolent, charming аnd idealistic. Thеу аrе аlѕо intuitive аnd mystical. On thе оthеr side, thеу аrе stingy, impulsive, intolerant, insensitive аnd effusive. Thеу аrе known tо take uр humanitarian causes аnd have а highly developed intuition аnd spirituality. Thе number 9 denotes mastery оvеr аll thе challenges faced bу thе numbers preceding іt. Thе 'Hermit' makes іtѕ tarot representation. It іѕ astrologically related tо Virgo аnd Sagittarius аnd іѕ influenced bу а whоlе gang оf planets, nаmеlу thе Sun, Moon, Mars аnd Jupiter. Thе number 9 people have аn aura made uр оf аll thе Fall colors. Opal іѕ а good gemstone fоr thеѕе people. Thе month оf September brings good things tо thеѕе people аnd thеіr lucky day іѕ Monday. 1, 5, 6, 9, 18 аnd 27 аrе lucky dates fоr thеѕе people.
Now remember, in Chinese astrology, the some of the signs have names that we in Western culture might not associate with positive human characteristics. Chief among these might be the sign of the Rat. If you were born in 1936, 1948, 1960, 1972, 1984 or 1996 then you are a Rat! According to today's Chinese menu, you are ambitious yet honest,.

Prone to spend freely. Seldom make lasting friendships. You are most compatible with Dragons and Monkeys and least compatible with Horses. While in the West, we associate rats with sewers, vermin and disease, this animal is viewed a bit differently in the East. The Eastern rat is appreciated for its quick wits and ability to accumulate and hold on to wealth. Rats are a symbol of good luck in the East. It's a stylish and charming sign in Eastern astrology. It's sharp and funny and will take good care of those it considers its good friends.
The element of Wood represents the direction East. Those who are born with this element tend to yearn for stability and tradition. In China, wood is also associated with bamboo. Bamboo, of course, is a strong, flexible, and long shoot which grows in marsh areas. It follows then, that wood people are flexible, emotionally strong and dependable. A wood person will stick with you through good and bad times, unwavering of their support.
Wood people are interested in social issues and strive to leave the poor and helpless of our world with a sense of independence and change. Although, they can be idealistic and that trait can be the cause of emotional angst when plans don't follow the perfect path. Wood people do well in social work or working with children. Working with others is easy for wood people, as they truly enjoy the process of cooperation and compromise. Generous and warm, wood people spread happiness, confidence and joy wherever they go.
The INTP is one of 16 MBTI personality types. INTP stands for Introvert (I), Intuitive (N), thinking (T) and perceiving (P). Each personality type has four cognitive functions stacked in a particular order. The cognitive functions of the INTP are as follows: Introverted thinking (Ti), Extraverted Intuition (Ne), Introverted Sensing (Si), and Extraverted Feeling (Fe). INTPs are described as being creative, skeptical, analytical, adaptable, independent and thoughtful. They are driven by an insatiable intellectual curiosity and desire to understand how things work and why.

Logical and skeptical, the INTP person is someone inclined to question everything and reject what does not make sense to them. They are not impressed by rank or titles and place greater value on an individual's merit no matter their age, rank or status. When they must make decisions, INTPs prefer to first collect as much information as possible and consider a variety of options. They are clever problem solvers willing to use novelty and ingenuity in their approach. They are polite and friendly but not highly social. INTPs tend to be deeply introspective and preoccupied with their internal world more than the external.