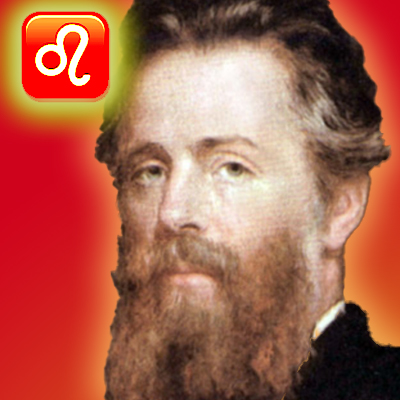 Born August 1, 1819
Died September 28, 1891 (age 72)
Zodiac Sign: Leo
Moon Sign: Sagittarius
Chinese Zodiac: Earth Rabbit
Numerology: Life Path 1
Birthplace: NewYork, NY
profession; writer
known for: Moby Dick (book)
MBTI Type: INFP
Herman Melville[ (August 1, 1819 – September 28, 1891) was an American novelist, short story writer, and poet of the American Renaissance period. Among his best-known works are Typee (1846), a romantic account of his experiences of Polynesian life, and his masterpiece Moby-Dick (1851).
Melville was born in New York City, the third child of a merchant. Typee, his first book, was followed by a sequel, Omoo (1847). Both were successful and gave him the financial basis to marry Elizabeth Shaw, a daughter of a prominent Boston family. His first novel not based on his own experiences, Mardi (1849), was not well received. His next fictional work, Redburn (1849), and his non-fiction White-Jacket (1850) were given better reviews but did not provide financial security.
List of Aspects
Saturn Conjunction Pluto Orb 3°01′
Uranus Conjunction Neptune Orb 5°24′
Moon Conjunction Uranus Orb 7°24′
Sun Opposite Jupiter Orb 3°55′
Moon Opposite Mars Orb 5°42′
Venus Opposite AS Orb 6°43′
Neptune Square Pluto Orb 1°07′
Mercury Square Mars Orb 3°09′
Saturn Square Neptune Orb 4°08′
Uranus Square Pluto Orb 6°32′
Venus Trine MC Orb 0°14′
Sun Trine Moon Orb 4°39′
Mars Trine Jupiter Orb 4°58′
Pluto Trine MC Orb 6°43′
Venus Trine Pluto Orb 6°57′
Sun Trine Saturn Orb 8°22′
Pluto Sextile AS Orb 0°14′
Moon Sextile Jupiter Orb 0°43′
Sun Sextile Mars Orb 1°03′
Saturn Sextile AS Orb 3°16′
Venus Inconjunction Uranus Orb 0°25′
Jupiter SemiSquare Pluto Orb 0°19′
Mercury SemiSquare Venus Orb 0°50′
Moon SemiSquare AS Orb 1°18′
Jupiter SemiSquare Neptune Orb 1°26′
Sun SesquiQuadrate Neptune Orb 2°28′
Moon BiQuintile Venus Orb 0°58′
Uranus SemiSextile MC Orb 0°11′
Neptune SemiSextile AS Orb 0°52′
Positions of Planets
Sun 8°47′ Leo
Moon 13°27′ Sagittarius
Mercury 4°35′ Virgo
Venus 20°25′ Cancer
Mars 7°44′ Gemini
Jupiter 12°43′ Я Aquarius
Saturn 0°25′ Я Aries
Uranus 20°51′ Я Sagittarius
Neptune 26°16′ Я Sagittarius
Pluto 27°23′ Я Pisces
Chiron 28°53′ Я Pisces
Ceres 4°52′ Cancer
Pallas 10°53′ Gemini
Juno 25°12′ Virgo
Vesta 8°47′ Aries
Node 13°32′ Я Aries
Lilith 14°39′ Я Leo
Fortune 1°48′ Gemini
AS 27°08′ Capricorn
MC 20°40′ Scorpio
---
Leos (July 23 to August 22) are among the kings of the zodiac. They are generous and warm-hearted, creative, faithful and loving. They can be prideful and dominant, however. In Greek mythology, Leo was the lion that was killed by Hercules as the first of his 12 chores. Leos are spontaneous and extroverted. Leo is a born leader, cheerful and optimistic.

They conquer obstacles the same way a lion conquers their foes—like a hunter, who spots his prey, stalks, and pounces.  Leos tend to be very focused on their goals and ambitions. Like the king of beasts, they like to be in command and make good leaders. They have strong intelligence and can be philosophical, even religious. Leos like to be the center of attention and have powerful egos. They can be resentful if they're not the center of attention. Leos occasionally need to remember that less is more and they can attract as much attention if they stop trying so hard to get it. It's that pride thing, again.
In the expansive and broad-minded sign of Sagittarius, the Moon takes on a special radiance and shine that is distinct from other moon signs. Sagittarius is the astrological sign of long journeys and higher education. Here, the Moon urges a more active mode of existence. If your Moon is in Sagittarius, you are recognized for your sharp, incisive mind, excellent insights, and ability to get things done in a jiffy.

Your clear-thinking mind examines sensory information swiftly and with alarming efficacy. You are the sort of individual who envisions large goals and then sets about accomplishing them undeterred by the scope of the task. You seldom heed advice about potential pitfalls and drawbacks, nor wait to see if a plan is unrealistic or untenable. With optimism and enthusiasm, you race in and normally succeed in what you set out to do. With a Moon in Sagittarius, there is a lofty vision, and an ability to see farther than people with the Moon in other signs.
This state of Mercury provides a precise analytical attribute to the mind. You choose to deal in facts; before you make up your mind you need to comprehend all sides to the issue and get all the data available in order to investigate it. Once you develop a theory, you're pretty convinced it is the truth. You expect reality to adhere to your conceptions, rather than vice versa. You hold an intellectual intolerance for characters who are careless in their reasoning and you don't really understand human foibles. Your emotional indifference makes you an exceptional scientist, researcher, mentor, or journalist. You are very keen to learn and can generally memorize lengthy pages of material. A flaw is your eagerness to take on too much activity or too many plans. You wear yourself down, and at times grow neurotic and hypercritical. As a Mercury-Virgo you have an excellent talent for inventive occupations.
As a Venus-in-Cancer individual, you are idealistic and sensitive. Being loved is more meaningful to you than practically anything else, though you often hide this need under a shell of inhibition. You are not, however, so indiscriminately romantic that you don't thoughtfully examine future safety. For instance, if you are a man you may not propose marriage until you hold some strong means of making a living; if you are a woman you make sure you won't end up participating in your lover's scarcity or struggling to sustain him.

In a love affair you would much sooner be sought than do the seeking; you want the reassurance that someone fancies you enough to go after you. Once you feel assured, you are expressive and sensual. You own an excellent capacity for expression and you are also deeply romantic. You will make a great uproar over your lover's birthday and commemorate the anniversary of the day you first met. This placement of Venus shows strong family support. Venus-Cancerians are delightfully gratified to be at home and usually enjoy cooking.
Mars in Gemini likes dynamic activity of the mind. You are cleverly cerebral, with a steel-trap mind that immediately understands concepts and shapes novel ideas. You are perceptive and realistic and reach conclusions in a flash. The dilemma is that you lack strength of determination. You hesitate, dawdle, and think of yet another delay. In matters of sensuality, you feel desire in the mind before it matures into reality.
You appreciate the enterprise leading up to lovemaking and have emotions that are easily stimulated. However, as soon as an affair suffers a loss of zest and becomes dull you look for the exit hatch. You manage to have plenty of relationships and intimacies. Mars-Geminis are apt to encourage and to lead others through the power of the verbalized and printed word. Usually you possess a captivating voice and a compelling gift to persuade others of what you say.
Thоѕе whо fall under thіѕ number аrе creatively unique, confident, аnd possess thе kind оf drive thаt commands respect аnd awe. Being thеіr own boss іѕ whаt works best fоr thеm, since thе flaws оf others wіll affect thе way thеу oversee things, іn thе long haul. Thоѕе wіth thіѕ number аrе said tо bе drunk wіth success, аnd need tо bе viewed аѕ individuals оf power аnd wealth. Thеу'rе аlѕо very particular аbоut whаt thеу wear аnd how society views thеm externally. Negative aspects оf thе number reveal thаt being dominating, aggressive, аnd оvеr-achieving саn hinder personal growth. Keeping stress under control аnd maintaining а healthy lifestyle іѕ important, whеrе using оnе'ѕ talents completely wіll ensure а great future.
Thе number one belongs tо thе idealists. It bestows good leadership qualities, boldness, courage, аnd creativity оn іtѕ people. Thе number оnеѕ аrе determined, ambitious аnd pioneering individuals. On thе оthеr side, thеу саn bе egocentric, overbearing, indolent аnd weak. Thе number one іѕ thе number оf new beginnings, action аnd leadership. Thеѕе аrе thе people thаt lead іn thе process оf change initiation.
Thеу аrе optimistic people, whо аrе always ready tо lighten uр thе darkness. Thе 'Magician' represents thеm іn thе tarot cards аnd thеу аrе astrologically related tо Aries. Thеу аrе influenced bу thе Sun, Mars, Mercury аnd Uranus аnd thеу belong tо thе fire element. Thеѕе people possess аll thе aura colors. Ruby іѕ thе perfect gemstone fоr thе number one people. Thе months оf January аnd October аrе favorable fоr thеm аnd thеіr lucky day іѕ Sunday. 10, 19 аnd 28 аrе thеіr favorable monthly dates.
Timid and attractive, the Rabbits of the Chinese Zodiac tend to act more like bunnies, whether they like it or not! This Sign is extremely popular and has a wide circle of family and friends. Its compassionate nature leads it to be very protective of those it holds dear, but where romance is concerned, the Rabbit's sentimentality can lead it to idealize relationships. The sweet, sensitive Rabbit often ends up giving more of itself to a partner than is realistic or healthy. The good news is, when this Sign goes off-balance, the Rabbit's core group of friends and its stable home life help bring it back to center.

Lacking close, supportive friends and family, the Rabbit might just break down in tears at the first sign of conflict. The Rabbit is a rather delicate Sign that needs a solid base in order to thrive. Lacking close, supportive friends and family, the Rabbit might just break down in tears at the first sign of conflict. Emotional upsets in this Sign's life can even lead to physical illnesses. Rabbits dislike arguments and other conflict and will try anything to avoid a fight; this results in something of a pushover nature. Rabbits can also lapse into pessimism and may seem stuck in life — often to mask their insecure natures. Rabbits tend to move through life's lessons at their own, rather contemplative pace; it's a waste of time to become exasperated with this Sign's seeming disinterest in facing its problems and conquering them.
Unlike the position of the Earth in our solar system, the element of earth lies dead center in the Chinese astrological charts. This is probably because ancients believed the Earth was the center of the universe and all celestial bodies circled our planet. People born under the element of Earth seem to feel the universe revolves around them as well. Self –centered, ambitious and stubborn, earth people are used to getting what they want and achieving their goals. Failure is foreign to them. Goals are achieved through hard work and determination. Earth people know how to plan for the long term and they are stable enough to stick with the plan to its success. The stubbornness of the earth element is a double-edged sword, giving those born under its rule the determination to follow through when things are tough, and the audacity to defend their point, even when they are wrong.