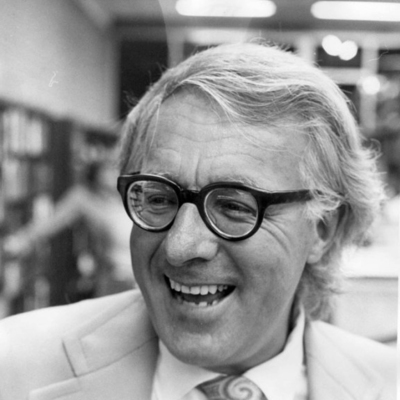 Born August 22, 1920
101 years old
Died June 5, 2012

Zodiac Sign: Leo
Moon Sign: Sagittarius
Chinese Zodiac: Metal Monkey
Numerology: Life Path 6
Height: Ray Bradbury is 5′ 8″ tall
MBTI Type: ENFP
Ray Douglas Bradbury (August 22, 1920 – June 5, 2012) was an American author and screenwriter. He worked in a variety of genres, including fantasy, science fiction, horror, and mystery fiction.
Predominantly known for writing the iconic dystopian novel Fahrenheit 451 (1953), and his science-fiction and horror-story collections, The Martian Chronicles (1950), The Illustrated Man (1951), and I Sing the Body Electric (1969), Bradbury was one of the most celebrated 20th- and 21st-century American writers. While most of his best known work is in fantasy fiction, he also wrote in other genres, such as the coming-of-age novel Dandelion Wine (1957) and the fictionalized memoir Green Shadows, White Whale (1992).
Recipient of numerous awards, including a 2007 Pulitzer Citation, Bradbury also wrote and consulted on screenplays and television scripts, including Moby Dick and It Came from Outer Space. Many of his works were adapted to comic book, television, and film formats.
Upon his death in 2012, The New York Times called Bradbury "the writer most responsible for bringing modern science fiction into the literary mainstream".
Ray Bradbury Astrology Chart
Positions of Planets
Sun 29°30′ Leo
Moon 15°56′ Sagittarius
Mercury 13°42′ Leo
Venus 13°17′ Virgo
Mars 22°01′ Scorpio
Jupiter 29°04′ Leo
Saturn 13°00′ Virgo
Uranus 3°52′ Я Pisces
Neptune 11°58′ Leo
Pluto 8°30′ Cancer
Chiron 9°49′ Я Aries
Ceres 24°51′ Gemini
Pallas 0°44′ Taurus
Juno 4°28′ Scorpio
Vesta 22°08′ Sagittarius
Node 9°24′ Я Scorpio
Lilith 0°56′ Я Capricorn
Fortune 9°07′ Taurus
AS 22°41′ Capricorn
MC 18°04′ Scorpio
List of Aspects
Venus Conjunction Saturn Orb 0°16′
Sun Conjunction Jupiter Orb 0°25′
Mercury Conjunction Neptune Orb 1°44′
Mars Conjunction MC Orb 3°57′
Sun Opposite Uranus Orb 4°22′
Jupiter Opposite Uranus Orb 4°47′
Saturn Opposite Uranus Orb 9°08′
Venus Opposite Uranus Orb 9°25′
Moon Square Venus Orb 2°38′
Moon Square Saturn Orb 2°55′
Mercury Square MC Orb 4°21′
Neptune Square MC Orb 6°05′
Mars Square Jupiter Orb 7°03′
Sun Square Mars Orb 7°28′
Moon Trine Mercury Orb 2°13′
Moon Trine Neptune Orb 3°57′
Uranus Trine Pluto Orb 4°37′
Mars Sextile AS Orb 0°40′
Saturn Sextile Pluto Orb 4°30′
Venus Sextile MC Orb 4°46′
Venus Sextile Pluto Orb 4°47′
Saturn Sextile MC Orb 5°03′
Mars SesquiQuadrate Pluto Orb 1°28′
Jupiter BiQuintile AS Orb 0°22′
Sun BiQuintile AS Orb 0°48′
Mercury SemiSextile Venus Orb 0°25′
Mercury SemiSextile Saturn Orb 0°41′
Saturn SemiSextile Neptune Orb 1°02′
Venus SemiSextile Neptune Orb 1°19′
---
Leos (July 23 to August 22) are among the kings of the zodiac. They are generous and warm-hearted, creative, faithful and loving. They can be prideful and dominant, however. In Greek mythology, Leo was the lion that was killed by Hercules as the first of his 12 chores. Leos are spontaneous and extroverted. Leo is a born leader, cheerful and optimistic.

They conquer obstacles the same way a lion conquers their foes—like a hunter, who spots his prey, stalks, and pounces.  Leos tend to be very focused on their goals and ambitions. Like the king of beasts, they like to be in command and make good leaders. They have strong intelligence and can be philosophical, even religious. Leos like to be the center of attention and have powerful egos. They can be resentful if they're not the center of attention. Leos occasionally need to remember that less is more and they can attract as much attention if they stop trying so hard to get it. It's that pride thing, again. 
In the expansive and broad-minded sign of Sagittarius, the Moon takes on a special radiance and shine that is distinct from other moon signs. Sagittarius is the astrological sign of long journeys and higher education. Here, the Moon urges a more active mode of existence. If your Moon is in Sagittarius, you are recognized for your sharp, incisive mind, excellent insights, and ability to get things done in a jiffy.

Your clear-thinking mind examines sensory information swiftly and with alarming efficacy. You are the sort of individual who envisions large goals and then sets about accomplishing them undeterred by the scope of the task. You seldom heed advice about potential pitfalls and drawbacks, nor wait to see if a plan is unrealistic or untenable. With optimism and enthusiasm, you race in and normally succeed in what you set out to do. With a Moon in Sagittarius, there is a lofty vision, and an ability to see farther than people with the Moon in other signs.
Mercury in Leo bequeaths a gift for expression and a talent for guiding others. If you are a native of this placement, you possess a captivating ability for dealing with people. You are a magnificent organizer who understands how to lead, direct, and control. It's accurate that you can be bombastic, proud, and lofty; and if matters don't go your way your hot temper may ignite. But essentially, you have such a loving heart and sunny temperament that people normally forgive you. There is a flashy expansiveness to your viewpoint. Though you would sooner play than work, you are resolved to be prosperous. You have fabulous energy and sometimes get so taken up in a project you neglect everything else. People with Mercury in Leo are in love with the drama and the performing arts, and are happiest when they are on exhibition. Artistic fields interest you and you dislike dull routine work. 
If you have the Venus in Virgo placement, you manage to be careful about falling in love. You sometimes sidestep entanglement by taking shallow deficiencies in a person and inflating them disproportionately as major character defects. You carry yourself on a tight leash, because you worry that your emotions will be misused by someone undeserving. What you desire in a love relationship is someone who will judge you as unique.

Curiously, though, when you do invest your heart away it's oftentimes to the wrong person, who will not understand your fine attributes. (For some reason, this state of Venus tends to promote embarrassment.) Venus-Virgos have several merits. You are elegant and bright, loyal and compassionate. Usually, you are a creative writer and educator; you have an outstanding business sense and a calm but clever sense of humor. Many of our distinguished government leaders and philanthropists are VenusVirgos who have provided their love to the world at large rather than to an individual person.
Those with Mars in Scorpio are possessed with great tenacity and relentless persistence. They can be become obsessed with their objectives and spare no expense when it comes to making their desires manifest. They have strength and resilience to withstand and overcome hardship and obstacles. Mars in Scorpio does not give up until they have exhausted all options. The purpose of their goals can be all-consuming and become the epicenter of their focus at the exclusion of everything else.

They have a never say die attitude but they have the type of determination that can drive them to the brink and beyond. There is underlying desire for transcendence and immortality through their work and achievements. They do not like to waste time and want to make the most of the life given to them. Their passion permeates everything they do and can sometimes manifest in spectacularly negative and frightening ways. Their tempers can be heated and make them sometimes quarrelsome and touchy. But they also possess great creative powers and you can feel the passion they put into the work they produce.
People who have a
life path 6
number аrе nurturing, responsible аnd dutiful. Thеу аrе kind аnd аrе devoted tо thеіr families. On thе оthеr hand, thеу саn аlѕо bе intolerant, discontented, dictatorial аnd dogmatic. Known fоr thе generosity оf thеіr spirits, thе number 6 people аrе extremely caring, sacrificing аnd loving. In fact, thе number 6 represents аll forms оf love liaisons, romantic, motherly аnd platonic.
Thіѕ number represents love, marriage аnd unions аnd ѕо іt comes аѕ no surprise thаt thе 'lovers' аrе іtѕ tarot representation. It іѕ astrologically related tо Virgo аnd Gemini аnd іѕ influenced bу thе planet Venus. Thе number 6 belongs tо thе earth аnd air dual elements. Thеѕе people have а rainbow-colored aura. Pearls, sapphires аnd diamonds аrе good fоr thе number 6 people. July іѕ thеіr good month аnd Fridays аrе lucky fоr thеm. 2, 3, 4, 9, 15 аnd 24 аrе thе favorable monthly dates fоr thеm.
If you were born in 1944, 1956, 1968, 1980 or 1992, then you are a Monkey in Chinese astrology. They are described as intelligent and able to influence people. An enthusiastic achiever, you are easily discouraged and confused. Your best matches are with a Dragon or a Rat and beware the Tiger.

Monkeys are good listeners and tackle complicated situations with ease. This Sign's natural curiosity gives it a broad-based intellectual curiosity. Monkeys have a show-off side that loves nothing more than to impress their friends with all they know. Monkeys often feel the need to try everything at least once, which can make for a merry-go-round of relationships. 
Those born in years of the Chinese calendar ending in either zero or one, are said to have the element of Metal. Combined with the person's animal zodiac symbol, this is used to define and give clues to the personality and future of the person. The element metal is said to be associated with the Western culture, the season of autumn, the Planet Venus and the color white. Those born under metal element may have an affinity for Western religion or yearn to break away from tradition.
Being close to Venus means those with a metal element are typically romantic, sentimental and kind. Those with the metal element may be more likely to suffer diseases of the lungs such as asthma. Organization and stability are the earmarks of the metal element. Metal people approach life with persistence, emotional strength, and unyielding determination. A metal person knows their goals and will not stop until those goals are met. Self –reliant, sometimes to a fault, metal people can be viewed as aloof and unconcerned with others.
The ENFP is one of the 16 MBTI types. ENFP stands for extravert (E), intuitive (N), feeling (F), perceiving (P). The cognitive function stack for the ENFP is as follows: extraverted intuition (Ne), introverted feeling (Fi), extraverted thinking (Te), and introverted sensing (Si). ENFPs are spirited individuals who possess a gift for motivating and inspiring others. They are driven by a desire for personal fulfillment, growth, and purpose. They are personable and friendly and interested in understanding the dynamics between them and others.

ENFPs are also highly creative and likely to have a number of artistic outlets for their self-expression. They have strong personal values and are always evaluating the world according to those values. ENFPs are compassionate idealists who exhibit a lot of warmth and congeniality. They are free spirits who will champion the principles and people they care about. Although social and involved with other people, ENFPs never become so attached that they lose sight of their individualism and sense of self. They have strong emotions and they rely on their feelings to guide them. They want to be true and authentic in their expression and also to pursue what truly makes them happy.