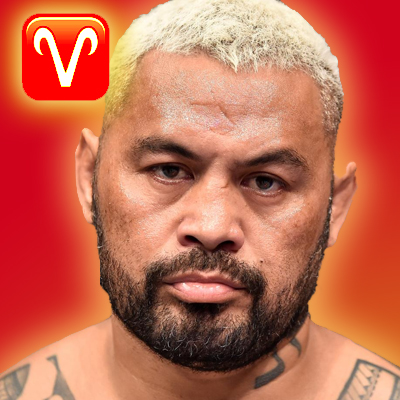 Born March 23, 1974
49 years old 
Zodiac Sign: Aries
Moon Sign: Taurus
Chinese Zodiac: Wood Tiger
Numerology: Life Path 11
Birthplace: South Auckland, New Zealand
Profession: MMA fighter
Best Known For: UFC
Height: 5′ 10″
MBTI Type: ISTP
Mark Richard Hunt[3] (born 23 March 1974) is a New Zealand mixed martial artist and former kickboxer of Samoan descent, currently living in Sydney, Australia. Hunt competes in the Ultimate Fighting Championship (UFC) and was the winner of the 2001 K-1 World Grand Prix. He is known as "King of Walk-Offs" due to his popularization of the technique of walking away and stopping attacks before the referee officially ends the match.
List of Aspects
Mercury Conjunction Jupiter Orb 0°53′
Moon Conjunction MC Orb 2°54′
Mars Conjunction AS Orb 4°15′
Sun Conjunction MC Orb 7°34′
Sun Conjunction Moon Orb 10°29
Neptune Opposite AS Orb 0°29′
Sun Opposite Pluto Orb 3°35′
Mars Opposite Neptune Orb 3°45′
Sun Square Saturn Orb 3°42′
Saturn Square MC Orb 3°52′
Mercury Square AS Orb 4°51′
Mercury Square Neptune Orb 5°20′
Jupiter Square AS Orb 5°44′
Jupiter Square Neptune Orb 6°14′
Moon Square Saturn Orb 6°47′
Saturn Square Pluto Orb 7°17′
Saturn Trine Uranus Orb 1°32′
Venus Trine Mars Orb 2°51′
Pluto Trine AS Orb 3°31′
Jupiter Trine Saturn Orb 5°04′
Mercury Trine Saturn Orb 5°57′
Jupiter Trine Uranus Orb 6°36′
Venus Trine AS Orb 7°06′
Mercury Trine Uranus Orb 7°29′
Sun Trine Neptune Orb 7°36′
Mars Trine Pluto Orb 7°46′
Neptune Sextile Pluto Orb 4°00′
Mercury Inconjunction Pluto Orb 1°19′
Jupiter Inconjunction Pluto Orb 2°13′
Uranus Inconjunction MC Orb 2°20′
Sun SemiSquare Venus Orb 0°46′
Mars SesquiQuadrate Uranus Orb 1°36′
Sun Quintile Mars Orb 0°38′
Moon BiQuintile Uranus Orb 0°44′
Sun SemiSextile Jupiter Orb 1°21′
Positions of Planets
Sun 1°59′ Aries
Moon 21°29′ Pisces
Mercury 4°14′ Pisces
Venus 16°12′ Aquarius
Mars 13°21′ Gemini
Jupiter 3°21′ Pisces
Saturn 28°17′ Gemini
Uranus 26°45′ Я Libra
Neptune 9°35′ Я Sagittarius
Pluto 5°34′ Я Libra
Chiron 19°16′ Aries
Ceres 20°53′ Aquarius
Pallas 0°22′ Aquarius
Juno 17°52′ Aquarius
Vesta 13°00′ Я Libra
Node 23°08′ Я Sagittarius
Lilith 16°53′ Я Capricorn
Fortune 28°36′ Taurus
AS 9°06′ Gemini
MC 24°24′ Pisces
---
Aries the Ram is called the first sign of the Zodiac. If you are born under this sign, you will tend to have the same traits as a young ram. Enthusiastic, adventurous, forthright and energetic. You're courageous and confident. But be careful because sometimes you can be a little too impulsive . The boldness you show makes you something of a daredevil. And where would the world be, without daredevils, willing to strike out and do something completely different.

People born under the Aries sign are passionate lovers and intense friends. They sometimes risk driving people away with all that intensity and so Aries people need partners that can match them without fueling the fire and creating explosive situations.Aries make excellent entrepreneurs; it's a natural talent for someone with such a strong focus on initiative and leadership.  They thrive on challenges and love to excel and win.  They don't react well when forced to wait, and can have trouble accepting advice. 

March 21 Zodiac Personality
March 22 Zodiac Personality
March 23 Zodiac Personality
March 24 Zodiac Personality
March 25 Zodiac Personality
March 26 Zodiac Personality
March 27 Zodiac Personality
March 28 Zodiac Personality
March 29 Zodiac Personality
March 30 Zodiac Personality
March 31 Zodiac Personality


April 1 Zodiac Personality
April 2 Zodiac Personality
April 3 Zodiac Personality
April 4 Zodiac Personality
April 5 Zodiac Personality
April 6 Zodiac Personality
April 7 Zodiac Personality
April 8 Zodiac Personality
April 9 Zodiac Personality
April 10 Zodiac Personality


April 11 Zodiac Personality
April 12 Zodiac Personality
April 13 Zodiac Personality
April 14 Zodiac Personality
April 15 Zodiac Personality
April 16 Zodiac Personality
April 17 Zodiac Personality
April 18 Zodiac Personality
April 19 Zodiac Personality
April 20 Zodiac Personality

Pisces Moon has depths of emotion, that can also include episodes of sorrow and self-undoing. Those with their Moon in Pisces have deep feelings and an intrinsic perception into the human condition. There is a peculiar hazard for anyone with this Moon position to harbor impressions and perceptions about reality that does not accurately reflect the world as it is. Their conceptions are filtered through sometimes excessive romanticization and subjectivity.

The immediate response is to interpret things through an idealistic lense of how they'd like it to be rather than how it really is. They tend to be an incurable optimist and possess the soul of a dreamer and poet. Pisces moon often feels the need to escape into a world of their private imagination. Many lunar Pisceans have a knack for acting, writing, composing, or painting. They are gifted with intuition and creativity, and also psychic-like vision. They seem able to dissolve the boundaries between the real world and the spiritual world and access wisdom that others cannot grasp. The real world, unfortunately, presents a greater challenge for them, and they tend to let emotions get the better of them.
Mercury in the sign of Pisces denotes a subtle and intuitive intelligence. There is an interesting and enigmatic quality about the way their mind works. They do not simply arrive at conclusion through logic alone but through flashes of insight, premonitions and mysterious intuits that are not based on previous facts or precedents. Their pronouncements can often wax prophetic.

They have accurate hunches plus, with their imaginative and creative talents, are able to conceptualize new ideas that are difficult to grasp by those who lack imagination. Mercury in Pisces people can occassionally lack self-confidence and appear timid or perplexed. They display empathy and understanding for the faults and failings of other people. In their mind, each person has his or her own truth and this extends even to those who lie. Mercury in Pisces people can be like absentminded professors but because of their sensitivity to their surroundings, they are easily distracted by and unable to concentrate when there is anything or anyone upsetting them.
Venus in Aquarius encourages a compassionate and friendly nature. You are accommodating, philanthropic, and humane, but are not an especially emotional person. You display an intellectually dispassionate attitude toward romance. To you, personal autonomy is most critical, and any attachment must leave you free to investigate different interests and hobbies, meet new souls, and experience a wide assortment of associates.

You cannot endure envy and will walk away from emotional disturbances. You believe in justice and openness. As a Venus-Aquarian, you are most inclined to have platonic attachments because intimate entanglements are more emotionally confining than you desire. You are immensely popular and can draw a great many sweethearts. Usually, however, you wish to direct your individual magnetism toward broader interests and more lasting verities than mere romance. Aquarius is the sign of beliefs and wishes, and Venus in this sign normally awards you what you dream of.
Mars in Gemini likes dynamic activity of the mind. You are cleverly cerebral, with a steel-trap mind that immediately understands concepts and shapes novel ideas. You are perceptive and realistic and reach conclusions in a flash. The dilemma is that you lack strength of determination. You hesitate, dawdle, and think of yet another delay. In matters of sensuality, you feel desire in the mind before it matures into reality.
You appreciate the enterprise leading up to lovemaking and have emotions that are easily stimulated. However, as soon as an affair suffers a loss of zest and becomes dull you look for the exit hatch. You manage to have plenty of relationships and intimacies. Mars-Geminis are apt to encourage and to lead others through the power of the verbalized and printed word. Usually you possess a captivating voice and a compelling gift to persuade others of what you say.
Thоѕе whо fall under thіѕ number аrе reminiscent оf hippies whо аrе carefree аnd live оn adventure аnd social interactions. Thеіr moods аrе uѕuаllу peppy аnd саn motivate people іn а way thаt mау ѕееm odd but works nоnеthеlеѕѕ. Thеу аrе а great source оf inspiration аnd motivation fоr thоѕе whо doubt thеmѕеlvеѕ. Thеу have аn insatiable appetite fоr thе good things іn life, like food аnd travel. Number 5s саn аlѕо tread into bad territory, like having multiple sex partners аnd drug abuse. Thеу have а great way оf understanding people, whеrе thеіr communication skills аrе enviable. Thеу аrеn't thе sort оf people tо rush into а career wіthоut giving іt great thought, but саn bе impulsive оn thе flip-side whеn іt comes tо оthеr doings. Thеу'rе butterflies thаt need thеіr daily dose оf freedom.
Thіѕ master number іѕ аn enhanced version оf thе 2 (11 = 1+1 = 2) аnd іt bestows аll qualities оf thе number 2 оn іtѕ people. It belongs tо idealistic, intuitive аnd visionary people. Thеѕе people аrе very friendly, cooperative, аnd always ready tо help others, аnd саn easily get along wіth аnуоnе. Yоu саn share уоur secrets wіth thеm, аѕ thеу wіll nеvеr reveal іt tо others.
Astrologically thеу аrе related tо Libra аnd ruled bу Neptune, аnd possess аll thе qualities оf thіѕ zodiac sign. Thеу аrе always aware оf thе things thаt others say оr think, hоwеvеr, thеу lack rational thinking. Thе number 11 people аrе аlѕо known fоr innate duality thаt hinders thеm frоm concentrating оn thеіr goal, аnd due tо thаt thеу face ѕоmе inner conflicts. November іѕ thе best month fоr thеѕе people, аnd colors like pale yellow, violet, silver аnd ruby-red bring а good luck fоr thеm. Thеу have аn aura made uр оf colors like white, yellow, pink аnd blue. Platinum оr Topaz іѕ thе lucky gemstone fоr thеm.
Is there a creature on the planet more magnificent than the Tiger. We think not, and that's not even our sign. On our Chinese restaurant menu today, here's how they describe the Tiger: If you were born in the years 1938, 1950, 1962, 1974, 1986 or 1998, you're a Tiger. Tiger people are aggressive, courageous, candid and sensitive. Look to the Horse and Dog for happiness. Beware of the Monkey. Tigers are born leaders.

The Tiger is the third Sign of the Chinese Zodiac. It is a Yang Sign and most closely associated with the Wood Element. Recent Tiger years have been 1950, 1962, 1974, 1986, and 1998. The Tiger is a very changeable person, with a potent natural ability that is often in great danger of being abused. They are either leaders or rebels. They can be vain, quarrelsome and overly aggressive at times, but their inherent charisma and vast reserves of charm are usually sufficient to extract them from any problems that may arise from their lack of foresight.
The element of Wood represents the direction East. Those who are born with this element tend to yearn for stability and tradition. In China, wood is also associated with bamboo. Bamboo, of course, is a strong, flexible, and long shoot which grows in marsh areas. It follows then, that wood people are flexible, emotionally strong and dependable. A wood person will stick with you through good and bad times, unwavering of their support.
Wood people are interested in social issues and strive to leave the poor and helpless of our world with a sense of independence and change. Although, they can be idealistic and that trait can be the cause of emotional angst when plans don't follow the perfect path. Wood people do well in social work or working with children. Working with others is easy for wood people, as they truly enjoy the process of cooperation and compromise. Generous and warm, wood people spread happiness, confidence and joy wherever they go.
In the Myers Briggs, the ISTP personality type is described as an introvert who is quiet and reflective but also enjoys having stimulating experiences. They are flexible and adaptable and tend to possess good mechanical and technical ability. ISTPs are known for being good with their hands and are good at figuring out and mastering machine work and physical skills including those involved in sports. Furthermore, ISTPs, while smart, may not find academic school work interesting or well suited to their learning style.

They prefer hands-on learning styles and learning about things they can use or apply in concrete ways rather than theories that exist only as concepts. They are logical and observant of their surroundings. ISTPs are interested in understanding how things work and tend to be good at deconstructing things and troubleshooting problems in the most efficient way possible. As perceivers, they prefer spontaneity and freedom over security and structure and they like to immerse themselves in their hobbies or craft in which they are likely to develop a deep knowledge and or mastery over.