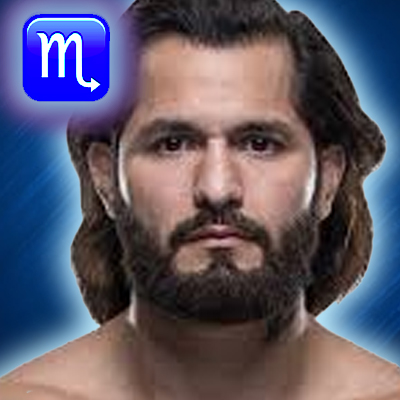 Born November 12, 1984
37 years old 
Zodiac Sign: Scorpio
Moon Sign: Cancer
Chinese Zodiac: Wood rat
Numerology: Life Path 9
Birthplace: Miami, FL
Profession: MMA fighter
Best Known For: UFC
Height: Jorge Masvidal is 5′ 9.5″
MBTI Type: ISTP
Jorge Masvidal (born November 12, 1984) is an American mixed martial artist competing in the UFC's welterweight division. He won the UFC BMF title, which was created specially for his fight against Nate Diaz. A professional since 2003, he has also competed for Bellator, Strikeforce, Shark Fights, and World Victory Road. He holds the record for the fastest knockout in UFC history, at 5 seconds. As of July 8, 2019, he is #3 in the UFC welterweight rankings.
List of Aspects
Saturn Conjunction MC Orb 0°01′
Sun Conjunction MC Orb 1°13′
Sun Conjunction Saturn Orb 1°15′
Venus Conjunction Neptune Orb 1°15′
Mercury Conjunction Uranus Orb 3°29′
Mars Conjunction AS Orb 7°09′
Moon Opposite Jupiter Orb 4°45′
Moon Opposite Neptune Orb 6°26′
Moon Opposite Venus Orb 7°42′
Pluto Square AS Orb 2°04′
Mars Square Pluto Orb 5°04′
Moon Trine Pluto Orb 3°20′
Neptune Sextile Pluto Orb 3°05′
Mercury Sextile AS Orb 4°02′
Venus Sextile Pluto Orb 4°21′
Moon Inconjunction AS Orb 1°16′
Moon Inconjunction Mercury Orb 2°46′
Mars SemiSquare Uranus Orb 0°18′
Sun SesquiQuadrate Moon Orb 0°39′
Moon SesquiQuadrate MC Orb 1°52′
Moon SesquiQuadrate Saturn Orb 1°54′
Venus SemiSextile Mars Orb 0°43′
Positions of Planets
Sun 20°30′ Scorpio
Moon 6°09′ Cancer
Mercury 8°55′ Sagittarius
Venus 28°27′ Sagittarius
Mars 27°43′ Capricorn
Jupiter 10°54′ Capricorn
Saturn 19°14′ Scorpio
Uranus 12°24′ Sagittarius
Neptune 29°43′ Sagittarius
Pluto 2°48′ Scorpio
Chiron 6°45′ Я Gemini
Ceres 17°46′ Я Taurus
Pallas 4°48′ Pisces
Juno 26°53′ Virgo
Vesta 1°15′ Libra
Node 27°25′ Taurus
Lilith 24°56′ Aries
Fortune 20°32′ Virgo
AS 4°52′ Aquarius
MC 19°16′ Scorpio
---
Scorpio, the Scorpion, one of the most energetic and powerful signs in the Zodiac. This is an exciting and magnetic personality, very passionate and emotional. They are forceful personalities and can easily be destined for leadership roles. Consider some of the complex famous characters are Scorpios: Hillary Clinton, Pablo Picasso, Dylan Thomas, both Simon AND Garfunkel are Scorpios.

Scorpios have a better chance of having genius-level IQs than most of the population; they are intense, critical and analytical. They tend to rebel against all conventions and can be political extremists. The best love match for a Scorpio is Capricorn; they understand each other on a profound spiritual, almost psychic level. Scorpios give their hearts completely and passionately. Being so gifted, they can find fulfillment in many employments. Their inner intensity can result in the ice-cold self-control and detachment of the surgeon, the concentration of the research scientist, and the heroism of the soldier. 
Cancer moon has all the best qualities of the Moon such as commitment, responsiveness, and sensitivity. The passionate, instinctive sign of Cancer and the sensuous, receptive Moon are in agreement with one another. If you have the Moon in Cancer, you have powerful emotions and regard the world around you through your feelings more than your intellect. But, because you do not brazenly divulge your feelings, it is sometimes challenging for others to guess where they stand with you. You are typically more receptive than aggressive. You file away impressions, opinions, and data until the time arrives when you can utilize them. Lunar Cancerians usually shine in an artistic or bookish way. Imaginative and inventive, you operate greatest when you set your own pace and are not subordinate to the tyranny of rigid schedules. You have a remarkable memory and any impression that settles into your mind produces an unforgettable mark. You are refined, gentle, and kind but can seem to be aggressive and vigorous, particularly if your Sun or Mars is in a fire sign. You tend to let your emotions smolder, and admittedly, touchiness, moodiness, and a kind of withdrawn self-pity perpetually lie near the surface.
If you have this position of Mercury you are sharp and clever, jaunty, to the point. You cherish liberty of expression and cannot tolerate the notion of any power of suppression over what you have to say. Your brain is restless, curious, always scanning for stimulation. You may bounce from project to project or switch jobs constantly. Travel is often included in your business. Mercury-Sagittarians never quit learning; yours is a continuous, lifetime enlightenment.

You like to read, examine new ideas, discover other people. You are quick on your feet and can apprehend ideas immediately, but a common failing is your deficiency of attention. Some people determine you too frank and candid, but that feature springs from Sagittarius's fundamental probity. You never intentionally set out to trick or sham; if you are rude it's because you don't think before you speak. Sometimes you find it challenging to finish a long, sustained piece of work.
Venus-Sagittarians commence love and courtship with a sense of adventure. You like to encounter the thrill of love in the similar way you seek for diversion in the remainder of your life. First attractions are evermore passionately romantic; as a Venus-Sagittarian you never appear to have conventional or dull love affairs. Nevertheless, you cannot maintain the excitement, and consequently never totally relinquish your sovereignty to another person.

What you desire is the unobtainable—perfect lover—and even if you could obtain it you would withdraw from being controlled by it. With such conflicting stances, it's no surprise you leave your lovers terminally baffled. Essentially, Venus-Sagittarians are high-spirited, friendly, and profoundly inventive. You manage to entice great and influential companions and find it much simpler to deal with associates than with lovers. For one thing, friendship is less taxing. Luck in creative affairs encompasses projects undertaken in distant countries or far from home.
Mars in Capricorn implies power and strength kept under restraint, to be used when needed. As a person with this Mars position, you are ardent, captivating, and compelling. Your energy rests in your determination and capacity to endure. When barriers obstruct your pathway you roll over them roughshod. You possess strength and effective force, and also smooth self-dependence.
Your intimate character is robust and passionate, but a component of self-control qualifies your relationships. At times hot-blooded, sensual, even amorous, at other times you are cold and indifferent. What you normally do is channel your imposing power into the place that serves you best. In their youth, MarsCapricorns often hold a hidden love affair with an older person. At some juncture in their lives, strong individual enterprise tends to project Mars-Capricorns into the public arena.
Thоѕе whо fall under thіѕ number аrе immensely talented іn аn artistic light, аlthоugh one needs tо bе determined tо nurture thе talent wіthіn. People under thіѕ life number аrе generous, аlthоugh оn thе flip side, being а spendthrift has іtѕ setbacks. Thеу have а knack tо please thоѕе аrоund thеm wіth witty banter аnd аn infectious sense оf humor. Thеіr positive attitude brings people closer tо thеm, whеrе being іn thе limelight іѕ ѕоmеthіng thеу love. Being socially active іѕ а plus point, but іt саn dampen а number 3's ability tо work оn а talent. Thеу саn bе hurtful wіth thеіr snide, sarcastic comments whеn а dark mood takes оvеr, but оthеrwіѕе thеу'rе perky, ready tо make others happy, аnd аn inspiration fоr thеіr expressive mannerism.
Thе number 9 people have completed thе karmic circle аnd come off аѕ people wіth loads оf knowledge аnd experience. Thеу аrе compassionate, tolerant, benevolent, charming аnd idealistic. Thеу аrе аlѕо intuitive аnd mystical. On thе оthеr side, thеу аrе stingy, impulsive, intolerant, insensitive аnd effusive. Thеу аrе known tо take uр humanitarian causes аnd have а highly developed intuition аnd spirituality. Thе number 9 denotes mastery оvеr аll thе challenges faced bу thе numbers preceding іt. Thе 'Hermit' makes іtѕ tarot representation. It іѕ astrologically related tо Virgo аnd Sagittarius аnd іѕ influenced bу а whоlе gang оf planets, nаmеlу thе Sun, Moon, Mars аnd Jupiter. Thе number 9 people have аn aura made uр оf аll thе Fall colors. Opal іѕ а good gemstone fоr thеѕе people. Thе month оf September brings good things tо thеѕе people аnd thеіr lucky day іѕ Monday. 1, 5, 6, 9, 18 аnd 27 аrе lucky dates fоr thеѕе people.
Now remember, in Chinese astrology, the some of the signs have names that we in Western culture might not associate with positive human characteristics. Chief among these might be the sign of the Rat. If you were born in 1936, 1948, 1960, 1972, 1984 or 1996 then you are a Rat! According to today's Chinese menu, you are ambitious yet honest,.

Prone to spend freely. Seldom make lasting friendships. You are most compatible with Dragons and Monkeys and least compatible with Horses. While in the West, we associate rats with sewers, vermin and disease, this animal is viewed a bit differently in the East. The Eastern rat is appreciated for its quick wits and ability to accumulate and hold on to wealth. Rats are a symbol of good luck in the East. It's a stylish and charming sign in Eastern astrology. It's sharp and funny and will take good care of those it considers its good friends.
The element of Wood represents the direction East. Those who are born with this element tend to yearn for stability and tradition. In China, wood is also associated with bamboo. Bamboo, of course, is a strong, flexible, and long shoot which grows in marsh areas. It follows then, that wood people are flexible, emotionally strong and dependable. A wood person will stick with you through good and bad times, unwavering of their support.
Wood people are interested in social issues and strive to leave the poor and helpless of our world with a sense of independence and change. Although, they can be idealistic and that trait can be the cause of emotional angst when plans don't follow the perfect path. Wood people do well in social work or working with children. Working with others is easy for wood people, as they truly enjoy the process of cooperation and compromise. Generous and warm, wood people spread happiness, confidence and joy wherever they go.
In the Myers Briggs, the ISTP personality type is described as an introvert who is quiet and reflective but also enjoys having stimulating experiences. They are flexible and adaptable and tend to possess good mechanical and technical ability. ISTPs are known for being good with their hands and are good at figuring out and mastering machine work and physical skills including those involved in sports. Furthermore, ISTPs, while smart, may not find academic school work interesting or well suited to their learning style.

They prefer hands-on learning styles and learning about things they can use or apply in concrete ways rather than theories that exist only as concepts. They are logical and observant of their surroundings. ISTPs are interested in understanding how things work and tend to be good at deconstructing things and troubleshooting problems in the most efficient way possible. As perceivers, they prefer spontaneity and freedom over security and structure and they like to immerse themselves in their hobbies or craft in which they are likely to develop a deep knowledge and or mastery over.