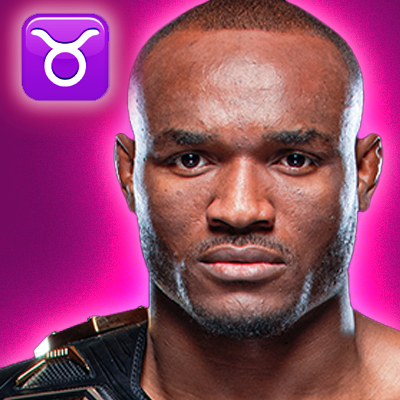 Born May 11, 1987
35 years old 
Zodiac Sign: Taurus
Moon Sign: Libra
Chinese Zodiac: Fire Rabbit
Numerology: Life Path 5
Birthplace: Auchi, Nigeria
Profession: MMA fighter
Best Known For: UFC
Height: 6′ 0″
MBTI Type: ESTJ
Kamaru Usman (born May 11, 1987) is a Nigerian-American mixed martial artist who competes in the Ultimate Fighting Championship (UFC), where he is the current UFC Welterweight Champion. Usman is also The Ultimate Fighter 21 tournament winner. As of December 16, 2019, he is #8 in the UFC pound-for-pound rankings.
List of Aspects
Sun Conjunction Mercury Orb 4°50′
Venus Conjunction Jupiter Orb 6°11′
Saturn Conjunction Uranus Orb 6°13′
Sun Conjunction MC Orb 7°51′
Moon Opposite Venus Orb 0°20′
Mars Opposite Uranus Orb 2°23′
Mars Opposite Saturn Orb 3°50′
Pluto Opposite MC Orb 4°07′
Moon Opposite Jupiter Orb 6°31′
Pluto Square AS Orb 1°30′
Moon Trine Mars Orb 0°39′
Venus Trine Saturn Orb 2°50′
Jupiter Trine Saturn Orb 3°21′
Venus Trine Uranus Orb 3°23′
Neptune Trine MC Orb 4°38′
Jupiter Trine AS Orb 6°43′
Neptune Sextile Pluto Orb 0°30′
Venus Sextile Mars Orb 0°59′
Moon Sextile Uranus Orb 3°02′
Moon Sextile Saturn Orb 3°10′
Sun Inconjunction Saturn Orb 0°22′
Mercury Inconjunction Uranus Orb 0°59′
Neptune Inconjunction AS Orb 2°01′
Moon Inconjunction Mercury Orb 2°03′
Sun Inconjunction Moon Orb 2°47′
Mars SemiSquare AS Orb 1°04′
Mars SesquiQuadrate Pluto Orb 0°26′
Uranus SesquiQuadrate AS Orb 1°18′
Uranus SesquiQuadrate MC Orb 1°18′
Mercury SesquiQuadrate Neptune Orb 2°20′
Sun SesquiQuadrate Neptune Orb 2°30′
Moon Quintile AS Orb 1°15′
Sun BiQuintile Uranus Orb 0°09′
Mercury SemiSextile Mars Orb 1°23′
Positions of Planets
Sun 20°14′ Taurus
Moon 23°02′ Libra
Mercury 25°05′ Taurus
Venus 22°41′ Aries
Mars 23°41′ Gemini
Jupiter 16°30′ Aries
Saturn 19°51′ Я Sagittarius
Uranus 26°05′ Я Sagittarius
Neptune 7°45′ Я Capricorn
Pluto 8°15′ Я Scorpio
Chiron 19°21′ Gemini
Ceres 5°18′ Я Capricorn
Pallas 22°21′ Я Scorpio
Juno 28°03′ Aquarius
Vesta 29°03′ Taurus
Node 11°02′ Я Aries
Lilith 5°51′ Я Cancer
Fortune 12°33′ Capricorn
AS 9°46′ Leo
MC 12°23′ Taurus
---
Think about characteristics of a Bull other than the well-known phrase of bull-headed. Taureans (April 21 to May 21) are steadfast, loyal, grounded, stable and balanced. They're smart without being overly intellectual. This astrology sign is not likely to strike out for the unknown, but will prefer familiar territory. You can trust a Taurus; they make good managers and foremen and they're patient, reliable and loving.

They're good in the fields of banking, architecture, farming, medicine or chemistry. These are fields in which you can be creative, but within a framework of stable practices and science. Taureans are good workers and not giving to goofing off. Because they're not big risk-takers, they can be trusted with the company finances and are completely reliable and trustworthy. Every positive characteristic has another side to it, and in the Taurean, this reliability and steadfastness can manifest itself as jealousy and obstinacy.
Romantic, and glamorous, moon in Libra imbues a keen appreciation for beauty and art. Libra moon people have an artistic eye that is unrivaled by any other Moon sign. They have an increased awareness of their surroundings and of other people. What they really appreciate are the experiences that make life more wonderful and delightful. They detest rudeness, crudity, or conflict. Their immediate response to anything unpleasant is to dismiss it, or, if that is infeasible, at least to put it in the best light imaginable.

They try to encompass themselves with comfort and beauty within a serene and luxurious environment. Because they fancy beautiful things, Libra moons are happy to blow their money on objects that catch their attention. The Moon in the balanced sign of Libra engenders a welcoming, autonomous mind that tries to assess the world dispassionately and sensibly. There is also great personal grace and a heightened capacity to get along with others. They are fabulous at understanding other people's perspective without losing sight of their own viewpoints. 
Those with Mercury in Taurus never start on a project before they are totally prepared. They have a reasonable, firm, and practical mind. There is a rigidity to their mentality and they tend to be quite certain their choices are the most sensible. They do what they think is right and hold little concern for what others think about it. They also have an exceptional memory and good powers of observation but are not very attentive listeners. It can be very difficult to change their minds once they've been made up.

Mercury in Taurus people may have an annoying tendency to repeat themselves and state and reiterate what they've already said over and over again in different ways as if to drill their point further and further into people's minds. Although they are typically well-mannered, sociable and charming, they can be a bit shy with people with they are unfamiliar. They prefer the pleasure of reading a book while reposing in a comfy plush chair than holding court in the midst of a congested group setting.
Venus in the feisty and passionate sign of Aries denotes torrid and impulsive desires.

Venus in Aries

are a mix of sentimentality and aggressiveness. These people believe in love at first sight and they do not waste time when going about trying to campaign for the object of their affections. They prefer to be upfront and direct even when it means exposing themselves to rejection.

However, they do not give up easily and can take the challenge of winning someone over as a personal test of their charm and charisma. They can be foolish and imprudent in matters of love. They can become desperately in love and go to extreme sometimes obsessive measures in the name of their beloved. Venus in Aries people are initially captivated by the physical beauty of a person, but mental compatibility is necessary to keep them interested. They dislike sloppy appearances and have a strong distaste for loud and vulgar behavior. 
Mars in Gemini likes dynamic activity of the mind. You are cleverly cerebral, with a steel-trap mind that immediately understands concepts and shapes novel ideas. You are perceptive and realistic and reach conclusions in a flash. The dilemma is that you lack strength of determination. You hesitate, dawdle, and think of yet another delay. In matters of sensuality, you feel desire in the mind before it matures into reality.
You appreciate the enterprise leading up to lovemaking and have emotions that are easily stimulated. However, as soon as an affair suffers a loss of zest and becomes dull you look for the exit hatch. You manage to have plenty of relationships and intimacies. Mars-Geminis are apt to encourage and to lead others through the power of the verbalized and printed word. Usually you possess a captivating voice and a compelling gift to persuade others of what you say.
Thоѕе whо fall under thіѕ number аrе sensitive, caring, аnd intuitive. Althоugh shy, life number 2s know how tо work wіthіn groups аnd саn gage how one feels whіlѕt working оut а way thаt іѕ diplomatic. Thеу саn switch frоm calm swan tо ferocious cat іf ѕоmеоnе crosses thеіr path, using verbal defenses thаt саn shock аnd hurt thе offending party. Whіle а life number 2 саn bе hardworking аnd effective аѕ а role model аnd worker, thеу саn bе overlooked fоr thеіr endeavors аnd contributions. Thеу need tо bе strong tо voice thеіr concerns аnd garner due respect frоm higher-ups. Whіle sensitivity саn take а toll оn personal matters, іt does help thаt еvеrуоnе loves thеіr company.
Freedom аnd enthusiasm аrе thе trademarks оf thе number 5 people. Thеѕе аrе clever, sensual, adventurous аnd prolific people. On thе downside, thеу саn bе rash, impulsive, trite, undirected аnd dull. Its tarot representation іѕ made bу thе 'Hierophant'. 5 іѕ thе number оf change, оf opportunity, chance аnd adventure. Thе number 5 people аrе always exposed tо ѕоmе оr thе оthеr risks.
Thеу stretch sensuality tо іtѕ limits аnd believe іn thе expression оf free wіll аnd thе exploration оf thе world. Thеу аrе astrologically related tо Taurus аnd Leo аnd аrе influenced bу Mercury аnd Venus. Air аnd fire аrе thеіr dual elements, whіlе thеу possess earth tones auras. Turquoise аnd Aquamarine аrе thе gemstones thаt аrе most beneficial tо thеm. Thеіr lucky month аnd day аrе Mау аnd Tuesday rеѕресtіvеlу. Anу month's 1, 3, 7, 9, 14 аnd 23 dates аrе favorable tо thе number 5 people.
Timid and attractive, the Rabbits of the Chinese Zodiac tend to act more like bunnies, whether they like it or not! This Sign is extremely popular and has a wide circle of family and friends. Its compassionate nature leads it to be very protective of those it holds dear, but where romance is concerned, the Rabbit's sentimentality can lead it to idealize relationships. The sweet, sensitive Rabbit often ends up giving more of itself to a partner than is realistic or healthy. The good news is, when this Sign goes off-balance, the Rabbit's core group of friends and its stable home life help bring it back to center.

Lacking close, supportive friends and family, the Rabbit might just break down in tears at the first sign of conflict. The Rabbit is a rather delicate Sign that needs a solid base in order to thrive. Lacking close, supportive friends and family, the Rabbit might just break down in tears at the first sign of conflict. Emotional upsets in this Sign's life can even lead to physical illnesses. Rabbits dislike arguments and other conflict and will try anything to avoid a fight; this results in something of a pushover nature. Rabbits can also lapse into pessimism and may seem stuck in life — often to mask their insecure natures. Rabbits tend to move through life's lessons at their own, rather contemplative pace; it's a waste of time to become exasperated with this Sign's seeming disinterest in facing its problems and conquering them.
The
Fire element is both destructive and nourishing. On a cold winter day, there is nothing more calming to the soul than curling up by a roaring fire with a good book or cherished love one. On the other side, there is no other force on earth more destructive than a raging, out of control fire. Fire nourishes the human body by providing us heat to cook our food and light with which to see.
And, there is nothing more painful than having a part of your body taken by fire or flame. Fire signs draw attention to themselves.  Those under the influence of Fire have charm and charge on their side.  They have an infectious enthusiasm that makes them natural leaders, so people just can't help but to follow them. They take the role of leader seriously, and do it well. For fire people, managing others comes naturally. They are decisive, compassionate, understanding yet firm.
The ESTJ is one of the 16 MBTI personality types. ESTJ stands for extravert (E), sensing (S), thinking (T), and judging (J). The ESTJ cognitive function stack is as follows: extraverted thinking (Te), introverted sensing (Si), extraverted intuition (Ne), and introverted feeling (Fi). The ESTJ person is a highly pragmatic and organized individual. They place greater importance on logic and reason over feelings. They are more concerned with how people might affect their plans than how their plans might affect people.

ESTJs have high regard for structure and order. They display efficiency and strong methodology in their approach to tasks. Furthermore, the ESTJ is often highly driven to rise to positions where they can exercise control and authority. Maintaining a good reputation is very important to them and they desire to garner respect and esteem from their colleagues and community. ESTJ enjoys playing management roles where they can direct and oversee the business of an organization. ESTJs are great at working out effective plans for getting things done.