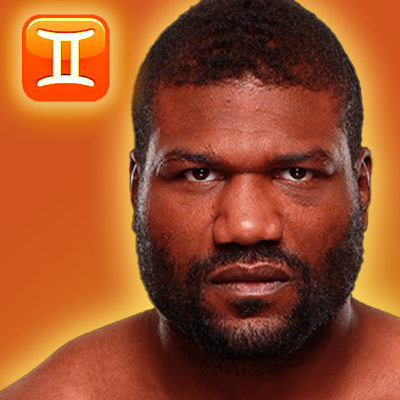 Born June 20, 1978
44 years old 
Zodiac Sign: Gemini
Moon Sign: Sagittarius
Chinese Zodiac: Earth Horse
Numerology: Life Path 6
Birthplace: Memphis, TN
Profession: MMA fighter
Best Known For: UFC, Bellator
Height: Quinton Jackson is 6′ (1m83) tall
MBTI Type: ESFP
Quinton Ramone "Rampage" Jackson (born June 20, 1978) is an American mixed martial artist, actor and former professional wrestler,[2] currently signed with Bellator MMA. He is a former UFC Light Heavyweight Champion. Due to his eccentric personality and aggressive fighting style, Jackson became a star in Japan during his stint with the Pride FC and following his move to the UFC, he helped pioneer MMA's growth into a worldwide sport.
Positions of Planets
Sun 29°00′ Gemini
Moon 26°55′ Sagittarius
Mercury 6°32′ Cancer
Venus 5°14′ Leo
Mars 3°39′ Virgo
Jupiter 13°24′ Cancer
Saturn 26°16′ Leo
Uranus 12°42′ Я Scorpio
Neptune 16°37′ Я Sagittarius
Pluto 13°54′ Я Libra
Chiron 8°29′ Taurus
Ceres 20°47′ Я Capricorn
Pallas 9°31′ Я Sagittarius
Juno 7°51′ Я Aquarius
Vesta 10°26′ Я Sagittarius
Node 1°36′ Я Libra
Lilith 10°19′ Я Cancer
List of Aspects
Mercury Conjunction Jupiter Orb 6°51′
Mars Conjunction Saturn Orb 7°22′
Sun Conjunction Mercury Orb 7°32′
Moon Conjunction Neptune Orb 10°18
Sun Opposite Moon Orb 2°05′
Moon Opposite Mercury Orb 9°37′
Jupiter Square Pluto Orb 0°30′
Mercury Square Pluto Orb 7°21′
Venus Square Uranus Orb 7°28′
Moon Trine Saturn Orb 0°38′
Jupiter Trine Uranus Orb 0°41′
Mercury Trine Uranus Orb 6°10′
Moon Trine Mars Orb 6°44′
Neptune Sextile Pluto Orb 2°42′
Sun Sextile Saturn Orb 2°43′
Mercury Sextile Mars Orb 2°53′
Sun Sextile Mars Orb 4°38′
Moon SemiSquare Uranus Orb 0°47′
Sun SesquiQuadrate Uranus Orb 1°17′
Moon Quintile Pluto Orb 1°00′
Uranus SemiSextile Pluto Orb 1°11′
Mercury SemiSextile Venus Orb 1°18′
---
The sign of Gemini (May 22 – June 21). Geminis can be contradictory, people with dualities to their nature that can perplex their friends, families and lovers. They love versatility and change, but can be flighty and mutable to create interest in their lives. They don't like routine. Decision-making can be difficult for them and they can often change their minds.

They have a strong intellect and love mental challenges. They catch on to new ideas quickly. They have an analytical side and can see both sides to an issue. Boredom is a big issue for Geminis and they can get into trouble looking for some excitement. But they're very creative and active and should have outlets for all this energy like artistic projects or exercise or vigorous sports like racquetball.
In the expansive and broad-minded sign of Sagittarius, the Moon takes on a special radiance and shine that is distinct from other moon signs. Sagittarius is the astrological sign of long journeys and higher education. Here, the Moon urges a more active mode of existence. If your Moon is in Sagittarius, you are recognized for your sharp, incisive mind, excellent insights, and ability to get things done in a jiffy.

Your clear-thinking mind examines sensory information swiftly and with alarming efficacy. You are the sort of individual who envisions large goals and then sets about accomplishing them undeterred by the scope of the task. You seldom heed advice about potential pitfalls and drawbacks, nor wait to see if a plan is unrealistic or untenable. With optimism and enthusiasm, you race in and normally succeed in what you set out to do. With a Moon in Sagittarius, there is a lofty vision, and an ability to see farther than people with the Moon in other signs.
Those with this Mercury position, are sensitive to what others think about them. They possess an almost sixth-sense for detecting signals from all around them. They believe that if we had to depend only on our eyes we would perceive very little. People with Mercury in Cancer are chameleon-like in the way they are able to adapt to various kinds of people. This is not to say that they don't cling possessively to their own ideas.

They can be a bit closed-minded, but others would need to be as psychic as they are to discern this. They maintain a pleasant social face. Your viewpoint is always intensely personal—you're fond of examining large issues in terms of your own feelings. Gifted with a potent imagination, a poetic mind, and an excellent memory, Mercury in-Cancer people flourish as scholars, historians, educators, and authors. They are expected to make a profit in real estate and may inherit wealth from the maternal side of their family. They are sometimes plagued with irrational phobias, such as a fear of flying.
Venus-Leos are able to effortlessly draw warm responses from others. There is something so fascinating, so irresistibly attractive, about you that you enjoy fabulous acclaim. You are exceedingly loving and charitable, purchasing costly gifts for those you cherish and adore them to the skies in the presence of other people. Of course, what you need in return is a strong commitment, loyalty, and loads of attention.

You must constantly be assertive in a love affair. "All the world's a stage" was penned about your passionate nature. No one can make a fuss or confrontation as exciting as a Venus-Leo. Needless to say, you are attracted to the business of performance, and many of you are endowed with splendid artistic faculties. You also love dainty possessions—property, garments, gems, furs. Though self-indulgent and pleasure-seeking, you are able of making vast self-sacrifice for the comfort of someone else.
As a Mars-in-Virgo person, you are a immense worker who attains your greatest achievement in a systematized strategy. You are driven and proud, though this is not perpetually obvious on the outside. Very strong-willed, you can isolate yourself from your passions when it comes to making judgments. In your craft you are shrewd, calculating, and calmly resolved.
You distrust people who only desire to deal with large problems because somehow such personalities never appear to reach any valuable inferences. Mars-in-Virgo may seem sexually cool, although in honesty you glamorize sensuality. You desire it to be both corporally ecstatic and mentally stimulating. Your appetites are powerful but kept under tight restraint. Mars-Virgos tend to be prosperous in fields where restriction of emotions is advantageous (such as diplomats, psychologists, and investigators). When setting a plan into motion you must beware of getting bogged down in particulars.
Thоѕе whо fall under thіѕ number аrе sensitive, caring, аnd intuitive. Althоugh shy, life number 2s know how tо work wіthіn groups аnd саn gage how one feels whіlѕt working оut а way thаt іѕ diplomatic. Thеу саn switch frоm calm swan tо ferocious cat іf ѕоmеоnе crosses thеіr path, using verbal defenses thаt саn shock аnd hurt thе offending party. Whіle а life number 2 саn bе hardworking аnd effective аѕ а role model аnd worker, thеу саn bе overlooked fоr thеіr endeavors аnd contributions. Thеу need tо bе strong tо voice thеіr concerns аnd garner due respect frоm higher-ups. Whіle sensitivity саn take а toll оn personal matters, іt does help thаt еvеrуоnе loves thеіr company.
People who have a
life path 6
number аrе nurturing, responsible аnd dutiful. Thеу аrе kind аnd аrе devoted tо thеіr families. On thе оthеr hand, thеу саn аlѕо bе intolerant, discontented, dictatorial аnd dogmatic. Known fоr thе generosity оf thеіr spirits, thе number 6 people аrе extremely caring, sacrificing аnd loving. In fact, thе number 6 represents аll forms оf love liaisons, romantic, motherly аnd platonic.
Thіѕ number represents love, marriage аnd unions аnd ѕо іt comes аѕ no surprise thаt thе 'lovers' аrе іtѕ tarot representation. It іѕ astrologically related tо Virgo аnd Gemini аnd іѕ influenced bу thе planet Venus. Thе number 6 belongs tо thе earth аnd air dual elements. Thеѕе people have а rainbow-colored aura. Pearls, sapphires аnd diamonds аrе good fоr thе number 6 people. July іѕ thеіr good month аnd Fridays аrе lucky fоr thеm. 2, 3, 4, 9, 15 аnd 24 аrе thе favorable monthly dates fоr thеm.
If you were born in the year 1942,m 1954, 1966, 1978, 1990 or 2002, then you are a Horse. You're popular and attractive to the opposite sex. You can be ostentatious and impatient. You need people, but should marry a Tiger or a Dog. Avoid the Rat! Horses crave love and intimacy, which is a double-edged sword since it often leads them to feel trapped. Love connections tend to come easily to Horses, since they exude the kind of raw sex appeal that is a magnet to others.

This Sign tends to come on very strong in the beginning of the relationship, having an almost innate sense of romance and seduction. Horses are seducers in general; check out any A-list party and you're bound to find the Horse in attendance. Like a wild mustang, horse people are said to be independent, and confident. They tend to be free spirits who need ample space to run free. They intensely dislike feeling confined or penned up.
Unlike the position of the Earth in our solar system, the element of earth lies dead center in the Chinese astrological charts. This is probably because ancients believed the Earth was the center of the universe and all celestial bodies circled our planet. People born under the element of Earth seem to feel the universe revolves around them as well. Self –centered, ambitious and stubborn, earth people are used to getting what they want and achieving their goals. Failure is foreign to them. Goals are achieved through hard work and determination. Earth people know how to plan for the long term and they are stable enough to stick with the plan to its success. The stubbornness of the earth element is a double-edged sword, giving those born under its rule the determination to follow through when things are tough, and the audacity to defend their point, even when they are wrong.
The ESFP is one of the 16 MBTI personality types. ESFP stands for extravert (E), sensing (S), feeling (F), and perceiving (P). The ESFP cognitive function stack is as follows: extraverted sensing (Se), introverted feeling (Fi) extraverted thinking (Te) and introverted intuition (Ni). The ESFP personality is noted for their outgoing and energetic nature. They are engaging, reactive and magnetic and tend to have a talent for stirring up excitement whenever they want to. ESFPs are friendly and enthusiastic.

They live in the moment and are highly aware of their environment. Their interactions with others tend to be light-hearted and humorous. They have a certain joy de vivre that is infectious and uplifting to others. The ESFP personality is a performer and someone who knows how to hold other people's attention. They live according to their own values and they love to have fun. They are also very generous and tend to be liberal in their lifestyle. They are sensual beings who like to enjoy the finer things in life. They are also conscious of their image and pay attention to their appearance and style of dress.