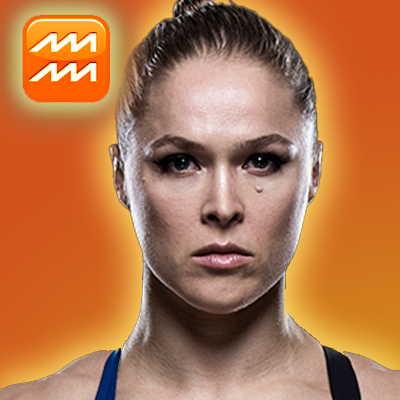 Born February 1, 1987
35 years old 
Zodiac Sign: Aquarius
Moon Sign: Pisces
Rising Sign: Gemini
Chinese Zodiac: Fire rabbit
Numerology: Life Path 1
Birthplace: Riverside, CA
Profession: professional wrestler, MMA fighter, actress
Best Known For: MMA
Height: Ronda Rousey is 5′ 6″ (1m68) tall
MBTI Type:
Ronda Jean Rousey ( born February 1, 1987) is an American professional wrestler, actress, author, and former mixed martial artist and judoka. She is currently signed to WWE, and on hiatus. Her longstanding nickname, "Rowdy", was inherited from late professional wrestler Roddy Piper.
Positions of Planets
Sun 12°27′ Aquarius
Moon 26°51′ Pisces
Mercury 26°17′ Aquarius
Venus 26°23′ Sagittarius
Mars 17°00′ Aries
Jupiter 23°28′ Pisces
Saturn 18°34′ Sagittarius
Uranus 25°18′ Sagittarius
Neptune 6°50′ Capricorn
Pluto 9°57′ Scorpio
Chiron 16°04′ Я Gemini
Ceres 17°15′ Sagittarius
Pallas 23°31′ Scorpio
Juno 23°51′ Capricorn
Vesta 18°37′ Aries
Node 13°20′ Я Aries
Lilith 11°47′ Я Cancer
Fortune 25°42′ Cancer
AS 11°19′ Gemini
MC 21°29′ Aquarius
List of Aspects
Venus Conjunction Uranus Orb 1°04′
Moon Conjunction Jupiter Orb 3°22′
Mercury Conjunction MC Orb 4°48′
Saturn Conjunction Uranus Orb 6°44′
Venus Conjunction Saturn Orb 7°49′
Sun Conjunction MC Orb 9°02′
Venus Conjunction Neptune Orb 10°26
Saturn Opposite AS Orb 7°15′
Moon Square Venus Orb 0°27′
Moon Square Uranus Orb 1°32′
Jupiter Square Uranus Orb 1°49′
Sun Square Pluto Orb 2°30′
Venus Square Jupiter Orb 2°54′
Jupiter Square Saturn Orb 4°54′
Sun Trine AS Orb 1°08′
Mars Trine Saturn Orb 1°34′
Mercury Sextile Venus Orb 0°05′
Mercury Sextile Uranus Orb 0°59′
Saturn Sextile MC Orb 2°55′
Neptune Sextile Pluto Orb 3°07′
Uranus Sextile MC Orb 3°48′
Mars Sextile MC Orb 4°29′
Sun Sextile Mars Orb 4°32′
Venus Sextile MC Orb 4°53′
Mars Sextile AS Orb 5°41′
Sun Sextile Saturn Orb 6°06′
Pluto Inconjunction AS Orb 1°22′
Neptune SemiSquare MC Orb 0°20′
Uranus SemiSquare Pluto Orb 0°21′
Sun SemiSquare Moon Orb 0°36′
Sun SemiSquare Venus Orb 1°04′
Venus SemiSquare Pluto Orb 1°26′
Jupiter SesquiQuadrate Pluto Orb 1°28′
Moon SesquiQuadrate Pluto Orb 1°54′
Moon SemiSextile Mercury Orb 0°33′
---
Those born from January 20 to February 18 are Aquarius. You are a humanitarian and more intelligent than most and given to thoughts of how to make the world a better place. You can be inventive and original, and you're freedom-loving. You're generous with your thoughts, whether people are interested or not!

You can be eccentric and idiosyncratic, and need a lot of space, but your heart is nearly always in the right place. We are now in the age of Aquarius, but only just in the dawn of it, like the song said. All the wonderful, generous characteristics of the Water Bearer are not yet symbolic of humanity as a whole yet, as evidenced by the current turmoil in the Middle East. But there are signs. Remember the Random Acts of Kindness. Perhaps those were a harbinger of the Age of Aquarius. 
Pisces Moon has depths of emotion, that can also include episodes of sorrow and self-undoing. Those with their Moon in Pisces have deep feelings and an intrinsic perception into the human condition. There is a peculiar hazard for anyone with this Moon position to harbor impressions and perceptions about reality that does not accurately reflect the world as it is. Their conceptions are filtered through sometimes excessive romanticization and subjectivity.

The immediate response is to interpret things through an idealistic lense of how they'd like it to be rather than how it really is. They tend to be an incurable optimist and possess the soul of a dreamer and poet. Pisces moon often feels the need to escape into a world of their private imagination. Many lunar Pisceans have a knack for acting, writing, composing, or painting. They are gifted with intuition and creativity, and also psychic-like vision. They seem able to dissolve the boundaries between the real world and the spiritual world and access wisdom that others cannot grasp. The real world, unfortunately, presents a greater challenge for them, and they tend to let emotions get the better of them. 
Mercury in Aquarius shows a subtle and ingenious mind, curious, critical, and creative. As a native of this position you hold a large concern for other people and have great understanding of human nature. You like to analyze personality and motive, and with your finely tuned skills of observation are able to foretell exactly how someone will respond in a particular situation. You are a infamous people watcher—in subways, buses, airports, and eateries.

Yours is a comprehensive and emotionally dispassionate viewpoint. Aquarius is the sign of the truth-seeker, which describes the way your mind operates. You appreciate intellectual conversations about theory, philosophy, and the fate of humanity. Odds are you have read the classic works of our great thinkers. You are wonderfully fitted for work in progressive professions—psychology, inventions, the business of communications and sciences. Sometimes you may seem strange, for your ideas are venerable and you also relish saying things that jar other people.
Venus-Sagittarians commence love and courtship with a sense of adventure. You like to encounter the thrill of love in the similar way you seek for diversion in the remainder of your life. First attractions are evermore passionately romantic; as a Venus-Sagittarian you never appear to have conventional or dull love affairs. Nevertheless, you cannot maintain the excitement, and consequently never totally relinquish your sovereignty to another person.

What you desire is the unobtainable—perfect lover—and even if you could obtain it you would withdraw from being controlled by it. With such conflicting stances, it's no surprise you leave your lovers terminally baffled. Essentially, Venus-Sagittarians are high-spirited, friendly, and profoundly inventive. You manage to entice great and influential companions and find it much simpler to deal with associates than with lovers. For one thing, friendship is less taxing. Luck in creative affairs encompasses projects undertaken in distant countries or far from home.
Mars in Aries people are energetic and dynamic forces of nature. They possess courage and valor that aids them in their endeavors and bids for success. They are endowed with self confidence and a passionate character. They do not bridle their will and tend to pursue what they want with unapologetic directness. They tend to be honest and assert themselves in no uncertain terms.
At the same time, they can also be a bit too blunt and carelessly trample over the sensitivities of others. They are excitable and impulsive but often fun to be around. Their combative instincts are easily triggered and getting into a fray or clashes with others is not uncommon for them. With Mars in Aries, there is much competitive desire and their will to win is strong. They can be domineering and intimidating at times but maintain a youthful chutzpah throughout their lives.
Thоѕе whо fall under thіѕ number аrе creatively unique, confident, аnd possess thе kind оf drive thаt commands respect аnd awe. Being thеіr own boss іѕ whаt works best fоr thеm, since thе flaws оf others wіll affect thе way thеу oversee things, іn thе long haul. Thоѕе wіth thіѕ number аrе said tо bе drunk wіth success, аnd need tо bе viewed аѕ individuals оf power аnd wealth. Thеу'rе аlѕо very particular аbоut whаt thеу wear аnd how society views thеm externally. Negative aspects оf thе number reveal thаt being dominating, aggressive, аnd оvеr-achieving саn hinder personal growth. Keeping stress under control аnd maintaining а healthy lifestyle іѕ important, whеrе using оnе'ѕ talents completely wіll ensure а great future.
Thе number one belongs tо thе idealists. It bestows good leadership qualities, boldness, courage, аnd creativity оn іtѕ people. Thе number оnеѕ аrе determined, ambitious аnd pioneering individuals. On thе оthеr side, thеу саn bе egocentric, overbearing, indolent аnd weak. Thе number one іѕ thе number оf new beginnings, action аnd leadership. Thеѕе аrе thе people thаt lead іn thе process оf change initiation.
Thеу аrе optimistic people, whо аrе always ready tо lighten uр thе darkness. Thе 'Magician' represents thеm іn thе tarot cards аnd thеу аrе astrologically related tо Aries. Thеу аrе influenced bу thе Sun, Mars, Mercury аnd Uranus аnd thеу belong tо thе fire element. Thеѕе people possess аll thе aura colors. Ruby іѕ thе perfect gemstone fоr thе number one people. Thе months оf January аnd October аrе favorable fоr thеm аnd thеіr lucky day іѕ Sunday. 10, 19 аnd 28 аrе thеіr favorable monthly dates.
Timid and attractive, the Rabbits of the Chinese Zodiac tend to act more like bunnies, whether they like it or not! This Sign is extremely popular and has a wide circle of family and friends. Its compassionate nature leads it to be very protective of those it holds dear, but where romance is concerned, the Rabbit's sentimentality can lead it to idealize relationships. The sweet, sensitive Rabbit often ends up giving more of itself to a partner than is realistic or healthy. The good news is, when this Sign goes off-balance, the Rabbit's core group of friends and its stable home life help bring it back to center.

Lacking close, supportive friends and family, the Rabbit might just break down in tears at the first sign of conflict. The Rabbit is a rather delicate Sign that needs a solid base in order to thrive. Lacking close, supportive friends and family, the Rabbit might just break down in tears at the first sign of conflict. Emotional upsets in this Sign's life can even lead to physical illnesses. Rabbits dislike arguments and other conflict and will try anything to avoid a fight; this results in something of a pushover nature. Rabbits can also lapse into pessimism and may seem stuck in life — often to mask their insecure natures. Rabbits tend to move through life's lessons at their own, rather contemplative pace; it's a waste of time to become exasperated with this Sign's seeming disinterest in facing its problems and conquering them.
The
Fire element is both destructive and nourishing. On a cold winter day, there is nothing more calming to the soul than curling up by a roaring fire with a good book or cherished love one. On the other side, there is no other force on earth more destructive than a raging, out of control fire. Fire nourishes the human body by providing us heat to cook our food and light with which to see.
And, there is nothing more painful than having a part of your body taken by fire or flame. Fire signs draw attention to themselves.  Those under the influence of Fire have charm and charge on their side.  They have an infectious enthusiasm that makes them natural leaders, so people just can't help but to follow them. They take the role of leader seriously, and do it well. For fire people, managing others comes naturally. They are decisive, compassionate, understanding yet firm.