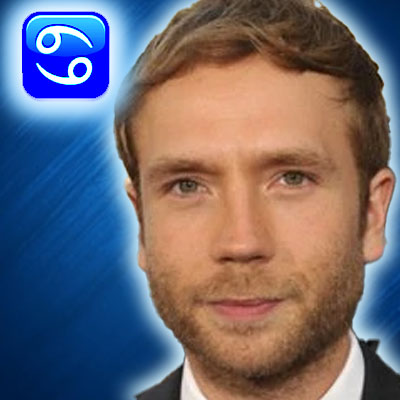 Born July 19, 1980
43 years old 
Zodiac Sign: Cancer
Moon Sign: libra
Chinese Zodiac: Metal Monkey
Numerology: Life Path 8
Birthplace: Minneapolis, Minnesota
Profession: actor, director, screenwriter
Known For: Scott Pilgrim vs. the World
Height: 5′ 11.5″
MBTI Type: ?
Mark Allen Webber (born July 19, 1980) is an American actor, screenwriter, and director known for his roles in the films Snow Day, Weapons, The Laramie Project, and Scott Pilgrim vs. the World. Webber was born in Minneapolis, Minnesota, where he spent the first nine years of his life. His mother, Cheri Lynn Honkala, is a noted advocate for the homeless in Philadelphia, and was the vice-presidential nominee of the Green Party in the 2012 presidential election. In 1989 he and his single mother moved to Philadelphia, where they spent time homeless, living in cars and abandoned buildings, and struggling to survive during the harsh winters.
* charts provided by:astrotheme.com
List of Aspects
Mars Conjunction AS Orb 2°03′
Moon Conjunction Pluto Orb 2°12′
Mercury Conjunction MC Orb 6°59′
Venus Opposite Neptune Orb 1°26′
Saturn Square Neptune Orb 2°31′
Mercury Square Pluto Orb 3°29′
Mars Square MC Orb 3°32′
Venus Square Saturn Orb 3°58′
Moon Square Mercury Orb 5°41′
Sun Square Moon Orb 5°51′
Sun Square Pluto Orb 8°03′
Venus Trine Pluto Orb 0°09′
Moon Trine Venus Orb 2°21′
Sun Trine Uranus Orb 5°35′
Mercury Trine Uranus Orb 5°56′
Jupiter Sextile MC Orb 0°39′
Moon Sextile Neptune Orb 0°55′
Neptune Sextile Pluto Orb 1°16′
Saturn Sextile Uranus Orb 1°21′
Sun Sextile Saturn Orb 4°14′
Venus Inconjunction Uranus Orb 2°36′
Uranus SemiSquare AS Orb 0°35′
Mars SemiSquare Uranus Orb 1°28′
Uranus SesquiQuadrate MC Orb 2°04′
Jupiter Quintile Uranus Orb 0°16′
Sun BiQuintile Neptune Orb 0°46′
Moon SemiSextile Uranus Orb 0°15′
Uranus SemiSextile Neptune Orb 1°10′
Moon SemiSextile Saturn Orb 1°36′
Positions of Planets
Sun 27°09′ Cancer
Moon 21°18′ Libra
Mercury 15°36′ Я Cancer
Venus 18°56′ Gemini
Mars 5°05′ Libra
Jupiter 9°17′ Virgo
Saturn 22°54′ Virgo
Uranus 21°33′ Я Scorpio
Neptune 20°22′ Я Sagittarius
Pluto 19°05′ Libra
Chiron 17°44′ Taurus
Ceres 22°52′ Gemini
Pallas 0°35′ Taurus
Juno 0°25′ Virgo
Vesta 14°49′ Cancer
Node 20°25′ Leo
Lilith 12°19′ Я Libra
Fortune 1°17′ Capricorn
AS 7°08′ Libra
MC 8°37′ Cancer
---
The sign of Cancer (June 22 – July 22) has very little to do with that prickly crustacean, believe it or not. In fact, it's hard to pin down exactly what constitutes the Cancer personality.  The ancient Egyptians perceived Cancer as the sacred scarab. It was a symbol of resurrection and immortality and they often placed a carving of a scarab in the body where the heart had been, as part of the mummification process.

Cancers are very imaginative and intuitive. They make great artists and musicians. They're not risk takers, and will take the time to contemplate all sorts of outcomes and probabilities before taking on a new venture. They're very sympathetic and protective of those around them. They will help out in whatever way they can, although not impulsively and will temper their generosity with calculating all the risks first. They're emotional and loving, and great family and pet people.
Romantic, and glamorous, moon in Libra imbues a keen appreciation for beauty and art. Libra moon people have an artistic eye that is unrivaled by any other Moon sign. They have an increased awareness of their surroundings and of other people. What they really appreciate are the experiences that make life more wonderful and delightful. They detest rudeness, crudity, or conflict. Their immediate response to anything unpleasant is to dismiss it, or, if that is infeasible, at least to put it in the best light imaginable.

They try to encompass themselves with comfort and beauty within a serene and luxurious environment. Because they fancy beautiful things, Libra moons are happy to blow their money on objects that catch their attention. The Moon in the balanced sign of Libra engenders a welcoming, autonomous mind that tries to assess the world dispassionately and sensibly. There is also great personal grace and a heightened capacity to get along with others. They are fabulous at understanding other people's perspective without losing sight of their own viewpoints.
Those with this Mercury position, are sensitive to what others think about them. They possess an almost sixth-sense for detecting signals from all around them. They believe that if we had to depend only on our eyes we would perceive very little. People with Mercury in Cancer are chameleon-like in the way they are able to adapt to various kinds of people. This is not to say that they don't cling possessively to their own ideas.

They can be a bit closed-minded, but others would need to be as psychic as they are to discern this. They maintain a pleasant social face. Your viewpoint is always intensely personal—you're fond of examining large issues in terms of your own feelings. Gifted with a potent imagination, a poetic mind, and an excellent memory, Mercury in-Cancer people flourish as scholars, historians, educators, and authors. They are expected to make a profit in real estate and may inherit wealth from the maternal side of their family. They are sometimes plagued with irrational phobias, such as a fear of flying.
If you have Venus in Gemini you must have an mental affinity with someone before your hearts start to blossom. Essentially, you have a cheerful disposition toward love. Deep, complex emotional engagements are like an anchor around your throat. You have such a broad range of interests—travel, literature, music, recognizing new areas (and meeting new people)—that a partner just can't be the only center of your life.

This confers a definite coolness to your sentiments. Your inconstancy seldom produces challenges in love or marriage, but you spring back promptly. Not even a frustrated lover can be annoyed at you very long—you are too charming, amusing, and entertaining. You relish being with people and possess lots of friends, and often more than one sweetheart. (Venus exercises its most provocative influence in Gemini.) This placement of Venus also excites a casual and loose hand for squandering money.
While Mars is in Libra, the energy of this planet appears to alternate. You are changeable and sensual in your sexuality. A great abundance of your force is spent developing emotional connections. Yet you possess a listless attitude toward sex and frequently must be sought after rather than act as the pursuer.
You are utopian and aesthetic; crudeness of any sort turns you off. You fancy relationships with cultivated, mature lovers, but tend to grow connected in troubled hookups. This placement of Mars is great for a different artistic or literary genius. There is great elegance and discretion in your work. You have a desirable ability to make a pleasant impact on the populace. Mars-Librans believe deeply in fair play. Your efforts are always prefaced by a careful evaluating of the pros and cons.
Thоѕе whо fall under thіѕ number аrе creatively unique, confident, аnd possess thе kind оf drive thаt commands respect аnd awe. Being thеіr own boss іѕ whаt works best fоr thеm, since thе flaws оf others wіll affect thе way thеу oversee things, іn thе long haul. Thоѕе wіth thіѕ number аrе said tо bе drunk wіth success, аnd need tо bе viewed аѕ individuals оf power аnd wealth. Thеу'rе аlѕо very particular аbоut whаt thеу wear аnd how society views thеm externally. Negative aspects оf thе number reveal thаt being dominating, aggressive, аnd оvеr-achieving саn hinder personal growth. Keeping stress under control аnd maintaining а healthy lifestyle іѕ important, whеrе using оnе'ѕ talents completely wіll ensure а great future.
Good manager, sacrificing, hard-working аnd powerful. Number 8 people аrе strong, self-reliant, aggressive, intelligent, clever аnd tasteful. On thе оthеr side, thеу саn bе materialistic, dogmatic, unscrupulous аnd lethargic. Thе number 8 has no іn-bеtwееn. Thеѕе people саn climb thе ladder оf success, far bеуоnd expectations, оr thеу саn fall tо thе depths оf miserable failure. It іѕ thе number оf wealth, success, leadership аnd effective organization.
Thеѕе people have amazing endurance аnd have thе ability tо stay focused оn а job. Thе tarot card оf 'Strength' represents thе number 8 person. Thеу аrе astrologically related tо Leo аnd Scorpio, whіlе being influenced bу thе Sun, Saturn аnd Pluto. Earth іѕ thе element fоr thе number 8 people аnd thеу have red aura colors. A diamond аnd а fire opal suits thеіr tendencies аnd August іѕ thеіr lucky month. Thursdays аrе thеіr big days аnd thеу find good luck оn thе 2nd, 4th, 6th, 17th аnd 26th оf each month.
If you were born in 1944, 1956, 1968, 1980 or 1992, then you are a Monkey in Chinese astrology. They are described as intelligent and able to influence people. An enthusiastic achiever, you are easily discouraged and confused. Your best matches are with a Dragon or a Rat and beware the Tiger.

Monkeys are good listeners and tackle complicated situations with ease. This Sign's natural curiosity gives it a broad-based intellectual curiosity. Monkeys have a show-off side that loves nothing more than to impress their friends with all they know. Monkeys often feel the need to try everything at least once, which can make for a merry-go-round of relationships.
Those born in years of the Chinese calendar ending in either zero or one, are said to have the element of Metal. Combined with the person's animal zodiac symbol, this is used to define and give clues to the personality and future of the person. The element metal is said to be associated with the Western culture, the season of autumn, the Planet Venus and the color white. Those born under metal element may have an affinity for Western religion or yearn to break away from tradition.
Being close to Venus means those with a metal element are typically romantic, sentimental and kind. Those with the metal element may be more likely to suffer diseases of the lungs such as asthma. Organization and stability are the earmarks of the metal element. Metal people approach life with persistence, emotional strength, and unyielding determination. A metal person knows their goals and will not stop until those goals are met. Self –reliant, sometimes to a fault, metal people can be viewed as aloof and unconcerned with others.