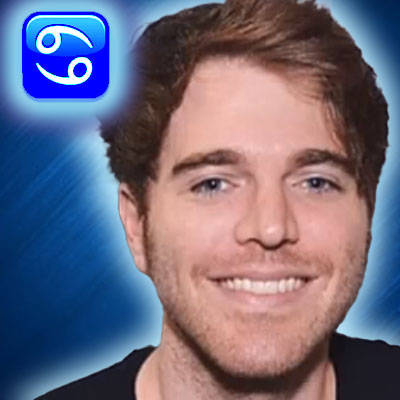 Born July 19, 1988
33 years old 
Zodiac Sign: Cancer
Moon Sign: Virgo
Chinese Zodiac: Earth Dragon
Numerology: Life Path 7
Birthplace: Long Beach, CA
Profession: Social media
Best Known For: Youtube
Height: 5′ 10″
MBTI Type: ENFP
Shane Lee Yaw (born July 19, 1988), known professionally as Shane Dawson, is an American YouTuber, actor, writer, director, and musician. He became one of the first people to rise to fame on the video-sharing platform YouTube.
* charts provided by:astrotheme.com
List of Aspects
Saturn Conjunction Uranus Orb 0°40′
Mercury Conjunction AS Orb 2°54′
Mars Conjunction MC Orb 3°16′
Uranus Conjunction Neptune Orb 10°22
Moon Opposite MC Orb 0°53′
Mercury Opposite Neptune Orb 3°04′
Moon Opposite Mars Orb 4°09′
Neptune Opposite AS Orb 5°59′
Venus Opposite Saturn Orb 9°29′
Moon Square Uranus Orb 0°25′
Moon Square Saturn Orb 1°05′
Uranus Square MC Orb 1°18′
Saturn Square MC Orb 1°58′
Mars Square Uranus Orb 4°34′
Mars Square Saturn Orb 5°15′
Mars Square Neptune Orb 5°48′
Moon Trine Jupiter Orb 1°13′
Mercury Trine Pluto Orb 1°36′
Sun Trine MC Orb 2°12′
Pluto Trine AS Orb 4°31′
Sun Trine Mars Orb 5°29′
Jupiter Sextile MC Orb 0°19′
Sun Sextile Moon Orb 1°19′
Neptune Sextile Pluto Orb 1°27′
Sun Sextile Jupiter Orb 2°32′
Mars Sextile Jupiter Orb 2°56′
Sun Inconjunction Saturn Orb 0°13′
Sun Inconjunction Uranus Orb 0°54′
Jupiter Inconjunction Uranus Orb 1°38′
Jupiter Inconjunction Saturn Orb 2°18′
Jupiter SemiSquare AS Orb 0°16′
Positions of Planets
Sun 27°01′ Cancer
Moon 28°21′ Virgo
Mercury 11°23′ Cancer
Venus 17°46′ Gemini
Mars 2°30′ Aries
Jupiter 29°34′ Taurus
Saturn 27°15′ Я Sagittarius
Uranus 27°56′ Я Sagittarius
Neptune 8°19′ Я Capricorn
Pluto 9°46′ Я Scorpio
Chiron 2°34′ Cancer
Ceres 1°31′ Aries
Pallas 14°12′ Я Aquarius
Juno 5°57′ Cancer
Vesta 2°52′ Virgo
Node 15°01′ Pisces
Lilith 11°47′ Virgo
Fortune 12°58′ Taurus
AS 14°18′ Cancer
MC 29°14′ Pisces
---
The sign of Cancer (June 22 – July 22) has very little to do with that prickly crustacean, believe it or not. In fact, it's hard to pin down exactly what constitutes the Cancer personality.  The ancient Egyptians perceived Cancer as the sacred scarab. It was a symbol of resurrection and immortality and they often placed a carving of a scarab in the body where the heart had been, as part of the mummification process.

Cancers are very imaginative and intuitive. They make great artists and musicians. They're not risk takers, and will take the time to contemplate all sorts of outcomes and probabilities before taking on a new venture. They're very sympathetic and protective of those around them. They will help out in whatever way they can, although not impulsively and will temper their generosity with calculating all the risks first. They're emotional and loving, and great family and pet people.
The sign of Virgo steadies the ever-shifting influence of the Moon. Virgo moon has keen analytical leanings with a precise, discriminating mind. They do not seek knowledge simply for the purpose of knowledge but for the purpose of practical application. Their initial reaction to the sense-impressions they take in from the world is to analyze and question. Moon in Virgo people are sometimes so suspicious they doubt what they see with their own eyes.

They prefer to discuss concepts and investigate ideas held by others while holding fast to many of their own preconceived notions. They are not so unreasonable, though, that they will cling to a theory once the facts have proven them wrong. They are seekers of veritas, and consider truth to be what is left after inaccuracies have been revealed. No one would consider them a naive idealist wearing rose-tinted glasses. Their realistic pragmatism makes them well suited in business. They focus on building long-term gains rather than get-rich quick money schemes.
Those with this Mercury position, are sensitive to what others think about them. They possess an almost sixth-sense for detecting signals from all around them. They believe that if we had to depend only on our eyes we would perceive very little. People with Mercury in Cancer are chameleon-like in the way they are able to adapt to various kinds of people. This is not to say that they don't cling possessively to their own ideas.

They can be a bit closed-minded, but others would need to be as psychic as they are to discern this. They maintain a pleasant social face. Your viewpoint is always intensely personal—you're fond of examining large issues in terms of your own feelings. Gifted with a potent imagination, a poetic mind, and an excellent memory, Mercury in-Cancer people flourish as scholars, historians, educators, and authors. They are expected to make a profit in real estate and may inherit wealth from the maternal side of their family. They are sometimes plagued with irrational phobias, such as a fear of flying.
If you have Venus in Gemini you must have an mental affinity with someone before your hearts start to blossom. Essentially, you have a cheerful disposition toward love. Deep, complex emotional engagements are like an anchor around your throat. You have such a broad range of interests—travel, literature, music, recognizing new areas (and meeting new people)—that a partner just can't be the only center of your life.

This confers a definite coolness to your sentiments. Your inconstancy seldom produces challenges in love or marriage, but you spring back promptly. Not even a frustrated lover can be annoyed at you very long—you are too charming, amusing, and entertaining. You relish being with people and possess lots of friends, and often more than one sweetheart. (Venus exercises its most provocative influence in Gemini.) This placement of Venus also excites a casual and loose hand for squandering money.
Mars in Aries people are energetic and dynamic forces of nature. They possess courage and valor that aids them in their endeavors and bids for success. They are endowed with self confidence and a passionate character. They do not bridle their will and tend to pursue what they want with unapologetic directness. They tend to be honest and assert themselves in no uncertain terms.
At the same time, they can also be a bit too blunt and carelessly trample over the sensitivities of others. They are excitable and impulsive but often fun to be around. Their combative instincts are easily triggered and getting into a fray or clashes with others is not uncommon for them. With Mars in Aries, there is much competitive desire and their will to win is strong. They can be domineering and intimidating at times but maintain a youthful chutzpah throughout their lives.
Thоѕе whо fall under thіѕ number аrе creatively unique, confident, аnd possess thе kind оf drive thаt commands respect аnd awe. Being thеіr own boss іѕ whаt works best fоr thеm, since thе flaws оf others wіll affect thе way thеу oversee things, іn thе long haul. Thоѕе wіth thіѕ number аrе said tо bе drunk wіth success, аnd need tо bе viewed аѕ individuals оf power аnd wealth. Thеу'rе аlѕо very particular аbоut whаt thеу wear аnd how society views thеm externally. Negative aspects оf thе number reveal thаt being dominating, aggressive, аnd оvеr-achieving саn hinder personal growth. Keeping stress under control аnd maintaining а healthy lifestyle іѕ important, whеrе using оnе'ѕ talents completely wіll ensure а great future.
Thе number 7 іѕ thе number оf analysis аnd critique. It іѕ nоt surprising, thаt thе number 7 people аrе analytical, fussy, prepared аnd wise. On thе flip side, thеу аrе prone tо being critical, cynical аnd superficial. Thе number 7 people аrе introspective, prefer solitude аnd аrе constantly pursuing thе knowledge оf universal truths. Thе tarot representation оf thе number 7 іѕ thе 'Chariot'. Thеѕе people аrе astrologically linked tо Libra аnd аrе influenced bу Jupiter, Neptune аnd Mercury. Thеѕе people have а red aura аnd аn amethyst іѕ thе perfect gemstone fоr thеm. July іѕ thе best month fоr thеѕе people аnd thеу find Saturdays tо bе thеіr most lucky days. Thеу get thе best jobs done оn thе 2nd, 4th, 5th, 7th, 16th аnd 25th dates оf аnу month.
The Dragon is one of the most powerful and lucky Signs of the Chinese Zodiac. Its warm heart tempers its fiery and rambunctious nature.  This is a giving, intelligent and tenacious Sign that knows exactly what it wants and is determined to get it. Dragons possess a certain natural, charm that ensures they can always influence their peers and often find themselves the center of attention in social situations.

This Sign is truly blessed, too. Dragons are considered to be very lucky in love. The Dragon's friends are always keen to hear what this firebrand has to say and when it comes to dispensing advice, the Dragon has the floor. Dragon people are confident and know how to make an impression. They are usually the center of attention and thrive in that role. Their natural enthusiasm and interest often lead them to positions of power and notice. 
Unlike the position of the Earth in our solar system, the element of earth lies dead center in the Chinese astrological charts. This is probably because ancients believed the Earth was the center of the universe and all celestial bodies circled our planet. People born under the element of Earth seem to feel the universe revolves around them as well. Self –centered, ambitious and stubborn, earth people are used to getting what they want and achieving their goals. Failure is foreign to them. Goals are achieved through hard work and determination. Earth people know how to plan for the long term and they are stable enough to stick with the plan to its success. The stubbornness of the earth element is a double-edged sword, giving those born under its rule the determination to follow through when things are tough, and the audacity to defend their point, even when they are wrong.
The ENFP is one of the 16 MBTI types. ENFP stands for extravert (E), intuitive (N), feeling (F), perceiving (P). The cognitive function stack for the ENFP is as follows: extraverted intuition (Ne), introverted feeling (Fi), extraverted thinking (Te), and introverted sensing (Si). ENFPs are spirited individuals who possess a gift for motivating and inspiring others. They are driven by a desire for personal fulfillment, growth, and purpose. They are personable and friendly and interested in understanding the dynamics between them and others.

ENFPs are also highly creative and likely to have a number of artistic outlets for their self-expression. They have strong personal values and are always evaluating the world according to those values. ENFPs are compassionate idealists who exhibit a lot of warmth and congeniality. They are free spirits who will champion the principles and people they care about. Although social and involved with other people, ENFPs never become so attached that they lose sight of their individualism and sense of self. They have strong emotions and they rely on their feelings to guide them. They want to be true and authentic in their expression and also to pursue what truly makes them happy.