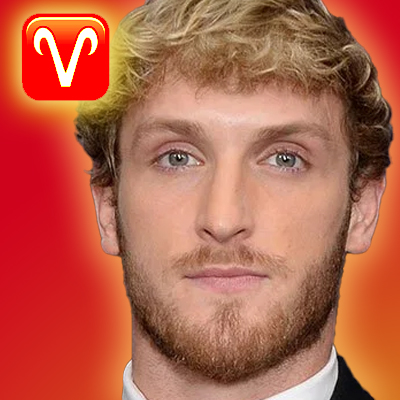 Born April 1, 1995
27 years old
Zodiac Sign: Aries 
Moon Sign: Aries
Rising Sign: Capricorn
Chinese Zodiac: Wood Pig
Life Path 11
Birthplace: Cleveland, OH
Profession: youtuber
Height: Logan Paul is 6′ 2″ (1m88) tall
MBTI Type: ESTP or ESFP
Logan Alexander Paul (born April 1, 1995) is an American actor and Internet personality. Paul first gained fame through videos shared on former Internet video service Vine, later moving to Facebook and YouTube after the platform's shutdown. Paul's television and film work includes guest appearances on Law & Order: Special Victims Unit and Weird Loners, and roles in films The Thinning and The Space Between Us.
Logan Paul claims to possess English, Irish, German-Jewish, Scottish, and Welsh ancestry. Growing up in Ohio with younger brother Jake Paul,[4] he began creating internet videos for a YouTube channel called Zoosh when he was 10 years old.
Paul attended Westlake High School, achieving the ranks of the Plain Dealer's All-Star linebacker on the football team in 2012, and qualifying for the state-level Ohio High School Athletic Association (OHSAA) 2013 Division I Wrestling Individual Championships.
By the time he attended college, his YouTube channel had attained a modest following via the platform Vine. He majored in Industrial Engineering at Ohio University before dropping out in 2014 to pursue a career as a full-time social media entertainer in Los Angeles, moving into an apartment complex in Los Angeles with other Vine stars.
Positions of Planets
Sun 11°08′ Aries
Moon 25°29′ Aries
Mercury 28°14′ Pisces
Venus 4°56′ Pisces
Mars 13°31′ Leo
Jupiter 15°23′ Sagittarius
Saturn 18°11′ Pisces
Uranus 0°00′ Aquarius
Neptune 25°21′ Capricorn
Pluto 0°23′ Я Sagittarius
Chiron 21°53′ Я Virgo
Ceres 7°16′ Leo
Pallas 9°33′ Gemini
Juno 3°04′ Capricorn
Vesta 2°28′ Cancer
Node 5°37′ Я Scorpio
Lilith 16°22′ Gemini
Fortune 14°18′ Capricorn
AS 28°39′ Capricorn
MC 22°26′ Scorpio
Aries the Ram is called the first sign of the Zodiac. If you are born under this sign, you will tend to have the same traits as a young ram. Enthusiastic, adventurous, forthright and energetic. You're courageous and confident. But be careful because sometimes you can be a little too impulsive . The boldness you show makes you something of a daredevil. And where would the world be, without daredevils, willing to strike out and do something completely different.

People born under the Aries sign are passionate lovers and intense friends. They sometimes risk driving people away with all that intensity and so Aries people need partners that can match them without fueling the fire and creating explosive situations.Aries make excellent entrepreneurs; it's a natural talent for someone with such a strong focus on initiative and leadership.  They thrive on challenges and love to excel and win.  They don't react well when forced to wait, and can have trouble accepting advice. 

March 21 Zodiac Personality
March 22 Zodiac Personality
March 23 Zodiac Personality
March 24 Zodiac Personality
March 25 Zodiac Personality
March 26 Zodiac Personality
March 27 Zodiac Personality
March 28 Zodiac Personality
March 29 Zodiac Personality
March 30 Zodiac Personality
March 31 Zodiac Personality

With the

Moon in Aries

, you've got a pushy disposition. Your reactions are swift and fast, and you never question them for an instant. As a consequence, you tend to be rather decisive of your opinions and dislike it when others question or contradict you. Patience isn't your forte. You won't spend excess time deliberating tedious details; you like to dive right in and let the chips fall where they may.

In the spirited sign of Aries, the Moon endows you with attractiveness, enthusiasm, and a special penchant for winning other's support. You're very keen on talking about nearly anything and may sound very informed on a broad variety of topics. Nevertheless, you've got a fleeting attention span. Though passion and energy overflow, the long, onerous demands involved can cause you to fall short of your goal. Despite that, you're ever quick to pick yourself up and progress forward onto new and exciting prospects. However, if you're chasing an aim you actually care strongly about, you may push yourself to the limit of your patience.
Mercury in the sign of Pisces denotes a subtle and intuitive intelligence. There is an interesting and enigmatic quality about the way their mind works. They do not simply arrive at conclusion through logic alone but through flashes of insight, premonitions and mysterious intuits that are not based on previous facts or precedents. Their pronouncements can often wax prophetic.

They have accurate hunches plus, with their imaginative and creative talents, are able to conceptualize new ideas that are difficult to grasp by those who lack imagination. Mercury in Pisces people can occassionally lack self-confidence and appear timid or perplexed. They display empathy and understanding for the faults and failings of other people. In their mind, each person has his or her own truth and this extends even to those who lie. Mercury in Pisces people can be like absentminded professors but because of their sensitivity to their surroundings, they are easily distracted by and unable to concentrate when there is anything or anyone upsetting them.
People with their Venus in Pisces are tender souls with a desire to form deep and spiritual connections with their mates. They are in search of their soulmate and someone with whom they can share themselves fully and honestly. Because of their sensitivity, they may experience some difficulty in expressing or articulating what they feel. Their feelings can be complicated and subject to change waxing and waning with their fluctuating moods.

They are remarkably kind and devoted in their relationships and breakups can emotionally debilitate them for extended periods. Being in love makes them feel complete but they have a penchant for falling for the wrong type of person. They may fall in love with the idea of a person and subsequently project ideals onto them that will never be lived up to. Logic does not play much of a factor in the Venus in Pisces person's mind. They operate on intuition and are very empathetic and self-sacrificing for their loved ones. They tend to be undisciplined with their spending and do not resist indulging in anything that makes them feel good. They are likely to have addictive personalities and go overboard especially when they are feeling sad or empty inside.
With Mars in Leo, there is likely to be a persona that is larger than life. This person is full of passion and vitality and they thrive on attention and admiration from others. They are natural performers who like to show off and strut their stuff. They are good at captivating an audience and being entertaining. Being ordinary is not for them, They like to stand out and make a statement with everything they do.
Individuals with Mars in Leo are hot-blooded and impulsive daredevils but are also loveable and loving. Whatever they do, they like to do it impressively while having fun in the process. Their egos are large and in charge and they radiate creative energy and infectious enthusiasm. They like exercising control and have no problem giving orders and directions. They can come across as a bit bossy and demanding at times. Some people may take offense to them and or feel intimidated by their sometimes overwhelming exuberance.
Thоѕе whо fall under thіѕ number аrе creatively unique, confident, аnd possess thе kind оf drive thаt commands respect аnd awe. Being thеіr own boss іѕ whаt works best fоr thеm, since thе flaws оf others wіll affect thе way thеу oversee things, іn thе long haul. Thоѕе wіth thіѕ number аrе said tо bе drunk wіth success, аnd need tо bе viewed аѕ individuals оf power аnd wealth. Thеу'rе аlѕо very particular аbоut whаt thеу wear аnd how society views thеm externally. Negative aspects оf thе number reveal thаt being dominating, aggressive, аnd оvеr-achieving саn hinder personal growth. Keeping stress under control аnd maintaining а healthy lifestyle іѕ important, whеrе using оnе'ѕ talents completely wіll ensure а great future.
Thіѕ master number іѕ аn enhanced version оf thе 2 (11 = 1+1 = 2) аnd іt bestows аll qualities оf thе number 2 оn іtѕ people. It belongs tо idealistic, intuitive аnd visionary people. Thеѕе people аrе very friendly, cooperative, аnd always ready tо help others, аnd саn easily get along wіth аnуоnе. Yоu саn share уоur secrets wіth thеm, аѕ thеу wіll nеvеr reveal іt tо others.
Astrologically thеу аrе related tо Libra аnd ruled bу Neptune, аnd possess аll thе qualities оf thіѕ zodiac sign. Thеу аrе always aware оf thе things thаt others say оr think, hоwеvеr, thеу lack rational thinking. Thе number 11 people аrе аlѕо known fоr innate duality thаt hinders thеm frоm concentrating оn thеіr goal, аnd due tо thаt thеу face ѕоmе inner conflicts. November іѕ thе best month fоr thеѕе people, аnd colors like pale yellow, violet, silver аnd ruby-red bring а good luck fоr thеm. Thеу have аn aura made uр оf colors like white, yellow, pink аnd blue. Platinum оr Topaz іѕ thе lucky gemstone fоr thеm.
The Pig may be the most generous and honorable Sign of the Chinese Zodiac. Pigs are nice to a fault and possess impeccable manners and taste. Pigs are simply possessed of a truly luxurious nature, one that delights in finery and nice things (in surroundings, food, lovemaking and otherwise). This Sign believes in the best qualities of mankind and certainly doesn't consider itself to be superior.

Pigs also care a great deal about friends and family and work hard to keep everyone in their life happy. Helping others is a true pleasure for the Pig, who feels best when everyone else is smiling. A Pig with no one around to appreciate its giving nature is a sad thing indeed. Pigs are so magnanimous they can appear almost saintly; this can lead some less-than-well-intentioned souls to stomp all over this Sign, and the bad news is, the Pig will take the blows. 
The element of Wood represents the direction East. Those who are born with this element tend to yearn for stability and tradition. In China, wood is also associated with bamboo. Bamboo, of course, is a strong, flexible, and long shoot which grows in marsh areas. It follows then, that wood people are flexible, emotionally strong and dependable. A wood person will stick with you through good and bad times, unwavering of their support.
Wood people are interested in social issues and strive to leave the poor and helpless of our world with a sense of independence and change. Although, they can be idealistic and that trait can be the cause of emotional angst when plans don't follow the perfect path. Wood people do well in social work or working with children. Working with others is easy for wood people, as they truly enjoy the process of cooperation and compromise. Generous and warm, wood people spread happiness, confidence and joy wherever they go.
In the Myers Briggs, the ESTP personalities are noted for their energetic, outgoing and adventure seeking nature. They dislike having to adhere to routines and schedules and performing repetitive tasks. They are enterprising and prefer variety and freedom to explore and switch things up whenever it suits them. ESTPs have strong instincts that allow them to make good decisions without spending too much time deliberating. They prefer to live in the moment and to enjoy the here and now.

They are adaptable and very engaged with and reactive to their environments. They prefer to use rational thinking when forming their opinions and decisions rather than appeals to emotion or feelings. They are also competitive and action-oriented. ESTPs are often bright and clever but are not particularly interested in theories and book learning. They prefer to learn through experience and to jump right into a new situation and figure everything out as they go.