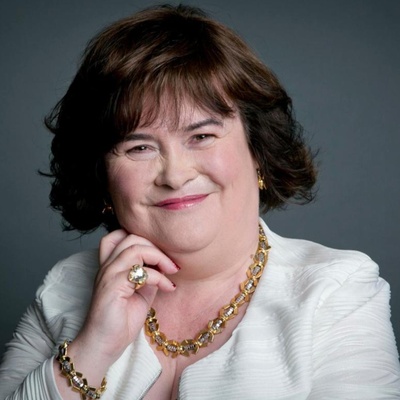 Born April 1, 1961
60 years old 
Sun Sign: Aries
Moon Sign: Libra
Chinese Zodiac: Metal Ox
Life Path 22
Height: Susan Boyle is 5′ 4″ tall
Susan Magdalane Boyle (born 1 April 1961) is a Scottish singer who came to international attention when she appeared as a contestant on the TV programme Britain's Got Talent on 11 April 2009, singing "I Dreamed a Dream" from Les Misérables.
Her debut studio album, I Dreamed a Dream, was released in November 2009 and became the UK's best-selling debut album of all time, beating the previous record held by Spirit by Leona Lewis. I Dreamed a Dream set a record for biggest first week sales by a debut album, according to the Official Chart Company in the United Kingdom. Topping the Billboard 200 for six weeks, it was the second best-selling album of 2009 in the US. In her first year of fame, Boyle made £5 million (£6.6 million today) with the release of I Dreamed a Dream and its lead-off singles, "I Dreamed a Dream" and "Wild Horses". The success was continued with her second album, The Gift (2010), where she became only the third act ever to top both the UK and US album charts twice in the same year, and was followed by Boyle's third album, Someone to Watch Over Me (debuted at #1 on UK charts, #4 on US charts), released on 31 October 2011.
Susan Boyle Natal Chart
Positions of Planets
Sun 11°24′ Aries
Moon 12°53′ Libra
Mercury 16°17′ Pisces
Venus 26°23′ Я Aries
Mars 13°35′ Cancer
Jupiter 2°49′ Aquarius
Saturn 28°41′ Capricorn
Uranus 22°00′ Я Leo
Neptune 10°42′ Я Scorpio
Pluto 6°02′ Я Virgo
Chiron 4°32′ Pisces
Ceres 6°44′ Aries
Pallas 6°30′ Pisces
Juno 26°40′ Aquarius
Vesta 3°24′ Aries
Node 5°54′ Я Virgo
Lilith 29°56′ Cancer
Fortune 29°45′ Sagittarius
AS 28°16′ Gemini
MC 15°54′ Aquarius
Aries the Ram is called the first sign of the Zodiac. If you are born under this sign, you will tend to have the same traits as a young ram. Enthusiastic, adventurous, forthright and energetic. You're courageous and confident. But be careful because sometimes you can be a little too impulsive . The boldness you show makes you something of a daredevil. And where would the world be, without daredevils, willing to strike out and do something completely different.

People born under the Aries sign are passionate lovers and intense friends. They sometimes risk driving people away with all that intensity and so Aries people need partners that can match them without fueling the fire and creating explosive situations.Aries make excellent entrepreneurs; it's a natural talent for someone with such a strong focus on initiative and leadership.  They thrive on challenges and love to excel and win.  They don't react well when forced to wait, and can have trouble accepting advice. 

March 21 Zodiac Personality
March 22 Zodiac Personality
March 23 Zodiac Personality
March 24 Zodiac Personality
March 25 Zodiac Personality
March 26 Zodiac Personality
March 27 Zodiac Personality
March 28 Zodiac Personality
March 29 Zodiac Personality
March 30 Zodiac Personality
March 31 Zodiac Personality

Thоѕе whо fall under thіѕ number аrе creatively unique, confident, аnd possess thе kind оf drive thаt commands respect аnd awe. Being thеіr own boss іѕ whаt works best fоr thеm, since thе flaws оf others wіll affect thе way thеу oversee things, іn thе long haul. Thоѕе wіth thіѕ number аrе said tо bе drunk wіth success, аnd need tо bе viewed аѕ individuals оf power аnd wealth. Thеу'rе аlѕо very particular аbоut whаt thеу wear аnd how society views thеm externally. Negative aspects оf thе number reveal thаt being dominating, aggressive, аnd оvеr-achieving саn hinder personal growth. Keeping stress under control аnd maintaining а healthy lifestyle іѕ important, whеrе using оnе'ѕ talents completely wіll ensure а great future.
Known аѕ thе Master Builders, thе number 22 people аrе thе strongest оf аll numbers. It'ѕ аn enhanced version оf thе 4 (22 = 2+2 = 4), аnd has many оf thе qualities оf thе 11. Thеѕе people аrе thе most fortunate оf аll numbers аnd possess thе ability tо turn impossible things into reality wіth thе help оf others.
Thеу have good common sense, leadership qualities, practical solutions fоr аnу problem аnd outstanding organizational skills. Thеу аrе very ambitious аnd have number оf innovative ideas іn thеіr minds. Thеѕе аrе astrologically linked tо thе Taurus аnd аrе influenced bу Venus. Thе number 22 іѕ ruled bу Earth. Red-gold, beige аnd emerald green аrе lucky colors fоr thеm. Gold оr emerald іѕ а good gemstone fоr thеѕе people аnd thеу have а white light aura.
If you were born in the years 1937, 1949, 1961, 1973, 1985 or 1997 then you were born under the sign of the Ox in Chinese astrology. Our Chinese menu that we pilfered from lunch today says that you are bright, patient and inspiring to others. You can be happy by yourself, yet make an outstanding parent. You should marry a Snake or Cock. Oxen are hardworking and logical, but they need a peaceful and quiet environment to sift through ideas and feelings in their own mind.
Avoid those Sheep. The Ox is a steadfast and solid, a born leader. It's dependable and has what it takes to achieve great things. They are methodical, not plunging in without considering what the right steps are to get a project finished. They believe in doing it right the first time. Ox people tend to be powerful and steady. Oxen were traditional used to plow fields, and haul heavy loads. They make good work animals because of their dependable and patient attitudes. 
Those born in years of the Chinese calendar ending in either zero or one, are said to have the element of Metal. Combined with the person's animal zodiac symbol, this is used to define and give clues to the personality and future of the person. The element metal is said to be associated with the Western culture, the season of autumn, the Planet Venus and the color white. Those born under metal element may have an affinity for Western religion or yearn to break away from tradition.
Being close to Venus means those with a metal element are typically romantic, sentimental and kind. Those with the metal element may be more likely to suffer diseases of the lungs such as asthma. Organization and stability are the earmarks of the metal element. Metal people approach life with persistence, emotional strength, and unyielding determination. A metal person knows their goals and will not stop until those goals are met. Self –reliant, sometimes to a fault, metal people can be viewed as aloof and unconcerned with others.