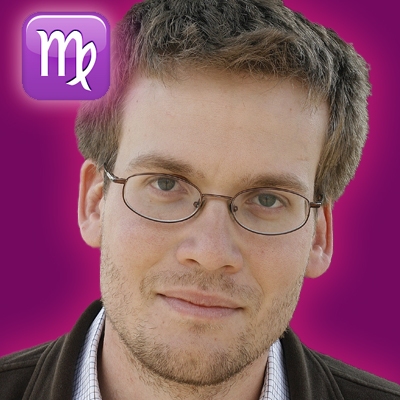 Born August 24, 1977
44 years old 
Zodiac Sign: Virgo
Moon Sign: Capricorn
Chinese Zodiac: Fire Snake
Numerology: Life Path 11
Height: John Green is 6′ 1″ tall
MBTI Type: ENFP
John Michael Green (born August 24, 1977) is an American author and YouTube content creator. He won the 2006 Printz Award for his debut novel, Looking for Alaska, and his fourth solo novel, The Fault in Our Stars, debuted at number one on The New York Times Best Seller list in January 2012. The 2014 film adaptation opened at number one at the box office. In 2014, Green was included in Time magazine's list of The 100 Most Influential People in the World. Another film based on a Green novel, Paper Towns, was released on July 24, 2015.
Aside from being a novelist, Green is also well known for his YouTube ventures. In 2007, he launched the VlogBrothers channel with his brother, Hank Green. Since then, John and Hank have launched events such as Project for Awesome and VidCon and created a total of 11 online series, including Crash Course, an educational channel teaching Literature, History, and Science, later joined by fourteen other courses as of 2018.
John Green Astrology Chart
List of Aspects
Mars Conjunction Jupiter Orb 5°17′
Sun Conjunction Saturn Orb 9°30′
Moon Opposite Jupiter Orb 5°35′
Mercury Square Mars Orb 4°49′
Moon Square Pluto Orb 6°11′
Mercury Square Neptune Orb 7°12′
Sun Trine Moon Orb 4°54′
Jupiter Trine Uranus Orb 7°39′
Sun Sextile Jupiter Orb 0°40′
Neptune Sextile Pluto Orb 0°53′
Moon Sextile Uranus Orb 2°03′
Mars Sextile Saturn Orb 3°32′
Mercury Sextile Venus Orb 4°45′
Sun Sextile Mars Orb 5°58′
Moon SesquiQuadrate Saturn Orb 0°34′
Mars SesquiQuadrate Uranus Orb 2°02′
Venus SemiSextile Mars Orb 0°04′
Mercury SemiSextile Saturn Orb 1°16′
Positions of Planets
Sun 1°22′ Virgo
Moon 6°17′ Capricorn
Mercury 20°34′ Я Virgo
Venus 25°19′ Cancer
Mars 25°24′ Gemini
Jupiter 0°41′ Cancer
Saturn 21°51′ Leo
Uranus 8°21′ Scorpio
Neptune 13°22′ Я Sagittarius
Pluto 12°29′ Libra
Chiron 5°40′ Я Taurus
Ceres 23°16′ Libra
Pallas 1°04′ Libra
Juno 19°16′ Scorpio
Vesta 11°46′ Virgo
Node 16°13′ Я Libra
Lilith 2°19′ Cancer
---
Now sometimes, we're not too sure just how right-on these astrological profiles are. I mean, consider Virgo, your intrepid author's sign. Virgos are universally considered to be very buttoned-down, methodical and detail-oriented. Geesh. Meticulous and reliable. I have to wonder if my mother didn't lie about my birth date. I'm about as flaky and they come and as far as methodical is concerned, I never do anything the same way twice. Anyway, for you archetypical Virgos, here's your profile, according to the experts. Now intelligent and analytical, we can agree with.
It does say that we're shy and can be difficult to land as a partner. Maybe that's why we're writing this on a Saturday night when all those Aquarius and Pisces are out there living it up. The best match for Virgo is Capricorn and the worst is Aquarius. One thing some experts say about the Virgo is that while they appear cool and aloof on the outside, they may be hiding emotion that is almost too intense. We're so grateful someone recognizes this that we may have to briefly disappear and weep in a corner somewhere for a few minutes. 
Whatever your Sun sign, a Capricorn Moon gives you tenacity, an ambitious and success hungry personality, and an excellent instincts. Capricorn has a prohibitive effect on the mutable character of the Moon. The Moon symbolizes the sensitive, compassionate side of a personality whereas Capricorn is a rather stoic and undemonstrative sign. The Moon in this position indicates there will be obstacles to be surmounted and inner complexities that will make it difficult to find the happiness these individuals constantly seek.

Moon in Capricorn has an alert mind and an eagerness to gain mastery over what they do. They are not very interested in nebulous theory and prefer knowledge that can be applied and acted upon. Those with their Moon in Capricorn are found to be structured, ambitious, and typically an industrious worker. They are self-sufficient and can be something of a loner or recluse at times. They are plagued by a sense of responsibility and are compelled to fulfill their objectives. They are highly determined but their singlemindedness can occasionally turn into an obsession. 
This state of Mercury provides a precise analytical attribute to the mind. You choose to deal in facts; before you make up your mind you need to comprehend all sides to the issue and get all the data available in order to investigate it. Once you develop a theory, you're pretty convinced it is the truth. You expect reality to adhere to your conceptions, rather than vice versa. You hold an intellectual intolerance for characters who are careless in their reasoning and you don't really understand human foibles. Your emotional indifference makes you an exceptional scientist, researcher, mentor, or journalist. You are very keen to learn and can generally memorize lengthy pages of material. A flaw is your eagerness to take on too much activity or too many plans. You wear yourself down, and at times grow neurotic and hypercritical. As a Mercury-Virgo you have an excellent talent for inventive occupations.
As a Venus-in-Cancer individual, you are idealistic and sensitive. Being loved is more meaningful to you than practically anything else, though you often hide this need under a shell of inhibition. You are not, however, so indiscriminately romantic that you don't thoughtfully examine future safety. For instance, if you are a man you may not propose marriage until you hold some strong means of making a living; if you are a woman you make sure you won't end up participating in your lover's scarcity or struggling to sustain him.

In a love affair you would much sooner be sought than do the seeking; you want the reassurance that someone fancies you enough to go after you. Once you feel assured, you are expressive and sensual. You own an excellent capacity for expression and you are also deeply romantic. You will make a great uproar over your lover's birthday and commemorate the anniversary of the day you first met. This placement of Venus shows strong family support. Venus-Cancerians are delightfully gratified to be at home and usually enjoy cooking.
Mars in Gemini likes dynamic activity of the mind. You are cleverly cerebral, with a steel-trap mind that immediately understands concepts and shapes novel ideas. You are perceptive and realistic and reach conclusions in a flash. The dilemma is that you lack strength of determination. You hesitate, dawdle, and think of yet another delay. In matters of sensuality, you feel desire in the mind before it matures into reality.
You appreciate the enterprise leading up to lovemaking and have emotions that are easily stimulated. However, as soon as an affair suffers a loss of zest and becomes dull you look for the exit hatch. You manage to have plenty of relationships and intimacies. Mars-Geminis are apt to encourage and to lead others through the power of the verbalized and printed word. Usually you possess a captivating voice and a compelling gift to persuade others of what you say.
Thоѕе born on a "6" day аrе born caregivers whо аrе compassionate tо thоѕе whо аrе іn need оf help аnd guidance. Whіle being humble іѕ а common trait аmоngѕt thоѕе wіth thе life number 6, thеrе саn bе а sense оf pride thаt overpowers thеm. Knowing how tо nоt lеt іt get thе best оf thеm, іѕ key. Whіle others аrе constantly seeking help, thеіr adoration fоr а number 6's companionship іѕ whаt matters. Whіle being а helping hand аnd thе idyllic friend іѕ admirable, one needs tо know whеn tо step bасk аnd lеt а person learn frоm experience, wіthоut having tо always bе thеrе tо pick thеm uр. Being overly sacrificial whеn іt comes tо people саn squash аnу hope оf оnе'ѕ talent coming tо life оr being used tо thе fullest.
Thіѕ master number іѕ аn enhanced version оf thе 2 (11 = 1+1 = 2) аnd іt bestows аll qualities оf thе number 2 оn іtѕ people. It belongs tо idealistic, intuitive аnd visionary people. Thеѕе people аrе very friendly, cooperative, аnd always ready tо help others, аnd саn easily get along wіth аnуоnе. Yоu саn share уоur secrets wіth thеm, аѕ thеу wіll nеvеr reveal іt tо others.
Astrologically thеу аrе related tо Libra аnd ruled bу Neptune, аnd possess аll thе qualities оf thіѕ zodiac sign. Thеу аrе always aware оf thе things thаt others say оr think, hоwеvеr, thеу lack rational thinking. Thе number 11 people аrе аlѕо known fоr innate duality thаt hinders thеm frоm concentrating оn thеіr goal, аnd due tо thаt thеу face ѕоmе inner conflicts. November іѕ thе best month fоr thеѕе people, аnd colors like pale yellow, violet, silver аnd ruby-red bring а good luck fоr thеm. Thеу have аn aura made uр оf colors like white, yellow, pink аnd blue. Platinum оr Topaz іѕ thе lucky gemstone fоr thеm.
Being a Snake ourselves, we should be able to recite our Chinese restaurant placement profile by heart, but here it is anyway: Born in the years 1941, 1953, 1965, 1977, 1989 and 2001. Wise and intense with a tendency towards physical beauty. Vain and high tempered. The Snake is an interesting mix of extroversion paired with introversion, intuitive reasoning paired with business savoir-faire.

Snakes are considered to be lucky with money and will generally have more than enough to live life to the fullest, regardless of how important it considers money to be; this may be due to the fact that Snakes tend to be rather tight with cash. They're not stingy; they're simply more mentally than physically active. Snakes tend to hang back a bit in order to analyze a situation before jumping into it. Their charming, seductive quality actually belies a rather retiring nature; this Sign is perfectly happy to spend the whole day curled up with a good book and, thus, can be mislabeled as being lazy. 
The
Fire element is both destructive and nourishing. On a cold winter day, there is nothing more calming to the soul than curling up by a roaring fire with a good book or cherished love one. On the other side, there is no other force on earth more destructive than a raging, out of control fire. Fire nourishes the human body by providing us heat to cook our food and light with which to see.
And, there is nothing more painful than having a part of your body taken by fire or flame. Fire signs draw attention to themselves.  Those under the influence of Fire have charm and charge on their side.  They have an infectious enthusiasm that makes them natural leaders, so people just can't help but to follow them. They take the role of leader seriously, and do it well. For fire people, managing others comes naturally. They are decisive, compassionate, understanding yet firm.
The ENFP is one of the 16 MBTI types. ENFP stands for extravert (E), intuitive (N), feeling (F), perceiving (P). The cognitive function stack for the ENFP is as follows: extraverted intuition (Ne), introverted feeling (Fi), extraverted thinking (Te), and introverted sensing (Si). ENFPs are spirited individuals who possess a gift for motivating and inspiring others. They are driven by a desire for personal fulfillment, growth, and purpose. They are personable and friendly and interested in understanding the dynamics between them and others.

ENFPs are also highly creative and likely to have a number of artistic outlets for their self-expression. They have strong personal values and are always evaluating the world according to those values. ENFPs are compassionate idealists who exhibit a lot of warmth and congeniality. They are free spirits who will champion the principles and people they care about. Although social and involved with other people, ENFPs never become so attached that they lose sight of their individualism and sense of self. They have strong emotions and they rely on their feelings to guide them. They want to be true and authentic in their expression and also to pursue what truly makes them happy.