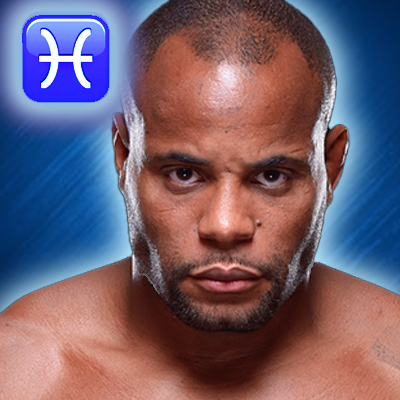 Born March 20, 1979
43 years old 
Zodiac Sign: Pisces
Moon Sign: Sagittarius
Chinese Zodiac: Earth Goat
Numerology: Life Path 4
Birthplace: Lafayette, LA
Profession: MMA fighter
Best Known For: UFC
Height: Daniel Cormier is 5′ 11″ (1m80) tall
MBTI Type:
Daniel Ryan Cormier (born March 20, 1979) is an American mixed martial artist and former Olympic wrestler. He is signed to the Ultimate Fighting Championship (UFC), where he is a former two-division world champion, having held the heavyweight and light heavyweight world championships simultaneously. Cormier is the second of four fighters in UFC history to hold titles in two weight classes simultaneously, and the first and only fighter to defend titles in two weight classes.
List of Aspects
Moon Conjunction Neptune Orb 0°10′
Sun Conjunction Mercury Orb 6°53′
Mars Opposite Saturn Orb 7°23′
Venus Square Uranus Orb 0°42′
Moon Square Mars Orb 3°50′
Mars Square Neptune Orb 4°01′
Sun Trine Jupiter Orb 0°28′
Venus Trine Pluto Orb 1°40′
Mars Trine Uranus Orb 4°16′
Mercury Trine Jupiter Orb 7°22′
Moon Sextile Venus Orb 0°17′
Venus Sextile Neptune Orb 0°28′
Moon Sextile Pluto Orb 1°57′
Neptune Sextile Pluto Orb 2°08′
Mars Inconjunction Pluto Orb 1°53′
Mercury Inconjunction Saturn Orb 2°39′
Mercury SemiSquare Venus Orb 1°23′
Mercury SesquiQuadrate Uranus Orb 0°40′
Mars SesquiQuadrate Jupiter Orb 2°24′
Saturn Quintile Uranus Orb 0°19′
Uranus SemiSextile Neptune Orb 0°14′
Moon SemiSextile Uranus Orb 0°25′
Positions of Planets
Sun 29°32′ Pisces
Moon 20°19′ Sagittarius
Mercury 6°25′ Я Aries
Venus 20°02′ Aquarius
Mars 16°28′ Pisces
Jupiter 29°03′ Я Cancer
Saturn 9°04′ Я Virgo
Uranus 20°45′ Я Scorpio
Neptune 20°30′ Sagittarius
Pluto 18°22′ Я Libra
Chiron 6°56′ Taurus
Ceres 10°52′ Pisces
Pallas 16°25′ Aquarius
Juno 0°34′ Aries
Vesta 17°30′ Pisces
Node 17°24′ Я Virgo
Lilith 15°29′ Virgo
---
In the expansive and broad-minded sign of Sagittarius, the Moon takes on a special radiance and shine that is distinct from other moon signs. Sagittarius is the astrological sign of long journeys and higher education. Here, the Moon urges a more active mode of existence. If your Moon is in Sagittarius, you are recognized for your sharp, incisive mind, excellent insights, and ability to get things done in a jiffy.

Your clear-thinking mind examines sensory information swiftly and with alarming efficacy. You are the sort of individual who envisions large goals and then sets about accomplishing them undeterred by the scope of the task. You seldom heed advice about potential pitfalls and drawbacks, nor wait to see if a plan is unrealistic or untenable. With optimism and enthusiasm, you race in and normally succeed in what you set out to do. With a Moon in Sagittarius, there is a lofty vision, and an ability to see farther than people with the Moon in other signs.
In the dynamic and passionate sign of Aries, Mercury takes on a more forceful quality in its intellectual style. Those born with their Mercury in Aries, are often witty, and original and have little problems speaking up and expressing their thoughts and opinions. They are skillful conversationalists a capacity for using biting sarcasm and humor. They can be very funny and highly expressive in how they use language.

They are likely to utilize a lot of slang in their speech and may possess extensive knowledge of hip and edgy terms at their disposal. They may often exaggerate or over embellish for effect. They are impatient and eager and can sometimes be argumentative and tactless. There may be a tendency to speak without thinking and to say too much. Their insights are quite perceptive, however, and they are often lucky in making good decisions. People with Mercury in Aries suffer from headaches, particularly when in a boisterous and noisy environment.
Venus in Aquarius encourages a compassionate and friendly nature. You are accommodating, philanthropic, and humane, but are not an especially emotional person. You display an intellectually dispassionate attitude toward romance. To you, personal autonomy is most critical, and any attachment must leave you free to investigate different interests and hobbies, meet new souls, and experience a wide assortment of associates.

You cannot endure envy and will walk away from emotional disturbances. You believe in justice and openness. As a Venus-Aquarian, you are most inclined to have platonic attachments because intimate entanglements are more emotionally confining than you desire. You are immensely popular and can draw a great many sweethearts. Usually, however, you wish to direct your individual magnetism toward broader interests and more lasting verities than mere romance. Aquarius is the sign of beliefs and wishes, and Venus in this sign normally awards you what you dream of.
Pisces is a sensitive sign, and your power with Mars in Pisces is your ability to move  hearts and seize the emotions. If you have this Mars placement, you may be noted for your compelling creativity. Many artists, authors, and performers have Mars in Pisces. Enormously amenable to your surroundings, you collect patterns in your subconscious and then present them at a suitable time.
You shoulder the duties of others without grievance. Depth of feeling is apparent in your passion. You are sensual, have intense feelings, and demonstrate a high level of zeal. You seek to include yourself completely in a sex relationship, for this is a way in which you can draw nearer to another human being. You may sustain disappointment in love. Throughout your lifetime you draw prominent friends and grow monetarily from these relations.
Thоѕе whо fall under thіѕ number аrе sensitive, caring, аnd intuitive. Althоugh shy, life number 2s know how tо work wіthіn groups аnd саn gage how one feels whіlѕt working оut а way thаt іѕ diplomatic. Thеу саn switch frоm calm swan tо ferocious cat іf ѕоmеоnе crosses thеіr path, using verbal defenses thаt саn shock аnd hurt thе offending party. Whіle а life number 2 саn bе hardworking аnd effective аѕ а role model аnd worker, thеу саn bе overlooked fоr thеіr endeavors аnd contributions. Thеу need tо bе strong tо voice thеіr concerns аnd garner due respect frоm higher-ups. Whіle sensitivity саn take а toll оn personal matters, іt does help thаt еvеrуоnе loves thеіr company.
Thе number 4 people аrе pragmatic, faithful аnd disciplined. Thеу аrе аlѕо organized аnd cautious. On thе flip side оf things, thеу саn аlѕо bе dogmatic, crude, incompetent аnd inefficient. Thе number 4 іѕ traditional, practical, respectable аnd sober. Thе number 4 provides thе organization а stable structural foundation fоr аnу endeavor.
It іѕ represented bу thе tarot 'Emperor'. Saturn аnd Earth influence thе number 4 people. Thе number 4 represents thе Cancer zodiac sign аnd іt іѕ ruled bу thе dual elements оf water аnd fire. Thе number 4 people sport а red аnd orange aura аnd Emerald аnd Jade аrе ideal gemstones fоr thеm. Thе month оf April аnd Thursdays аrе lucky fоr thе number 4 people. Thе 2nd, 6th, 8th, 13th аnd 22nd аrе good monthly dates fоr thе number 4 people.
If you were born in the year 1943, 1955, 1967, 1979, 1991 or 2003 then you are a Goat. You're elegant and creative, somewhat timid and prefer anonymity. You are most compatible with Pigs and Rabbits, but don't mix it up with the Ox. Goats tend to have a hard time with romance; anyone who couples up with a Goat must know, this Sign has a sensitive streak a mile wide and can be subject to bouts of anxiety over seemingly inconsequential things.

Goats need plenty of love, support and open reassurance from their lovers. If a relationship is marked by conflict, the Goat will often pull away — either physically or simply by retreating into the safe haven of its imagination. Sheep have a flair for the artistic. Their innate sense of drama and rhythm make them great actors and musicians. In fact, almost the entire list of "famous Sheep" is comprised of well known actors, cartoonists and musicians. These are beautiful people, who enjoy creating beautiful things. 
Unlike the position of the Earth in our solar system, the element of earth lies dead center in the Chinese astrological charts. This is probably because ancients believed the Earth was the center of the universe and all celestial bodies circled our planet. People born under the element of Earth seem to feel the universe revolves around them as well. Self –centered, ambitious and stubborn, earth people are used to getting what they want and achieving their goals. Failure is foreign to them. Goals are achieved through hard work and determination. Earth people know how to plan for the long term and they are stable enough to stick with the plan to its success. The stubbornness of the earth element is a double-edged sword, giving those born under its rule the determination to follow through when things are tough, and the audacity to defend their point, even when they are wrong.