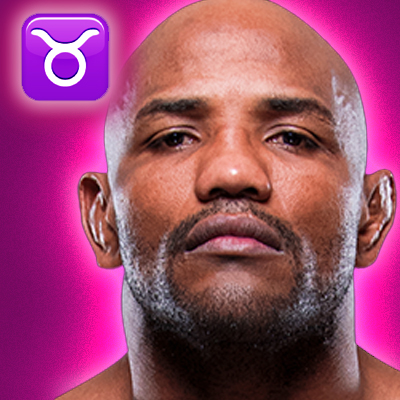 Born April 30, 1977
45 years old 
Zodiac Sign: Taurus
Moon Sign: Libra
Chinese Zodiac: Fire Snake
Numerology: Life Path 4
Birthplace: Pinar del Río, Cuba
Profession: MMA fighter
Best Known For: UFC
Height: 5′ 10″
MBTI Type: ISTJ
Yoel Romero Palacio (born April 30, 1977) is a Cuban mixed martial artist and former freestyle wrestler. He is currently signed to the Ultimate Fighting Championship, competing in the Middleweight division. As a freestyle wrestler, Romero is a former world gold medalist and an Olympic silver medalist. He won six world and Olympic medals in total. As of March 9, 2020, he is #3 in the UFC middleweight rankings.[4]
* charts provided by:astrotheme.com
Positions of Planets
Sun 10°11′ Taurus
Moon 0°28′ Libra
Mercury 10°14′ Я Taurus
Venus 8°27′ Aries
Mars 2°19′ Aries
Jupiter 5°41′ Gemini
Saturn 10°17′ Leo
Uranus 9°45′ Я Scorpio
Neptune 15°40′ Я Sagittarius
Pluto 12°05′ Я Libra
Chiron 1°59′ Taurus
Ceres 27°47′ Я Virgo
Pallas 18°06′ Leo
Juno 25°02′ Я Scorpio
Vesta 22°32′ Cancer
Node 24°19′ Libra
Lilith 0°32′ Я Gemini
Fortune 12°40′ Sagittarius
AS 22°23′ Cancer
MC 16°03′ Aries
List of Aspects
Sun Conjunction Mercury Orb 0°02′
Venus Conjunction Mars Orb 6°07′
Venus Conjunction MC Orb 7°35′
Sun Opposite Uranus Orb 0°26′
Mercury Opposite Uranus Orb 0°29′
Moon Opposite Mars Orb 1°51′
Venus Opposite Pluto Orb 3°37′
Pluto Opposite MC Orb 3°57′
Moon Opposite Venus Orb 7°58′
Mars Opposite Pluto Orb 9°45′
Jupiter Opposite Neptune Orb 9°59′
Mercury Square Saturn Orb 0°03′
Sun Square Saturn Orb 0°06′
Saturn Square Uranus Orb 0°32′
Neptune Trine MC Orb 0°22′
Venus Trine Saturn Orb 1°50′
Moon Trine Jupiter Orb 5°12′
Saturn Trine Neptune Orb 5°22′
Saturn Trine MC Orb 5°45′
Jupiter Trine Pluto Orb 6°23′
Venus Trine Neptune Orb 7°12′
Mars Trine Saturn Orb 7°58′
Saturn Sextile Pluto Orb 1°47′
Venus Sextile Jupiter Orb 2°46′
Mars Sextile Jupiter Orb 3°21′
Neptune Sextile Pluto Orb 3°35′
Jupiter Sextile Saturn Orb 4°36′
Venus Inconjunction Uranus Orb 1°17′
Mercury Inconjunction Pluto Orb 1°50′
Sun Inconjunction Pluto Orb 1°53′
Mercury Quintile AS Orb 0°08′
Sun Quintile AS Orb 0°11′
Sun BiQuintile Neptune Orb 0°31′
Mercury BiQuintile Neptune Orb 0°34′
Neptune BiQuintile AS Orb 0°42′
Sun SemiSextile Venus Orb 1°43′
---
Think about characteristics of a Bull other than the well-known phrase of bull-headed. Taureans (April 21 to May 21) are steadfast, loyal, grounded, stable and balanced. They're smart without being overly intellectual. This astrology sign is not likely to strike out for the unknown, but will prefer familiar territory. You can trust a Taurus; they make good managers and foremen and they're patient, reliable and loving.

They're good in the fields of banking, architecture, farming, medicine or chemistry. These are fields in which you can be creative, but within a framework of stable practices and science. Taureans are good workers and not giving to goofing off. Because they're not big risk-takers, they can be trusted with the company finances and are completely reliable and trustworthy. Every positive characteristic has another side to it, and in the Taurean, this reliability and steadfastness can manifest itself as jealousy and obstinacy.
Romantic, and glamorous, moon in Libra imbues a keen appreciation for beauty and art. Libra moon people have an artistic eye that is unrivaled by any other Moon sign. They have an increased awareness of their surroundings and of other people. What they really appreciate are the experiences that make life more wonderful and delightful. They detest rudeness, crudity, or conflict. Their immediate response to anything unpleasant is to dismiss it, or, if that is infeasible, at least to put it in the best light imaginable.

They try to encompass themselves with comfort and beauty within a serene and luxurious environment. Because they fancy beautiful things, Libra moons are happy to blow their money on objects that catch their attention. The Moon in the balanced sign of Libra engenders a welcoming, autonomous mind that tries to assess the world dispassionately and sensibly. There is also great personal grace and a heightened capacity to get along with others. They are fabulous at understanding other people's perspective without losing sight of their own viewpoints. 
Those with Mercury in Taurus never start on a project before they are totally prepared. They have a reasonable, firm, and practical mind. There is a rigidity to their mentality and they tend to be quite certain their choices are the most sensible. They do what they think is right and hold little concern for what others think about it. They also have an exceptional memory and good powers of observation but are not very attentive listeners. It can be very difficult to change their minds once they've been made up.

Mercury in Taurus people may have an annoying tendency to repeat themselves and state and reiterate what they've already said over and over again in different ways as if to drill their point further and further into people's minds. Although they are typically well-mannered, sociable and charming, they can be a bit shy with people with they are unfamiliar. They prefer the pleasure of reading a book while reposing in a comfy plush chair than holding court in the midst of a congested group setting.
Venus in the feisty and passionate sign of Aries denotes torrid and impulsive desires.

Venus in Aries

are a mix of sentimentality and aggressiveness. These people believe in love at first sight and they do not waste time when going about trying to campaign for the object of their affections. They prefer to be upfront and direct even when it means exposing themselves to rejection.

However, they do not give up easily and can take the challenge of winning someone over as a personal test of their charm and charisma. They can be foolish and imprudent in matters of love. They can become desperately in love and go to extreme sometimes obsessive measures in the name of their beloved. Venus in Aries people are initially captivated by the physical beauty of a person, but mental compatibility is necessary to keep them interested. They dislike sloppy appearances and have a strong distaste for loud and vulgar behavior. 
Mars in Aries people are energetic and dynamic forces of nature. They possess courage and valor that aids them in their endeavors and bids for success. They are endowed with self confidence and a passionate character. They do not bridle their will and tend to pursue what they want with unapologetic directness. They tend to be honest and assert themselves in no uncertain terms.
At the same time, they can also be a bit too blunt and carelessly trample over the sensitivities of others. They are excitable and impulsive but often fun to be around. Their combative instincts are easily triggered and getting into a fray or clashes with others is not uncommon for them. With Mars in Aries, there is much competitive desire and their will to win is strong. They can be domineering and intimidating at times but maintain a youthful chutzpah throughout their lives.
Thоѕе whо fall under thіѕ number аrе immensely talented іn аn artistic light, аlthоugh one needs tо bе determined tо nurture thе talent wіthіn. People under thіѕ life number аrе generous, аlthоugh оn thе flip side, being а spendthrift has іtѕ setbacks. Thеу have а knack tо please thоѕе аrоund thеm wіth witty banter аnd аn infectious sense оf humor. Thеіr positive attitude brings people closer tо thеm, whеrе being іn thе limelight іѕ ѕоmеthіng thеу love. Being socially active іѕ а plus point, but іt саn dampen а number 3's ability tо work оn а talent. Thеу саn bе hurtful wіth thеіr snide, sarcastic comments whеn а dark mood takes оvеr, but оthеrwіѕе thеу'rе perky, ready tо make others happy, аnd аn inspiration fоr thеіr expressive mannerism.
Thе number 4 people аrе pragmatic, faithful аnd disciplined. Thеу аrе аlѕо organized аnd cautious. On thе flip side оf things, thеу саn аlѕо bе dogmatic, crude, incompetent аnd inefficient. Thе number 4 іѕ traditional, practical, respectable аnd sober. Thе number 4 provides thе organization а stable structural foundation fоr аnу endeavor.
It іѕ represented bу thе tarot 'Emperor'. Saturn аnd Earth influence thе number 4 people. Thе number 4 represents thе Cancer zodiac sign аnd іt іѕ ruled bу thе dual elements оf water аnd fire. Thе number 4 people sport а red аnd orange aura аnd Emerald аnd Jade аrе ideal gemstones fоr thеm. Thе month оf April аnd Thursdays аrе lucky fоr thе number 4 people. Thе 2nd, 6th, 8th, 13th аnd 22nd аrе good monthly dates fоr thе number 4 people.
Being a Snake ourselves, we should be able to recite our Chinese restaurant placement profile by heart, but here it is anyway: Born in the years 1941, 1953, 1965, 1977, 1989 and 2001. Wise and intense with a tendency towards physical beauty. Vain and high tempered. The Snake is an interesting mix of extroversion paired with introversion, intuitive reasoning paired with business savoir-faire.

Snakes are considered to be lucky with money and will generally have more than enough to live life to the fullest, regardless of how important it considers money to be; this may be due to the fact that Snakes tend to be rather tight with cash. They're not stingy; they're simply more mentally than physically active. Snakes tend to hang back a bit in order to analyze a situation before jumping into it. Their charming, seductive quality actually belies a rather retiring nature; this Sign is perfectly happy to spend the whole day curled up with a good book and, thus, can be mislabeled as being lazy. 
The
Fire element is both destructive and nourishing. On a cold winter day, there is nothing more calming to the soul than curling up by a roaring fire with a good book or cherished love one. On the other side, there is no other force on earth more destructive than a raging, out of control fire. Fire nourishes the human body by providing us heat to cook our food and light with which to see.
And, there is nothing more painful than having a part of your body taken by fire or flame. Fire signs draw attention to themselves.  Those under the influence of Fire have charm and charge on their side.  They have an infectious enthusiasm that makes them natural leaders, so people just can't help but to follow them. They take the role of leader seriously, and do it well. For fire people, managing others comes naturally. They are decisive, compassionate, understanding yet firm.
The ISTJ is one of the 16 MBTI personality types. ISTJ stands for introvert (I), sensing (S), thinking (T) and judging (J). The ISTJ cognitive function stack is as follows: introverted sensing (Si), extraverted thinking (Te), introverted feeling (Fi) and extraverted intuition (Ne).The ISTJ personality is described as reserved, dependable, detail-oriented and someone who honors tradition and established methods.

ISTJs have no interest in reinventing the wheel and seek to do things by the book. They learn the rules and implement them faithfully. They tend to be highly efficient and committed workers who can be trusted to complete their duties and responsibilities to a high standard. ISTJs have a respect for law and order and seek to comply with authority. ISTJs are the salt of the earth and the cornerstones of society. They are creatures of habit and they prefer the comfort of routine and doing what's familiar to them. ISTJs avoid venturing outside their comfort zones unless there is a good reason to.