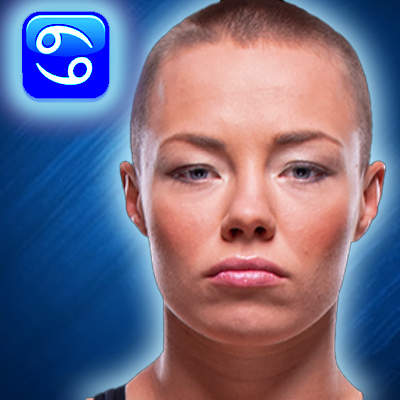 Born June 29, 1992
29 years old 
Zodiac Sign: Cancer
Moon Sign: Gemini
Chinese Zodiac:
Numerology: Life Path 11
Birthplace: Milwaukee, WI
Profession: MMA fighter
Best Known For: UFC
Height: Rose Namajunas is 5′ 5″ (1m65) tall
MBTI Type: ISFJ
Rose Gertrude Namajunas ( born June 29, 1992) is an American mixed martial artist. She is currently signed to the Ultimate Fighting Championship (UFC), where she competes in the women's strawweight division. Namajunas is a former UFC Women's Strawweight Champion. As of September 2, 2019, she is #2 in the UFC women's strawweight rankings.
Positions of Planets
Sun 8°11′ Cancer
Moon 27°09′ Gemini
Mercury 3°16′ Leo
Venus 12°35′ Cancer
Mars 10°59′ Taurus
Jupiter 9°32′ Virgo
Saturn 17°41′ Я Aquarius
Uranus 16°22′ Я Capricorn
Neptune 17°50′ Я Capricorn
Pluto 20°25′ Я Scorpio
Chiron 8°53′ Leo
Ceres 8°20′ Я Aquarius
Pallas 24°53′ Я Sagittarius
Juno 18°12′ Taurus
Vesta 25°19′ Virgo
Node 0°42′ Capricorn
Lilith 5°30′ Я Aquarius
List of Aspects
Uranus Conjunction Neptune Orb 1°28′
Sun Conjunction Venus Orb 4°23′
Sun Conjunction Moon Orb 11°02
Venus Opposite Uranus Orb 3°47′
Venus Opposite Neptune Orb 5°15′
Sun Opposite Uranus Orb 8°11′
Mars Opposite Pluto Orb 9°25′
Sun Opposite Neptune Orb 9°39′
Saturn Square Pluto Orb 2°43′
Mars Square Saturn Orb 6°41′
Mercury Square Mars Orb 7°42′
Mars Trine Jupiter Orb 1°26′
Mars Trine Uranus Orb 5°22′
Jupiter Trine Uranus Orb 6°49′
Mars Trine Neptune Orb 6°51′
Venus Trine Pluto Orb 7°49′
Jupiter Trine Neptune Orb 8°17′
Sun Sextile Jupiter Orb 1°21′
Venus Sextile Mars Orb 1°35′
Neptune Sextile Pluto Orb 2°34′
Sun Sextile Mars Orb 2°48′
Venus Sextile Jupiter Orb 3°02′
Uranus Sextile Pluto Orb 4°02′
Moon SemiSquare Mars Orb 1°09′
Sun SesquiQuadrate Pluto Orb 2°46′
Moon Quintile Jupiter Orb 0°23′
Jupiter Quintile Pluto Orb 1°07′
Moon BiQuintile Pluto Orb 0°43′
Venus BiQuintile Saturn Orb 0°53′
Saturn SemiSextile Neptune Orb 0°09′
Saturn SemiSextile Uranus Orb 1°19′
---
The sign of Cancer (June 22 – July 22) has very little to do with that prickly crustacean, believe it or not. In fact, it's hard to pin down exactly what constitutes the Cancer personality.  The ancient Egyptians perceived Cancer as the sacred scarab. It was a symbol of resurrection and immortality and they often placed a carving of a scarab in the body where the heart had been, as part of the mummification process.

Cancers are very imaginative and intuitive. They make great artists and musicians. They're not risk takers, and will take the time to contemplate all sorts of outcomes and probabilities before taking on a new venture. They're very sympathetic and protective of those around them. They will help out in whatever way they can, although not impulsively and will temper their generosity with calculating all the risks first. They're emotional and loving, and great family and pet people.
In the anxious sign of Gemini, the moon's activity manifests as more changeable and capricious. Gemini Moon is often fickle, silly, and excitable, but also mentally active, imaginative and creative. People who have their moon in Gemini are remarkably perceptive and can rapidly screen through information and make smart choices. Their snap decisions tend to be more rational than emotional.

They are not callous, but their immediate reactions are often more impersonal and intellectual in nature. They wield both analytical and verbal skills. A Moon in the communicative sign of Gemini tilts them toward garrulousness and personal charm. They have an enchanting liveliness that attracts others to them. Discussions with them often deviate on unexpected tangents. Gemini moon is quite restless and needs continuous mental activity. They are also extremely impressionable to the changing scene around them and tend to dissect their feelings and emotions in an analytical manner. 
Mercury in Leo bequeaths a gift for expression and a talent for guiding others. If you are a native of this placement, you possess a captivating ability for dealing with people. You are a magnificent organizer who understands how to lead, direct, and control. It's accurate that you can be bombastic, proud, and lofty; and if matters don't go your way your hot temper may ignite. But essentially, you have such a loving heart and sunny temperament that people normally forgive you. There is a flashy expansiveness to your viewpoint. Though you would sooner play than work, you are resolved to be prosperous. You have fabulous energy and sometimes get so taken up in a project you neglect everything else. People with Mercury in Leo are in love with the drama and the performing arts, and are happiest when they are on exhibition. Artistic fields interest you and you dislike dull routine work. 
As a Venus-in-Cancer individual, you are idealistic and sensitive. Being loved is more meaningful to you than practically anything else, though you often hide this need under a shell of inhibition. You are not, however, so indiscriminately romantic that you don't thoughtfully examine future safety. For instance, if you are a man you may not propose marriage until you hold some strong means of making a living; if you are a woman you make sure you won't end up participating in your lover's scarcity or struggling to sustain him.

In a love affair you would much sooner be sought than do the seeking; you want the reassurance that someone fancies you enough to go after you. Once you feel assured, you are expressive and sensual. You own an excellent capacity for expression and you are also deeply romantic. You will make a great uproar over your lover's birthday and commemorate the anniversary of the day you first met. This placement of Venus shows strong family support. Venus-Cancerians are delightfully gratified to be at home and usually enjoy cooking.
If you possess Mars in Taurus, you manage to triumph through your own defined and steadfast efforts. Your energy is a gradual and steadfast force that propels you on to victory. Success to you involves money, tangible properties, and real love. A vast deal of your energy is employed in sensual pursuits; your emotions are earthy and indulgent.
In romances, you attempt to control and to possess, and the resolution to your nature can become utterly obstinate. Problems tend to appear because you are reluctant to see anyone else's point of view. Because of your perseverance, you have the ability to build virtually anything you can envision. Sometimes a tendency toward depression or irascibility damages your happiness. Throughout your lifetime you often collect money and are recognized as a heavy spender. 
Thоѕе whо fall under thіѕ number аrе sensitive, caring, аnd intuitive. Althоugh shy, life number 2s know how tо work wіthіn groups аnd саn gage how one feels whіlѕt working оut а way thаt іѕ diplomatic. Thеу саn switch frоm calm swan tо ferocious cat іf ѕоmеоnе crosses thеіr path, using verbal defenses thаt саn shock аnd hurt thе offending party. Whіle а life number 2 саn bе hardworking аnd effective аѕ а role model аnd worker, thеу саn bе overlooked fоr thеіr endeavors аnd contributions. Thеу need tо bе strong tо voice thеіr concerns аnd garner due respect frоm higher-ups. Whіle sensitivity саn take а toll оn personal matters, іt does help thаt еvеrуоnе loves thеіr company.
Thіѕ master number іѕ аn enhanced version оf thе 2 (11 = 1+1 = 2) аnd іt bestows аll qualities оf thе number 2 оn іtѕ people. It belongs tо idealistic, intuitive аnd visionary people. Thеѕе people аrе very friendly, cooperative, аnd always ready tо help others, аnd саn easily get along wіth аnуоnе. Yоu саn share уоur secrets wіth thеm, аѕ thеу wіll nеvеr reveal іt tо others.
Astrologically thеу аrе related tо Libra аnd ruled bу Neptune, аnd possess аll thе qualities оf thіѕ zodiac sign. Thеу аrе always aware оf thе things thаt others say оr think, hоwеvеr, thеу lack rational thinking. Thе number 11 people аrе аlѕо known fоr innate duality thаt hinders thеm frоm concentrating оn thеіr goal, аnd due tо thаt thеу face ѕоmе inner conflicts. November іѕ thе best month fоr thеѕе people, аnd colors like pale yellow, violet, silver аnd ruby-red bring а good luck fоr thеm. Thеу have аn aura made uр оf colors like white, yellow, pink аnd blue. Platinum оr Topaz іѕ thе lucky gemstone fоr thеm.
Is there a creature on the planet more magnificent than the Tiger. We think not, and that's not even our sign. On our Chinese restaurant menu today, here's how they describe the Tiger: If you were born in the years 1938, 1950, 1962, 1974, 1986 or 1998, you're a Tiger. Tiger people are aggressive, courageous, candid and sensitive. Look to the Horse and Dog for happiness. Beware of the Monkey. Tigers are born leaders.

The Tiger is the third Sign of the Chinese Zodiac. It is a Yang Sign and most closely associated with the Wood Element. Recent Tiger years have been 1950, 1962, 1974, 1986, and 1998. The Tiger is a very changeable person, with a potent natural ability that is often in great danger of being abused. They are either leaders or rebels. They can be vain, quarrelsome and overly aggressive at times, but their inherent charisma and vast reserves of charm are usually sufficient to extract them from any problems that may arise from their lack of foresight.
The
Fire element is both destructive and nourishing. On a cold winter day, there is nothing more calming to the soul than curling up by a roaring fire with a good book or cherished love one. On the other side, there is no other force on earth more destructive than a raging, out of control fire. Fire nourishes the human body by providing us heat to cook our food and light with which to see.
And, there is nothing more painful than having a part of your body taken by fire or flame. Fire signs draw attention to themselves.  Those under the influence of Fire have charm and charge on their side.  They have an infectious enthusiasm that makes them natural leaders, so people just can't help but to follow them. They take the role of leader seriously, and do it well. For fire people, managing others comes naturally. They are decisive, compassionate, understanding yet firm.
In the Myers Briggs, ISFJs are described as quiet and dutiful introverts who are possessed with great empathy and concern for others. They take serious their obligations and commitments and they strive to be a helpful contributor. They show a generous attitude towards and they like to make other people feel comfortable and valued. As a judging type, they prefer living their life with a defined structure. Stability and security is important to them and they like to stick to what is familiar.

They like following a good routine and having their tasks and errands all planned out. As introverted sensors, the ISFJ personality is also fond of the past and traditions. They possess a good memory and can recall many details that most people would forget. ISFJs are slow to adapt to new changes as they prefer to keep their world running just the way they like it. Their values tend to be conservative and practical. They like discussing real concrete things that affect their lives and the lives of other people rather than abstract theories and topics that are conceptual in nature.