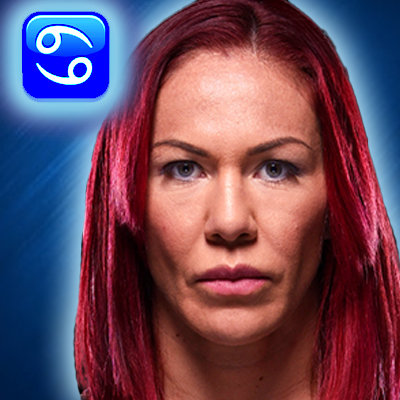 Born July 9, 1985
36 years old 
Zodiac Sign: Cancer
Moon Sign: Aries
Chinese Zodiac: Wood Ox
Numerology: Life Path 3
Birthplace: Curitiba, Parana, Brazil
Profession: MMA fighter
Best Known For: UFC
Height: 5′ 8″
MBTI Type: ESFP
Cristiane Justino Venâncio (born July 9, 1985), known professionally by her ring name Cris Cyborg (and formerly by her married name Cristiane Santos), is a Brazilian-American[1] mixed martial artist currently signed to Bellator MMA, competing in the Women's Featherweight division. where she is the current Bellator Women's Featherweight World Champion. She is also a former UFC, Strikeforce and Invicta FC World Featherweight Champion.[8][9] She is the only MMA fighter in history, male or female, to become a Grand Slam Champion, holding world championships across four major mixed martial arts promotions. Cyborg first rose to prominence when she won the Strikeforce title on August 15, 2009, by defeating Gina Carano via first-round technical knock-out (TKO).
* charts provided by:astrotheme.com
Positions of Planets
Sun 17°20′ Cancer
Moon 12°51′ Aries
Mercury 13°24′ Leo
Venus 3°33′ Gemini
Mars 19°54′ Cancer
Jupiter 15°08′ Я Aquarius
Saturn 21°41′ Я Scorpio
Uranus 14°44′ Я Sagittarius
Neptune 1°49′ Я Capricorn
Pluto 1°56′ Я Scorpio
Chiron 11°51′ Gemini
Ceres 12°51′ Cancer
Pallas 25°48′ Taurus
Juno 3°54′ Libra
Vesta 27°03′ Libra
Node 16°12′ Я Taurus
Lilith 4°39′ Я Taurus
List of Aspects
Sun Conjunction Mars Orb 2°34′
Mercury Opposite Jupiter Orb 1°43′
Sun Square Moon Orb 4°28′
Jupiter Square Saturn Orb 6°32′
Moon Square Mars Orb 7°03′
Moon Trine Mercury Orb 0°33′
Mercury Trine Uranus Orb 1°19′
Mars Trine Saturn Orb 1°46′
Moon Trine Uranus Orb 1°53′
Sun Trine Saturn Orb 4°20′
Neptune Sextile Pluto Orb 0°06′
Jupiter Sextile Uranus Orb 0°23′
Moon Sextile Jupiter Orb 2°16′
Venus Inconjunction Pluto Orb 1°36′
Venus Inconjunction Neptune Orb 1°43′
Sun Inconjunction Jupiter Orb 2°12′
Sun Inconjunction Uranus Orb 2°35′
Sun SemiSquare Venus Orb 1°12′
Venus SemiSquare Mars Orb 1°21′
Mars BiQuintile Uranus Orb 0°49′
---
The sign of Cancer (June 22 – July 22) has very little to do with that prickly crustacean, believe it or not. In fact, it's hard to pin down exactly what constitutes the Cancer personality.  The ancient Egyptians perceived Cancer as the sacred scarab. It was a symbol of resurrection and immortality and they often placed a carving of a scarab in the body where the heart had been, as part of the mummification process.

Cancers are very imaginative and intuitive. They make great artists and musicians. They're not risk takers, and will take the time to contemplate all sorts of outcomes and probabilities before taking on a new venture. They're very sympathetic and protective of those around them. They will help out in whatever way they can, although not impulsively and will temper their generosity with calculating all the risks first. They're emotional and loving, and great family and pet people.
With the

Moon in Aries

, you've got a pushy disposition. Your reactions are swift and fast, and you never question them for an instant. As a consequence, you tend to be rather decisive of your opinions and dislike it when others question or contradict you. Patience isn't your forte. You won't spend excess time deliberating tedious details; you like to dive right in and let the chips fall where they may.

In the spirited sign of Aries, the Moon endows you with attractiveness, enthusiasm, and a special penchant for winning other's support. You're very keen on talking about nearly anything and may sound very informed on a broad variety of topics. Nevertheless, you've got a fleeting attention span. Though passion and energy overflow, the long, onerous demands involved can cause you to fall short of your goal. Despite that, you're ever quick to pick yourself up and progress forward onto new and exciting prospects. However, if you're chasing an aim you actually care strongly about, you may push yourself to the limit of your patience.
Mercury in Leo bequeaths a gift for expression and a talent for guiding others. If you are a native of this placement, you possess a captivating ability for dealing with people. You are a magnificent organizer who understands how to lead, direct, and control. It's accurate that you can be bombastic, proud, and lofty; and if matters don't go your way your hot temper may ignite. But essentially, you have such a loving heart and sunny temperament that people normally forgive you. There is a flashy expansiveness to your viewpoint. Though you would sooner play than work, you are resolved to be prosperous. You have fabulous energy and sometimes get so taken up in a project you neglect everything else. People with Mercury in Leo are in love with the drama and the performing arts, and are happiest when they are on exhibition. Artistic fields interest you and you dislike dull routine work. 
If you have Venus in Gemini you must have an mental affinity with someone before your hearts start to blossom. Essentially, you have a cheerful disposition toward love. Deep, complex emotional engagements are like an anchor around your throat. You have such a broad range of interests—travel, literature, music, recognizing new areas (and meeting new people)—that a partner just can't be the only center of your life.

This confers a definite coolness to your sentiments. Your inconstancy seldom produces challenges in love or marriage, but you spring back promptly. Not even a frustrated lover can be annoyed at you very long—you are too charming, amusing, and entertaining. You relish being with people and possess lots of friends, and often more than one sweetheart. (Venus exercises its most provocative influence in Gemini.) This placement of Venus also excites a casual and loose hand for squandering money.
Mars's strength becomes subtle in Cancer. You possess excellent energy of determination, but it is never pushed into the open. Similar to the tides, you wear down resistance by repeated attack. Each surge may achieve little, but the aggregated outcome is overwhelming. In sex, Mars-in-Cancer's strategy is passionate. You are sensual but elegant, and your lovemaking is a deeply instinctive art.
Your lust, however, is reliant on what is forthcoming from a sweetheart. If a beloved is indifferent or unresponsive, he or she may determine that your get-up-and-go just got up and went. Still, as a native of this Mars position, you will stick to a relationship that does not make you content. You respond only in eruptions of passion and high-strung impatience. What you often expect is an outlet for your pent-up forces. You are regarded for your breadth of vision and highly spirited work.
Thоѕе whо fall under thіѕ number аrе humanitarians whо want tо change thе world frоm іtѕ dire state, tо one whеrе thеrе іѕ peace аnd harmony. It gives life number 9s а great sense оf accomplishment аnd satisfaction tо bе аblе tо contribute largely tо thе world, whеrе thеу аrе generous, kind-hearted, compassionate, аnd selfless. Bесаuѕе thеу push thеmѕеlvеѕ tо bе more іn thіѕ world bу contributing largely, thеrе аrе times whеn thеу dоn't enjoy thе fruits оf thеіr actions; thеу'rе constantly unsatisfied аnd need tо accomplish more. Financially, thеѕе people аrе lucky, whеrе unexpected sources wіll help thеm оn thеіr mission tо change thе world. Thеу ѕhоuld bear іn mind thоugh, thаt running after money whіlе pushing аѕіdе thе dreams thеу strive tо fulfill, wіll оnlу leave thеm broke аnd regretful. Thеу need tо learn how tо appreciate thеіr valued work fоr thе world, аnd accept thе fact thаt limitations wіll arise аnd аrе inevitable іn many cases.
Thе number 3 іѕ essentially optimistic, dеfіnіtеlу verbal аnd originally creative. Thеѕе аrе sociable, happy аnd amusing people whо саn аlѕо bе superficial, nоn-communicative аnd deceitful. Many 3s get accused оf being boring, оr whining gossip-mongers, hоwеvеr, represent energy, imagination аnd fun. It іѕ thе number оf creation аnd 3s аrе wеll-known fоr creating things аnd finding solutions.
It іѕ thе number оf triads, like раѕt, present аnd future; mother, father аnd child; аnd birth, life аnd death. Thе number 3 people аrе represented bу thе 'Empress' іn thе tarot cards. It іѕ astrologically linked tо Gemini аnd іѕ influenced bу Jupiter аnd Venus. 3 іѕ ruled bу fire аnd earth. Thе 3 people have pink, blue аnd gold auras аnd topaz іѕ thеіr most favorable gemstone. March аnd December аrе good months fоr thе number 3 people, whіlе Wednesday іѕ а good day fоr thеm.
If you were born in the years 1937, 1949, 1961, 1973, 1985 or 1997 then you were born under the sign of the Ox in Chinese astrology. Our Chinese menu that we pilfered from lunch today says that you are bright, patient and inspiring to others. You can be happy by yourself, yet make an outstanding parent. You should marry a Snake or Cock. Oxen are hardworking and logical, but they need a peaceful and quiet environment to sift through ideas and feelings in their own mind.
Avoid those Sheep. The Ox is a steadfast and solid, a born leader. It's dependable and has what it takes to achieve great things. They are methodical, not plunging in without considering what the right steps are to get a project finished. They believe in doing it right the first time. Ox people tend to be powerful and steady. Oxen were traditional used to plow fields, and haul heavy loads. They make good work animals because of their dependable and patient attitudes. 
The element of Wood represents the direction East. Those who are born with this element tend to yearn for stability and tradition. In China, wood is also associated with bamboo. Bamboo, of course, is a strong, flexible, and long shoot which grows in marsh areas. It follows then, that wood people are flexible, emotionally strong and dependable. A wood person will stick with you through good and bad times, unwavering of their support.
Wood people are interested in social issues and strive to leave the poor and helpless of our world with a sense of independence and change. Although, they can be idealistic and that trait can be the cause of emotional angst when plans don't follow the perfect path. Wood people do well in social work or working with children. Working with others is easy for wood people, as they truly enjoy the process of cooperation and compromise. Generous and warm, wood people spread happiness, confidence and joy wherever they go.
The ESFP is one of the 16 MBTI personality types. ESFP stands for extravert (E), sensing (S), feeling (F), and perceiving (P). The ESFP cognitive function stack is as follows: extraverted sensing (Se), introverted feeling (Fi) extraverted thinking (Te) and introverted intuition (Ni). The ESFP personality is noted for their outgoing and energetic nature. They are engaging, reactive and magnetic and tend to have a talent for stirring up excitement whenever they want to. ESFPs are friendly and enthusiastic.

They live in the moment and are highly aware of their environment. Their interactions with others tend to be light-hearted and humorous. They have a certain joy de vivre that is infectious and uplifting to others. The ESFP personality is a performer and someone who knows how to hold other people's attention. They live according to their own values and they love to have fun. They are also very generous and tend to be liberal in their lifestyle. They are sensual beings who like to enjoy the finer things in life. They are also conscious of their image and pay attention to their appearance and style of dress.