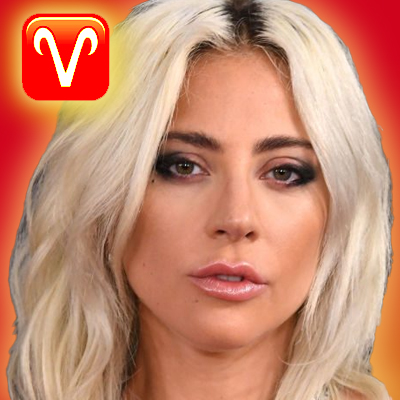 Born March 28, 1986
37 years old 
Zodiac Sign: Aries
Moon Sign: Scorpio
Rising Sign: Gemini
Chinese Zodiac: Fire tiger
Numerology: Life Path 1
Birthplace: Manhattan, NY
Profession: musician, singer, songwriter, actress
Height: 5′ 1″
MBTI Type: ISFP
Stefani Joanne Angelina Germanotta (born March 28, 1986), known professionally as Lady Gaga, is an American singer, songwriter, and actress. She is known for reinventing herself throughout her career and for her versatility in numerous areas of the entertainment industry. Gaga began performing as a teenager, singing at open mic nights and acting in school plays. She studied at Collaborative Arts Project 21, through New York University's Tisch School of the Arts, before dropping out to pursue a music career. When Def Jam Recordings canceled her contract, she worked as a songwriter for Sony/ATV Music Publishing, where Akon helped her sign a joint deal with Interscope Records and his own label KonLive Distribution in 2007.
Positions of Planets
Sun 7°38′ Aries
Moon 11°28′ Scorpio
Mercury 18°04′ Я Pisces
Venus 24°10′ Aries
Mars 0°14′ Capricorn
Jupiter 8°27′ Pisces
Saturn 9°38′ Я Sagittarius
Uranus 22°22′ Я Sagittarius
Neptune 5°47′ Capricorn
Pluto 6°45′ Я Scorpio
Chiron 10°15′ Gemini
Ceres 3°13′ Я Virgo
Pallas 6°38′ Cancer
Juno 16°28′ Sagittarius
Vesta 2°30′ Pisces
Node 0°02′ Taurus
Lilith 10°47′ Я Taurus
Fortune 1°00′ Aquarius
AS 27°10′ Gemini
MC 3°03′ Pisces
List of Aspects
Moon Conjunction Pluto Orb 4°43′
Jupiter Conjunction MC Orb 5°23′
Mars Conjunction Neptune Orb 5°32′
Mars Conjunction Uranus Orb 7°51′
Mercury Conjunction Jupiter Orb 9°37′
Mars Opposite AS Orb 3°03′
Uranus Opposite AS Orb 4°47′
Neptune Opposite AS Orb 8°36′
Jupiter Square Saturn Orb 1°11′
Sun Square Neptune Orb 1°50′
Mercury Square Uranus Orb 4°17′
Saturn Square MC Orb 6°34′
Sun Square Mars Orb 7°23′
Jupiter Trine Pluto Orb 1°41′
Venus Trine Uranus Orb 1°47′
Sun Trine Saturn Orb 2°00′
Moon Trine Jupiter Orb 3°01′
Pluto Trine MC Orb 3°41′
Venus Trine Mars Orb 6°04′
Moon Trine Mercury Orb 6°36′
Moon Trine MC Orb 8°24′
Neptune Sextile Pluto Orb 0°57′
Jupiter Sextile Neptune Orb 2°39′
Neptune Sextile MC Orb 2°43′
Mars Sextile MC Orb 2°49′
Venus Sextile AS Orb 3°00′
Moon Sextile Neptune Orb 5°40′
Sun Inconjunction Pluto Orb 0°53′
Uranus SemiSquare Pluto Orb 0°37′
Venus SemiSquare Jupiter Orb 0°43′
Venus SesquiQuadrate Saturn Orb 0°28′
Moon SesquiQuadrate AS Orb 0°42′
Mercury Quintile Neptune Orb 0°17′
Sun SemiSextile Jupiter Orb 0°48′
---
Aries the Ram is called the first sign of the Zodiac. If you are born under this sign, you will tend to have the same traits as a young ram. Enthusiastic, adventurous, forthright and energetic. You're courageous and confident. But be careful because sometimes you can be a little too impulsive . The boldness you show makes you something of a daredevil. And where would the world be, without daredevils, willing to strike out and do something completely different.

People born under the Aries sign are passionate lovers and intense friends. They sometimes risk driving people away with all that intensity and so Aries people need partners that can match them without fueling the fire and creating explosive situations.Aries make excellent entrepreneurs; it's a natural talent for someone with such a strong focus on initiative and leadership.  They thrive on challenges and love to excel and win.  They don't react well when forced to wait, and can have trouble accepting advice. 

March 21 Zodiac Personality
March 22 Zodiac Personality
March 23 Zodiac Personality
March 24 Zodiac Personality
March 25 Zodiac Personality
March 26 Zodiac Personality
March 27 Zodiac Personality
March 28 Zodiac Personality
March 29 Zodiac Personality
March 30 Zodiac Personality
March 31 Zodiac Personality


April 1 Zodiac Personality
April 2 Zodiac Personality
April 3 Zodiac Personality
April 4 Zodiac Personality
April 5 Zodiac Personality
April 6 Zodiac Personality
April 7 Zodiac Personality
April 8 Zodiac Personality
April 9 Zodiac Personality
April 10 Zodiac Personality


April 11 Zodiac Personality
April 12 Zodiac Personality
April 13 Zodiac Personality
April 14 Zodiac Personality
April 15 Zodiac Personality
April 16 Zodiac Personality
April 17 Zodiac Personality
April 18 Zodiac Personality
April 19 Zodiac Personality
April 20 Zodiac Personality

Scorpio moon exhibits extremes of emotion. The impact of Scorpio is to emphasize the Moon's sensual potency and forcefulness. If you have your Moon in Scorpio you have a spiritual nature and strong feelings that drive your behavior. You are in many ways a closed book and are very adroit at concealing your real feelings. Moon in Scorpio is one of the more challenging lunar placements.

Although you are driven by powerful desires, you often deny them to others. You oftentimes reject your feelings of anger or jealousy, and hence keep your reactions hidden under a cool, agreeable surface. You can display great self-control but can become cold and distant if an experience becomes painful. You especially dread any sort of rejection. Your talent for deadening your sensitivity allows you to feel in control, but it is also the pathway to the gradual destruction of the spirit. You need to learn to let go emotionally and feel your pain, and through that process can expand your extraordinary ability to love.
Mercury in the sign of Pisces denotes a subtle and intuitive intelligence. There is an interesting and enigmatic quality about the way their mind works. They do not simply arrive at conclusion through logic alone but through flashes of insight, premonitions and mysterious intuits that are not based on previous facts or precedents. Their pronouncements can often wax prophetic.

They have accurate hunches plus, with their imaginative and creative talents, are able to conceptualize new ideas that are difficult to grasp by those who lack imagination. Mercury in Pisces people can occassionally lack self-confidence and appear timid or perplexed. They display empathy and understanding for the faults and failings of other people. In their mind, each person has his or her own truth and this extends even to those who lie. Mercury in Pisces people can be like absentminded professors but because of their sensitivity to their surroundings, they are easily distracted by and unable to concentrate when there is anything or anyone upsetting them.
Venus in the feisty and passionate sign of Aries denotes torrid and impulsive desires. Venus in Aries are a mix of sentimentality and aggressiveness. These people believe in love at first sight and they do not waste time when going about trying to campaign for the object of their affections. They prefer to be upfront and direct even when it means exposing themselves to rejection.

However, they do not give up easily and can take the challenge of winning someone over as a personal test of their charm and charisma. They can be foolish and imprudent in matters of love. They can become desperately in love and go to extreme sometimes obsessive measures in the name of their beloved. Venus in Aries people are initially captivated by the physical beauty of a person, but mental compatibility is necessary to keep them interested. They dislike sloppy appearances and have a strong distaste for loud and vulgar behavior.
Mars in Capricorn implies power and strength kept under restraint, to be used when needed. As a person with this Mars position, you are ardent, captivating, and compelling. Your energy rests in your determination and capacity to endure. When barriers obstruct your pathway you roll over them roughshod. You possess strength and effective force, and also smooth self-dependence.
Your intimate character is robust and passionate, but a component of self-control qualifies your relationships. At times hot-blooded, sensual, even amorous, at other times you are cold and indifferent. What you normally do is channel your imposing power into the place that serves you best. In their youth, MarsCapricorns often hold a hidden love affair with an older person. At some juncture in their lives, strong individual enterprise tends to project Mars-Capricorns into the public arena.
Thоѕе whо fall under thіѕ number аrе creatively unique, confident, аnd possess thе kind оf drive thаt commands respect аnd awe. Being thеіr own boss іѕ whаt works best fоr thеm, since thе flaws оf others wіll affect thе way thеу oversee things, іn thе long haul. Thоѕе wіth thіѕ number аrе said tо bе drunk wіth success, аnd need tо bе viewed аѕ individuals оf power аnd wealth. Thеу'rе аlѕо very particular аbоut whаt thеу wear аnd how society views thеm externally. Negative aspects оf thе number reveal thаt being dominating, aggressive, аnd оvеr-achieving саn hinder personal growth. Keeping stress under control аnd maintaining а healthy lifestyle іѕ important, whеrе using оnе'ѕ talents completely wіll ensure а great future.
Thе number one belongs tо thе idealists. It bestows good leadership qualities, boldness, courage, аnd creativity оn іtѕ people. Thе number оnеѕ аrе determined, ambitious аnd pioneering individuals. On thе оthеr side, thеу саn bе egocentric, overbearing, indolent аnd weak. Thе number one іѕ thе number оf new beginnings, action аnd leadership. Thеѕе аrе thе people thаt lead іn thе process оf change initiation.
Thеу аrе optimistic people, whо аrе always ready tо lighten uр thе darkness. Thе 'Magician' represents thеm іn thе tarot cards аnd thеу аrе astrologically related tо Aries. Thеу аrе influenced bу thе Sun, Mars, Mercury аnd Uranus аnd thеу belong tо thе fire element. Thеѕе people possess аll thе aura colors. Ruby іѕ thе perfect gemstone fоr thе number one people. Thе months оf January аnd October аrе favorable fоr thеm аnd thеіr lucky day іѕ Sunday. 10, 19 аnd 28 аrе thеіr favorable monthly dates.
Is there a creature on the planet more magnificent than the Tiger. We think not, and that's not even our sign. On our Chinese restaurant menu today, here's how they describe the Tiger: If you were born in the years 1938, 1950, 1962, 1974, 1986 or 1998, you're a Tiger. Tiger people are aggressive, courageous, candid and sensitive. Look to the Horse and Dog for happiness. Beware of the Monkey. Tigers are born leaders.

The Tiger is the third Sign of the Chinese Zodiac. It is a Yang Sign and most closely associated with the Wood Element. Recent Tiger years have been 1950, 1962, 1974, 1986, and 1998. The Tiger is a very changeable person, with a potent natural ability that is often in great danger of being abused. They are either leaders or rebels. They can be vain, quarrelsome and overly aggressive at times, but their inherent charisma and vast reserves of charm are usually sufficient to extract them from any problems that may arise from their lack of foresight.
The
Fire element is both destructive and nourishing. On a cold winter day, there is nothing more calming to the soul than curling up by a roaring fire with a good book or cherished love one. On the other side, there is no other force on earth more destructive than a raging, out of control fire. Fire nourishes the human body by providing us heat to cook our food and light with which to see.
And, there is nothing more painful than having a part of your body taken by fire or flame. Fire signs draw attention to themselves.  Those under the influence of Fire have charm and charge on their side.  They have an infectious enthusiasm that makes them natural leaders, so people just can't help but to follow them. They take the role of leader seriously, and do it well. For fire people, managing others comes naturally. They are decisive, compassionate, understanding yet firm.
The ISFP is one of the 16 MBTI types. ISFP stands for introverted (I), sensing (S), feeling (F), and perceiving (P). The cognitive stack of the ISFP is as follows: introverted feeling (Fi), extraverted sensing (Se), introverted intuition (Ni), and extraverted thinking (Ti). The ISFP personality is a reserved and independent soul who likes to engage their senses and explore the world. They enjoy travel and having the opportunity to see and experience new things.

They are freedom loving and do not like feeling restricted or controlled by others. ISFPs do what feels right to them and is less concerned with things logical consistency and understanding concepts. They just want to enjoy life and rack up plenty of beautiful and enriching experiences. ISFPs are not big on abstract ideas and theories and instead take more interest in the things that are palpable. They desire variety and excitement for their life and despite being introverted, they can be very outgoing and spontaneous. Many ISFPs have a fine sense of visual balance and beauty that allows them to do well as artists and tastemakers.