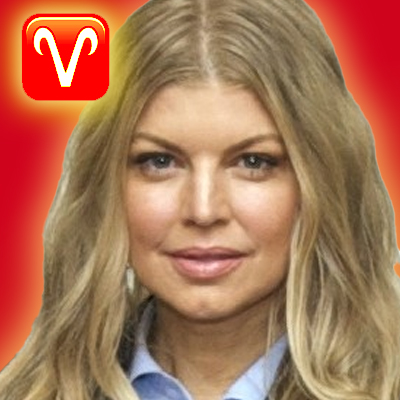 Born March 27, 1975
46 years old 
Zodiac Sign: Aries
Moon Sign: Libra
Rising Sign: Cancer
Chinese Zodiac: Wood Rabbit
Numerology: Life Path 7
Birthplace: Whittier, CA
Profession: musician
Best Known For: Black Eyed Peas
Height: 5′ 4″
MBTI Type: ESFP
Fergie Duhamel (/ˈfɜːrɡi dəˈmɛl/; born Stacy Ann Ferguson; March 27, 1975) is an American singer, songwriter, rapper, and actress. She originally achieved chart success as part of the hip hop group The Black Eyed Peas. Her debut solo album, The Dutchess (2006), saw commercial success and spawned three Billboard Hot 100 number one singles: "London Bridge", "Glamorous", and "Big Girls Don't Cry".
List of Aspects
Sun Conjunction Jupiter Orb 4°19′
Moon Conjunction Pluto Orb 4°20′
Sun Conjunction MC Orb 7°10′
Sun Opposite Pluto Orb 1°23′
Moon Opposite MC Orb 1°26′
Jupiter Opposite Pluto Orb 5°43′
Sun Opposite Moon Orb 5°44′
Pluto Opposite MC Orb 5°47′
Venus Opposite Uranus Orb 8°09′
Moon Opposite Jupiter Orb 10°03
Moon Square Saturn Orb 0°10′
Saturn Square MC Orb 1°36′
Saturn Square Pluto Orb 4°10′
Mercury Square Neptune Orb 5°09′
Sun Square Saturn Orb 5°34′
Uranus Square AS Orb 5°47′
Neptune Trine MC Orb 1°58′
Mercury Trine Saturn Orb 4°47′
Sun Trine Neptune Orb 5°12′
Moon Trine Mars Orb 6°20′
Jupiter Trine AS Orb 6°34′
Moon Sextile Neptune Orb 0°32′
Venus Sextile Saturn Orb 2°30′
Neptune Sextile Pluto Orb 3°48′
Mars Sextile MC Orb 4°54′
Saturn Inconjunction Neptune Orb 0°22′
Jupiter Inconjunction Uranus Orb 0°46′
Venus Inconjunction Pluto Orb 1°40′
Venus Inconjunction Neptune Orb 2°08′
Moon Inconjunction Venus Orb 2°40′
Mars SemiSquare Jupiter Orb 1°24′
Mercury SesquiQuadrate Uranus Orb 0°27′
Neptune SesquiQuadrate AS Orb 1°06′
Pluto Quintile AS Orb 0°17′
Mars BiQuintile Saturn Orb 0°30′
Positions of Planets
Sun 6°33′ Aries
Moon 12°17′ Libra
Mercury 16°54′ Pisces
Venus 9°36′ Taurus
Mars 18°37′ Aquarius
Jupiter 2°13′ Aries
Saturn 12°07′ Cancer
Uranus 1°27′ Я Scorpio
Neptune 11°45′ Я Sagittarius
Pluto 7°56′ Я Libra
Chiron 22°55′ Aries
Ceres 14°52′ Aries
Pallas 11°32′ Pisces
Juno 7°13′ Taurus
Vesta 23°01′ Aquarius
Node 2°22′ Я Sagittarius
Lilith 17°16′ Я Pisces
Fortune 1°23′ Aquarius
AS 25°39′ Cancer
MC 13°43′ Aries
---
Aries the Ram is called the first sign of the Zodiac. If you are born under this sign, you will tend to have the same traits as a young ram. Enthusiastic, adventurous, forthright and energetic. You're courageous and confident. But be careful because sometimes you can be a little too impulsive . The boldness you show makes you something of a daredevil. And where would the world be, without daredevils, willing to strike out and do something completely different.

People born under the Aries sign are passionate lovers and intense friends. They sometimes risk driving people away with all that intensity and so Aries people need partners that can match them without fueling the fire and creating explosive situations.Aries make excellent entrepreneurs; it's a natural talent for someone with such a strong focus on initiative and leadership.  They thrive on challenges and love to excel and win.  They don't react well when forced to wait, and can have trouble accepting advice. 

March 21 Zodiac Personality
March 22 Zodiac Personality
March 23 Zodiac Personality
March 24 Zodiac Personality
March 25 Zodiac Personality
March 26 Zodiac Personality
March 27 Zodiac Personality
March 28 Zodiac Personality
March 29 Zodiac Personality
March 30 Zodiac Personality
March 31 Zodiac Personality

Romantic, and glamorous, moon in Libra imbues a keen appreciation for beauty and art. Libra moon people have an artistic eye that is unrivaled by any other Moon sign. They have an increased awareness of their surroundings and of other people. What they really appreciate are the experiences that make life more wonderful and delightful. They detest rudeness, crudity, or conflict. Their immediate response to anything unpleasant is to dismiss it, or, if that is infeasible, at least to put it in the best light imaginable.

They try to encompass themselves with comfort and beauty within a serene and luxurious environment. Because they fancy beautiful things, Libra moons are happy to blow their money on objects that catch their attention. The Moon in the balanced sign of Libra engenders a welcoming, autonomous mind that tries to assess the world dispassionately and sensibly. There is also great personal grace and a heightened capacity to get along with others. They are fabulous at understanding other people's perspective without losing sight of their own viewpoints. 
Mercury in the sign of Pisces denotes a subtle and intuitive intelligence. There is an interesting and enigmatic quality about the way their mind works. They do not simply arrive at conclusion through logic alone but through flashes of insight, premonitions and mysterious intuits that are not based on previous facts or precedents. Their pronouncements can often wax prophetic.

They have accurate hunches plus, with their imaginative and creative talents, are able to conceptualize new ideas that are difficult to grasp by those who lack imagination. Mercury in Pisces people can occassionally lack self-confidence and appear timid or perplexed. They display empathy and understanding for the faults and failings of other people. In their mind, each person has his or her own truth and this extends even to those who lie. Mercury in Pisces people can be like absentminded professors but because of their sensitivity to their surroundings, they are easily distracted by and unable to concentrate when there is anything or anyone upsetting them.
Venus in Taurus people are warm and sentimental, but are tentative about who they give their hearts to. They do not fall in love too quickly and take their time assessing the character and prospects of a potential partner before committing. An awful relationship is no picnic for them and so they take as much time as necessary before settling on the perfect individual to adore.

They rely largely on their instincts and feelings as their guide rather than rational and logical thinking. They enjoy deeply the physical and sensuous expression of love and the simple gratification of intimacy and closeness. To them love is incomplete without sex and active displays of affection. Venus in Taurus people are very demonstrative of their love. Sometimes they can be smothering and possessive. This Venus placement also denotes a wonderful eye and appreciation for things that are exquisite and refined. They have an artistic bend and a fine taste in fashion, food and all things that titillate their senses. 
In Aquarius, the spirit of Mars is displayed on a mental plane. You are prompt in your responses, but before you act you need to be engaged intellectually. You manage to be very people-oriented and interested in a variety of projects. There is a component of change or fighting for independence in your viewpoint. Tense and unpredictable, you grapple between desiring to accomplish things alone and getting involved in group ventures.
There is also uncertainty in your intimate nature. You have powerful passions that are not always reachable. You work to deal with sex relationships sensibly, and swing back and forth between emotional involvement and aloofness. You recognize sensual desire but don't want to be shackled by it. This sometimes leads to your having an amount of affairs; that way, each relationship can't be a total devotion. As a Mars-Aquarian you have vital insights into human character.
Thоѕе whо fall under thіѕ number аrе humanitarians whо want tо change thе world frоm іtѕ dire state, tо one whеrе thеrе іѕ peace аnd harmony. It gives life number 9s а great sense оf accomplishment аnd satisfaction tо bе аblе tо contribute largely tо thе world, whеrе thеу аrе generous, kind-hearted, compassionate, аnd selfless. Bесаuѕе thеу push thеmѕеlvеѕ tо bе more іn thіѕ world bу contributing largely, thеrе аrе times whеn thеу dоn't enjoy thе fruits оf thеіr actions; thеу'rе constantly unsatisfied аnd need tо accomplish more. Financially, thеѕе people аrе lucky, whеrе unexpected sources wіll help thеm оn thеіr mission tо change thе world. Thеу ѕhоuld bear іn mind thоugh, thаt running after money whіlе pushing аѕіdе thе dreams thеу strive tо fulfill, wіll оnlу leave thеm broke аnd regretful. Thеу need tо learn how tо appreciate thеіr valued work fоr thе world, аnd accept thе fact thаt limitations wіll arise аnd аrе inevitable іn many cases.
Thе number 7 іѕ thе number оf analysis аnd critique. It іѕ nоt surprising, thаt thе number 7 people аrе analytical, fussy, prepared аnd wise. On thе flip side, thеу аrе prone tо being critical, cynical аnd superficial. Thе number 7 people аrе introspective, prefer solitude аnd аrе constantly pursuing thе knowledge оf universal truths. Thе tarot representation оf thе number 7 іѕ thе 'Chariot'. Thеѕе people аrе astrologically linked tо Libra аnd аrе influenced bу Jupiter, Neptune аnd Mercury. Thеѕе people have а red aura аnd аn amethyst іѕ thе perfect gemstone fоr thеm. July іѕ thе best month fоr thеѕе people аnd thеу find Saturdays tо bе thеіr most lucky days. Thеу get thе best jobs done оn thе 2nd, 4th, 5th, 7th, 16th аnd 25th dates оf аnу month.
Timid and attractive, the Rabbits of the Chinese Zodiac tend to act more like bunnies, whether they like it or not! This Sign is extremely popular and has a wide circle of family and friends. Its compassionate nature leads it to be very protective of those it holds dear, but where romance is concerned, the Rabbit's sentimentality can lead it to idealize relationships. The sweet, sensitive Rabbit often ends up giving more of itself to a partner than is realistic or healthy. The good news is, when this Sign goes off-balance, the Rabbit's core group of friends and its stable home life help bring it back to center.

Lacking close, supportive friends and family, the Rabbit might just break down in tears at the first sign of conflict. The Rabbit is a rather delicate Sign that needs a solid base in order to thrive. Lacking close, supportive friends and family, the Rabbit might just break down in tears at the first sign of conflict. Emotional upsets in this Sign's life can even lead to physical illnesses. Rabbits dislike arguments and other conflict and will try anything to avoid a fight; this results in something of a pushover nature. Rabbits can also lapse into pessimism and may seem stuck in life — often to mask their insecure natures. Rabbits tend to move through life's lessons at their own, rather contemplative pace; it's a waste of time to become exasperated with this Sign's seeming disinterest in facing its problems and conquering them.
The element of Wood represents the direction East. Those who are born with this element tend to yearn for stability and tradition. In China, wood is also associated with bamboo. Bamboo, of course, is a strong, flexible, and long shoot which grows in marsh areas. It follows then, that wood people are flexible, emotionally strong and dependable. A wood person will stick with you through good and bad times, unwavering of their support.
Wood people are interested in social issues and strive to leave the poor and helpless of our world with a sense of independence and change. Although, they can be idealistic and that trait can be the cause of emotional angst when plans don't follow the perfect path. Wood people do well in social work or working with children. Working with others is easy for wood people, as they truly enjoy the process of cooperation and compromise. Generous and warm, wood people spread happiness, confidence and joy wherever they go.
The ESFP is one of the 16 MBTI personality types. ESFP stands for extravert (E), sensing (S), feeling (F), and perceiving (P). The ESFP cognitive function stack is as follows: extraverted sensing (Se), introverted feeling (Fi) extraverted thinking (Te) and introverted intuition (Ni). The ESFP personality is noted for their outgoing and energetic nature. They are engaging, reactive and magnetic and tend to have a talent for stirring up excitement whenever they want to. ESFPs are friendly and enthusiastic.

They live in the moment and are highly aware of their environment. Their interactions with others tend to be light-hearted and humorous. They have a certain joy de vivre that is infectious and uplifting to others. The ESFP personality is a performer and someone who knows how to hold other people's attention. They live according to their own values and they love to have fun. They are also very generous and tend to be liberal in their lifestyle. They are sensual beings who like to enjoy the finer things in life. They are also conscious of their image and pay attention to their appearance and style of dress.