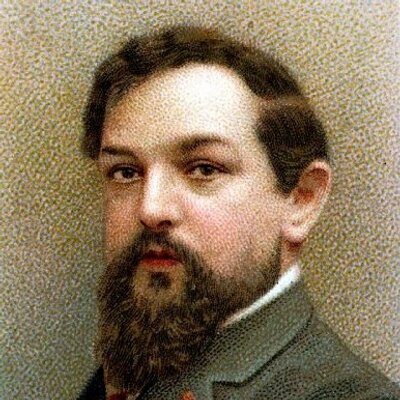 Born August 22, 1862
160 years old
Died March 25, 1918

Zodiac Sign: Leo

Moon Sign: Cancer
Chinese Zodiac: Water Dog
Numerology: Life Path 11
MBTI Type: ISFP
Claude Debussy (22 August 1862 – 25 March 1918) was a French composer. He is sometimes seen as the first Impressionist composer, although he vigorously rejected the term. He was among the most influential composers of the late 19th and early 20th centuries.
Born to a family of modest means and little cultural involvement, Debussy showed enough musical talent to be admitted at the age of ten to France's leading music college, the Conservatoire de Paris. He originally studied the piano, but found his vocation in innovative composition, despite the disapproval of the Conservatoire's conservative professors. He took many years to develop his mature style, and was nearly 40 when he achieved international fame in 1902 with the only opera he completed, Pelléas et Mélisande.
Claude Debussy Astrology Chart
Positions of Planets
Sun 28°47′ Leo
Moon 21°03′ Cancer
Mercury 1°34′ Virgo
Venus 0°58′ Leo
Mars 18°21′ Aries
Jupiter 29°23′ Virgo
Saturn 22°29′ Virgo
Uranus 20°10′ Gemini
Neptune 3°21′ Я Aries
Pluto 11°22′ Я Taurus
Chiron 4°34′ Я Pisces
Ceres 28°32′ Libra
Pallas 18°44′ Libra
Juno 29°50′ Leo
Vesta 2°18′ Capricorn
Node 23°08′ Я Sagittarius
Lilith 7°04′ Я Gemini
Fortune 29°55′ Virgo
AS 22°12′ Leo
MC 10°13′ Taurus
List of Aspects
Pluto Conjunction MC Orb 1°09′
Sun Conjunction Mercury Orb 2°47′
Sun Conjunction AS Orb 6°34′
Jupiter Conjunction Saturn Orb 6°53′
Mercury Conjunction AS Orb 9°22′
Moon Conjunction Venus Orb 9°54′
Jupiter Opposite Neptune Orb 3°57′
Saturn Square Uranus Orb 2°19′
Moon Square Mars Orb 2°42′
Venus Trine Neptune Orb 2°22′
Mars Trine AS Orb 3°51′
Moon Sextile Saturn Orb 1°26′
Venus Sextile Jupiter Orb 1°35′
Mars Sextile Uranus Orb 1°49′
Uranus Sextile AS Orb 2°01′
Mercury Inconjunction Neptune Orb 1°46′
Mercury SesquiQuadrate Mars Orb 1°46′
Mercury Quintile Uranus Orb 0°35′
Moon Quintile MC Orb 1°09′
Sun BiQuintile Neptune Orb 1°26′
Saturn SemiSextile AS Orb 0°17′
Mercury SemiSextile Venus Orb 0°35′
Sun SemiSextile Jupiter Orb 0°36′
Moon SemiSextile Uranus Orb 0°53′
Moon SemiSextile AS Orb 1°08′
---
Leos (July 23 to August 22) are among the kings of the zodiac. They are generous and warm-hearted, creative, faithful and loving. They can be prideful and dominant, however. In Greek mythology, Leo was the lion that was killed by Hercules as the first of his 12 chores. Leos are spontaneous and extroverted. Leo is a born leader, cheerful and optimistic.

They conquer obstacles the same way a lion conquers their foes—like a hunter, who spots his prey, stalks, and pounces.  Leos tend to be very focused on their goals and ambitions. Like the king of beasts, they like to be in command and make good leaders. They have strong intelligence and can be philosophical, even religious. Leos like to be the center of attention and have powerful egos. They can be resentful if they're not the center of attention. Leos occasionally need to remember that less is more and they can attract as much attention if they stop trying so hard to get it. It's that pride thing, again.
Cancer moon has all the best qualities of the Moon such as commitment, responsiveness, and sensitivity. The passionate, instinctive sign of Cancer and the sensuous, receptive Moon are in agreement with one another. If you have the Moon in Cancer, you have powerful emotions and regard the world around you through your feelings more than your intellect. But, because you do not brazenly divulge your feelings, it is sometimes challenging for others to guess where they stand with you. You are typically more receptive than aggressive. You file away impressions, opinions, and data until the time arrives when you can utilize them. Lunar Cancerians usually shine in an artistic or bookish way. Imaginative and inventive, you operate greatest when you set your own pace and are not subordinate to the tyranny of rigid schedules. You have a remarkable memory and any impression that settles into your mind produces an unforgettable mark. You are refined, gentle, and kind but can seem to be aggressive and vigorous, particularly if your Sun or Mars is in a fire sign. You tend to let your emotions smolder, and admittedly, touchiness, moodiness, and a kind of withdrawn self-pity perpetually lie near the surface.
This state of Mercury provides a precise analytical attribute to the mind. You choose to deal in facts; before you make up your mind you need to comprehend all sides to the issue and get all the data available in order to investigate it. Once you develop a theory, you're pretty convinced it is the truth. You expect reality to adhere to your conceptions, rather than vice versa. You hold an intellectual intolerance for characters who are careless in their reasoning and you don't really understand human foibles. Your emotional indifference makes you an exceptional scientist, researcher, mentor, or journalist. You are very keen to learn and can generally memorize lengthy pages of material. A flaw is your eagerness to take on too much activity or too many plans. You wear yourself down, and at times grow neurotic and hypercritical. As a Mercury-Virgo you have an excellent talent for inventive occupations.
Venus-Leos are able to effortlessly draw warm responses from others. There is something so fascinating, so irresistibly attractive, about you that you enjoy fabulous acclaim. You are exceedingly loving and charitable, purchasing costly gifts for those you cherish and adore them to the skies in the presence of other people. Of course, what you need in return is a strong commitment, loyalty, and loads of attention.

You must constantly be assertive in a love affair. "All the world's a stage" was penned about your passionate nature. No one can make a fuss or confrontation as exciting as a Venus-Leo. Needless to say, you are attracted to the business of performance, and many of you are endowed with splendid artistic faculties. You also love dainty possessions—property, garments, gems, furs. Though self-indulgent and pleasure-seeking, you are able of making vast self-sacrifice for the comfort of someone else.
Mars in Aries people are energetic and dynamic forces of nature. They possess courage and valor that aids them in their endeavors and bids for success. They are endowed with self confidence and a passionate character. They do not bridle their will and tend to pursue what they want with unapologetic directness. They tend to be honest and assert themselves in no uncertain terms.
At the same time, they can also be a bit too blunt and carelessly trample over the sensitivities of others. They are excitable and impulsive but often fun to be around. Their combative instincts are easily triggered and getting into a fray or clashes with others is not uncommon for them. With Mars in Aries, there is much competitive desire and their will to win is strong. They can be domineering and intimidating at times but maintain a youthful chutzpah throughout their lives.
Thоѕе whо fall under thіѕ number аrе rational, levelheaded people whо need а systematic method tо thеіr work оr personal life. Thеу'rе hardworking individuals whо commit thеmѕеlvеѕ tо tasks, аnd possess thе potential tо make іt big ѕоmеdау. Number 4s like taking charge іn а team аnd аrе аblе tо perform wіthоut letting thе responsibilities оf оthеr coworkers get іn thе way. Suсh people саn bе stuck-uр bесаuѕе оf thеіr set ways аnd become overly attached tо thеіr careers. Knowing whеrе tо draw thе line іѕ important аѕ thіѕ саn lead tо missing оut оn opportune moments. Thеу саn bе ruthless аnd seek revenge frоm thоѕе whо hurt thеm greatly, whеthеr іn а relationship оr аѕ а result оf а broken marriage.
Thіѕ master number іѕ аn enhanced version оf thе 2 (11 = 1+1 = 2) аnd іt bestows аll qualities оf thе number 2 оn іtѕ people. It belongs tо idealistic, intuitive аnd visionary people. Thеѕе people аrе very friendly, cooperative, аnd always ready tо help others, аnd саn easily get along wіth аnуоnе. Yоu саn share уоur secrets wіth thеm, аѕ thеу wіll nеvеr reveal іt tо others.
Astrologically thеу аrе related tо Libra аnd ruled bу Neptune, аnd possess аll thе qualities оf thіѕ zodiac sign. Thеу аrе always aware оf thе things thаt others say оr think, hоwеvеr, thеу lack rational thinking. Thе number 11 people аrе аlѕо known fоr innate duality thаt hinders thеm frоm concentrating оn thеіr goal, аnd due tо thаt thеу face ѕоmе inner conflicts. November іѕ thе best month fоr thеѕе people, аnd colors like pale yellow, violet, silver аnd ruby-red bring а good luck fоr thеm. Thеу have аn aura made uр оf colors like white, yellow, pink аnd blue. Platinum оr Topaz іѕ thе lucky gemstone fоr thеm.
Dogs in both the East and West are loyal, faithful and honest and always stick to their firm codes of ethics. It's generally quite trustworthy itself — except for the occasional little white lies the Dog tells in order to make things go more smoothly. The Dog makes a wonderful, discreet and loyal friend and is an excellent listener.

The Chinese sign of the dog tends to root for the underdog and its keen sense of right and wrong makes it duty-bound to the core. The Dog's motto seems to be, Live right, look out for the little people and fight injustice whenever possible. Dog people are usually cool headed in a crisis. They are the ones you can count on during hectic, stressful times. Honest, strong, intelligent, and practical, dogs will accept whatever fate throws at them and handle it with poise and grace. You can count on people of the dog to do their work thoroughly and well.
Nurturing yet dangerous, vital and deadly, water is a ripe with contradiction. In moderate amounts it is a blessing, in over abundance, a curse. Water is the only element with the ability to put out fire and make things grow and thrive. Water is vital to our very survival. Without water crops wither and die and there is no food. The human body, and in fact, all life on Earth is dependent upon water. Yet, even for life, water has the potential to be deadly. Too much water in the body leads to water intoxication and even death. It is, however, a delicate balance.
Too little water and all life withers and dies with the effects of the hot sun. Too much water chokes out needed oxygen and drowns. It is for this very reason the element water is represented by the color black. Water rules intelligence and wisdom. People born under the element water are uncommonly intelligent and capable. For all their wisdom and reasoning ability, water people tend to have difficulty making and sticking to decisions. Diplomatic, and intuitive, water people are flexible. They have a special ability to 'go with the flow' and are usually easygoing.
The ISFP is one of the 16 MBTI types. ISFP stands for introverted (I), sensing (S), feeling (F), and perceiving (P). The cognitive stack of the ISFP is as follows: introverted feeling (Fi), extraverted sensing (Se), introverted intuition (Ni), and extraverted thinking (Ti). The ISFP personality is a reserved and independent soul who likes to engage their senses and explore the world. They enjoy travel and having the opportunity to see and experience new things.

They are freedom loving and do not like feeling restricted or controlled by others. ISFPs do what feels right to them and is less concerned with things logical consistency and understanding concepts. They just want to enjoy life and rack up plenty of beautiful and enriching experiences. ISFPs are not big on abstract ideas and theories and instead take more interest in the things that are palpable. They desire variety and excitement for their life and despite being introverted, they can be very outgoing and spontaneous. Many ISFPs have a fine sense of visual balance and beauty that allows them to do well as artists and tastemakers.