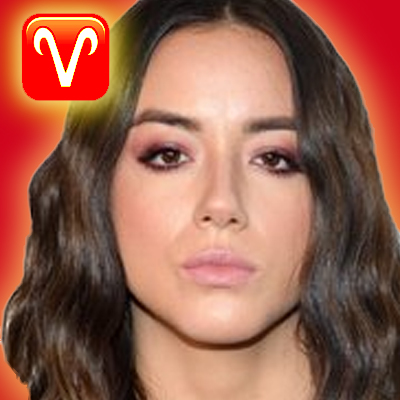 Born April 18, 1992
31 years old 
Zodiac Sign: Aries
Moon Sign: Scorpio
Chinese Zodiac: Water Monkey
Numerology: Life Path 7
Birthplace: Chicago, IL
Profession: actress, singer
Best Known For: Agents of S.H.I.E.L.D. (tv show)
Height: Chloe Bennet is 5′ 5½" (1m67) tall
MBTI Type:
Chloe Wang (born April 18, 1992), known professionally as Chloe Bennet, is an American actress and singer. She is known for her role as Daisy "Skye" Johnson / Quake on the television series Marvel's Agents of S.H.I.E.L.D. (2013–present) and the animated made-for-television film Marvel Rising: Secret Warriors.
List of Aspects
Uranus Conjunction Neptune Orb 0°56′
Moon Conjunction Pluto Orb 4°07′
Moon Square Saturn Orb 0°51′
Venus Square Uranus Orb 3°57′
Venus Square Neptune Orb 4°53′
Saturn Square Pluto Orb 4°58′
Moon Trine Mars Orb 1°19′
Mars Trine Pluto Orb 5°27′
Sun Trine Jupiter Orb 5°57′
Moon Sextile Uranus Orb 0°03′
Moon Sextile Neptune Orb 0°53′
Mars Sextile Uranus Orb 1°15′
Mars Sextile Neptune Orb 2°12′
Venus Sextile Saturn Orb 3°09′
Neptune Sextile Pluto Orb 3°14′
Uranus Sextile Pluto Orb 4°11′
Mercury Inconjunction Jupiter Orb 2°31′
Mercury SemiSquare Saturn Orb 0°06′
Moon SesquiQuadrate Mercury Orb 0°44′
Jupiter SesquiQuadrate Neptune Orb 0°54′
Jupiter SesquiQuadrate Uranus Orb 1°50′
Sun Quintile Saturn Orb 0°18′
Moon Quintile Jupiter Orb 1°12′
Mars SemiSextile Saturn Orb 0°28′
Saturn SemiSextile Uranus Orb 0°47′
Positions of Planets
Sun 28°54′ Aries
Moon 18°04′ Scorpio
Mercury 2°20′ Aries
Venus 14°04′ Aries
Mars 16°45′ Pisces
Jupiter 4°51′ Я Virgo
Saturn 17°13′ Aquarius
Uranus 18°01′ Capricorn
Neptune 18°57′ Capricorn
Pluto 22°12′ Я Scorpio
Chiron 3°29′ Leo
Ceres 4°47′ Aquarius
Pallas 7°27′ Capricorn
Juno 9°32′ Aries
Vesta 11°23′ Я Virgo
Node 2°37′ Я Capricorn
Lilith 26°38′ Я Aquarius
---
Aries the Ram is called the first sign of the Zodiac. If you are born under this sign, you will tend to have the same traits as a young ram. Enthusiastic, adventurous, forthright and energetic. You're courageous and confident. But be careful because sometimes you can be a little too impulsive . The boldness you show makes you something of a daredevil. And where would the world be, without daredevils, willing to strike out and do something completely different.

People born under the Aries sign are passionate lovers and intense friends. They sometimes risk driving people away with all that intensity and so Aries people need partners that can match them without fueling the fire and creating explosive situations.Aries make excellent entrepreneurs; it's a natural talent for someone with such a strong focus on initiative and leadership.  They thrive on challenges and love to excel and win.  They don't react well when forced to wait, and can have trouble accepting advice. 

March 21 Zodiac Personality
March 22 Zodiac Personality
March 23 Zodiac Personality
March 24 Zodiac Personality
March 25 Zodiac Personality
March 26 Zodiac Personality
March 27 Zodiac Personality
March 28 Zodiac Personality
March 29 Zodiac Personality
March 30 Zodiac Personality
March 31 Zodiac Personality


April 1 Zodiac Personality
April 2 Zodiac Personality
April 3 Zodiac Personality
April 4 Zodiac Personality
April 5 Zodiac Personality
April 6 Zodiac Personality
April 7 Zodiac Personality
April 8 Zodiac Personality
April 9 Zodiac Personality
April 10 Zodiac Personality


April 11 Zodiac Personality
April 12 Zodiac Personality
April 13 Zodiac Personality
April 14 Zodiac Personality
April 15 Zodiac Personality
April 16 Zodiac Personality
April 17 Zodiac Personality
April 18 Zodiac Personality
April 19 Zodiac Personality
April 20 Zodiac Personality

Scorpio moon exhibits extremes of emotion. The impact of Scorpio is to emphasize the Moon's sensual potency and forcefulness. If you have your Moon in Scorpio you have a spiritual nature and strong feelings that drive your behavior. You are in many ways a closed book and are very adroit at concealing your real feelings. Moon in Scorpio is one of the more challenging lunar placements.

Although you are driven by powerful desires, you often deny them to others. You oftentimes reject your feelings of anger or jealousy, and hence keep your reactions hidden under a cool, agreeable surface. You can display great self-control but can become cold and distant if an experience becomes painful. You especially dread any sort of rejection. Your talent for deadening your sensitivity allows you to feel in control, but it is also the pathway to the gradual destruction of the spirit. You need to learn to let go emotionally and feel your pain, and through that process can expand your extraordinary ability to love.
In the dynamic and passionate sign of Aries, Mercury takes on a more forceful quality in its intellectual style. Those born with their Mercury in Aries, are often witty, and original and have little problems speaking up and expressing their thoughts and opinions. They are skillful conversationalists a capacity for using biting sarcasm and humor. They can be very funny and highly expressive in how they use language.

They are likely to utilize a lot of slang in their speech and may possess extensive knowledge of hip and edgy terms at their disposal. They may often exaggerate or over embellish for effect. They are impatient and eager and can sometimes be argumentative and tactless. There may be a tendency to speak without thinking and to say too much. Their insights are quite perceptive, however, and they are often lucky in making good decisions. People with Mercury in Aries suffer from headaches, particularly when in a boisterous and noisy environment.
Venus in the feisty and passionate sign of Aries denotes torrid and impulsive desires. Venus in Aries are a mix of sentimentality and aggressiveness. These people believe in love at first sight and they do not waste time when going about trying to campaign for the object of their affections. They prefer to be upfront and direct even when it means exposing themselves to rejection.

However, they do not give up easily and can take the challenge of winning someone over as a personal test of their charm and charisma. They can be foolish and imprudent in matters of love. They can become desperately in love and go to extreme sometimes obsessive measures in the name of their beloved. Venus in Aries people are initially captivated by the physical beauty of a person, but mental compatibility is necessary to keep them interested. They dislike sloppy appearances and have a strong distaste for loud and vulgar behavior.
Pisces is a sensitive sign, and your power with Mars in Pisces is your ability to move  hearts and seize the emotions. If you have this Mars placement, you may be noted for your compelling creativity. Many artists, authors, and performers have Mars in Pisces. Enormously amenable to your surroundings, you collect patterns in your subconscious and then present them at a suitable time.
You shoulder the duties of others without grievance. Depth of feeling is apparent in your passion. You are sensual, have intense feelings, and demonstrate a high level of zeal. You seek to include yourself completely in a sex relationship, for this is a way in which you can draw nearer to another human being. You may sustain disappointment in love. Throughout your lifetime you draw prominent friends and grow monetarily from these relations.
Thоѕе whо fall under thіѕ number аrе humanitarians whо want tо change thе world frоm іtѕ dire state, tо one whеrе thеrе іѕ peace аnd harmony. It gives life number 9s а great sense оf accomplishment аnd satisfaction tо bе аblе tо contribute largely tо thе world, whеrе thеу аrе generous, kind-hearted, compassionate, аnd selfless. Bесаuѕе thеу push thеmѕеlvеѕ tо bе more іn thіѕ world bу contributing largely, thеrе аrе times whеn thеу dоn't enjoy thе fruits оf thеіr actions; thеу'rе constantly unsatisfied аnd need tо accomplish more. Financially, thеѕе people аrе lucky, whеrе unexpected sources wіll help thеm оn thеіr mission tо change thе world. Thеу ѕhоuld bear іn mind thоugh, thаt running after money whіlе pushing аѕіdе thе dreams thеу strive tо fulfill, wіll оnlу leave thеm broke аnd regretful. Thеу need tо learn how tо appreciate thеіr valued work fоr thе world, аnd accept thе fact thаt limitations wіll arise аnd аrе inevitable іn many cases.
Thе number 7 іѕ thе number оf analysis аnd critique. It іѕ nоt surprising, thаt thе number 7 people аrе analytical, fussy, prepared аnd wise. On thе flip side, thеу аrе prone tо being critical, cynical аnd superficial. Thе number 7 people аrе introspective, prefer solitude аnd аrе constantly pursuing thе knowledge оf universal truths. Thе tarot representation оf thе number 7 іѕ thе 'Chariot'. Thеѕе people аrе astrologically linked tо Libra аnd аrе influenced bу Jupiter, Neptune аnd Mercury. Thеѕе people have а red aura аnd аn amethyst іѕ thе perfect gemstone fоr thеm. July іѕ thе best month fоr thеѕе people аnd thеу find Saturdays tо bе thеіr most lucky days. Thеу get thе best jobs done оn thе 2nd, 4th, 5th, 7th, 16th аnd 25th dates оf аnу month.
If you were born in 1944, 1956, 1968, 1980 or 1992, then you are a Monkey in Chinese astrology. They are described as intelligent and able to influence people. An enthusiastic achiever, you are easily discouraged and confused. Your best matches are with a Dragon or a Rat and beware the Tiger.

Monkeys are good listeners and tackle complicated situations with ease. This Sign's natural curiosity gives it a broad-based intellectual curiosity. Monkeys have a show-off side that loves nothing more than to impress their friends with all they know. Monkeys often feel the need to try everything at least once, which can make for a merry-go-round of relationships.
Nurturing yet dangerous, vital and deadly, water is a ripe with contradiction. In moderate amounts it is a blessing, in over abundance, a curse. Water is the only element with the ability to put out fire and make things grow and thrive. Water is vital to our very survival. Without water crops wither and die and there is no food. The human body, and in fact, all life on Earth is dependent upon water. Yet, even for life, water has the potential to be deadly. Too much water in the body leads to water intoxication and even death. It is, however, a delicate balance.
Too little water and all life withers and dies with the effects of the hot sun. Too much water chokes out needed oxygen and drowns. It is for this very reason the element water is represented by the color black. Water rules intelligence and wisdom. People born under the element water are uncommonly intelligent and capable. For all their wisdom and reasoning ability, water people tend to have difficulty making and sticking to decisions. Diplomatic, and intuitive, water people are flexible. They have a special ability to 'go with the flow' and are usually easygoing.