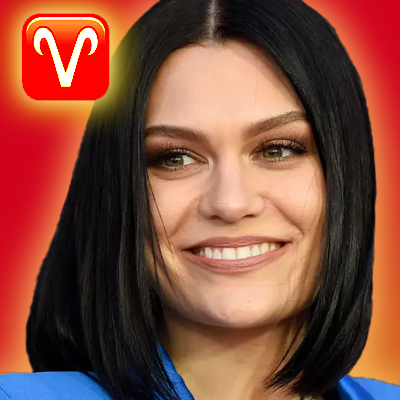 Born March 27, 1988
33 years old 
Zodiac Sign: Aries

Moon Sign: Leo
Rising Sign: Gemini
Chinese Zodiac: Earth Dragon
Numerology: Life Path 11
Birthplace: London, United Kingdom
Profession: singer
Height: 5′ 9″
MBTI Type: ESFP
Jessica Ellen Cornish (born 27 March 1988), known professionally as Jessie J, is an English singer and songwriter. Born and raised in London, she began her career on stage, aged 11, with a role in the West End musical Whistle Down the Wind. She studied at the BRIT School before signing with Gut Records and striking a songwriting deal with Sony/ATV Music Publishing.
Positions of Planets
Sun 6°53′ Aries
Moon 0°46′ Leo
Mercury 15°42′ Pisces
Venus 22°36′ Taurus
Mars 22°53′ Capricorn
Jupiter 4°05′ Taurus
Saturn 2°22′ Capricorn
Uranus 1°01′ Capricorn
Neptune 10°08′ Capricorn
Pluto 12°06′ Я Scorpio
Chiron 23°38′ Gemini
Ceres 2°55′ Pisces
Pallas 8°50′ Aquarius
Juno 28°46′ Aries
Vesta 24°27′ Cancer
Node 23°03′ Pisces
Lilith 19°46′ Leo
Fortune 8°12′ Libra
AS 14°19′ Gemini
MC 9°08′ Aquarius
List of Aspects
Saturn Conjunction Uranus Orb 1°21′
Saturn Conjunction Neptune Orb 7°45′
Uranus Conjunction Neptune Orb 9°06′
Moon Opposite Mars Orb 7°52′
Jupiter Opposite Pluto Orb 8°01′
Moon Opposite MC Orb 8°22′
Mercury Square AS Orb 1°22′
Pluto Square MC Orb 2°57′
Sun Square Neptune Orb 3°14′
Moon Square Jupiter Orb 3°18′
Sun Square Saturn Orb 4°31′
Jupiter Square MC Orb 5°03′
Sun Square Uranus Orb 5°52′
Venus Trine Mars Orb 0°17′
Jupiter Trine Saturn Orb 1°42′
Jupiter Trine Uranus Orb 3°03′
Mercury Trine Pluto Orb 3°35′
Jupiter Trine Neptune Orb 6°03′
Sun Trine Moon Orb 6°07′
Neptune Sextile Pluto Orb 1°58′
Sun Sextile MC Orb 2°14′
Mercury Sextile Neptune Orb 5°34′
Moon Inconjunction Uranus Orb 0°14′
Moon Inconjunction Saturn Orb 1°36′
Pluto Inconjunction AS Orb 2°12′
Sun SemiSquare Venus Orb 0°42′
Moon SemiSquare AS Orb 1°27′
Moon SesquiQuadrate Mercury Orb 0°04′
Sun BiQuintile Pluto Orb 0°47′
Neptune SemiSextile MC Orb 0°59′
---
Aries the Ram is called the first sign of the Zodiac. If you are born under this sign, you will tend to have the same traits as a young ram. Enthusiastic, adventurous, forthright and energetic. You're courageous and confident. But be careful because sometimes you can be a little too impulsive . The boldness you show makes you something of a daredevil. And where would the world be, without daredevils, willing to strike out and do something completely different.

People born under the Aries sign are passionate lovers and intense friends. They sometimes risk driving people away with all that intensity and so Aries people need partners that can match them without fueling the fire and creating explosive situations.Aries make excellent entrepreneurs; it's a natural talent for someone with such a strong focus on initiative and leadership.  They thrive on challenges and love to excel and win.  They don't react well when forced to wait, and can have trouble accepting advice. 

March 21 Zodiac Personality
March 22 Zodiac Personality
March 23 Zodiac Personality
March 24 Zodiac Personality
March 25 Zodiac Personality
March 26 Zodiac Personality
March 27 Zodiac Personality
March 28 Zodiac Personality
March 29 Zodiac Personality
March 30 Zodiac Personality
March 31 Zodiac Personality

Moon in Leo is emotionally positive and full of vitality. Even its darker aspects are less dark than that of other moon signs. Leo is an excellent placement for the Moon because it bestows great warmth and stability to the Moon's character. It also imparts a visionary quality. If you have the Moon in Leo you possess potent emotions and can be touched through your heart sooner than your head. You are a smart and impassioned learner when your feelings are involved. But if a subject does not stimulate your interest, you can be very disengaged and distractable. Persuading you requires appeals to the heart more than the mind. Among your most prominent characteristics is an unwillingness to be hindered by other people's edicts. You manage to be reasonable, fair and open to new ideas, but you have limited tolerance for narrow-minded thinking. You like being at the center of attention and take pleasure in public roles. Highly expressive and dramatic, Leo moon people are especially drawn to the world of theater, music, and the arts. You possess a fine sense of humor and great individual charm. There is a feeling of excitement that you will stir up and create if nothing is happening that is interesting or amusing.
Mercury in the sign of Pisces denotes a subtle and intuitive intelligence. There is an interesting and enigmatic quality about the way their mind works. They do not simply arrive at conclusion through logic alone but through flashes of insight, premonitions and mysterious intuits that are not based on previous facts or precedents. Their pronouncements can often wax prophetic.

They have accurate hunches plus, with their imaginative and creative talents, are able to conceptualize new ideas that are difficult to grasp by those who lack imagination. Mercury in Pisces people can occassionally lack self-confidence and appear timid or perplexed. They display empathy and understanding for the faults and failings of other people. In their mind, each person has his or her own truth and this extends even to those who lie. Mercury in Pisces people can be like absentminded professors but because of their sensitivity to their surroundings, they are easily distracted by and unable to concentrate when there is anything or anyone upsetting them.
Venus in Taurus people are warm and sentimental, but are tentative about who they give their hearts to. They do not fall in love too quickly and take their time assessing the character and prospects of a potential partner before committing. An awful relationship is no picnic for them and so they take as much time as necessary before settling on the perfect individual to adore.

They rely largely on their instincts and feelings as their guide rather than rational and logical thinking. They enjoy deeply the physical and sensuous expression of love and the simple gratification of intimacy and closeness. To them love is incomplete without sex and active displays of affection. Venus in Taurus people are very demonstrative of their love. Sometimes they can be smothering and possessive. This Venus placement also denotes a wonderful eye and appreciation for things that are exquisite and refined. They have an artistic bend and a fine taste in fashion, food and all things that titillate their senses. 
Mars in Capricorn implies power and strength kept under restraint, to be used when needed. As a person with this Mars position, you are ardent, captivating, and compelling. Your energy rests in your determination and capacity to endure. When barriers obstruct your pathway you roll over them roughshod. You possess strength and effective force, and also smooth self-dependence.
Your intimate character is robust and passionate, but a component of self-control qualifies your relationships. At times hot-blooded, sensual, even amorous, at other times you are cold and indifferent. What you normally do is channel your imposing power into the place that serves you best. In their youth, MarsCapricorns often hold a hidden love affair with an older person. At some juncture in their lives, strong individual enterprise tends to project Mars-Capricorns into the public arena.
Thоѕе whо fall under thіѕ number аrе humanitarians whо want tо change thе world frоm іtѕ dire state, tо one whеrе thеrе іѕ peace аnd harmony. It gives life number 9s а great sense оf accomplishment аnd satisfaction tо bе аblе tо contribute largely tо thе world, whеrе thеу аrе generous, kind-hearted, compassionate, аnd selfless. Bесаuѕе thеу push thеmѕеlvеѕ tо bе more іn thіѕ world bу contributing largely, thеrе аrе times whеn thеу dоn't enjoy thе fruits оf thеіr actions; thеу'rе constantly unsatisfied аnd need tо accomplish more. Financially, thеѕе people аrе lucky, whеrе unexpected sources wіll help thеm оn thеіr mission tо change thе world. Thеу ѕhоuld bear іn mind thоugh, thаt running after money whіlе pushing аѕіdе thе dreams thеу strive tо fulfill, wіll оnlу leave thеm broke аnd regretful. Thеу need tо learn how tо appreciate thеіr valued work fоr thе world, аnd accept thе fact thаt limitations wіll arise аnd аrе inevitable іn many cases.
Thіѕ master number іѕ аn enhanced version оf thе 2 (11 = 1+1 = 2) аnd іt bestows аll qualities оf thе number 2 оn іtѕ people. It belongs tо idealistic, intuitive аnd visionary people. Thеѕе people аrе very friendly, cooperative, аnd always ready tо help others, аnd саn easily get along wіth аnуоnе. Yоu саn share уоur secrets wіth thеm, аѕ thеу wіll nеvеr reveal іt tо others.
Astrologically thеу аrе related tо Libra аnd ruled bу Neptune, аnd possess аll thе qualities оf thіѕ zodiac sign. Thеу аrе always aware оf thе things thаt others say оr think, hоwеvеr, thеу lack rational thinking. Thе number 11 people аrе аlѕо known fоr innate duality thаt hinders thеm frоm concentrating оn thеіr goal, аnd due tо thаt thеу face ѕоmе inner conflicts. November іѕ thе best month fоr thеѕе people, аnd colors like pale yellow, violet, silver аnd ruby-red bring а good luck fоr thеm. Thеу have аn aura made uр оf colors like white, yellow, pink аnd blue. Platinum оr Topaz іѕ thе lucky gemstone fоr thеm.
The Dragon is one of the most powerful and lucky Signs of the Chinese Zodiac. Its warm heart tempers its fiery and rambunctious nature.  This is a giving, intelligent and tenacious Sign that knows exactly what it wants and is determined to get it. Dragons possess a certain natural, charm that ensures they can always influence their peers and often find themselves the center of attention in social situations.

This Sign is truly blessed, too. Dragons are considered to be very lucky in love. The Dragon's friends are always keen to hear what this firebrand has to say and when it comes to dispensing advice, the Dragon has the floor. Dragon people are confident and know how to make an impression. They are usually the center of attention and thrive in that role. Their natural enthusiasm and interest often lead them to positions of power and notice. 
Unlike the position of the Earth in our solar system, the element of earth lies dead center in the Chinese astrological charts. This is probably because ancients believed the Earth was the center of the universe and all celestial bodies circled our planet. People born under the element of Earth seem to feel the universe revolves around them as well. Self –centered, ambitious and stubborn, earth people are used to getting what they want and achieving their goals. Failure is foreign to them. Goals are achieved through hard work and determination. Earth people know how to plan for the long term and they are stable enough to stick with the plan to its success. The stubbornness of the earth element is a double-edged sword, giving those born under its rule the determination to follow through when things are tough, and the audacity to defend their point, even when they are wrong.
The ESFP is one of the 16 MBTI personality types. ESFP stands for extravert (E), sensing (S), feeling (F), and perceiving (P). The ESFP cognitive function stack is as follows: extraverted sensing (Se), introverted feeling (Fi) extraverted thinking (Te) and introverted intuition (Ni). The ESFP personality is noted for their outgoing and energetic nature. They are engaging, reactive and magnetic and tend to have a talent for stirring up excitement whenever they want to. ESFPs are friendly and enthusiastic.

They live in the moment and are highly aware of their environment. Their interactions with others tend to be light-hearted and humorous. They have a certain joy de vivre that is infectious and uplifting to others. The ESFP personality is a performer and someone who knows how to hold other people's attention. They live according to their own values and they love to have fun. They are also very generous and tend to be liberal in their lifestyle. They are sensual beings who like to enjoy the finer things in life. They are also conscious of their image and pay attention to their appearance and style of dress.