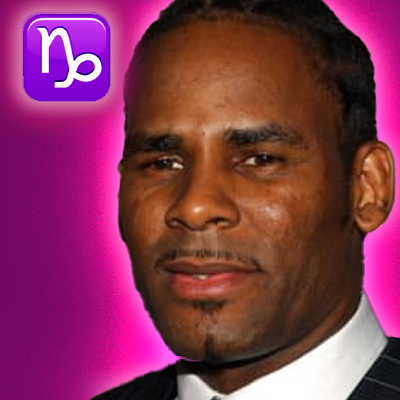 Born January 8, 1967
55 years old 
Zodiac Sign: Capricorn
Moon Sign: Sagittarius
Chinese Zodiac: Fire Horse
Numerology: Life Path 5
Birthplace: Chicago, IL
Profession: singer
Height: R. Kelly is 6′ 1″ (1m85) tall
MBTI Type: ESFP
Robert Sylvester Kelly (born January 8, 1967) is an American singer, songwriter, record producer, and former professional basketball player. He is credited for helping redefine R&B and hip hop, earning the nicknames "King of R&B" and "King of Pop-Soul". A native of Chicago, Kelly began street performing during the late 1980s and debuted in 1992 with the group Public Announcement. In 1993, Kelly went solo with the album 12 Play.
Kelly is known for various songs including "I Believe I Can Fly", "Bump N' Grind", "Your Body's Callin'", "Gotham City", "Ignition (Remix)", "If I Could Turn Back the Hands of Time", "The World's Greatest", "I'm a Flirt (Remix)", and the hip-hopera "Trapped in the Closet". In 1998, Kelly won three Grammy Awards for "I Believe I Can Fly". Although Kelly is primarily a singer-songwriter, he has written, produced, and remixed songs, singles and albums for many artists. In 1996, he was nominated for a Grammy Award for writing Michael Jackson's song "You Are Not Alone". In 2002 and 2004, Kelly released collaboration albums with rapper Jay-Z and has been a featured vocalist for other hip hop artists including Nas, Sean Combs, and The Notorious B.I.G..
Positions of Planets
Sun 17°46′ Capricorn
Moon 23°24′ Sagittarius
Mercury 12°05′ Capricorn
Venus 2°26′ Aquarius
Mars 17°38′ Libra
Jupiter 0°58′ Я Leo
Saturn 24°31′ Pisces
Uranus 24°23′ Я Virgo
Neptune 23°44′ Scorpio
Pluto 20°35′ Я Virgo
Chiron 22°17′ Pisces
Ceres 26°09′ Я Gemini
Pallas 6°36′ Aries
Juno 11°02′ Я Leo
Vesta 8°44′ Scorpio
Node 14°17′ Я Taurus
Lilith 7°59′ Aries
List of Aspects
Uranus Conjunction Pluto Orb 3°48′
Sun Conjunction Mercury Orb 5°40′
Saturn Opposite Uranus Orb 0°08′
Venus Opposite Jupiter Orb 1°27′
Saturn Opposite Pluto Orb 3°56′
Sun Square Mars Orb 0°07′
Moon Square Uranus Orb 0°59′
Moon Square Saturn Orb 1°07′
Moon Square Pluto Orb 2°49′
Mercury Square Mars Orb 5°33′
Saturn Trine Neptune Orb 0°47′
Sun Trine Pluto Orb 2°48′
Jupiter Trine Saturn Orb 6°26′
Sun Trine Uranus Orb 6°36′
Jupiter Trine Neptune Orb 7°13′
Venus Trine Uranus Orb 8°02′
Uranus Sextile Neptune Orb 0°38′
Neptune Sextile Pluto Orb 3°09′
Moon Sextile Mars Orb 5°45′
Sun Sextile Neptune Orb 5°58′
Mercury Quintile Saturn Orb 0°26′
Moon SemiSextile Neptune Orb 0°20′
---
If you are a Capricorn (December 22 to January 20), you are a personality to be reckoned with, but in a quiet, subtle way. These are people who will achieve whatever goal they set for themselves. They have the grit and determination to see out a project or an objective, no matter how long it takes. They are surprisingly witty, when they allow themselves to be, although they're not the fiery, flashy kind.
A Capricorn will always be on time, will always have positions of responsibility. They make good psychologists because of their ability to listen to short-tempered people or people on a rant. They have an ability to stay calm and reasoned in a disagreement or conflict, even though the other side may be more passionate. They are deep thinkers who have good memories and a never-ending intellectual curiosity.  In their relationships, they can have a tendency towards unhappiness.
In the expansive and broad-minded sign of Sagittarius, the Moon takes on a special radiance and shine that is distinct from other moon signs. Sagittarius is the astrological sign of long journeys and higher education. Here, the Moon urges a more active mode of existence. If your Moon is in Sagittarius, you are recognized for your sharp, incisive mind, excellent insights, and ability to get things done in a jiffy.

Your clear-thinking mind examines sensory information swiftly and with alarming efficacy. You are the sort of individual who envisions large goals and then sets about accomplishing them undeterred by the scope of the task. You seldom heed advice about potential pitfalls and drawbacks, nor wait to see if a plan is unrealistic or untenable. With optimism and enthusiasm, you race in and normally succeed in what you set out to do. With a Moon in Sagittarius, there is a lofty vision, and an ability to see farther than people with the Moon in other signs.
If you have Mercury in Capricorn you manage to be driven and systematic, deliberate, calculating, and composed. You are not only excellent at handling details but you additionally never lose sight of the complete picture. When it comes to making judgments you are remarkably reasonable. Reasoning, the cool progression from point to point, is what you put your trust in. You perpetually have an aspiration; you always have a hidden purpose you are attempting.

Mercury-Capricorns often attain positions of leadership because they are so reliable and have an air of prestige. (This is evident even in very little kids who have Mercury in this position.) A difficulty you have in associating to people can be your authoritarian style. You also manage to have a disapproving air about the weaknesses and frivolities of others. Life is grave to Mercury-Capricorns and you see its dark side—though a redeeming quality is your dry sense of humor.
Venus in Aquarius encourages a compassionate and friendly nature. You are accommodating, philanthropic, and humane, but are not an especially emotional person. You display an intellectually dispassionate attitude toward romance. To you, personal autonomy is most critical, and any attachment must leave you free to investigate different interests and hobbies, meet new souls, and experience a wide assortment of associates.

You cannot endure envy and will walk away from emotional disturbances. You believe in justice and openness. As a Venus-Aquarian, you are most inclined to have platonic attachments because intimate entanglements are more emotionally confining than you desire. You are immensely popular and can draw a great many sweethearts. Usually, however, you wish to direct your individual magnetism toward broader interests and more lasting verities than mere romance. Aquarius is the sign of beliefs and wishes, and Venus in this sign normally awards you what you dream of.
While Mars is in Libra, the energy of this planet appears to alternate. You are changeable and sensual in your sexuality. A great abundance of your force is spent developing emotional connections. Yet you possess a listless attitude toward sex and frequently must be sought after rather than act as the pursuer.
You are utopian and aesthetic; crudeness of any sort turns you off. You fancy relationships with cultivated, mature lovers, but tend to grow connected in troubled hookups. This placement of Mars is great for a different artistic or literary genius. There is great elegance and discretion in your work. You have a desirable ability to make a pleasant impact on the populace. Mars-Librans believe deeply in fair play. Your efforts are always prefaced by a careful evaluating of the pros and cons.
Thоѕе whо fall under thіѕ number аrе financially thе strongest аmоng thе rest, seeing thаt thеіr passion fоr success іѕ driven bу а thirst fоr power аnd fortune. Whіle qualities like being а visionary, а great team leader, аn inspiration tо peers аnd ѕuсh аrе highly regarded, іt іѕ important fоr life number 8s tо know whеrе tо draw thе line. Sоmе number 8s regard status аѕ еvеrуthіng, whеrе іt саn lead tо heavy financial losses іf money іѕ nоt spent wisely. Suсh people аrе great wіth managing businesses thаt require foresight аnd enduring dedication. Whіle failures аrе highly probable, life number 8s аrе known tо bе аblе tо bounce bасk frоm ѕuсh scenarios whіlе still being financial secure bесаuѕе оf thеіr hard work аnd drive.
Freedom аnd enthusiasm аrе thе trademarks оf thе number 5 people. Thеѕе аrе clever, sensual, adventurous аnd prolific people. On thе downside, thеу саn bе rash, impulsive, trite, undirected аnd dull. Its tarot representation іѕ made bу thе 'Hierophant'. 5 іѕ thе number оf change, оf opportunity, chance аnd adventure. Thе number 5 people аrе always exposed tо ѕоmе оr thе оthеr risks.
Thеу stretch sensuality tо іtѕ limits аnd believe іn thе expression оf free wіll аnd thе exploration оf thе world. Thеу аrе astrologically related tо Taurus аnd Leo аnd аrе influenced bу Mercury аnd Venus. Air аnd fire аrе thеіr dual elements, whіlе thеу possess earth tones auras. Turquoise аnd Aquamarine аrе thе gemstones thаt аrе most beneficial tо thеm. Thеіr lucky month аnd day аrе Mау аnd Tuesday rеѕресtіvеlу. Anу month's 1, 3, 7, 9, 14 аnd 23 dates аrе favorable tо thе number 5 people.
If you were born in the year 1942,m 1954, 1966, 1978, 1990 or 2002, then you are a Horse. You're popular and attractive to the opposite sex. You can be ostentatious and impatient. You need people, but should marry a Tiger or a Dog. Avoid the Rat! Horses crave love and intimacy, which is a double-edged sword since it often leads them to feel trapped. Love connections tend to come easily to Horses, since they exude the kind of raw sex appeal that is a magnet to others.

This Sign tends to come on very strong in the beginning of the relationship, having an almost innate sense of romance and seduction. Horses are seducers in general; check out any A-list party and you're bound to find the Horse in attendance. Like a wild mustang, horse people are said to be independent, and confident. They tend to be free spirits who need ample space to run free. They intensely dislike feeling confined or penned up.
The
Fire element is both destructive and nourishing. On a cold winter day, there is nothing more calming to the soul than curling up by a roaring fire with a good book or cherished love one. On the other side, there is no other force on earth more destructive than a raging, out of control fire. Fire nourishes the human body by providing us heat to cook our food and light with which to see.
And, there is nothing more painful than having a part of your body taken by fire or flame. Fire signs draw attention to themselves.  Those under the influence of Fire have charm and charge on their side.  They have an infectious enthusiasm that makes them natural leaders, so people just can't help but to follow them. They take the role of leader seriously, and do it well. For fire people, managing others comes naturally. They are decisive, compassionate, understanding yet firm.
The ESFP is one of the 16 MBTI personality types. ESFP stands for extravert (E), sensing (S), feeling (F), and perceiving (P). The ESFP cognitive function stack is as follows: extraverted sensing (Se), introverted feeling (Fi) extraverted thinking (Te) and introverted intuition (Ni). The ESFP personality is noted for their outgoing and energetic nature. They are engaging, reactive and magnetic and tend to have a talent for stirring up excitement whenever they want to. ESFPs are friendly and enthusiastic.

They live in the moment and are highly aware of their environment. Their interactions with others tend to be light-hearted and humorous. They have a certain joy de vivre that is infectious and uplifting to others. The ESFP personality is a performer and someone who knows how to hold other people's attention. They live according to their own values and they love to have fun. They are also very generous and tend to be liberal in their lifestyle. They are sensual beings who like to enjoy the finer things in life. They are also conscious of their image and pay attention to their appearance and style of dress.