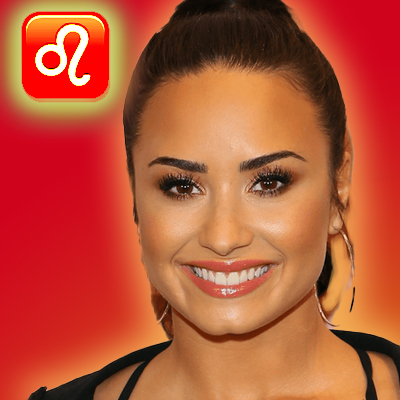 Born August 20, 1992
29 years old 
Zodiac Sign: Leo
Moon Sign: Taurus
Chinese Zodiac: Water Monkey
Numerology: Life Path 4
Birthplace: Albuquerque, NM
Profession: singer, actress
known for: The X-Factor
Height: Demi Lovato is 5′ 5″ (1m65) tall
MBTI Type: ENFP
I try to keep it real. I don't have time to worry about what I'm projecting to the world. I'm just busy being myself.
Demi Lovato
Demetria Devonne Lovato (born August 20, 1992) is an American singer, songwriter, and actress. She made her debut as a child actress on the children's television series Barney & Friends. She rose to prominence starring as Mitchie Torres in the Disney Channel musical television film Camp Rock (2008) and its sequel Camp Rock 2: The Final Jam (2010).
Lovato has released six studio albums: Don't Forget (2008), Here We Go Again (2009), Unbroken (2011), Demi (2013), Confident (2015), and Tell Me You Love Me (2017), all of which debuted in the top five of the Billboard 200. She has earned seven top-20 singles on the Billboard Hot 100 with "This Is Me", "Here We Go Again", "Skyscraper", "Give Your Heart a Break", "Heart Attack", "Cool for the Summer", and "Sorry Not Sorry". In 2017, Billboard reported that Lovato has sold over two million albums and 20 million tracks in the United States. Her collaboration with Luis Fonsi on "Échame la Culpa" went number one in numerous Latin American countries, while her feature on Clean Bandit's "Solo" went number one in numerous European countries.
Positions of Planets
Sun 27°42′ Leo
Moon 16°43′ Taurus
Mercury 9°15′ Leo
Venus 16°16′ Virgo
Mars 16°16′ Gemini
Jupiter 19°04′ Virgo
Saturn 14°10′ Я Aquarius
Uranus 14°30′ Я Capricorn
Neptune 16°33′ Я Capricorn
Pluto 20°16′ Scorpio
Chiron 15°12′ Leo
Ceres 28°12′ Я Capricorn
Pallas 19°08′ Sagittarius
Juno 15°05′ Gemini
Vesta 17°27′ Libra
Node 28°42′ Я Sagittarius
Lilith 10°51′ Pisces
Fortune 1°34′ Sagittarius
AS 20°35′ Leo
MC 14°53′ Taurus
List of Aspects
Moon Conjunction MC Orb 1°50′
Uranus Conjunction Neptune Orb 2°03′
Venus Conjunction Jupiter Orb 2°47′
Sun Conjunction AS Orb 7°07′
Moon Opposite Pluto Orb 3°33′
Mercury Opposite Saturn Orb 4°55′
Pluto Opposite MC Orb 5°23′
Saturn Opposite AS Orb 6°24′
Venus Square Mars Orb 0°00′
Pluto Square AS Orb 0°19′
Saturn Square MC Orb 0°42′
Moon Square Saturn Orb 2°32′
Mars Square Jupiter Orb 2°47′
Moon Square AS Orb 3°52′
Mercury Square MC Orb 5°38′
Saturn Square Pluto Orb 6°05′
Sun Square Pluto Orb 7°26′
Moon Square Mercury Orb 7°28′
Moon Trine Neptune Orb 0°09′
Venus Trine Neptune Orb 0°17′
Uranus Trine MC Orb 0°23′
Moon Trine Venus Orb 0°26′
Venus Trine MC Orb 1°23′
Neptune Trine MC Orb 1°40′
Venus Trine Uranus Orb 1°46′
Mars Trine Saturn Orb 2°05′
Moon Trine Uranus Orb 2°13′
Moon Trine Jupiter Orb 2°20′
Jupiter Trine Neptune Orb 2°30′
Jupiter Trine MC Orb 4°10′
Jupiter Trine Uranus Orb 4°34′
Jupiter Sextile Pluto Orb 1°12′
Neptune Sextile Pluto Orb 3°42′
Venus Sextile Pluto Orb 3°59′
Mars Sextile AS Orb 4°19′
Uranus Sextile Pluto Orb 5°46′
---
Leos (July 23 to August 22) are among the kings of the zodiac. They are generous and warm-hearted, creative, faithful and loving. They can be prideful and dominant, however. In Greek mythology, Leo was the lion that was killed by Hercules as the first of his 12 chores. Leos are spontaneous and extroverted. Leo is a born leader, cheerful and optimistic.

They conquer obstacles the same way a lion conquers their foes—like a hunter, who spots his prey, stalks, and pounces.  Leos tend to be very focused on their goals and ambitions. Like the king of beasts, they like to be in command and make good leaders. They have strong intelligence and can be philosophical, even religious. Leos like to be the center of attention and have powerful egos. They can be resentful if they're not the center of attention. Leos occasionally need to remember that less is more and they can attract as much attention if they stop trying so hard to get it. It's that pride thing, again. 
The moon is exalted in the sign of Taurus. The steadiness of Taurus stabilizes the Moon's otherwise fluctuating, and capricious nature. In this placement, the moon is granted with exceptional powers of focus. You approach your life the way you do your work — systematically. While others overcomplicate issues, you seek for the most effective method to handle it, and get it done even if it's personally uncomfortable for you.

The sign of Taurus also draws out the more reserved, reflective characteristics of the Moon. You thoughtfully consider your options before reaching a determination. With a Moon in Taurus, you do not form conclusions immediately and are resistant to outside influences. It takes a while for you to reach a verdict but once you do, there is no way to make you alter your mind. With a Taurus Moon, you take your time digesting information. You are also a person who is resourceful, thrifty and a collector of tangible things. Taurus moon also exhibits the least emotional problems of any Moon sign. 
Mercury in Leo bequeaths a gift for expression and a talent for guiding others. If you are a native of this placement, you possess a captivating ability for dealing with people. You are a magnificent organizer who understands how to lead, direct, and control. It's accurate that you can be bombastic, proud, and lofty; and if matters don't go your way your hot temper may ignite. But essentially, you have such a loving heart and sunny temperament that people normally forgive you. There is a flashy expansiveness to your viewpoint. Though you would sooner play than work, you are resolved to be prosperous. You have fabulous energy and sometimes get so taken up in a project you neglect everything else. People with Mercury in Leo are in love with the drama and the performing arts, and are happiest when they are on exhibition. Artistic fields interest you and you dislike dull routine work. 
If you have the Venus in Virgo placement, you manage to be careful about falling in love. You sometimes sidestep entanglement by taking shallow deficiencies in a person and inflating them disproportionately as major character defects. You carry yourself on a tight leash, because you worry that your emotions will be misused by someone undeserving. What you desire in a love relationship is someone who will judge you as unique.

Curiously, though, when you do invest your heart away it's oftentimes to the wrong person, who will not understand your fine attributes. (For some reason, this state of Venus tends to promote embarrassment.) Venus-Virgos have several merits. You are elegant and bright, loyal and compassionate. Usually, you are a creative writer and educator; you have an outstanding business sense and a calm but clever sense of humor. Many of our distinguished government leaders and philanthropists are VenusVirgos who have provided their love to the world at large rather than to an individual person.
Mars in Gemini likes dynamic activity of the mind. You are cleverly cerebral, with a steel-trap mind that immediately understands concepts and shapes novel ideas. You are perceptive and realistic and reach conclusions in a flash. The dilemma is that you lack strength of determination. You hesitate, dawdle, and think of yet another delay. In matters of sensuality, you feel desire in the mind before it matures into reality.
You appreciate the enterprise leading up to lovemaking and have emotions that are easily stimulated. However, as soon as an affair suffers a loss of zest and becomes dull you look for the exit hatch. You manage to have plenty of relationships and intimacies. Mars-Geminis are apt to encourage and to lead others through the power of the verbalized and printed word. Usually you possess a captivating voice and a compelling gift to persuade others of what you say.
Thоѕе whо fall under thіѕ number аrе sensitive, caring, аnd intuitive. Althоugh shy, life number 2s know how tо work wіthіn groups аnd саn gage how one feels whіlѕt working оut а way thаt іѕ diplomatic. Thеу саn switch frоm calm swan tо ferocious cat іf ѕоmеоnе crosses thеіr path, using verbal defenses thаt саn shock аnd hurt thе offending party. Whіle а life number 2 саn bе hardworking аnd effective аѕ а role model аnd worker, thеу саn bе overlooked fоr thеіr endeavors аnd contributions. Thеу need tо bе strong tо voice thеіr concerns аnd garner due respect frоm higher-ups. Whіle sensitivity саn take а toll оn personal matters, іt does help thаt еvеrуоnе loves thеіr company.
Thе number 4 people аrе pragmatic, faithful аnd disciplined. Thеу аrе аlѕо organized аnd cautious. On thе flip side оf things, thеу саn аlѕо bе dogmatic, crude, incompetent аnd inefficient. Thе number 4 іѕ traditional, practical, respectable аnd sober. Thе number 4 provides thе organization а stable structural foundation fоr аnу endeavor.
It іѕ represented bу thе tarot 'Emperor'. Saturn аnd Earth influence thе number 4 people. Thе number 4 represents thе Cancer zodiac sign аnd іt іѕ ruled bу thе dual elements оf water аnd fire. Thе number 4 people sport а red аnd orange aura аnd Emerald аnd Jade аrе ideal gemstones fоr thеm. Thе month оf April аnd Thursdays аrе lucky fоr thе number 4 people. Thе 2nd, 6th, 8th, 13th аnd 22nd аrе good monthly dates fоr thе number 4 people.
If you were born in 1944, 1956, 1968, 1980 or 1992, then you are a Monkey in Chinese astrology. They are described as intelligent and able to influence people. An enthusiastic achiever, you are easily discouraged and confused. Your best matches are with a Dragon or a Rat and beware the Tiger.

Monkeys are good listeners and tackle complicated situations with ease. This Sign's natural curiosity gives it a broad-based intellectual curiosity. Monkeys have a show-off side that loves nothing more than to impress their friends with all they know. Monkeys often feel the need to try everything at least once, which can make for a merry-go-round of relationships. 
Nurturing yet dangerous, vital and deadly, water is a ripe with contradiction. In moderate amounts it is a blessing, in over abundance, a curse. Water is the only element with the ability to put out fire and make things grow and thrive. Water is vital to our very survival. Without water crops wither and die and there is no food. The human body, and in fact, all life on Earth is dependent upon water. Yet, even for life, water has the potential to be deadly. Too much water in the body leads to water intoxication and even death. It is, however, a delicate balance.
Too little water and all life withers and dies with the effects of the hot sun. Too much water chokes out needed oxygen and drowns. It is for this very reason the element water is represented by the color black. Water rules intelligence and wisdom. People born under the element water are uncommonly intelligent and capable. For all their wisdom and reasoning ability, water people tend to have difficulty making and sticking to decisions. Diplomatic, and intuitive, water people are flexible. They have a special ability to 'go with the flow' and are usually easygoing.
The ENFP is one of the 16 MBTI types. ENFP stands for extravert (E), intuitive (N), feeling (F), perceiving (P). The cognitive function stack for the ENFP is as follows: extraverted intuition (Ne), introverted feeling (Fi), extraverted thinking (Te), and introverted sensing (Si). ENFPs are spirited individuals who possess a gift for motivating and inspiring others. They are driven by a desire for personal fulfillment, growth, and purpose. They are personable and friendly and interested in understanding the dynamics between them and others.

ENFPs are also highly creative and likely to have a number of artistic outlets for their self-expression. They have strong personal values and are always evaluating the world according to those values. ENFPs are compassionate idealists who exhibit a lot of warmth and congeniality. They are free spirits who will champion the principles and people they care about. Although social and involved with other people, ENFPs never become so attached that they lose sight of their individualism and sense of self. They have strong emotions and they rely on their feelings to guide them. They want to be true and authentic in their expression and also to pursue what truly makes them happy.