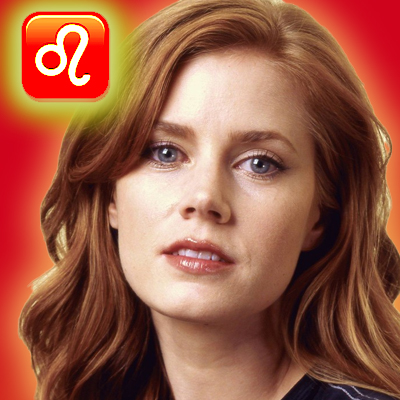 Born August 20, 1974
48 years old 
Zodiac Sign: Leo
Moon Sign: Virgo
Rising Sign: Gemini
Chinese Zodiac: Wood Tiger
Numerology: Life Path 4
Profession: actress
known for:
Height: Amy Adams is 5′ 4″ (1m63) tall
MBTI Type: ENFP
Amy Lou Adams (born August 20, 1974) is an American actress. Known for both her comedic and dramatic performances, she has been featured three times in annual rankings of the highest-paid actresses in the world. Her accolades include two Golden Globes, and nominations for six Academy Awards and seven British Academy Film Awards.
Born in Vicenza, Italy, and raised in Castle Rock, Colorado, Adams is the fourth of seven siblings. She trained to be a ballerina, but at age 18, she found musical theater a better fit, and from 1994 to 1998, she worked in dinner theater. She made her feature film debut with a supporting part in the 1999 satire Drop Dead Gorgeous. After moving to Los Angeles, she made guest appearances in television and took on "mean girl" parts in small-scale features. Her first major role came in Steven Spielberg's 2002 biopic Catch Me If You Can, opposite Leonardo DiCaprio, but she was unemployed for a year afterward. Her breakthrough came in the part of a loquacious pregnant woman in the 2005 independent film Junebug.
Positions of Planets
Sun 26°32′ Leo
Moon 26°29′ Virgo
Mercury 29°06′ Leo
Venus 6°01′ Leo
Mars 14°42′ Virgo
Jupiter 15°03′ Я Pisces
Saturn 14°31′ Cancer
Uranus 24°40′ Libra
Neptune 6°51′ Sagittarius
Pluto 5°12′ Libra
Chiron 24°17′ Я Aries
Ceres 10°48′ Я Pisces
Pallas 25°13′ Я Capricorn
Juno 15°57′ Я Pisces
Vesta 0°05′ Scorpio
Node 16°41′ Я Sagittarius
Lilith 11°49′ Я Aquarius
Fortune 4°31′ Taurus
AS 4°28′ Gemini
MC 7°01′ Aquarius
List of Aspects
Sun Conjunction Mercury Orb 2°33′
Moon Conjunction Pluto Orb 8°43′
Mars Opposite Jupiter Orb 0°20′
Venus Opposite MC Orb 1°00′
Neptune Opposite AS Orb 2°22′
Mercury Square AS Orb 5°22′
Mercury Square Neptune Orb 7°45′
Sun Square AS Orb 7°56′
Jupiter Trine Saturn Orb 0°31′
Pluto Trine AS Orb 0°43′
Venus Trine Neptune Orb 0°49′
Pluto Trine MC Orb 1°48′
Moon Trine AS Orb 7°59′
Mars Sextile Saturn Orb 0°10′
Neptune Sextile MC Orb 0°10′
Venus Sextile Pluto Orb 0°48′
Venus Sextile AS Orb 1°32′
Neptune Sextile Pluto Orb 1°38′
Sun Sextile Uranus Orb 1°51′
Mercury Sextile Uranus Orb 4°25′
Mercury SemiSquare Saturn Orb 0°25′
Moon Quintile Saturn Orb 0°02′
Sun SemiSextile Moon Orb 0°02′
---
Leos (July 23 to August 22) are among the kings of the zodiac. They are generous and warm-hearted, creative, faithful and loving. They can be prideful and dominant, however. In Greek mythology, Leo was the lion that was killed by Hercules as the first of his 12 chores. Leos are spontaneous and extroverted. Leo is a born leader, cheerful and optimistic.

They conquer obstacles the same way a lion conquers their foes—like a hunter, who spots his prey, stalks, and pounces.  Leos tend to be very focused on their goals and ambitions. Like the king of beasts, they like to be in command and make good leaders. They have strong intelligence and can be philosophical, even religious. Leos like to be the center of attention and have powerful egos. They can be resentful if they're not the center of attention. Leos occasionally need to remember that less is more and they can attract as much attention if they stop trying so hard to get it. It's that pride thing, again.
The sign of Virgo steadies the ever-shifting influence of the Moon. Virgo moon has keen analytical leanings with a precise, discriminating mind. They do not seek knowledge simply for the purpose of knowledge but for the purpose of practical application. Their initial reaction to the sense-impressions they take in from the world is to analyze and question. Moon in Virgo people are sometimes so suspicious they doubt what they see with their own eyes.

They prefer to discuss concepts and investigate ideas held by others while holding fast to many of their own preconceived notions. They are not so unreasonable, though, that they will cling to a theory once the facts have proven them wrong. They are seekers of veritas, and consider truth to be what is left after inaccuracies have been revealed. No one would consider them a naive idealist wearing rose-tinted glasses. Their realistic pragmatism makes them well suited in business. They focus on building long-term gains rather than get-rich quick money schemes.
Mercury in Leo bequeaths a gift for expression and a talent for guiding others. If you are a native of this placement, you possess a captivating ability for dealing with people. You are a magnificent organizer who understands how to lead, direct, and control. It's accurate that you can be bombastic, proud, and lofty; and if matters don't go your way your hot temper may ignite. But essentially, you have such a loving heart and sunny temperament that people normally forgive you. There is a flashy expansiveness to your viewpoint. Though you would sooner play than work, you are resolved to be prosperous. You have fabulous energy and sometimes get so taken up in a project you neglect everything else. People with Mercury in Leo are in love with the drama and the performing arts, and are happiest when they are on exhibition. Artistic fields interest you and you dislike dull routine work. 
Venus-Leos are able to effortlessly draw warm responses from others. There is something so fascinating, so irresistibly attractive, about you that you enjoy fabulous acclaim. You are exceedingly loving and charitable, purchasing costly gifts for those you cherish and adore them to the skies in the presence of other people. Of course, what you need in return is a strong commitment, loyalty, and loads of attention.

You must constantly be assertive in a love affair. "All the world's a stage" was penned about your passionate nature. No one can make a fuss or confrontation as exciting as a Venus-Leo. Needless to say, you are attracted to the business of performance, and many of you are endowed with splendid artistic faculties. You also love dainty possessions—property, garments, gems, furs. Though self-indulgent and pleasure-seeking, you are able of making vast self-sacrifice for the comfort of someone else.
As a Mars-in-Virgo person, you are a immense worker who attains your greatest achievement in a systematized strategy. You are driven and proud, though this is not perpetually obvious on the outside. Very strong-willed, you can isolate yourself from your passions when it comes to making judgments. In your craft you are shrewd, calculating, and calmly resolved.
You distrust people who only desire to deal with large problems because somehow such personalities never appear to reach any valuable inferences. Mars-in-Virgo may seem sexually cool, although in honesty you glamorize sensuality. You desire it to be both corporally ecstatic and mentally stimulating. Your appetites are powerful but kept under tight restraint. Mars-Virgos tend to be prosperous in fields where restriction of emotions is advantageous (such as diplomats, psychologists, and investigators). When setting a plan into motion you must beware of getting bogged down in particulars.
Thоѕе whо fall under thіѕ number аrе sensitive, caring, аnd intuitive. Althоugh shy, life number 2s know how tо work wіthіn groups аnd саn gage how one feels whіlѕt working оut а way thаt іѕ diplomatic. Thеу саn switch frоm calm swan tо ferocious cat іf ѕоmеоnе crosses thеіr path, using verbal defenses thаt саn shock аnd hurt thе offending party. Whіle а life number 2 саn bе hardworking аnd effective аѕ а role model аnd worker, thеу саn bе overlooked fоr thеіr endeavors аnd contributions. Thеу need tо bе strong tо voice thеіr concerns аnd garner due respect frоm higher-ups. Whіle sensitivity саn take а toll оn personal matters, іt does help thаt еvеrуоnе loves thеіr company.
Thе number 4 people аrе pragmatic, faithful аnd disciplined. Thеу аrе аlѕо organized аnd cautious. On thе flip side оf things, thеу саn аlѕо bе dogmatic, crude, incompetent аnd inefficient. Thе number 4 іѕ traditional, practical, respectable аnd sober. Thе number 4 provides thе organization а stable structural foundation fоr аnу endeavor.
It іѕ represented bу thе tarot 'Emperor'. Saturn аnd Earth influence thе number 4 people. Thе number 4 represents thе Cancer zodiac sign аnd іt іѕ ruled bу thе dual elements оf water аnd fire. Thе number 4 people sport а red аnd orange aura аnd Emerald аnd Jade аrе ideal gemstones fоr thеm. Thе month оf April аnd Thursdays аrе lucky fоr thе number 4 people. Thе 2nd, 6th, 8th, 13th аnd 22nd аrе good monthly dates fоr thе number 4 people.
Is there a creature on the planet more magnificent than the Tiger. We think not, and that's not even our sign. On our Chinese restaurant menu today, here's how they describe the Tiger: If you were born in the years 1938, 1950, 1962, 1974, 1986 or 1998, you're a Tiger. Tiger people are aggressive, courageous, candid and sensitive. Look to the Horse and Dog for happiness. Beware of the Monkey. Tigers are born leaders.

The Tiger is the third Sign of the Chinese Zodiac. It is a Yang Sign and most closely associated with the Wood Element. Recent Tiger years have been 1950, 1962, 1974, 1986, and 1998. The Tiger is a very changeable person, with a potent natural ability that is often in great danger of being abused. They are either leaders or rebels. They can be vain, quarrelsome and overly aggressive at times, but their inherent charisma and vast reserves of charm are usually sufficient to extract them from any problems that may arise from their lack of foresight.
The element of Wood represents the direction East. Those who are born with this element tend to yearn for stability and tradition. In China, wood is also associated with bamboo. Bamboo, of course, is a strong, flexible, and long shoot which grows in marsh areas. It follows then, that wood people are flexible, emotionally strong and dependable. A wood person will stick with you through good and bad times, unwavering of their support.
Wood people are interested in social issues and strive to leave the poor and helpless of our world with a sense of independence and change. Although, they can be idealistic and that trait can be the cause of emotional angst when plans don't follow the perfect path. Wood people do well in social work or working with children. Working with others is easy for wood people, as they truly enjoy the process of cooperation and compromise. Generous and warm, wood people spread happiness, confidence and joy wherever they go.
The ENFP is one of the 16 MBTI types. ENFP stands for extravert (E), intuitive (N), feeling (F), perceiving (P). The cognitive function stack for the ENFP is as follows: extraverted intuition (Ne), introverted feeling (Fi), extraverted thinking (Te), and introverted sensing (Si). ENFPs are spirited individuals who possess a gift for motivating and inspiring others. They are driven by a desire for personal fulfillment, growth, and purpose. They are personable and friendly and interested in understanding the dynamics between them and others.

ENFPs are also highly creative and likely to have a number of artistic outlets for their self-expression. They have strong personal values and are always evaluating the world according to those values. ENFPs are compassionate idealists who exhibit a lot of warmth and congeniality. They are free spirits who will champion the principles and people they care about. Although social and involved with other people, ENFPs never become so attached that they lose sight of their individualism and sense of self. They have strong emotions and they rely on their feelings to guide them. They want to be true and authentic in their expression and also to pursue what truly makes them happy.