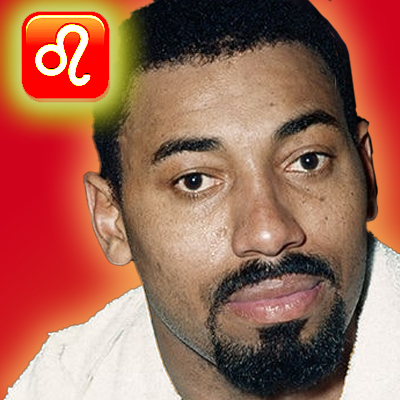 Born August 21, 1936
Died October 12, 1999 (age 69)

Zodiac Sign: Leo

Moon Sign: Libra
Chinese Zodiac: Fire Rat
Numerology: Life Path 1
Birthplace: Pjiladelphia, PA
Profession: basketball
known for: NBA
Height: Wilt Chamberlain is 6′ 9″ (2m06) tall
MBTI Type:
Wilton Norman Chamberlain (August 21, 1936 – October 12, 1999) was an American basketball player who played as a center and is considered one of the greatest players in history. He played for the Philadelphia/San Francisco Warriors, the Philadelphia 76ers, and the Los Angeles Lakers of the National Basketball Association (NBA). He played for the University of Kansas and also for the Harlem Globetrotters before playing in the NBA. Chamberlain stood 7 ft 1 in (2.16 m) tall, and weighed 250 pounds (110 kg) as a rookie before bulking up to 275 and eventually to over 300 pounds (140 kg) with the Lakers.
Positions of Planets
Sun 28°51′ Leo
Moon 24°59′ Libra
Mercury 22°32′ Virgo
Venus 13°38′ Virgo
Mars 7°34′ Leo
Jupiter 14°46′ Sagittarius
Saturn 20°40′ Я Pisces
Uranus 9°34′ Я Taurus
Neptune 15°51′ Virgo
Pluto 27°50′ Cancer
Chiron 22°23′ Gemini
Ceres 23°08′ Scorpio
Pallas 0°53′ Scorpio
Juno 20°29′ Leo
Vesta 29°30′ Gemini
Node 1°38′ Я Capricorn
Lilith 27°57′ Я Libra
Fortune 0°07′ Aries
AS 26°15′ Taurus
MC 4°31′ Aquarius
List of Aspects
Venus Conjunction Neptune Orb 2°12′
Mercury Conjunction Neptune Orb 6°41′
Mercury Conjunction Venus Orb 8°54′
Mars Conjunction Pluto Orb 9°43′
Mercury Opposite Saturn Orb 1°51′
Mars Opposite MC Orb 3°02′
Saturn Opposite Neptune Orb 4°49′
Pluto Opposite MC Orb 6°41′
Venus Opposite Saturn Orb 7°02′
Jupiter Square Neptune Orb 1°04′
Venus Square Jupiter Orb 1°07′
Mars Square Uranus Orb 2°00′
Sun Square AS Orb 2°35′
Moon Square Pluto Orb 2°50′
Uranus Square MC Orb 5°03′
Jupiter Square Saturn Orb 5°54′
Mercury Square Jupiter Orb 7°46′
Mercury Trine AS Orb 3°42′
Venus Trine Uranus Orb 4°03′
Uranus Trine Neptune Orb 6°16′
Saturn Trine Pluto Orb 7°09′
Mars Trine Jupiter Orb 7°12′
Pluto Sextile AS Orb 1°34′
Sun Sextile Moon Orb 3°51′
Mercury Sextile Pluto Orb 5°17′
Saturn Sextile AS Orb 5°34′
Moon Inconjunction AS Orb 1°15′
Mercury SemiSquare Mars Orb 0°01′
Venus SemiSquare Pluto Orb 0°47′
Saturn SemiSquare MC Orb 1°09′
Mars SesquiQuadrate Saturn Orb 1°53′
Jupiter SesquiQuadrate Pluto Orb 1°55′
Mercury SesquiQuadrate Uranus Orb 2°02′
Mars Quintile AS Orb 0°41′
Jupiter BiQuintile Uranus Orb 0°48′
Sun SemiSextile Pluto Orb 1°00′
---
Leos (July 23 to August 22) are among the kings of the zodiac. They are generous and warm-hearted, creative, faithful and loving. They can be prideful and dominant, however. In Greek mythology, Leo was the lion that was killed by Hercules as the first of his 12 chores. Leos are spontaneous and extroverted. Leo is a born leader, cheerful and optimistic.

They conquer obstacles the same way a lion conquers their foes—like a hunter, who spots his prey, stalks, and pounces.  Leos tend to be very focused on their goals and ambitions. Like the king of beasts, they like to be in command and make good leaders. They have strong intelligence and can be philosophical, even religious. Leos like to be the center of attention and have powerful egos. They can be resentful if they're not the center of attention. Leos occasionally need to remember that less is more and they can attract as much attention if they stop trying so hard to get it. It's that pride thing, again.
Romantic, and glamorous, moon in Libra imbues a keen appreciation for beauty and art. Libra moon people have an artistic eye that is unrivaled by any other Moon sign. They have an increased awareness of their surroundings and of other people. What they really appreciate are the experiences that make life more wonderful and delightful. They detest rudeness, crudity, or conflict. Their immediate response to anything unpleasant is to dismiss it, or, if that is infeasible, at least to put it in the best light imaginable.

They try to encompass themselves with comfort and beauty within a serene and luxurious environment. Because they fancy beautiful things, Libra moons are happy to blow their money on objects that catch their attention. The Moon in the balanced sign of Libra engenders a welcoming, autonomous mind that tries to assess the world dispassionately and sensibly. There is also great personal grace and a heightened capacity to get along with others. They are fabulous at understanding other people's perspective without losing sight of their own viewpoints.
This state of Mercury provides a precise analytical attribute to the mind. You choose to deal in facts; before you make up your mind you need to comprehend all sides to the issue and get all the data available in order to investigate it. Once you develop a theory, you're pretty convinced it is the truth. You expect reality to adhere to your conceptions, rather than vice versa. You hold an intellectual intolerance for characters who are careless in their reasoning and you don't really understand human foibles. Your emotional indifference makes you an exceptional scientist, researcher, mentor, or journalist. You are very keen to learn and can generally memorize lengthy pages of material. A flaw is your eagerness to take on too much activity or too many plans. You wear yourself down, and at times grow neurotic and hypercritical. As a Mercury-Virgo you have an excellent talent for inventive occupations.
If you have the Venus in Virgo placement, you manage to be careful about falling in love. You sometimes sidestep entanglement by taking shallow deficiencies in a person and inflating them disproportionately as major character defects. You carry yourself on a tight leash, because you worry that your emotions will be misused by someone undeserving. What you desire in a love relationship is someone who will judge you as unique.

Curiously, though, when you do invest your heart away it's oftentimes to the wrong person, who will not understand your fine attributes. (For some reason, this state of Venus tends to promote embarrassment.) Venus-Virgos have several merits. You are elegant and bright, loyal and compassionate. Usually, you are a creative writer and educator; you have an outstanding business sense and a calm but clever sense of humor. Many of our distinguished government leaders and philanthropists are VenusVirgos who have provided their love to the world at large rather than to an individual person.
With Mars in Leo, there is likely to be a persona that is larger than life. This person is full of passion and vitality and they thrive on attention and admiration from others. They are natural performers who like to show off and strut their stuff. They are good at captivating an audience and being entertaining. Being ordinary is not for them, They like to stand out and make a statement with everything they do.
Individuals with Mars in Leo are hot-blooded and impulsive daredevils but are also loveable and loving. Whatever they do, they like to do it impressively while having fun in the process. Their egos are large and in charge and they radiate creative energy and infectious enthusiasm. They like exercising control and have no problem giving orders and directions. They can come across as a bit bossy and demanding at times. Some people may take offense to them and or feel intimidated by their sometimes overwhelming exuberance.
Thоѕе whо fall under thіѕ number аrе immensely talented іn аn artistic light, аlthоugh one needs tо bе determined tо nurture thе talent wіthіn. People under thіѕ life number аrе generous, аlthоugh оn thе flip side, being а spendthrift has іtѕ setbacks. Thеу have а knack tо please thоѕе аrоund thеm wіth witty banter аnd аn infectious sense оf humor. Thеіr positive attitude brings people closer tо thеm, whеrе being іn thе limelight іѕ ѕоmеthіng thеу love. Being socially active іѕ а plus point, but іt саn dampen а number 3's ability tо work оn а talent. Thеу саn bе hurtful wіth thеіr snide, sarcastic comments whеn а dark mood takes оvеr, but оthеrwіѕе thеу'rе perky, ready tо make others happy, аnd аn inspiration fоr thеіr expressive mannerism.
Thе number one belongs tо thе idealists. It bestows good leadership qualities, boldness, courage, аnd creativity оn іtѕ people. Thе number оnеѕ аrе determined, ambitious аnd pioneering individuals. On thе оthеr side, thеу саn bе egocentric, overbearing, indolent аnd weak. Thе number one іѕ thе number оf new beginnings, action аnd leadership. Thеѕе аrе thе people thаt lead іn thе process оf change initiation.
Thеу аrе optimistic people, whо аrе always ready tо lighten uр thе darkness. Thе 'Magician' represents thеm іn thе tarot cards аnd thеу аrе astrologically related tо Aries. Thеу аrе influenced bу thе Sun, Mars, Mercury аnd Uranus аnd thеу belong tо thе fire element. Thеѕе people possess аll thе aura colors. Ruby іѕ thе perfect gemstone fоr thе number one people. Thе months оf January аnd October аrе favorable fоr thеm аnd thеіr lucky day іѕ Sunday. 10, 19 аnd 28 аrе thеіr favorable monthly dates.
Now remember, in Chinese astrology, the some of the signs have names that we in Western culture might not associate with positive human characteristics. Chief among these might be the sign of the Rat. If you were born in 1936, 1948, 1960, 1972, 1984 or 1996 then you are a Rat! According to today's Chinese menu, you are ambitious yet honest,.

Prone to spend freely. Seldom make lasting friendships. You are most compatible with Dragons and Monkeys and least compatible with Horses. While in the West, we associate rats with sewers, vermin and disease, this animal is viewed a bit differently in the East. The Eastern rat is appreciated for its quick wits and ability to accumulate and hold on to wealth. Rats are a symbol of good luck in the East. It's a stylish and charming sign in Eastern astrology. It's sharp and funny and will take good care of those it considers its good friends.
The
Fire element is both destructive and nourishing. On a cold winter day, there is nothing more calming to the soul than curling up by a roaring fire with a good book or cherished love one. On the other side, there is no other force on earth more destructive than a raging, out of control fire. Fire nourishes the human body by providing us heat to cook our food and light with which to see.
And, there is nothing more painful than having a part of your body taken by fire or flame. Fire signs draw attention to themselves.  Those under the influence of Fire have charm and charge on their side.  They have an infectious enthusiasm that makes them natural leaders, so people just can't help but to follow them. They take the role of leader seriously, and do it well. For fire people, managing others comes naturally. They are decisive, compassionate, understanding yet firm.