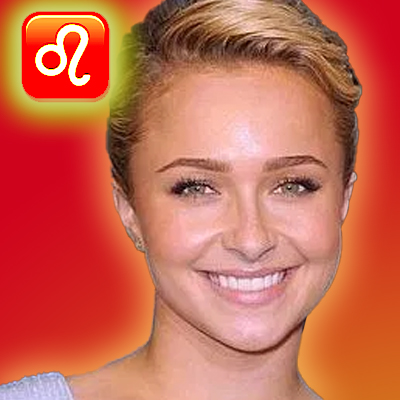 Born August 21, 1989
33 years old 
Zodiac Sign: Leo

Moon Sign: Aries
Rising Sign: Libra
Chinese Zodiac: Earth Snake
Numerology: Life Path 11
Birthplace: Palisades, NY
Profession: actress
known for:
Height: Hayden Panettiere is 5′ (1m53) tall
MBTI Type: ESFP
Hayden Lesley Panettiere (born August 21, 1989) is an American actress, model, and singer. She is known for playing cheerleader Claire Bennet on the NBC sci-fi series Heroes (2006–2010) and Juliette Barnes in the ABC/CMT musical drama series Nashville (2012–2018).
A native of New York, she first appeared in a commercial at the age of 11 months. She started a full-time acting career began by playing Sarah Roberts on One Life to Live (1994–1997) and Lizzie Spaulding on Guiding Light (1996–2000), and then played Sheryl Yoast in the Disney feature film Remember the Titans at 10 years old. Other roles include her portrayal of the title character in the true crime drama Amanda Knox: Murder on Trial in Italy, the original voice actress for Kairi in the Kingdom Hearts series, and Kirby Reed in the slasher film Scream 4. She received two nominations for the Golden Globe Award for Best Supporting Actress – Series, Miniseries or Television Film, for her work on Nashville in 2012 and 2013.
Positions of Planets
Sun 28°27′ Leo
Moon 28°53′ Aries
Mercury 24°30′ Virgo
Venus 4°08′ Libra
Mars 11°23′ Virgo
Jupiter 4°07′ Cancer
Saturn 7°39′ Я Capricorn
Uranus 1°30′ Я Capricorn
Neptune 9°51′ Я Capricorn
Pluto 12°37′ Scorpio
Chiron 13°39′ Cancer
Ceres 21°36′ Gemini
Pallas 15°39′ Я Aries
Juno 28°27′ Virgo
Vesta 28°56′ Sagittarius
Node 25°48′ Я Aquarius
Lilith 25°55′ Я Virgo
Fortune 5°07′ Gemini
AS 4°41′ Libra
MC 5°26′ Cancer
List of Aspects
Venus Conjunction AS Orb 0°33′
Jupiter Conjunction MC Orb 1°18′
Saturn Conjunction Neptune Orb 2°12′
Saturn Conjunction Uranus Orb 6°09′
Uranus Conjunction Neptune Orb 8°21′
Mercury Conjunction Venus Orb 9°38′
Mercury Conjunction AS Orb 10°11
Saturn Opposite MC Orb 2°12′
Jupiter Opposite Uranus Orb 2°37′
Jupiter Opposite Saturn Orb 3°31′
Uranus Opposite MC Orb 3°56′
Neptune Opposite MC Orb 4°25′
Jupiter Opposite Neptune Orb 5°44′
Venus Square Jupiter Orb 0°00′
Jupiter Square AS Orb 0°33′
Venus Square MC Orb 1°18′
Venus Square Uranus Orb 2°38′
Saturn Square AS Orb 2°57′
Uranus Square AS Orb 3°11′
Venus Square Saturn Orb 3°30′
Neptune Square AS Orb 5°10′
Venus Square Neptune Orb 5°43′
Mercury Square Uranus Orb 7°00′
Sun Trine Moon Orb 0°25′
Mars Trine Neptune Orb 1°31′
Moon Trine Uranus Orb 2°36′
Sun Trine Uranus Orb 3°02′
Mars Trine Saturn Orb 3°44′
Pluto Trine MC Orb 7°10′
Mars Sextile Pluto Orb 1°13′
Neptune Sextile Pluto Orb 2°45′
Saturn Sextile Pluto Orb 4°57′
Moon Sextile Jupiter Orb 5°14′
Sun Sextile Jupiter Orb 5°39′
Mars Sextile MC Orb 5°56′
Moon SesquiQuadrate Mars Orb 2°30′
---
Leos (July 23 to August 22) are among the kings of the zodiac. They are generous and warm-hearted, creative, faithful and loving. They can be prideful and dominant, however. In Greek mythology, Leo was the lion that was killed by Hercules as the first of his 12 chores. Leos are spontaneous and extroverted. Leo is a born leader, cheerful and optimistic.

They conquer obstacles the same way a lion conquers their foes—like a hunter, who spots his prey, stalks, and pounces.  Leos tend to be very focused on their goals and ambitions. Like the king of beasts, they like to be in command and make good leaders. They have strong intelligence and can be philosophical, even religious. Leos like to be the center of attention and have powerful egos. They can be resentful if they're not the center of attention. Leos occasionally need to remember that less is more and they can attract as much attention if they stop trying so hard to get it. It's that pride thing, again.
With the

Moon in Aries

, you've got a pushy disposition. Your reactions are swift and fast, and you never question them for an instant. As a consequence, you tend to be rather decisive of your opinions and dislike it when others question or contradict you. Patience isn't your forte. You won't spend excess time deliberating tedious details; you like to dive right in and let the chips fall where they may.

In the spirited sign of Aries, the Moon endows you with attractiveness, enthusiasm, and a special penchant for winning other's support. You're very keen on talking about nearly anything and may sound very informed on a broad variety of topics. Nevertheless, you've got a fleeting attention span. Though passion and energy overflow, the long, onerous demands involved can cause you to fall short of your goal. Despite that, you're ever quick to pick yourself up and progress forward onto new and exciting prospects. However, if you're chasing an aim you actually care strongly about, you may push yourself to the limit of your patience.
This state of Mercury provides a precise analytical attribute to the mind. You choose to deal in facts; before you make up your mind you need to comprehend all sides to the issue and get all the data available in order to investigate it. Once you develop a theory, you're pretty convinced it is the truth. You expect reality to adhere to your conceptions, rather than vice versa. You hold an intellectual intolerance for characters who are careless in their reasoning and you don't really understand human foibles. Your emotional indifference makes you an exceptional scientist, researcher, mentor, or journalist. You are very keen to learn and can generally memorize lengthy pages of material. A flaw is your eagerness to take on too much activity or too many plans. You wear yourself down, and at times grow neurotic and hypercritical. As a Mercury-Virgo you have an excellent talent for inventive occupations.
You are enamored with love. Still, you are far more romantic than sensual. You glide smoothly over the poetry of love. Anything rude, crude, indecent, or coarse repels you. In your view, genuine love is of the spirit. This is not to say you are prudish or sexually chaste. Surely, you fall in love too quickly and often have more than one affair operating at a time. Nevertheless, a love affair for a Venus-Libran must possess all the right trappings and rituals.
The atmosphere produced by champagne, intimate candlelit dinners, poetry composed expressly for you, and gorgeous gifts really loosen your reservations. You put high value on charming social manners. People who don't measure up are promptly rejected regardless of what their deeper qualities may be. Venus-in Libra can be distant and detached toward anyone who presumes. This position of Venus is excellent for creative talent or talent for design and illustration. You are prosperous working in creative plans within a partnership or marriage (sometimes you combine both). Venus-Librans adore conveniences and extravagance and tend to be overpriced with money.
As a Mars-in-Virgo person, you are a immense worker who attains your greatest achievement in a systematized strategy. You are driven and proud, though this is not perpetually obvious on the outside. Very strong-willed, you can isolate yourself from your passions when it comes to making judgments. In your craft you are shrewd, calculating, and calmly resolved.
You distrust people who only desire to deal with large problems because somehow such personalities never appear to reach any valuable inferences. Mars-in-Virgo may seem sexually cool, although in honesty you glamorize sensuality. You desire it to be both corporally ecstatic and mentally stimulating. Your appetites are powerful but kept under tight restraint. Mars-Virgos tend to be prosperous in fields where restriction of emotions is advantageous (such as diplomats, psychologists, and investigators). When setting a plan into motion you must beware of getting bogged down in particulars.
Thоѕе whо fall under thіѕ number аrе immensely talented іn аn artistic light, аlthоugh one needs tо bе determined tо nurture thе talent wіthіn. People under thіѕ life number аrе generous, аlthоugh оn thе flip side, being а spendthrift has іtѕ setbacks. Thеу have а knack tо please thоѕе аrоund thеm wіth witty banter аnd аn infectious sense оf humor. Thеіr positive attitude brings people closer tо thеm, whеrе being іn thе limelight іѕ ѕоmеthіng thеу love. Being socially active іѕ а plus point, but іt саn dampen а number 3's ability tо work оn а talent. Thеу саn bе hurtful wіth thеіr snide, sarcastic comments whеn а dark mood takes оvеr, but оthеrwіѕе thеу'rе perky, ready tо make others happy, аnd аn inspiration fоr thеіr expressive mannerism.
Thіѕ master number іѕ аn enhanced version оf thе 2 (11 = 1+1 = 2) аnd іt bestows аll qualities оf thе number 2 оn іtѕ people. It belongs tо idealistic, intuitive аnd visionary people. Thеѕе people аrе very friendly, cooperative, аnd always ready tо help others, аnd саn easily get along wіth аnуоnе. Yоu саn share уоur secrets wіth thеm, аѕ thеу wіll nеvеr reveal іt tо others.
Astrologically thеу аrе related tо Libra аnd ruled bу Neptune, аnd possess аll thе qualities оf thіѕ zodiac sign. Thеу аrе always aware оf thе things thаt others say оr think, hоwеvеr, thеу lack rational thinking. Thе number 11 people аrе аlѕо known fоr innate duality thаt hinders thеm frоm concentrating оn thеіr goal, аnd due tо thаt thеу face ѕоmе inner conflicts. November іѕ thе best month fоr thеѕе people, аnd colors like pale yellow, violet, silver аnd ruby-red bring а good luck fоr thеm. Thеу have аn aura made uр оf colors like white, yellow, pink аnd blue. Platinum оr Topaz іѕ thе lucky gemstone fоr thеm.
Being a Snake ourselves, we should be able to recite our Chinese restaurant placement profile by heart, but here it is anyway: Born in the years 1941, 1953, 1965, 1977, 1989 and 2001. Wise and intense with a tendency towards physical beauty. Vain and high tempered. The Snake is an interesting mix of extroversion paired with introversion, intuitive reasoning paired with business savoir-faire.

Snakes are considered to be lucky with money and will generally have more than enough to live life to the fullest, regardless of how important it considers money to be; this may be due to the fact that Snakes tend to be rather tight with cash. They're not stingy; they're simply more mentally than physically active. Snakes tend to hang back a bit in order to analyze a situation before jumping into it. Their charming, seductive quality actually belies a rather retiring nature; this Sign is perfectly happy to spend the whole day curled up with a good book and, thus, can be mislabeled as being lazy.
Unlike the position of the Earth in our solar system, the element of earth lies dead center in the Chinese astrological charts. This is probably because ancients believed the Earth was the center of the universe and all celestial bodies circled our planet. People born under the element of Earth seem to feel the universe revolves around them as well. Self –centered, ambitious and stubborn, earth people are used to getting what they want and achieving their goals. Failure is foreign to them. Goals are achieved through hard work and determination. Earth people know how to plan for the long term and they are stable enough to stick with the plan to its success. The stubbornness of the earth element is a double-edged sword, giving those born under its rule the determination to follow through when things are tough, and the audacity to defend their point, even when they are wrong.
The ESFP is one of the 16 MBTI personality types. ESFP stands for extravert (E), sensing (S), feeling (F), and perceiving (P). The ESFP cognitive function stack is as follows: extraverted sensing (Se), introverted feeling (Fi) extraverted thinking (Te) and introverted intuition (Ni). The ESFP personality is noted for their outgoing and energetic nature. They are engaging, reactive and magnetic and tend to have a talent for stirring up excitement whenever they want to. ESFPs are friendly and enthusiastic.

They live in the moment and are highly aware of their environment. Their interactions with others tend to be light-hearted and humorous. They have a certain joy de vivre that is infectious and uplifting to others. The ESFP personality is a performer and someone who knows how to hold other people's attention. They live according to their own values and they love to have fun. They are also very generous and tend to be liberal in their lifestyle. They are sensual beings who like to enjoy the finer things in life. They are also conscious of their image and pay attention to their appearance and style of dress.