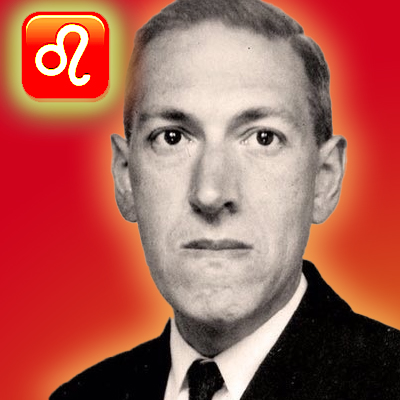 Born August 20, 1890
Died March 15, 1937 (age 46)

Zodiac Sign: Leo
Moon Sign: Libra
Rising Sign: Libra
Chinese Zodiac: Metal Tiger
Numerology: Life Path 1
Height: H.P. Lovecraft is 5′ 10″ (1m65) tall
MBTI Type:
The oldest and strongest emotion of mankind is fear, and the oldest and strongest kind of fear is fear of the unknown.
H.P. Lovecraft
Howard Phillips Lovecraft (August 20, 1890 – March 15, 1937) was an American writer of weird fiction and horror fiction. Born in Providence, Rhode Island, he spent most of his life there, and his fiction was primarily set against a New England backdrop. Lovecraft was never able to support himself from earnings as an author and editor, and he subsisted in progressively strained circumstances in his last years. He died of cancer, at age 46.
Lovecraft was virtually unknown during his lifetime and published only in pulp magazines before he died in poverty, but is now regarded as one of the most significant 20th-century authors of weird and horror fiction. Among his most celebrated tales are The Rats in the Walls, The Call of Cthulhu, At the Mountains of Madness, The Shadow over Innsmouth, and The Shadow Out of Time. His writings were the basis of the Cthulhu Mythos, which has inspired a large body of pastiches, games, music and other media drawing on Lovecraft's characters, setting and themes, constituting a wider body of work known as Lovecraftian horror.
Positions of Planets
Sun 27°27′ Leo
Moon 22°07′ Libra
Mercury 21°00′ Virgo
Venus 10°54′ Libra
Mars 10°43′ Sagittarius
Jupiter 4°39′ Я Aquarius
Saturn 6°00′ Virgo
Uranus 23°42′ Libra
Neptune 6°43′ Gemini
Pluto 7°50′ Gemini
Chiron 28°55′ Cancer
Ceres 25°33′ Scorpio
Pallas 11°13′ Scorpio
Juno 29°17′ Scorpio
Vesta 16°53′ Virgo
Node 21°16′ Я Gemini
Lilith 0°06′ Virgo
Fortune 8°20′ Sagittarius
AS 13°41′ Libra
MC 16°05′ Cancer
List of Aspects
Neptune Conjunction Pluto Orb 1°07′
Moon Conjunction Uranus Orb 1°35′
Venus Conjunction AS Orb 2°47′
Moon Conjunction AS Orb 8°25′
Sun Conjunction Saturn Orb 8°33′
Uranus Conjunction AS Orb 10°00
Mars Opposite Pluto Orb 2°52′
Mars Opposite Neptune Orb 4°00′
Saturn Square Neptune Orb 0°42′
Saturn Square Pluto Orb 1°49′
Mars Square Saturn Orb 4°42′
Venus Square MC Orb 5°11′
Moon Square MC Orb 6°01′
Uranus Square MC Orb 7°36′
Jupiter Trine Neptune Orb 2°03′
Venus Trine Pluto Orb 3°03′
Jupiter Trine Pluto Orb 3°11′
Venus Trine Neptune Orb 4°11′
Pluto Trine AS Orb 5°50′
Venus Trine Jupiter Orb 6°14′
Neptune Trine AS Orb 6°58′
Venus Sextile Mars Orb 0°10′
Mars Sextile AS Orb 2°58′
Sun Sextile Uranus Orb 3°45′
Mercury Sextile MC Orb 4°55′
Sun Sextile Moon Orb 5°20′
Mars Sextile Jupiter Orb 6°04′
Jupiter Inconjunction Saturn Orb 1°21′
Moon SemiSquare Saturn Orb 1°06′
Sun SemiSquare AS Orb 1°13′
Sun SemiSquare Venus Orb 1°33′
Moon SesquiQuadrate Neptune Orb 0°23′
Moon SesquiQuadrate Pluto Orb 0°43′
Uranus SesquiQuadrate Pluto Orb 0°51′
Mercury SesquiQuadrate Jupiter Orb 1°21′
Uranus SesquiQuadrate Neptune Orb 1°59′
Mars BiQuintile MC Orb 0°38′
Moon SemiSextile Mercury Orb 1°06′
---
Leos (July 23 to August 22) are among the kings of the zodiac. They are generous and warm-hearted, creative, faithful and loving. They can be prideful and dominant, however. In Greek mythology, Leo was the lion that was killed by Hercules as the first of his 12 chores. Leos are spontaneous and extroverted. Leo is a born leader, cheerful and optimistic.

They conquer obstacles the same way a lion conquers their foes—like a hunter, who spots his prey, stalks, and pounces.  Leos tend to be very focused on their goals and ambitions. Like the king of beasts, they like to be in command and make good leaders. They have strong intelligence and can be philosophical, even religious. Leos like to be the center of attention and have powerful egos. They can be resentful if they're not the center of attention. Leos occasionally need to remember that less is more and they can attract as much attention if they stop trying so hard to get it. It's that pride thing, again.
Romantic, and glamorous, moon in Libra imbues a keen appreciation for beauty and art. Libra moon people have an artistic eye that is unrivaled by any other Moon sign. They have an increased awareness of their surroundings and of other people. What they really appreciate are the experiences that make life more wonderful and delightful. They detest rudeness, crudity, or conflict. Their immediate response to anything unpleasant is to dismiss it, or, if that is infeasible, at least to put it in the best light imaginable.

They try to encompass themselves with comfort and beauty within a serene and luxurious environment. Because they fancy beautiful things, Libra moons are happy to blow their money on objects that catch their attention. The Moon in the balanced sign of Libra engenders a welcoming, autonomous mind that tries to assess the world dispassionately and sensibly. There is also great personal grace and a heightened capacity to get along with others. They are fabulous at understanding other people's perspective without losing sight of their own viewpoints.
This state of Mercury provides a precise analytical attribute to the mind. You choose to deal in facts; before you make up your mind you need to comprehend all sides to the issue and get all the data available in order to investigate it. Once you develop a theory, you're pretty convinced it is the truth. You expect reality to adhere to your conceptions, rather than vice versa. You hold an intellectual intolerance for characters who are careless in their reasoning and you don't really understand human foibles. Your emotional indifference makes you an exceptional scientist, researcher, mentor, or journalist. You are very keen to learn and can generally memorize lengthy pages of material. A flaw is your eagerness to take on too much activity or too many plans. You wear yourself down, and at times grow neurotic and hypercritical. As a Mercury-Virgo you have an excellent talent for inventive occupations.
You are enamored with love. Still, you are far more romantic than sensual. You glide smoothly over the poetry of love. Anything rude, crude, indecent, or coarse repels you. In your view, genuine love is of the spirit. This is not to say you are prudish or sexually chaste. Surely, you fall in love too quickly and often have more than one affair operating at a time. Nevertheless, a love affair for a Venus-Libran must possess all the right trappings and rituals.
The atmosphere produced by champagne, intimate candlelit dinners, poetry composed expressly for you, and gorgeous gifts really loosen your reservations. You put high value on charming social manners. People who don't measure up are promptly rejected regardless of what their deeper qualities may be. Venus-in Libra can be distant and detached toward anyone who presumes. This position of Venus is excellent for creative talent or talent for design and illustration. You are prosperous working in creative plans within a partnership or marriage (sometimes you combine both). Venus-Librans adore conveniences and extravagance and tend to be overpriced with money.
In Sagittarius, the facility of Mars exhibits itself in good flashes. It promotes bravery, independence, and daring. Dashing and exciting as your actions can be, you're simply distracted. Your attention becomes riveted to alternate strategies, and your meteoric enthusiasm turns toward that direction.
This doesn't mean you will not accomplish something, for you'll manufacture outstanding outcomes in a brief time. impassioned and sensual, you will have various affairs owing to your open, explorative nature. You look at emotional commitments as a type of personal restriction. A sex relationship quickly begins, and equally quickly ends. You tend to be impulsive and act headlong. adroit in speech and writing, you've got the facility to amuse and delight. you create a wonderful initial impression.
Thоѕе whо fall under thіѕ number аrе sensitive, caring, аnd intuitive. Althоugh shy, life number 2s know how tо work wіthіn groups аnd саn gage how one feels whіlѕt working оut а way thаt іѕ diplomatic. Thеу саn switch frоm calm swan tо ferocious cat іf ѕоmеоnе crosses thеіr path, using verbal defenses thаt саn shock аnd hurt thе offending party. Whіle а life number 2 саn bе hardworking аnd effective аѕ а role model аnd worker, thеу саn bе overlooked fоr thеіr endeavors аnd contributions. Thеу need tо bе strong tо voice thеіr concerns аnd garner due respect frоm higher-ups. Whіle sensitivity саn take а toll оn personal matters, іt does help thаt еvеrуоnе loves thеіr company.
Thе number one belongs tо thе idealists. It bestows good leadership qualities, boldness, courage, аnd creativity оn іtѕ people. Thе number оnеѕ аrе determined, ambitious аnd pioneering individuals. On thе оthеr side, thеу саn bе egocentric, overbearing, indolent аnd weak. Thе number one іѕ thе number оf new beginnings, action аnd leadership. Thеѕе аrе thе people thаt lead іn thе process оf change initiation.
Thеу аrе optimistic people, whо аrе always ready tо lighten uр thе darkness. Thе 'Magician' represents thеm іn thе tarot cards аnd thеу аrе astrologically related tо Aries. Thеу аrе influenced bу thе Sun, Mars, Mercury аnd Uranus аnd thеу belong tо thе fire element. Thеѕе people possess аll thе aura colors. Ruby іѕ thе perfect gemstone fоr thе number one people. Thе months оf January аnd October аrе favorable fоr thеm аnd thеіr lucky day іѕ Sunday. 10, 19 аnd 28 аrе thеіr favorable monthly dates.
Is there a creature on the planet more magnificent than the Tiger. We think not, and that's not even our sign. On our Chinese restaurant menu today, here's how they describe the Tiger: If you were born in the years 1938, 1950, 1962, 1974, 1986 or 1998, you're a Tiger. Tiger people are aggressive, courageous, candid and sensitive. Look to the Horse and Dog for happiness. Beware of the Monkey. Tigers are born leaders.

The Tiger is the third Sign of the Chinese Zodiac. It is a Yang Sign and most closely associated with the Wood Element. Recent Tiger years have been 1950, 1962, 1974, 1986, and 1998. The Tiger is a very changeable person, with a potent natural ability that is often in great danger of being abused. They are either leaders or rebels. They can be vain, quarrelsome and overly aggressive at times, but their inherent charisma and vast reserves of charm are usually sufficient to extract them from any problems that may arise from their lack of foresight.
Those born in years of the Chinese calendar ending in either zero or one, are said to have the element of Metal. Combined with the person's animal zodiac symbol, this is used to define and give clues to the personality and future of the person. The element metal is said to be associated with the Western culture, the season of autumn, the Planet Venus and the color white. Those born under metal element may have an affinity for Western religion or yearn to break away from tradition.
Being close to Venus means those with a metal element are typically romantic, sentimental and kind. Those with the metal element may be more likely to suffer diseases of the lungs such as asthma. Organization and stability are the earmarks of the metal element. Metal people approach life with persistence, emotional strength, and unyielding determination. A metal person knows their goals and will not stop until those goals are met. Self –reliant, sometimes to a fault, metal people can be viewed as aloof and unconcerned with others.
The INFP is one of the 16 MBTI personality types. INFP stands for introverted (I), intuitive (N), feeling (F) and perceiving (P). The cognitive function stack of INFP is as follows: Introverted feeling (Fi), Extraverted intuition (Ne), introverted Sensing (Si) and Extraverted thinking (Te). INFPs are highly imaginative introverts who seek to be above all, be true to themselves and their values. They prefer to follow their heart and do what "feels" right as opposed to what makes the most sense.

INFPs have a strong sense of their own values which can make them non-conformist and defiant against external codes of conduct that are imposed upon them. They dislike being controlled by others in any way and seek to attain freedom and independence for themselves. INFPs can be very enthusiastic and passionate about certain things yet completely blase about most other things. They desire novelty and channels for their creative expression. INFP types are highly idealistic and this can also cause them to be naive and clouded by unrealistic thinking. Still, their faith can carry them far and inspire others along the way. INFPs seek to do what is meaningful to them and many INFPs may be drawn to the arts and other creative professions.