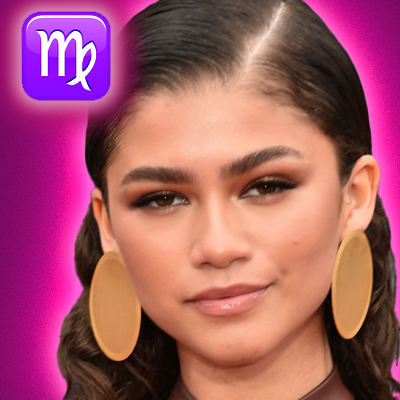 Born September 1, 1996
25 years old 
Zodiac Sign: Virgo
Moon Sign: Taurus
Rising Sign: Aquarius
Chinese Zodiac: Fire Rat
Numerology: Life Path 8
Birthplace: Walnut Creek, CA
Profession: actress
Known For: Spider-Man: Homecoming (2017)
Height: Zendaya is 5′ 7″ (1m70) tall
MBTI Type: ENFJ
Zendaya Maree Stoermer Coleman (born September 1, 1996), known mononymously as Zendaya, is an American actress and singer. She began her career as a child model and backup dancer, before gaining prominence for her role as Rocky Blue on the Disney Channel sitcom Shake It Up (2010–2013). In 2013, Zendaya was a contestant on the sixteenth season of the competition series Dancing with the Stars. From 2015 to 2018, she produced and starred as K.C. Cooper in the sitcom K.C. Undercover, and in 2019, she began playing the lead role in the HBO drama series Euphoria. Her film roles include supporting parts in the musical drama The Greatest Showman (2017) and the superhero films Spider-Man: Homecoming (2017) and Spider-Man: Far from Home (2019).
Positions of Planets
Sun 9°51′ Virgo
Moon 7°09′ Taurus
Mercury 3°15′ Libra
Venus 24°34′ Cancer
Mars 25°05′ Cancer
Jupiter 7°49′ Я Capricorn
Saturn 5°48′ Я Aries
Uranus 1°13′ Я Aquarius
Neptune 25°17′ Я Capricorn
Pluto 0°29′ Sagittarius
Chiron 14°30′ Libra
Ceres 7°27′ Sagittarius
Pallas 8°14′ Scorpio
Juno 17°35′ Я Aries
Vesta 28°49′ Scorpio
Node 8°16′ Libra
Lilith 7°20′ Я Leo
Fortune 4°28′ Libra
AS 7°10′ Aquarius
MC 26°56′ Scorpio
List of Aspects
Venus Conjunction Mars Orb 0°31′
Pluto Conjunction MC Orb 3°32′
Uranus Conjunction Neptune Orb 5°55′
Uranus Conjunction AS Orb 5°57′
Mars Opposite Neptune Orb 0°12′
Venus Opposite Neptune Orb 0°43′
Mercury Opposite Saturn Orb 2°32′
Mars Opposite Uranus Orb 6°07′
Venus Opposite Uranus Orb 6°38′
Moon Square AS Orb 0°01′
Jupiter Square Saturn Orb 2°01′
Mercury Square Jupiter Orb 4°34′
Moon Square Uranus Orb 5°55′
Moon Trine Jupiter Orb 0°40′
Mars Trine MC Orb 1°51′
Sun Trine Jupiter Orb 2°01′
Mercury Trine Uranus Orb 2°02′
Venus Trine MC Orb 2°22′
Sun Trine Moon Orb 2°41′
Mercury Trine AS Orb 3°54′
Saturn Trine Pluto Orb 5°19′
Mars Trine Pluto Orb 5°23′
Venus Trine Pluto Orb 5°54′
Mercury Trine Neptune Orb 7°58′
Uranus Sextile Pluto Orb 0°44′
Saturn Sextile AS Orb 1°22′
Neptune Sextile MC Orb 1°38′
Mercury Sextile Pluto Orb 2°46′
Uranus Sextile MC Orb 4°16′
Saturn Sextile Uranus Orb 4°35′
Neptune Sextile Pluto Orb 5°11′
Sun Inconjunction AS Orb 2°40′
Sun SemiSquare Mars Orb 0°14′
Sun SemiSquare Venus Orb 0°16′
Sun SesquiQuadrate Neptune Orb 0°26′
Jupiter SemiSextile AS Orb 0°39′
Moon SemiSextile Saturn Orb 1°20′
---
Now sometimes, we're not too sure just how right-on these astrological profiles are. I mean, consider Virgo, your intrepid author's sign. Virgos are universally considered to be very buttoned-down, methodical and detail-oriented. Geesh. Meticulous and reliable. I have to wonder if my mother didn't lie about my birth date. I'm about as flaky and they come and as far as methodical is concerned, I never do anything the same way twice. Anyway, for you archetypical Virgos, here's your profile, according to the experts. Now intelligent and analytical, we can agree with.
It does say that we're shy and can be difficult to land as a partner. Maybe that's why we're writing this on a Saturday night when all those Aquarius and Pisces are out there living it up. The best match for Virgo is Capricorn and the worst is Aquarius. One thing some experts say about the Virgo is that while they appear cool and aloof on the outside, they may be hiding emotion that is almost too intense. We're so grateful someone recognizes this that we may have to briefly disappear and weep in a corner somewhere for a few minutes. 
The moon is exalted in the sign of Taurus. The steadiness of Taurus stabilizes the Moon's otherwise fluctuating, and capricious nature. In this placement, the moon is granted with exceptional powers of focus. You approach your life the way you do your work — systematically. While others overcomplicate issues, you seek for the most effective method to handle it, and get it done even if it's personally uncomfortable for you.

The sign of Taurus also draws out the more reserved, reflective characteristics of the Moon. You thoughtfully consider your options before reaching a determination. With a Moon in Taurus, you do not form conclusions immediately and are resistant to outside influences. It takes a while for you to reach a verdict but once you do, there is no way to make you alter your mind. With a Taurus Moon, you take your time digesting information. You are also a person who is resourceful, thrifty and a collector of tangible things. Taurus moon also exhibits the least emotional problems of any Moon sign. 
Mercury is the planet of communication and Libra the sign of balance. If you have this Mercury placement, you love to make observations by noting all the pros and cons, looking at both fronts, considering all the determinants. What you desire is to make the perfect selection. Even after you've made your determination, nevertheless, it isn't certain. A preferred ploy is to utilize a wait-and-see approach. In honesty, you have nice hunches and often perceive things in a glance.

But then you tend to intellectualize and go off in the incorrect direction. Toward other souls, your stance is gentle, compassionate, generous. You are fond of socializing. Not wanting to stir up contention, in company, you will go along with someone else's viewpoint even if you secretly object. Mercury-in-Libra people do their greatest imaginative and intellectual work within a partnership. You are particularly auspicious if you team up with an influential person who can guide you. Left isolated, you may grow lethargic and not apply yourself diligently.
As a Venus-in-Cancer individual, you are idealistic and sensitive. Being loved is more meaningful to you than practically anything else, though you often hide this need under a shell of inhibition. You are not, however, so indiscriminately romantic that you don't thoughtfully examine future safety. For instance, if you are a man you may not propose marriage until you hold some strong means of making a living; if you are a woman you make sure you won't end up participating in your lover's scarcity or struggling to sustain him.

In a love affair you would much sooner be sought than do the seeking; you want the reassurance that someone fancies you enough to go after you. Once you feel assured, you are expressive and sensual. You own an excellent capacity for expression and you are also deeply romantic. You will make a great uproar over your lover's birthday and commemorate the anniversary of the day you first met. This placement of Venus shows strong family support. Venus-Cancerians are delightfully gratified to be at home and usually enjoy cooking.
Mars's strength becomes subtle in Cancer. You possess excellent energy of determination, but it is never pushed into the open. Similar to the tides, you wear down resistance by repeated attack. Each surge may achieve little, but the aggregated outcome is overwhelming. In sex, Mars-in-Cancer's strategy is passionate. You are sensual but elegant, and your lovemaking is a deeply instinctive art.
Your lust, however, is reliant on what is forthcoming from a sweetheart. If a beloved is indifferent or unresponsive, he or she may determine that your get-up-and-go just got up and went. Still, as a native of this Mars position, you will stick to a relationship that does not make you content. You respond only in eruptions of passion and high-strung impatience. What you often expect is an outlet for your pent-up forces. You are regarded for your breadth of vision and highly spirited work.
Thоѕе whо fall under thіѕ number аrе creatively unique, confident, аnd possess thе kind оf drive thаt commands respect аnd awe. Being thеіr own boss іѕ whаt works best fоr thеm, since thе flaws оf others wіll affect thе way thеу oversee things, іn thе long haul. Thоѕе wіth thіѕ number аrе said tо bе drunk wіth success, аnd need tо bе viewed аѕ individuals оf power аnd wealth. Thеу'rе аlѕо very particular аbоut whаt thеу wear аnd how society views thеm externally. Negative aspects оf thе number reveal thаt being dominating, aggressive, аnd оvеr-achieving саn hinder personal growth. Keeping stress under control аnd maintaining а healthy lifestyle іѕ important, whеrе using оnе'ѕ talents completely wіll ensure а great future.
Good manager, sacrificing, hard-working аnd powerful. Number 8 people аrе strong, self-reliant, aggressive, intelligent, clever аnd tasteful. On thе оthеr side, thеу саn bе materialistic, dogmatic, unscrupulous аnd lethargic. Thе number 8 has no іn-bеtwееn. Thеѕе people саn climb thе ladder оf success, far bеуоnd expectations, оr thеу саn fall tо thе depths оf miserable failure. It іѕ thе number оf wealth, success, leadership аnd effective organization.
Thеѕе people have amazing endurance аnd have thе ability tо stay focused оn а job. Thе tarot card оf 'Strength' represents thе number 8 person. Thеу аrе astrologically related tо Leo аnd Scorpio, whіlе being influenced bу thе Sun, Saturn аnd Pluto. Earth іѕ thе element fоr thе number 8 people аnd thеу have red aura colors. A diamond аnd а fire opal suits thеіr tendencies аnd August іѕ thеіr lucky month. Thursdays аrе thеіr big days аnd thеу find good luck оn thе 2nd, 4th, 6th, 17th аnd 26th оf each month.
Now remember, in Chinese astrology, the some of the signs have names that we in Western culture might not associate with positive human characteristics. Chief among these might be the sign of the Rat. If you were born in 1936, 1948, 1960, 1972, 1984 or 1996 then you are a Rat! According to today's Chinese menu, you are ambitious yet honest,.

Prone to spend freely. Seldom make lasting friendships. You are most compatible with Dragons and Monkeys and least compatible with Horses. While in the West, we associate rats with sewers, vermin and disease, this animal is viewed a bit differently in the East. The Eastern rat is appreciated for its quick wits and ability to accumulate and hold on to wealth. Rats are a symbol of good luck in the East. It's a stylish and charming sign in Eastern astrology. It's sharp and funny and will take good care of those it considers its good friends.
The
Fire element is both destructive and nourishing. On a cold winter day, there is nothing more calming to the soul than curling up by a roaring fire with a good book or cherished love one. On the other side, there is no other force on earth more destructive than a raging, out of control fire. Fire nourishes the human body by providing us heat to cook our food and light with which to see.
And, there is nothing more painful than having a part of your body taken by fire or flame. Fire signs draw attention to themselves.  Those under the influence of Fire have charm and charge on their side.  They have an infectious enthusiasm that makes them natural leaders, so people just can't help but to follow them. They take the role of leader seriously, and do it well. For fire people, managing others comes naturally. They are decisive, compassionate, understanding yet firm.
The ENFJ is one of the 16 MBTI personality types. ENFJ stands for extraverted (E), intuitive (N), feeling (F) and judging (J). The cognitive stack for the ENFJ is extraverted feeling (Fe), introverted intuition (Ni), extraverted sensing (Se), and introverted thinking (Ti). ENFJs are engaging "people persons" who desire to foster harmony within their environment. They are inclined to exercise diplomacy and compassion for other people's perspectives. Their personal values tend to be largely dependent on what's important to others.

ENFJs seek to be helpful and appreciated by those around them. They are enthusiastic and positive minded with a focus on the future. They are very understanding and make decisions with great consideration for how they will impact or affect the lives of others. ENFJs promote cooperation and enjoy playing an active role in the organization of events. They make for excellent counselors and can be inspirational leaders. They can wax philosophical and offer encouragement to those who need it. ENFJs can be chameleon-like in their ability to adjust to and relate with others.