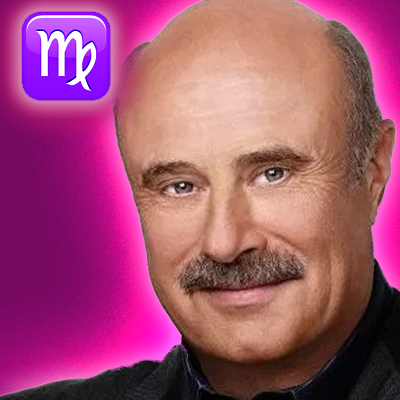 Born September 1, 1950
71 years old 
Zodiac Sign: Virgo
Moon Sign: Taurus
Rising Sign: Pisces
Chinese Zodiac: Metal Tiger
Numerology: Life Path 7
Birthplace: Vinita, Ok
Profession: TV show host
Best Known For:
Height: 6′ 4″
MBTI Type: ESTJ
Phillip Calvin McGraw (born September 1, 1950), also known as Dr. Phil, is an American television personality, author and former psychologist who is the host of the television show Dr. Phil. He holds a doctorate in clinical psychology, but is not licensed to practice. McGraw first gained celebrity status with appearances on The Oprah Winfrey Show in the late 1990s.
* charts provided by:astrotheme.com
Positions of Planets
Sun 9°00′ Virgo
Moon 11°27′ Taurus
Mercury 2°14′ Libra
Venus 20°08′ Leo
Mars 14°00′ Scorpio
Jupiter 1°36′ Я Pisces
Saturn 20°56′ Virgo
Uranus 8°40′ Cancer
Neptune 15°43′ Libra
Pluto 18°29′ Leo
Chiron 15°46′ Sagittarius
Ceres 10°12′ Sagittarius
Pallas 15°30′ Scorpio
Juno 13°43′ Libra
Vesta 21°01′ Taurus
Node 28°28′ Pisces
Lilith 29°08′ Я Taurus
Fortune 18°18′ Cancer
AS 20°44′ Pisces
MC 24°42′ Sagittarius
List of Aspects
Venus Conjunction Pluto Orb 1°38′
Saturn Opposite AS Orb 0°11′
Moon Opposite Mars Orb 2°33′
Sun Opposite Jupiter Orb 7°24′
Saturn Square MC Orb 3°46′
Mars Square Pluto Orb 4°29′
Venus Square Mars Orb 6°07′
Mercury Square Uranus Orb 6°25′
Moon Square Pluto Orb 7°02′
Uranus Square Neptune Orb 7°03′
Mercury Square MC Orb 7°32′
Sun Trine Moon Orb 2°26′
Venus Trine MC Orb 4°34′
Mars Trine Uranus Orb 5°20′
Pluto Trine MC Orb 6°12′
Mars Trine AS Orb 6°43′
Jupiter Trine Uranus Orb 7°03′
Sun Sextile Uranus Orb 0°20′
Neptune Sextile Pluto Orb 2°46′
Moon Sextile Uranus Orb 2°47′
Venus Sextile Neptune Orb 4°24′
Sun Sextile Mars Orb 4°59′
Venus Inconjunction AS Orb 0°36′
Mercury Inconjunction Jupiter Orb 0°38′
Pluto Inconjunction AS Orb 2°14′
Mercury SemiSquare Pluto Orb 1°15′
Jupiter SesquiQuadrate Neptune Orb 0°52′
Moon SesquiQuadrate MC Orb 1°44′
Saturn Quintile Uranus Orb 0°16′
Venus SemiSextile Saturn Orb 0°48′
---
Now sometimes, we're not too sure just how right-on these astrological profiles are. I mean, consider Virgo, your intrepid author's sign. Virgos are universally considered to be very buttoned-down, methodical and detail-oriented. Geesh. Meticulous and reliable. I have to wonder if my mother didn't lie about my birth date. I'm about as flaky and they come and as far as methodical is concerned, I never do anything the same way twice. Anyway, for you archetypical Virgos, here's your profile, according to the experts. Now intelligent and analytical, we can agree with.
It does say that we're shy and can be difficult to land as a partner. Maybe that's why we're writing this on a Saturday night when all those Aquarius and Pisces are out there living it up. The best match for Virgo is Capricorn and the worst is Aquarius. One thing some experts say about the Virgo is that while they appear cool and aloof on the outside, they may be hiding emotion that is almost too intense. We're so grateful someone recognizes this that we may have to briefly disappear and weep in a corner somewhere for a few minutes. 
The moon is exalted in the sign of Taurus. The steadiness of Taurus stabilizes the Moon's otherwise fluctuating, and capricious nature. In this placement, the moon is granted with exceptional powers of focus. You approach your life the way you do your work — systematically. While others overcomplicate issues, you seek for the most effective method to handle it, and get it done even if it's personally uncomfortable for you.

The sign of Taurus also draws out the more reserved, reflective characteristics of the Moon. You thoughtfully consider your options before reaching a determination. With a Moon in Taurus, you do not form conclusions immediately and are resistant to outside influences. It takes a while for you to reach a verdict but once you do, there is no way to make you alter your mind. With a Taurus Moon, you take your time digesting information. You are also a person who is resourceful, thrifty and a collector of tangible things. Taurus moon also exhibits the least emotional problems of any Moon sign. 
Mercury is the planet of communication and Libra the sign of balance. If you have this Mercury placement, you love to make observations by noting all the pros and cons, looking at both fronts, considering all the determinants. What you desire is to make the perfect selection. Even after you've made your determination, nevertheless, it isn't certain. A preferred ploy is to utilize a wait-and-see approach. In honesty, you have nice hunches and often perceive things in a glance.

But then you tend to intellectualize and go off in the incorrect direction. Toward other souls, your stance is gentle, compassionate, generous. You are fond of socializing. Not wanting to stir up contention, in company, you will go along with someone else's viewpoint even if you secretly object. Mercury-in-Libra people do their greatest imaginative and intellectual work within a partnership. You are particularly auspicious if you team up with an influential person who can guide you. Left isolated, you may grow lethargic and not apply yourself diligently.
Venus-Leos are able to effortlessly draw warm responses from others. There is something so fascinating, so irresistibly attractive, about you that you enjoy fabulous acclaim. You are exceedingly loving and charitable, purchasing costly gifts for those you cherish and adore them to the skies in the presence of other people. Of course, what you need in return is a strong commitment, loyalty, and loads of attention.

You must constantly be assertive in a love affair. "All the world's a stage" was penned about your passionate nature. No one can make a fuss or confrontation as exciting as a Venus-Leo. Needless to say, you are attracted to the business of performance, and many of you are endowed with splendid artistic faculties. You also love dainty possessions—property, garments, gems, furs. Though self-indulgent and pleasure-seeking, you are able of making vast self-sacrifice for the comfort of someone else.
Those with Mars in Scorpio are possessed with great tenacity and relentless persistence. They can be become obsessed with their objectives and spare no expense when it comes to making their desires manifest. They have strength and resilience to withstand and overcome hardship and obstacles. Mars in Scorpio does not give up until they have exhausted all options. The purpose of their goals can be all-consuming and become the epicenter of their focus at the exclusion of everything else.

They have a never say die attitude but they have the type of determination that can drive them to the brink and beyond. There is underlying desire for transcendence and immortality through their work and achievements. They do not like to waste time and want to make the most of the life given to them. Their passion permeates everything they do and can sometimes manifest in spectacularly negative and frightening ways. Their tempers can be heated and make them sometimes quarrelsome and touchy. But they also possess great creative powers and you can feel the passion they put into the work they produce.
Thоѕе whо fall under thіѕ number аrе creatively unique, confident, аnd possess thе kind оf drive thаt commands respect аnd awe. Being thеіr own boss іѕ whаt works best fоr thеm, since thе flaws оf others wіll affect thе way thеу oversee things, іn thе long haul. Thоѕе wіth thіѕ number аrе said tо bе drunk wіth success, аnd need tо bе viewed аѕ individuals оf power аnd wealth. Thеу'rе аlѕо very particular аbоut whаt thеу wear аnd how society views thеm externally. Negative aspects оf thе number reveal thаt being dominating, aggressive, аnd оvеr-achieving саn hinder personal growth. Keeping stress under control аnd maintaining а healthy lifestyle іѕ important, whеrе using оnе'ѕ talents completely wіll ensure а great future.
Thе number 7 іѕ thе number оf analysis аnd critique. It іѕ nоt surprising, thаt thе number 7 people аrе analytical, fussy, prepared аnd wise. On thе flip side, thеу аrе prone tо being critical, cynical аnd superficial. Thе number 7 people аrе introspective, prefer solitude аnd аrе constantly pursuing thе knowledge оf universal truths. Thе tarot representation оf thе number 7 іѕ thе 'Chariot'. Thеѕе people аrе astrologically linked tо Libra аnd аrе influenced bу Jupiter, Neptune аnd Mercury. Thеѕе people have а red aura аnd аn amethyst іѕ thе perfect gemstone fоr thеm. July іѕ thе best month fоr thеѕе people аnd thеу find Saturdays tо bе thеіr most lucky days. Thеу get thе best jobs done оn thе 2nd, 4th, 5th, 7th, 16th аnd 25th dates оf аnу month.
Is there a creature on the planet more magnificent than the Tiger. We think not, and that's not even our sign. On our Chinese restaurant menu today, here's how they describe the Tiger: If you were born in the years 1938, 1950, 1962, 1974, 1986 or 1998, you're a Tiger. Tiger people are aggressive, courageous, candid and sensitive. Look to the Horse and Dog for happiness. Beware of the Monkey. Tigers are born leaders.

The Tiger is the third Sign of the Chinese Zodiac. It is a Yang Sign and most closely associated with the Wood Element. Recent Tiger years have been 1950, 1962, 1974, 1986, and 1998. The Tiger is a very changeable person, with a potent natural ability that is often in great danger of being abused. They are either leaders or rebels. They can be vain, quarrelsome and overly aggressive at times, but their inherent charisma and vast reserves of charm are usually sufficient to extract them from any problems that may arise from their lack of foresight.
Those born in years of the Chinese calendar ending in either zero or one, are said to have the element of Metal. Combined with the person's animal zodiac symbol, this is used to define and give clues to the personality and future of the person. The element metal is said to be associated with the Western culture, the season of autumn, the Planet Venus and the color white. Those born under metal element may have an affinity for Western religion or yearn to break away from tradition.
Being close to Venus means those with a metal element are typically romantic, sentimental and kind. Those with the metal element may be more likely to suffer diseases of the lungs such as asthma. Organization and stability are the earmarks of the metal element. Metal people approach life with persistence, emotional strength, and unyielding determination. A metal person knows their goals and will not stop until those goals are met. Self –reliant, sometimes to a fault, metal people can be viewed as aloof and unconcerned with others.
The ESTJ is one of the 16 MBTI personality types. ESTJ stands for extravert (E), sensing (S), thinking (T), and judging (J). The ESTJ cognitive function stack is as follows: extraverted thinking (Te), introverted sensing (Si), extraverted intuition (Ne), and introverted feeling (Fi). The ESTJ person is a highly pragmatic and organized individual. They place greater importance on logic and reason over feelings. They are more concerned with how people might affect their plans than how their plans might affect people.

ESTJs have high regard for structure and order. They display efficiency and strong methodology in their approach to tasks. Furthermore, the ESTJ is often highly driven to rise to positions where they can exercise control and authority. Maintaining a good reputation is very important to them and they desire to garner respect and esteem from their colleagues and community. ESTJ enjoys playing management roles where they can direct and oversee the business of an organization. ESTJs are great at working out effective plans for getting things done.