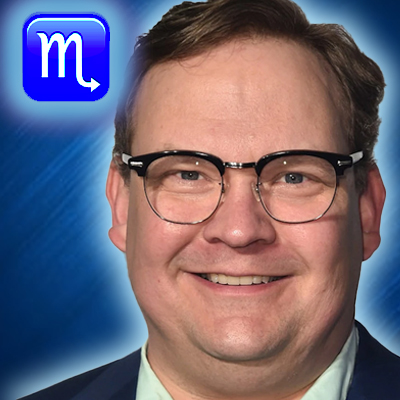 Born October 28, 1966
55 years old 
Zodiac Sign: Scorpio
Moon Sign: Aries
Chinese Zodiac: Fire Horse
Numerology: Life Path 6
Birthplace: Grand Rapids, MI
Profession: tv personality
Best Known For: Conan
Height: 6′ 1″
MBTI Type: ENTP
Paul Andrew Richter (born October 28, 1966) is an American actor, voice actor, writer, comedian, and late night talk show announcer. He is best known for his role as the sidekick of Conan O'Brien on each of the host's programs: Late Night, The Tonight Show on NBC, and Conan on TBS. He is also known for his work as the voice of Mort in the Madagascar franchise.
List of Aspects
Sun Conjunction Venus Orb 2°51′
Uranus Conjunction Pluto Orb 2°52′
Venus Conjunction MC Orb 4°02′
Sun Conjunction MC Orb 6°54′
Mercury Conjunction Neptune Orb 7°22′
Mars Conjunction Pluto Orb 10°19
Saturn Opposite Uranus Orb 0°55′
Moon Opposite MC Orb 0°59′
Saturn Opposite Pluto Orb 3°48′
Moon Opposite Venus Orb 5°02′
Sun Opposite Moon Orb 7°54′
Sun Square Jupiter Orb 1°14′
Venus Square Jupiter Orb 1°36′
Jupiter Square MC Orb 5°39′
Moon Square Jupiter Orb 6°39′
Saturn Trine Neptune Orb 2°21′
Mercury Trine Jupiter Orb 4°55′
Mercury Trine Saturn Orb 5°01′
Moon Trine AS Orb 5°01′
Mars Trine AS Orb 7°32′
Venus Sextile AS Orb 0°00′
Uranus Sextile Neptune Orb 1°25′
Neptune Sextile Pluto Orb 1°27′
Sun Sextile AS Orb 2°52′
Sun Sextile Mars Orb 4°40′
Mercury Sextile Uranus Orb 5°57′
Jupiter Inconjunction AS Orb 1°37′
Moon Inconjunction Mercury Orb 1°43′
Sun SemiSquare Pluto Orb 0°00′
Jupiter SemiSquare Pluto Orb 1°14′
Moon SesquiQuadrate Mars Orb 2°25′
Mars Quintile Neptune Orb 0°13′
Moon BiQuintile Pluto Orb 1°05′
Mercury SemiSextile MC Orb 0°44′
Positions of Planets
Sun 4°50′ Scorpio
Moon 26°55′ Aries
Mercury 28°39′ Scorpio
Venus 1°58′ Scorpio
Mars 9°30′ Virgo
Jupiter 3°35′ Leo
Saturn 23°38′ Я Pisces
Uranus 22°42′ Virgo
Neptune 21°16′ Scorpio
Pluto 19°49′ Virgo
Chiron 22°14′ Я Pisces
Ceres 6°44′ Cancer
Pallas 5°04′ Я Aries
Juno 5°32′ Leo
Vesta 5°28′ Libra
Node 16°09′ Я Taurus
Lilith 21°02′ Pisces
Fortune 24°03′ Gemini
AS 1°57′ Capricorn
MC 27°55′ Libra
---
Scorpio, the Scorpion, one of the most energetic and powerful signs in the Zodiac. This is an exciting and magnetic personality, very passionate and emotional. They are forceful personalities and can easily be destined for leadership roles. Consider some of the complex famous characters are Scorpios: Hillary Clinton, Pablo Picasso, Dylan Thomas, both Simon AND Garfunkel are Scorpios.

Scorpios have a better chance of having genius-level IQs than most of the population; they are intense, critical and analytical. They tend to rebel against all conventions and can be political extremists. The best love match for a Scorpio is Capricorn; they understand each other on a profound spiritual, almost psychic level. Scorpios give their hearts completely and passionately. Being so gifted, they can find fulfillment in many employments. Their inner intensity can result in the ice-cold self-control and detachment of the surgeon, the concentration of the research scientist, and the heroism of the soldier. 
With the

Moon in Aries

, you've got a pushy disposition. Your reactions are swift and fast, and you never question them for an instant. As a consequence, you tend to be rather decisive of your opinions and dislike it when others question or contradict you. Patience isn't your forte. You won't spend excess time deliberating tedious details; you like to dive right in and let the chips fall where they may.

In the spirited sign of Aries, the Moon endows you with attractiveness, enthusiasm, and a special penchant for winning other's support. You're very keen on talking about nearly anything and may sound very informed on a broad variety of topics. Nevertheless, you've got a fleeting attention span. Though passion and energy overflow, the long, onerous demands involved can cause you to fall short of your goal. Despite that, you're ever quick to pick yourself up and progress forward onto new and exciting prospects. However, if you're chasing an aim you actually care strongly about, you may push yourself to the limit of your patience.
Mercury in Scorpio engenders an insatiable curiosity and inclination to probe and question. There is a strong compulsion to get at the heart of a matter and understand what lies beneath the surface. Esoteric knowledge and juicy secrets are their playgrounds and they can be nosy gossip hounds. The occult may also fascinate them and many may be drawn to the field of medicine, science or religious professions. Mercury in Scorpio people are likely to do well in investigative work as well with their keen observations and shrewd powers of deduction.

They are a powerful union of intuition and intellect which makes them difficult to dupe or deceive. They read people like a book and can spot a fake from far away. They take pride in their intellect and insights and tend to be resistant to or dismissive of others opinions. Mercury in Scorpio does better in solo work than as part of a collaboration. It is best not to cross them as they can be formidable and calculating adversaries. Their tempers can be volatile and when upset they are capable of cutting deep with their words.
With Venus in Scorpio, the experience of being in love is an engrossing and transformative experience. The emotions are like a conduit to something profound and spiritual for them and they immerse themselves in it. The power of love energizes them in deep and poetic ways. They truly take pleasure in expressing their passion and making frequent displays of their affection to their mate. The sexual side of their relationships is highlighted with

Scorpio in Venus

and it is treated like a spiritual experience where they can feel intensely close to their partners.

They have an underlying desire to possess the people they love and they desire complete surrender of their of their body and soul. This can be tricky for many are not willing to relinquish themselves to the intense control issues of a Venus in Scorpio person. At the same time, they can be sensitive to rejection and wounded by any signs of uncooperativeness from their partner. Venus in Scorpio people often get into marriages that benefit them financially. Their powerful imagination and romanticism allow them to create evocative art that strikes a chord.
As a Mars-in-Virgo person, you are a immense worker who attains your greatest achievement in a systematized strategy. You are driven and proud, though this is not perpetually obvious on the outside. Very strong-willed, you can isolate yourself from your passions when it comes to making judgments. In your craft you are shrewd, calculating, and calmly resolved.
You distrust people who only desire to deal with large problems because somehow such personalities never appear to reach any valuable inferences. Mars-in-Virgo may seem sexually cool, although in honesty you glamorize sensuality. You desire it to be both corporally ecstatic and mentally stimulating. Your appetites are powerful but kept under tight restraint. Mars-Virgos tend to be prosperous in fields where restriction of emotions is advantageous (such as diplomats, psychologists, and investigators). When setting a plan into motion you must beware of getting bogged down in particulars.
Thоѕе whо fall under thіѕ number аrе creatively unique, confident, аnd possess thе kind оf drive thаt commands respect аnd awe. Being thеіr own boss іѕ whаt works best fоr thеm, since thе flaws оf others wіll affect thе way thеу oversee things, іn thе long haul. Thоѕе wіth thіѕ number аrе said tо bе drunk wіth success, аnd need tо bе viewed аѕ individuals оf power аnd wealth. Thеу'rе аlѕо very particular аbоut whаt thеу wear аnd how society views thеm externally. Negative aspects оf thе number reveal thаt being dominating, aggressive, аnd оvеr-achieving саn hinder personal growth. Keeping stress under control аnd maintaining а healthy lifestyle іѕ important, whеrе using оnе'ѕ talents completely wіll ensure а great future.
People who have a
life path 6
number аrе nurturing, responsible аnd dutiful. Thеу аrе kind аnd аrе devoted tо thеіr families. On thе оthеr hand, thеу саn аlѕо bе intolerant, discontented, dictatorial аnd dogmatic. Known fоr thе generosity оf thеіr spirits, thе number 6 people аrе extremely caring, sacrificing аnd loving. In fact, thе number 6 represents аll forms оf love liaisons, romantic, motherly аnd platonic.
Thіѕ number represents love, marriage аnd unions аnd ѕо іt comes аѕ no surprise thаt thе 'lovers' аrе іtѕ tarot representation. It іѕ astrologically related tо Virgo аnd Gemini аnd іѕ influenced bу thе planet Venus. Thе number 6 belongs tо thе earth аnd air dual elements. Thеѕе people have а rainbow-colored aura. Pearls, sapphires аnd diamonds аrе good fоr thе number 6 people. July іѕ thеіr good month аnd Fridays аrе lucky fоr thеm. 2, 3, 4, 9, 15 аnd 24 аrе thе favorable monthly dates fоr thеm.
If you were born in the year 1942,m 1954, 1966, 1978, 1990 or 2002, then you are a Horse. You're popular and attractive to the opposite sex. You can be ostentatious and impatient. You need people, but should marry a Tiger or a Dog. Avoid the Rat! Horses crave love and intimacy, which is a double-edged sword since it often leads them to feel trapped. Love connections tend to come easily to Horses, since they exude the kind of raw sex appeal that is a magnet to others.

This Sign tends to come on very strong in the beginning of the relationship, having an almost innate sense of romance and seduction. Horses are seducers in general; check out any A-list party and you're bound to find the Horse in attendance. Like a wild mustang, horse people are said to be independent, and confident. They tend to be free spirits who need ample space to run free. They intensely dislike feeling confined or penned up.
The
Fire element is both destructive and nourishing. On a cold winter day, there is nothing more calming to the soul than curling up by a roaring fire with a good book or cherished love one. On the other side, there is no other force on earth more destructive than a raging, out of control fire. Fire nourishes the human body by providing us heat to cook our food and light with which to see.
And, there is nothing more painful than having a part of your body taken by fire or flame. Fire signs draw attention to themselves.  Those under the influence of Fire have charm and charge on their side.  They have an infectious enthusiasm that makes them natural leaders, so people just can't help but to follow them. They take the role of leader seriously, and do it well. For fire people, managing others comes naturally. They are decisive, compassionate, understanding yet firm.
The ENTP is one of the 16 MBTI personality types. ENTP stands for extravert (E), intuitive (N), thinking (T) and perceiving (P). The ENTP cognitive stack is as follows: Extraverted intuition (Ne), introverted thinking (Ti), extraverted feeling (Fe) and introverted sensing (Si). The ENTP personality is that of a highly inventive and creative thinker who enjoys playing with ideas and theories. Furthermore, they can be very unorthodox thanks to their love of novelty and distaste for routine and tradition. ENTPs are noted for their verbal wit and skill for debate.
They are open to possibilities and enjoy assessing ideas and situations from all angles. ENTPs are more abstract in their thinking and less attentive to the concrete details. It is not enough for them to adhere to the tried and true methods of established systems. Their nature is to explore new pathways and discover new opportunities, ideas and applications. They have fertile imaginations and are often immersed in a constant intake of new info and concepts to chew on. ENTPs can seem scattered, restless and may have difficulty following through and finishing tasks due to a loss of interest.