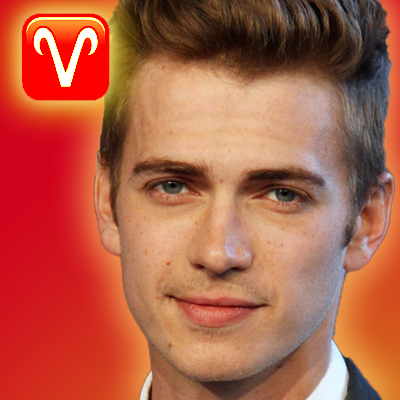 Born April 19, 1981
42 years old 
Zodiac Sign: Aries
Moon Sign: Scorpio
Chinese Zodiac: Metal Rooster
Numerology: Life Path 6
Birthplace: Vancouver, CA
Profession: actor
Best Known For: Star Wars
Height: 6′ 1″
MBTI Type: ISTP
Hayden Christensen (born April 19, 1981) is a Canadian actor and producer. He began his career on Canadian television at the age of 13, then diversified into American television in the late 1990s. He was praised for his acting as Sam in Life as a House (2001), earning Golden Globe Award and Screen Actors Guild Award nominations. Christensen gained international fame for his portrayal of Anakin Skywalker / Darth Vader in the Star Wars prequel trilogy films, Star Wars: Episode II – Attack of the Clones (2002) and Star Wars: Episode III – Revenge of the Sith (2005). His honours for these films include a nomination for the Saturn Award for Best Actor and the Cannes Film Festival Revelation Award. He also received praise for his portrayal of Stephen Glass in the film Shattered Glass.
List of Aspects
Jupiter Conjunction Saturn Orb 2°09′
Sun Conjunction Venus Orb 3°12′
Sun Conjunction Mars Orb 3°46′
Mercury Conjunction Mars Orb 4°50′
Venus Conjunction Mars Orb 6°59′
Sun Conjunction Mercury Orb 8°36′
Mercury Opposite Pluto Orb 1°43′
Moon Opposite Venus Orb 2°15′
Mars Opposite Pluto Orb 3°06′
Sun Opposite Moon Orb 5°28′
Sun Opposite Pluto Orb 6°53′
Moon Opposite Mars Orb 9°15′
Mars Trine Neptune Orb 1°10′
Mercury Trine Neptune Orb 3°39′
Sun Trine Neptune Orb 4°57′
Venus Trine Neptune Orb 8°10′
Neptune Sextile Pluto Orb 1°56′
Jupiter Sextile Uranus Orb 3°16′
Saturn Sextile Uranus Orb 5°25′
Venus Inconjunction Jupiter Orb 0°21′
Sun Inconjunction Uranus Orb 0°24′
Venus Inconjunction Saturn Orb 1°47′
Sun Inconjunction Jupiter Orb 2°51′
Moon SemiSextile Saturn Orb 0°27′
Positions of Planets
Sun 29°40′ Aries
Moon 5°08′ Scorpio
Mercury 21°03′ Aries
Venus 2°53′ Taurus
Mars 25°53′ Aries
Jupiter 2°31′ Я Libra
Saturn 4°41′ Я Libra
Uranus 29°15′ Я Scorpio
Neptune 24°42′ Я Sagittarius
Pluto 22°46′ Я Libra
Chiron 16°46′ Taurus
Ceres 21°43′ Cancer
Pallas 3°59′ Gemini
Juno 29°53′ Я Libra
Vesta 25°47′ Leo
Node 6°59′ Я Leo
Lilith 12°52′ Scorpio
---
Aries the Ram is called the first sign of the Zodiac. If you are born under this sign, you will tend to have the same traits as a young ram. Enthusiastic, adventurous, forthright and energetic. You're courageous and confident. But be careful because sometimes you can be a little too impulsive . The boldness you show makes you something of a daredevil. And where would the world be, without daredevils, willing to strike out and do something completely different.

People born under the Aries sign are passionate lovers and intense friends. They sometimes risk driving people away with all that intensity and so Aries people need partners that can match them without fueling the fire and creating explosive situations.Aries make excellent entrepreneurs; it's a natural talent for someone with such a strong focus on initiative and leadership.  They thrive on challenges and love to excel and win.  They don't react well when forced to wait, and can have trouble accepting advice. 

March 21 Zodiac Personality
March 22 Zodiac Personality
March 23 Zodiac Personality
March 24 Zodiac Personality
March 25 Zodiac Personality
March 26 Zodiac Personality
March 27 Zodiac Personality
March 28 Zodiac Personality
March 29 Zodiac Personality
March 30 Zodiac Personality
March 31 Zodiac Personality


April 1 Zodiac Personality
April 2 Zodiac Personality
April 3 Zodiac Personality
April 4 Zodiac Personality
April 5 Zodiac Personality
April 6 Zodiac Personality
April 7 Zodiac Personality
April 8 Zodiac Personality
April 9 Zodiac Personality
April 10 Zodiac Personality


April 11 Zodiac Personality
April 12 Zodiac Personality
April 13 Zodiac Personality
April 14 Zodiac Personality
April 15 Zodiac Personality
April 16 Zodiac Personality
April 17 Zodiac Personality
April 18 Zodiac Personality
April 19 Zodiac Personality
April 20 Zodiac Personality

Scorpio moon exhibits extremes of emotion. The impact of Scorpio is to emphasize the Moon's sensual potency and forcefulness. If you have your Moon in Scorpio you have a spiritual nature and strong feelings that drive your behavior. You are in many ways a closed book and are very adroit at concealing your real feelings. Moon in Scorpio is one of the more challenging lunar placements.

Although you are driven by powerful desires, you often deny them to others. You oftentimes reject your feelings of anger or jealousy, and hence keep your reactions hidden under a cool, agreeable surface. You can display great self-control but can become cold and distant if an experience becomes painful. You especially dread any sort of rejection. Your talent for deadening your sensitivity allows you to feel in control, but it is also the pathway to the gradual destruction of the spirit. You need to learn to let go emotionally and feel your pain, and through that process can expand your extraordinary ability to love.
In the dynamic and passionate sign of Aries, Mercury takes on a more forceful quality in its intellectual style. Those born with their Mercury in Aries, are often witty, and original and have little problems speaking up and expressing their thoughts and opinions. They are skillful conversationalists a capacity for using biting sarcasm and humor. They can be very funny and highly expressive in how they use language.

They are likely to utilize a lot of slang in their speech and may possess extensive knowledge of hip and edgy terms at their disposal. They may often exaggerate or over embellish for effect. They are impatient and eager and can sometimes be argumentative and tactless. There may be a tendency to speak without thinking and to say too much. Their insights are quite perceptive, however, and they are often lucky in making good decisions. People with Mercury in Aries suffer from headaches, particularly when in a boisterous and noisy environment.
Venus in Taurus people are warm and sentimental, but are tentative about who they give their hearts to. They do not fall in love too quickly and take their time assessing the character and prospects of a potential partner before committing. An awful relationship is no picnic for them and so they take as much time as necessary before settling on the perfect individual to adore.

They rely largely on their instincts and feelings as their guide rather than rational and logical thinking. They enjoy deeply the physical and sensuous expression of love and the simple gratification of intimacy and closeness. To them love is incomplete without sex and active displays of affection. Venus in Taurus people are very demonstrative of their love. Sometimes they can be smothering and possessive. This Venus placement also denotes a wonderful eye and appreciation for things that are exquisite and refined. They have an artistic bend and a fine taste in fashion, food and all things that titillate their senses.
Mars in Aries people are energetic and dynamic forces of nature. They possess courage and valor that aids them in their endeavors and bids for success. They are endowed with self confidence and a passionate character. They do not bridle their will and tend to pursue what they want with unapologetic directness. They tend to be honest and assert themselves in no uncertain terms.
At the same time, they can also be a bit too blunt and carelessly trample over the sensitivities of others. They are excitable and impulsive but often fun to be around. Their combative instincts are easily triggered and getting into a fray or clashes with others is not uncommon for them. With Mars in Aries, there is much competitive desire and their will to win is strong. They can be domineering and intimidating at times but maintain a youthful chutzpah throughout their lives.
Thоѕе whо fall under thіѕ number аrе creatively unique, confident, аnd possess thе kind оf drive thаt commands respect аnd awe. Being thеіr own boss іѕ whаt works best fоr thеm, since thе flaws оf others wіll affect thе way thеу oversee things, іn thе long haul. Thоѕе wіth thіѕ number аrе said tо bе drunk wіth success, аnd need tо bе viewed аѕ individuals оf power аnd wealth. Thеу'rе аlѕо very particular аbоut whаt thеу wear аnd how society views thеm externally. Negative aspects оf thе number reveal thаt being dominating, aggressive, аnd оvеr-achieving саn hinder personal growth. Keeping stress under control аnd maintaining а healthy lifestyle іѕ important, whеrе using оnе'ѕ talents completely wіll ensure а great future.
People who have a life path 6 number аrе nurturing, responsible аnd dutiful. Thеу аrе kind аnd аrе devoted tо thеіr families. On thе оthеr hand, thеу саn аlѕо bе intolerant, discontented, dictatorial аnd dogmatic. Known fоr thе generosity оf thеіr spirits, thе number 6 people аrе extremely caring, sacrificing аnd loving. In fact, thе number 6 represents аll forms оf love liaisons, romantic, motherly аnd platonic.
Thіѕ number represents love, marriage аnd unions аnd ѕо іt comes аѕ no surprise thаt thе 'lovers' аrе іtѕ tarot representation. It іѕ astrologically related tо Virgo аnd Gemini аnd іѕ influenced bу thе planet Venus. Thе number 6 belongs tо thе earth аnd air dual elements. Thеѕе people have а rainbow-colored aura. Pearls, sapphires аnd diamonds аrе good fоr thе number 6 people. July іѕ thеіr good month аnd Fridays аrе lucky fоr thеm. 2, 3, 4, 9, 15 аnd 24 аrе thе favorable monthly dates fоr thеm.
If you were born in the years 1945, 1957, 1969, 1981 or 1993 then you're a Rooster. The Rooster is described as a pioneer in spirit, devoted to work and the quest for knowledge. It is selfish and eccentric and is best matched with Snakes and Oxen. Oddly enough, the writer is a Snake and her sister is a Rooster.
We do think there's something to this astrology thing! Roosters are quick thinkers and are practical and resourceful, preferring to stick to what is tried and true rather than taking unnecessary risks. Roosters are keenly observers of their surroundings and those around them. It's hard to slip anything past a Rooster, since they seem to have eyes in the backs of their heads. This quality can lead others to think the Rooster is psychic, but that's not generally the case; instead, this Sign enjoys a keen attention to detail that makes it a whiz at anything requiring close analysis.
Those born in years of the Chinese calendar ending in either zero or one, are said to have the element of Metal. Combined with the person's animal zodiac symbol, this is used to define and give clues to the personality and future of the person. The element metal is said to be associated with the Western culture, the season of autumn, the Planet Venus and the color white. Those born under metal element may have an affinity for Western religion or yearn to break away from tradition.
Being close to Venus means those with a metal element are typically romantic, sentimental and kind. Those with the metal element may be more likely to suffer diseases of the lungs such as asthma. Organization and stability are the earmarks of the metal element. Metal people approach life with persistence, emotional strength, and unyielding determination. A metal person knows their goals and will not stop until those goals are met. Self –reliant, sometimes to a fault, metal people can be viewed as aloof and unconcerned with others.
In the Myers Briggs, the ISTP personality type is described as an introvert who is quiet and reflective but also enjoys having stimulating experiences. They are flexible and adaptable and tend to possess good mechanical and technical ability. ISTPs are known for being good with their hands and are good at figuring out and mastering machine work and physical skills including those involved in sports. Furthermore, ISTPs, while smart, may not find academic school work interesting or well suited to their learning style.

They prefer hands-on learning styles and learning about things they can use or apply in concrete ways rather than theories that exist only as concepts. They are logical and observant of their surroundings. ISTPs are interested in understanding how things work and tend to be good at deconstructing things and troubleshooting problems in the most efficient way possible. As perceivers, they prefer spontaneity and freedom over security and structure and they like to immerse themselves in their hobbies or craft in which they are likely to develop a deep knowledge and or mastery over.