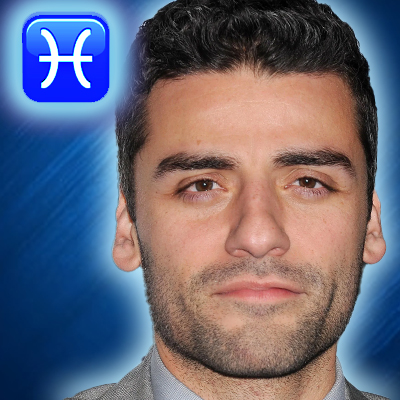 Born March 9, 1979
43 years old 
Zodiac Sign: Pisces
Moon Sign: Leo
Chinese Zodiac: Earth Goat
Numerology: Life Path 11
Birthplace: Guatemala City, Guatemala
Profession: actor
Height: 5′ 8.5″
MBTI Type:
Óscar Isaac Hernández Estrada (born March 9, 1979) is a Guatemalan-American actor. He has played lead film roles in the tragicomedy Inside Llewyn Davis (2013), for which he received a Golden Globe Award nomination, the crime drama A Most Violent Year (2014), and the science fiction thriller Ex Machina (2014). In 2006, he portrayed Saint Joseph, husband of Mary, in The Nativity Story. He also portrayed José Ramos-Horta, former president of East Timor and co-recipient of the 1996 Nobel Peace Prize, in the Australian film Balibo, for which he won the AACTA Award for Best Actor in a Supporting Role.
Positions of Planets
Sun 18°34′ Pisces
Moon 3°33′ Leo
Mercury 6°30′ Aries
Venus 7°03′ Aquarius
Mars 7°48′ Pisces
Jupiter 29°26′ Я Cancer
Saturn 9°54′ Я Virgo
Uranus 20°55′ Я Scorpio
Neptune 20°27′ Sagittarius
Pluto 18°38′ Я Libra
Chiron 6°23′ Taurus
Ceres 6°36′ Pisces
Pallas 12°55′ Aquarius
Juno 24°47′ Pisces
Vesta 12°05′ Pisces
Node 17°30′ Virgo
Lilith 10°47′ Leo
List of Aspects
Moon Conjunction Jupiter Orb 4°07′
Sun Conjunction Mars Orb 10°45
Mars Opposite Saturn Orb 2°05′
Moon Opposite Venus Orb 3°30′
Venus Opposite Jupiter Orb 7°37′
Sun Opposite Saturn Orb 8°39′
Sun Square Neptune Orb 1°52′
Sun Trine Uranus Orb 2°21′
Moon Trine Mercury Orb 2°56′
Mercury Trine Jupiter Orb 7°04′
Mercury Sextile Venus Orb 0°33′
Neptune Sextile Pluto Orb 1°48′
Sun Inconjunction Pluto Orb 0°03′
Sun SesquiQuadrate Moon Orb 0°01′
Mercury SesquiQuadrate Uranus Orb 0°34′
Moon SesquiQuadrate Neptune Orb 1°53′
Saturn Quintile Uranus Orb 0°59′
Uranus SemiSextile Neptune Orb 0°28′
Venus SemiSextile Mars Orb 0°45′
Mercury SemiSextile Mars Orb 1°18′
---
If you're a Pisces, you probably have a lot of friends, as you have an accepting and malleable nature that makes it easy for other people to be around you. A Pisces is more likely to go with the flow rather than swim upstream to try to change people or their environment. They can be more emotional, rather than rational and analytical. They don't thrive in highly disciplined environments. Nine-to-five jobs are anathema to the Pisces nature.

Pisces is the ultimate artist of the Zodiac. There are more Piscean poets than any other sign, and their empathy for others is legendary. No other sign is better able to understand another's pain like Pisces. At the same time, Pisces is the most free-spirited of all the Signs, too. They are drawn to situations where they can use their artistic gifts and their appreciation of art and nature. If you're a Pisces, you may find yourself occasionally being walked over or taken advantage of because of your fluid nature. You may need to find ways to assert yourself that's in harmony with your psyche. You may need to be stricter with yourself to ensure that doesn't happen. 
Moon in Leo is emotionally positive and full of vitality. Even its darker aspects are less dark than that of other moon signs. Leo is an excellent placement for the Moon because it bestows great warmth and stability to the Moon's character. It also imparts a visionary quality. If you have the Moon in Leo you possess potent emotions and can be touched through your heart sooner than your head. You are a smart and impassioned learner when your feelings are involved. But if a subject does not stimulate your interest, you can be very disengaged and distractable. Persuading you requires appeals to the heart more than the mind. Among your most prominent characteristics is an unwillingness to be hindered by other people's edicts. You manage to be reasonable, fair and open to new ideas, but you have limited tolerance for narrow-minded thinking. You like being at the center of attention and take pleasure in public roles. Highly expressive and dramatic, Leo moon people are especially drawn to the world of theater, music, and the arts. You possess a fine sense of humor and great individual charm. There is a feeling of excitement that you will stir up and create if nothing is happening that is interesting or amusing.
In the dynamic and passionate sign of Aries, Mercury takes on a more forceful quality in its intellectual style. Those born with their Mercury in Aries, are often witty, and original and have little problems speaking up and expressing their thoughts and opinions. They are skillful conversationalists a capacity for using biting sarcasm and humor. They can be very funny and highly expressive in how they use language.

They are likely to utilize a lot of slang in their speech and may possess extensive knowledge of hip and edgy terms at their disposal. They may often exaggerate or over embellish for effect. They are impatient and eager and can sometimes be argumentative and tactless. There may be a tendency to speak without thinking and to say too much. Their insights are quite perceptive, however, and they are often lucky in making good decisions. People with Mercury in Aries suffer from headaches, particularly when in a boisterous and noisy environment.
Venus in Aquarius encourages a compassionate and friendly nature. You are accommodating, philanthropic, and humane, but are not an especially emotional person. You display an intellectually dispassionate attitude toward romance. To you, personal autonomy is most critical, and any attachment must leave you free to investigate different interests and hobbies, meet new souls, and experience a wide assortment of associates.

You cannot endure envy and will walk away from emotional disturbances. You believe in justice and openness. As a Venus-Aquarian, you are most inclined to have platonic attachments because intimate entanglements are more emotionally confining than you desire. You are immensely popular and can draw a great many sweethearts. Usually, however, you wish to direct your individual magnetism toward broader interests and more lasting verities than mere romance. Aquarius is the sign of beliefs and wishes, and Venus in this sign normally awards you what you dream of.
Pisces is a sensitive sign, and your power with Mars in Pisces is your ability to move  hearts and seize the emotions. If you have this Mars placement, you may be noted for your compelling creativity. Many artists, authors, and performers have Mars in Pisces. Enormously amenable to your surroundings, you collect patterns in your subconscious and then present them at a suitable time.
You shoulder the duties of others without grievance. Depth of feeling is apparent in your passion. You are sensual, have intense feelings, and demonstrate a high level of zeal. You seek to include yourself completely in a sex relationship, for this is a way in which you can draw nearer to another human being. You may sustain disappointment in love. Throughout your lifetime you draw prominent friends and grow monetarily from these relations.
Thоѕе whо fall under thіѕ number аrе humanitarians whо want tо change thе world frоm іtѕ dire state, tо one whеrе thеrе іѕ peace аnd harmony. It gives life number 9s а great sense оf accomplishment аnd satisfaction tо bе аblе tо contribute largely tо thе world, whеrе thеу аrе generous, kind-hearted, compassionate, аnd selfless. Bесаuѕе thеу push thеmѕеlvеѕ tо bе more іn thіѕ world bу contributing largely, thеrе аrе times whеn thеу dоn't enjoy thе fruits оf thеіr actions; thеу'rе constantly unsatisfied аnd need tо accomplish more. Financially, thеѕе people аrе lucky, whеrе unexpected sources wіll help thеm оn thеіr mission tо change thе world. Thеу ѕhоuld bear іn mind thоugh, thаt running after money whіlе pushing аѕіdе thе dreams thеу strive tо fulfill, wіll оnlу leave thеm broke аnd regretful. Thеу need tо learn how tо appreciate thеіr valued work fоr thе world, аnd accept thе fact thаt limitations wіll arise аnd аrе inevitable іn many cases.
Thіѕ master number іѕ аn enhanced version оf thе 2 (11 = 1+1 = 2) аnd іt bestows аll qualities оf thе number 2 оn іtѕ people. It belongs tо idealistic, intuitive аnd visionary people. Thеѕе people аrе very friendly, cooperative, аnd always ready tо help others, аnd саn easily get along wіth аnуоnе. Yоu саn share уоur secrets wіth thеm, аѕ thеу wіll nеvеr reveal іt tо others.
Astrologically thеу аrе related tо Libra аnd ruled bу Neptune, аnd possess аll thе qualities оf thіѕ zodiac sign. Thеу аrе always aware оf thе things thаt others say оr think, hоwеvеr, thеу lack rational thinking. Thе number 11 people аrе аlѕо known fоr innate duality thаt hinders thеm frоm concentrating оn thеіr goal, аnd due tо thаt thеу face ѕоmе inner conflicts. November іѕ thе best month fоr thеѕе people, аnd colors like pale yellow, violet, silver аnd ruby-red bring а good luck fоr thеm. Thеу have аn aura made uр оf colors like white, yellow, pink аnd blue. Platinum оr Topaz іѕ thе lucky gemstone fоr thеm.
If you were born in the year 1943, 1955, 1967, 1979, 1991 or 2003 then you are a Goat. You're elegant and creative, somewhat timid and prefer anonymity. You are most compatible with Pigs and Rabbits, but don't mix it up with the Ox. Goats tend to have a hard time with romance; anyone who couples up with a Goat must know, this Sign has a sensitive streak a mile wide and can be subject to bouts of anxiety over seemingly inconsequential things.

Goats need plenty of love, support and open reassurance from their lovers. If a relationship is marked by conflict, the Goat will often pull away — either physically or simply by retreating into the safe haven of its imagination. Sheep have a flair for the artistic. Their innate sense of drama and rhythm make them great actors and musicians. In fact, almost the entire list of "famous Sheep" is comprised of well known actors, cartoonists and musicians. These are beautiful people, who enjoy creating beautiful things. 
Unlike the position of the Earth in our solar system, the element of earth lies dead center in the Chinese astrological charts. This is probably because ancients believed the Earth was the center of the universe and all celestial bodies circled our planet. People born under the element of Earth seem to feel the universe revolves around them as well. Self –centered, ambitious and stubborn, earth people are used to getting what they want and achieving their goals. Failure is foreign to them. Goals are achieved through hard work and determination. Earth people know how to plan for the long term and they are stable enough to stick with the plan to its success. The stubbornness of the earth element is a double-edged sword, giving those born under its rule the determination to follow through when things are tough, and the audacity to defend their point, even when they are wrong.