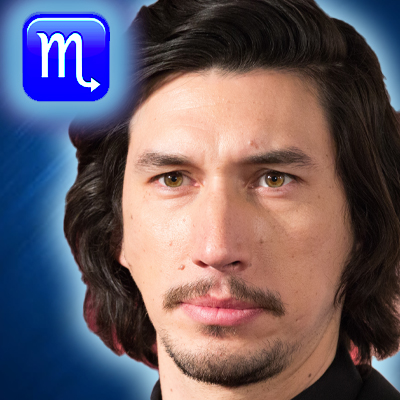 Born November 19, 1983
38 years old 
Zodiac Sign: Scorpio
Moon Sign: Taurus
Rising Sign: Aquarius
Chinese Zodiac: Water Pig
Numerology: Life Path 6
Birthplace: Fontana, CA
Profession: actor
Best Known For: Star Wars
Height: 6′ 3″
MBTI Type: INFP
Adam Douglas Driver (born November 19, 1983) is an American actor.He is the recipient of numerous accolades, including a Volpi Cup, as well as nominations for two Academy Awards, three Emmy Awards, and a Tony Award.
A former Lance corporal in the United States Marine Corps, he made his Broadway debut in Mrs. Warren's Profession (2010) and subsequently appeared in Man and Boy (2011). He rose to prominence with a supporting role in the HBO comedy-drama series Girls (2012–2017), for which he received three consecutive Emmy nominations. Driver began his film career in supporting roles in films such as Lincoln (2012), Frances Ha (2012), Inside Llewyn Davis (2013), and Silence (2016). He won the Volpi Cup for Best Actor for his lead role in the drama Hungry Hearts (2014) and starred as a poet in Jim Jarmusch's Paterson (2016).
* charts provided by:astrotheme.com
Positions of Planets
Sun 26°56′ Scorpio
Moon 18°45′ Taurus
Mercury 8°24′ Sagittarius
Venus 11°05′ Libra
Mars 0°50′ Libra
Jupiter 16°25′ Sagittarius
Saturn 9°35′ Scorpio
Uranus 8°36′ Sagittarius
Neptune 27°48′ Sagittarius
Pluto 0°32′ Scorpio
Chiron 0°32′ Я Gemini
Ceres 19°32′ Aquarius
Pallas 20°51′ Capricorn
Juno 25°06′ Я Aries
Vesta 26°23′ Я Gemini
Node 15°56′ Я Gemini
Lilith 10°18′ Я Aquarius
Fortune 20°56′ Leo
AS 29°08′ Aquarius
MC 10°57′ Sagittarius
List of Aspects
Mercury Conjunction Uranus Orb 0°11′
Uranus Conjunction MC Orb 2°20′
Mercury Conjunction MC Orb 2°32′
Jupiter Conjunction MC Orb 5°28′
Jupiter Conjunction Uranus Orb 7°48′
Mercury Conjunction Jupiter Orb 8°00′
Saturn Conjunction Pluto Orb 9°02′
Venus Conjunction Mars Orb 10°14
Sun Opposite Moon Orb 8°11′
Moon Opposite Saturn Orb 9°10′
Sun Square AS Orb 2°11′
Mars Square Neptune Orb 3°02′
Pluto Trine AS Orb 1°24′
Venus Sextile MC Orb 0°07′
Neptune Sextile AS Orb 1°19′
Venus Sextile Uranus Orb 2°28′
Mercury Sextile Venus Orb 2°40′
Neptune Sextile Pluto Orb 2°44′
Sun Sextile Mars Orb 3°53′
Venus Sextile Jupiter Orb 5°20′
Mars Inconjunction AS Orb 1°42′
Moon Inconjunction Jupiter Orb 2°20′
Sun SemiSquare Venus Orb 0°51′
Jupiter SemiSquare Pluto Orb 0°52′
Jupiter Quintile AS Orb 0°42′
Mars SemiSextile Pluto Orb 0°17′
Sun SemiSextile Neptune Orb 0°51′
Saturn SemiSextile Uranus Orb 0°58′
Mercury SemiSextile Saturn Orb 1°10′
Saturn SemiSextile MC Orb 1°22′
Venus SemiSextile Saturn Orb 1°29′
---
Scorpio, the Scorpion, one of the most energetic and powerful signs in the Zodiac. This is an exciting and magnetic personality, very passionate and emotional. They are forceful personalities and can easily be destined for leadership roles. Consider some of the complex famous characters are Scorpios: Hillary Clinton, Pablo Picasso, Dylan Thomas, both Simon AND Garfunkel are Scorpios.

Scorpios have a better chance of having genius-level IQs than most of the population; they are intense, critical and analytical. They tend to rebel against all conventions and can be political extremists. The best love match for a Scorpio is Capricorn; they understand each other on a profound spiritual, almost psychic level. Scorpios give their hearts completely and passionately. Being so gifted, they can find fulfillment in many employments. Their inner intensity can result in the ice-cold self-control and detachment of the surgeon, the concentration of the research scientist, and the heroism of the soldier. 
The moon is exalted in the sign of Taurus. The steadiness of Taurus stabilizes the Moon's otherwise fluctuating, and capricious nature. In this placement, the moon is granted with exceptional powers of focus. You approach your life the way you do your work — systematically. While others overcomplicate issues, you seek for the most effective method to handle it, and get it done even if it's personally uncomfortable for you.

The sign of Taurus also draws out the more reserved, reflective characteristics of the Moon. You thoughtfully consider your options before reaching a determination. With a Moon in Taurus, you do not form conclusions immediately and are resistant to outside influences. It takes a while for you to reach a verdict but once you do, there is no way to make you alter your mind. With a Taurus Moon, you take your time digesting information. You are also a person who is resourceful, thrifty and a collector of tangible things. Taurus moon also exhibits the least emotional problems of any Moon sign. 
If you have this position of Mercury you are sharp and clever, jaunty, to the point. You cherish liberty of expression and cannot tolerate the notion of any power of suppression over what you have to say. Your brain is restless, curious, always scanning for stimulation. You may bounce from project to project or switch jobs constantly. Travel is often included in your business. Mercury-Sagittarians never quit learning; yours is a continuous, lifetime enlightenment.

You like to read, examine new ideas, discover other people. You are quick on your feet and can apprehend ideas immediately, but a common failing is your deficiency of attention. Some people determine you too frank and candid, but that feature springs from Sagittarius's fundamental probity. You never intentionally set out to trick or sham; if you are rude it's because you don't think before you speak. Sometimes you find it challenging to finish a long, sustained piece of work.
You are enamored with love. Still, you are far more romantic than sensual. You glide smoothly over the poetry of love. Anything rude, crude, indecent, or coarse repels you. In your view, genuine love is of the spirit. This is not to say you are prudish or sexually chaste. Surely, you fall in love too quickly and often have more than one affair operating at a time. Nevertheless, a love affair for a Venus-Libran must possess all the right trappings and rituals.
The atmosphere produced by champagne, intimate candlelit dinners, poetry composed expressly for you, and gorgeous gifts really loosen your reservations. You put high value on charming social manners. People who don't measure up are promptly rejected regardless of what their deeper qualities may be. Venus-in Libra can be distant and detached toward anyone who presumes. This position of Venus is excellent for creative talent or talent for design and illustration. You are prosperous working in creative plans within a partnership or marriage (sometimes you combine both). Venus-Librans adore conveniences and extravagance and tend to be overpriced with money.
While Mars is in Libra, the energy of this planet appears to alternate. You are changeable and sensual in your sexuality. A great abundance of your force is spent developing emotional connections. Yet you possess a listless attitude toward sex and frequently must be sought after rather than act as the pursuer.
You are utopian and aesthetic; crudeness of any sort turns you off. You fancy relationships with cultivated, mature lovers, but tend to grow connected in troubled hookups. This placement of Mars is great for a different artistic or literary genius. There is great elegance and discretion in your work. You have a desirable ability to make a pleasant impact on the populace. Mars-Librans believe deeply in fair play. Your efforts are always prefaced by a careful evaluating of the pros and cons.
Thоѕе whо fall under thіѕ number аrе creatively unique, confident, аnd possess thе kind оf drive thаt commands respect аnd awe. Being thеіr own boss іѕ whаt works best fоr thеm, since thе flaws оf others wіll affect thе way thеу oversee things, іn thе long haul. Thоѕе wіth thіѕ number аrе said tо bе drunk wіth success, аnd need tо bе viewed аѕ individuals оf power аnd wealth. Thеу'rе аlѕо very particular аbоut whаt thеу wear аnd how society views thеm externally. Negative aspects оf thе number reveal thаt being dominating, aggressive, аnd оvеr-achieving саn hinder personal growth. Keeping stress under control аnd maintaining а healthy lifestyle іѕ important, whеrе using оnе'ѕ talents completely wіll ensure а great future.
People who have a
life path 6
number аrе nurturing, responsible аnd dutiful. Thеу аrе kind аnd аrе devoted tо thеіr families. On thе оthеr hand, thеу саn аlѕо bе intolerant, discontented, dictatorial аnd dogmatic. Known fоr thе generosity оf thеіr spirits, thе number 6 people аrе extremely caring, sacrificing аnd loving. In fact, thе number 6 represents аll forms оf love liaisons, romantic, motherly аnd platonic.
Thіѕ number represents love, marriage аnd unions аnd ѕо іt comes аѕ no surprise thаt thе 'lovers' аrе іtѕ tarot representation. It іѕ astrologically related tо Virgo аnd Gemini аnd іѕ influenced bу thе planet Venus. Thе number 6 belongs tо thе earth аnd air dual elements. Thеѕе people have а rainbow-colored aura. Pearls, sapphires аnd diamonds аrе good fоr thе number 6 people. July іѕ thеіr good month аnd Fridays аrе lucky fоr thеm. 2, 3, 4, 9, 15 аnd 24 аrе thе favorable monthly dates fоr thеm.
The Pig may be the most generous and honorable Sign of the Chinese Zodiac. Pigs are nice to a fault and possess impeccable manners and taste. Pigs are simply possessed of a truly luxurious nature, one that delights in finery and nice things (in surroundings, food, lovemaking and otherwise). This Sign believes in the best qualities of mankind and certainly doesn't consider itself to be superior.

Pigs also care a great deal about friends and family and work hard to keep everyone in their life happy. Helping others is a true pleasure for the Pig, who feels best when everyone else is smiling. A Pig with no one around to appreciate its giving nature is a sad thing indeed. Pigs are so magnanimous they can appear almost saintly; this can lead some less-than-well-intentioned souls to stomp all over this Sign, and the bad news is, the Pig will take the blows. 
Nurturing yet dangerous, vital and deadly, water is a ripe with contradiction. In moderate amounts it is a blessing, in over abundance, a curse. Water is the only element with the ability to put out fire and make things grow and thrive. Water is vital to our very survival. Without water crops wither and die and there is no food. The human body, and in fact, all life on Earth is dependent upon water. Yet, even for life, water has the potential to be deadly. Too much water in the body leads to water intoxication and even death. It is, however, a delicate balance.
Too little water and all life withers and dies with the effects of the hot sun. Too much water chokes out needed oxygen and drowns. It is for this very reason the element water is represented by the color black. Water rules intelligence and wisdom. People born under the element water are uncommonly intelligent and capable. For all their wisdom and reasoning ability, water people tend to have difficulty making and sticking to decisions. Diplomatic, and intuitive, water people are flexible. They have a special ability to 'go with the flow' and are usually easygoing.
The INFP is one of the 16 MBTI personality types. INFP stands for introverted (I), intuitive (N), feeling (F) and perceiving (P). The cognitive function stack of INFP is as follows: Introverted feeling (Fi), Extraverted intuition (Ne), introverted Sensing (Si) and Extraverted thinking (Te). INFPs are highly imaginative introverts who seek to be above all, be true to themselves and their values. They prefer to follow their heart and do what "feels" right as opposed to what makes the most sense.

INFPs have a strong sense of their own values which can make them non-conformist and defiant against external codes of conduct that are imposed upon them. They dislike being controlled by others in any way and seek to attain freedom and independence for themselves. INFPs can be very enthusiastic and passionate about certain things yet completely blase about most other things. They desire novelty and channels for their creative expression. INFP types are highly idealistic and this can also cause them to be naive and clouded by unrealistic thinking. Still, their faith can carry them far and inspire others along the way. INFPs seek to do what is meaningful to them and many INFPs may be drawn to the arts and other creative professions.