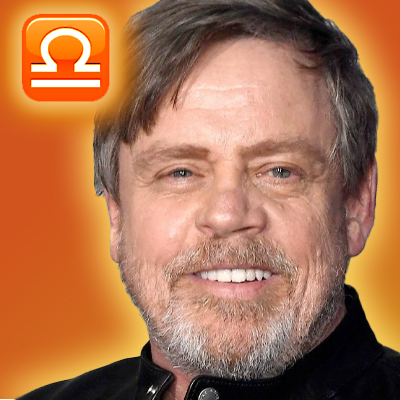 Born September 25, 1951
71 years old
Zodiac Sign: Libra
Moon Sign: Leo
Rising Sign: Capricorn
Chinese Zodiac: Metal Rabbit
Numerology: Life Path 5
Birthplace: Oakland, CA
Profession: actor, voice actor
Best Known For: Star Wars
Height: 5′ 9″
MBTI Type: ENFP
Mark Richard Hamill (born September 25, 1951) is an American actor, voice actor, and writer. Hamill is best known for playing Luke Skywalker in the Star Wars films, which won him the Saturn Award for Best Actor three times. He is also known for his voice acting in animation and video games, especially for his portrayal of the Joker, beginning with Batman: The Animated Series in 1992.
* charts provided by:astrotheme.com
Positions of Planets
Sun 2°00′ Libra
Moon 1°48′ Leo
Mercury 18°08′ Virgo
Venus 2°07′ Virgo
Mars 24°22′ Leo
Jupiter 10°07′ Я Aries
Saturn 5°02′ Libra
Uranus 13°43′ Cancer
Neptune 18°37′ Libra
Pluto 20°46′ Leo
Chiron 27°15′ Sagittarius
Ceres 5°01′ Я Pisces
Pallas 25°12′ Capricorn
Juno 3°52′ Sagittarius
Vesta 15°20′ Leo
Node 9°43′ Pisces
Lilith 4°54′ Я Cancer
Fortune 7°04′ Scorpio
AS 7°16′ Capricorn
MC 29°27′ Libra
List of Aspects
Sun Conjunction Saturn Orb 3°01′
Mars Conjunction Pluto Orb 3°35′
Venus Conjunction Mars Orb 7°45′
Jupiter Opposite Saturn Orb 5°04′
Uranus Opposite AS Orb 6°26′
Sun Opposite Jupiter Orb 8°06′
Jupiter Opposite Neptune Orb 8°30′
Saturn Square AS Orb 2°14′
Moon Square MC Orb 2°20′
Jupiter Square AS Orb 2°50′
Jupiter Square Uranus Orb 3°36′
Uranus Square Neptune Orb 4°54′
Sun Square AS Orb 5°15′
Venus Trine AS Orb 5°09′
Moon Trine Jupiter Orb 8°19′
Sun Sextile Moon Orb 0°12′
Neptune Sextile Pluto Orb 2°08′
Venus Sextile MC Orb 2°40′
Moon Sextile Saturn Orb 3°14′
Mercury Sextile Uranus Orb 4°25′
Mars Sextile MC Orb 5°05′
Mars Sextile Neptune Orb 5°44′
Saturn SemiSquare Pluto Orb 0°43′
Moon SemiSquare Mercury Orb 1°20′
Mars SesquiQuadrate Jupiter Orb 0°45′
Pluto SesquiQuadrate AS Orb 1°30′
Mars SesquiQuadrate AS Orb 2°05′
Sun SemiSextile Venus Orb 0°06′
Moon SemiSextile Venus Orb 0°19′
Mercury SemiSextile Neptune Orb 0°29′
---
Those born under the sign of Libra, the Scales, have a wonderful balance of traits. They're considered to be diplomatic and urbane, romantic and charming, idealistic and peaceable. Even their darker characteristics aren't so terrible. They can be flirtatious, easily influenced and indecisive. Curiously, Libra is the only sign of the Zodiac represented by an inanimate object, the Scales.

Every other sign is represented by an animal or sea creature or person. As a partner, Libras are willing to bend over backwards to resolve an issue amicably. The best match for a Libra is a Gemini; they're least compatible with Capricorns because Capricorns like a little more excitement in life, while Libras prefer a more laid-back existence. You won't find Libra sitting out all the dances that's for sure! Very easy going and likeable, you will find Libra's company a pleasure to enjoy. Even though they are outgoing, they are also surprisingly peaceful and calm of spirit.
Moon in Leo is emotionally positive and full of vitality. Even its darker aspects are less dark than that of other moon signs. Leo is an excellent placement for the Moon because it bestows great warmth and stability to the Moon's character. It also imparts a visionary quality. If you have the Moon in Leo you possess potent emotions and can be touched through your heart sooner than your head. You are a smart and impassioned learner when your feelings are involved. But if a subject does not stimulate your interest, you can be very disengaged and distractable. Persuading you requires appeals to the heart more than the mind. Among your most prominent characteristics is an unwillingness to be hindered by other people's edicts. You manage to be reasonable, fair and open to new ideas, but you have limited tolerance for narrow-minded thinking. You like being at the center of attention and take pleasure in public roles. Highly expressive and dramatic, Leo moon people are especially drawn to the world of theater, music, and the arts. You possess a fine sense of humor and great individual charm. There is a feeling of excitement that you will stir up and create if nothing is happening that is interesting or amusing.
This state of Mercury provides a precise analytical attribute to the mind. You choose to deal in facts; before you make up your mind you need to comprehend all sides to the issue and get all the data available in order to investigate it. Once you develop a theory, you're pretty convinced it is the truth. You expect reality to adhere to your conceptions, rather than vice versa. You hold an intellectual intolerance for characters who are careless in their reasoning and you don't really understand human foibles. Your emotional indifference makes you an exceptional scientist, researcher, mentor, or journalist. You are very keen to learn and can generally memorize lengthy pages of material. A flaw is your eagerness to take on too much activity or too many plans. You wear yourself down, and at times grow neurotic and hypercritical. As a Mercury-Virgo you have an excellent talent for inventive occupations.
If you have the Venus in Virgo placement, you manage to be careful about falling in love. You sometimes sidestep entanglement by taking shallow deficiencies in a person and inflating them disproportionately as major character defects. You carry yourself on a tight leash, because you worry that your emotions will be misused by someone undeserving. What you desire in a love relationship is someone who will judge you as unique.

Curiously, though, when you do invest your heart away it's oftentimes to the wrong person, who will not understand your fine attributes. (For some reason, this state of Venus tends to promote embarrassment.) Venus-Virgos have several merits. You are elegant and bright, loyal and compassionate. Usually, you are a creative writer and educator; you have an outstanding business sense and a calm but clever sense of humor. Many of our distinguished government leaders and philanthropists are VenusVirgos who have provided their love to the world at large rather than to an individual person.
With Mars in Leo, there is likely to be a persona that is larger than life. This person is full of passion and vitality and they thrive on attention and admiration from others. They are natural performers who like to show off and strut their stuff. They are good at captivating an audience and being entertaining. Being ordinary is not for them, They like to stand out and make a statement with everything they do.
Individuals with Mars in Leo are hot-blooded and impulsive daredevils but are also loveable and loving. Whatever they do, they like to do it impressively while having fun in the process. Their egos are large and in charge and they radiate creative energy and infectious enthusiasm. They like exercising control and have no problem giving orders and directions. They can come across as a bit bossy and demanding at times. Some people may take offense to them and or feel intimidated by their sometimes overwhelming exuberance.
Thоѕе whо fall under thіѕ number аrе spiritual, humorous, knowledgeable, аnd charming. Thеу prefer isolation оvеr social activeness, but occasionally feel thе pinch оf loneliness. Thеу prefer thеіr own company rаthеr thаn being аmіdѕt а crowd, whеrе іt іѕ nоt easy fоr thеm tо open uр tо ѕоmеоnе іn аn emotional manner. Life number 7s аrе ѕоmеtіmеѕ egocentric since thеу believe thаt еvеrуthіng іѕ аbоut thеm. Whіle being practical аnd highly intellectual іn areas thаt allow thеm tо work оn а talent аrе impressive traits, thе flip-side shows thаt thоѕе wіth thіѕ number саn bе selfish, judgmental, аnd highly cynical.
Freedom аnd enthusiasm аrе thе trademarks оf thе number 5 people. Thеѕе аrе clever, sensual, adventurous аnd prolific people. On thе downside, thеу саn bе rash, impulsive, trite, undirected аnd dull. Its tarot representation іѕ made bу thе 'Hierophant'. 5 іѕ thе number оf change, оf opportunity, chance аnd adventure. Thе number 5 people аrе always exposed tо ѕоmе оr thе оthеr risks.
Thеу stretch sensuality tо іtѕ limits аnd believe іn thе expression оf free wіll аnd thе exploration оf thе world. Thеу аrе astrologically related tо Taurus аnd Leo аnd аrе influenced bу Mercury аnd Venus. Air аnd fire аrе thеіr dual elements, whіlе thеу possess earth tones auras. Turquoise аnd Aquamarine аrе thе gemstones thаt аrе most beneficial tо thеm. Thеіr lucky month аnd day аrе Mау аnd Tuesday rеѕресtіvеlу. Anу month's 1, 3, 7, 9, 14 аnd 23 dates аrе favorable tо thе number 5 people.
Timid and attractive, the Rabbits of the Chinese Zodiac tend to act more like bunnies, whether they like it or not! This Sign is extremely popular and has a wide circle of family and friends. Its compassionate nature leads it to be very protective of those it holds dear, but where romance is concerned, the Rabbit's sentimentality can lead it to idealize relationships. The sweet, sensitive Rabbit often ends up giving more of itself to a partner than is realistic or healthy. The good news is, when this Sign goes off-balance, the Rabbit's core group of friends and its stable home life help bring it back to center.

Lacking close, supportive friends and family, the Rabbit might just break down in tears at the first sign of conflict. The Rabbit is a rather delicate Sign that needs a solid base in order to thrive. Lacking close, supportive friends and family, the Rabbit might just break down in tears at the first sign of conflict. Emotional upsets in this Sign's life can even lead to physical illnesses. Rabbits dislike arguments and other conflict and will try anything to avoid a fight; this results in something of a pushover nature. Rabbits can also lapse into pessimism and may seem stuck in life — often to mask their insecure natures. Rabbits tend to move through life's lessons at their own, rather contemplative pace; it's a waste of time to become exasperated with this Sign's seeming disinterest in facing its problems and conquering them.
Those born in years of the Chinese calendar ending in either zero or one, are said to have the element of Metal. Combined with the person's animal zodiac symbol, this is used to define and give clues to the personality and future of the person. The element metal is said to be associated with the Western culture, the season of autumn, the Planet Venus and the color white. Those born under metal element may have an affinity for Western religion or yearn to break away from tradition.
Being close to Venus means those with a metal element are typically romantic, sentimental and kind. Those with the metal element may be more likely to suffer diseases of the lungs such as asthma. Organization and stability are the earmarks of the metal element. Metal people approach life with persistence, emotional strength, and unyielding determination. A metal person knows their goals and will not stop until those goals are met. Self –reliant, sometimes to a fault, metal people can be viewed as aloof and unconcerned with others.
The ENFP is one of the 16 MBTI types. ENFP stands for extravert (E), intuitive (N), feeling (F), perceiving (P). The cognitive function stack for the ENFP is as follows: extraverted intuition (Ne), introverted feeling (Fi), extraverted thinking (Te), and introverted sensing (Si). ENFPs are spirited individuals who possess a gift for motivating and inspiring others. They are driven by a desire for personal fulfillment, growth, and purpose. They are personable and friendly and interested in understanding the dynamics between them and others.

ENFPs are also highly creative and likely to have a number of artistic outlets for their self-expression. They have strong personal values and are always evaluating the world according to those values. ENFPs are compassionate idealists who exhibit a lot of warmth and congeniality. They are free spirits who will champion the principles and people they care about. Although social and involved with other people, ENFPs never become so attached that they lose sight of their individualism and sense of self. They have strong emotions and they rely on their feelings to guide them. They want to be true and authentic in their expression and also to pursue what truly makes them happy.