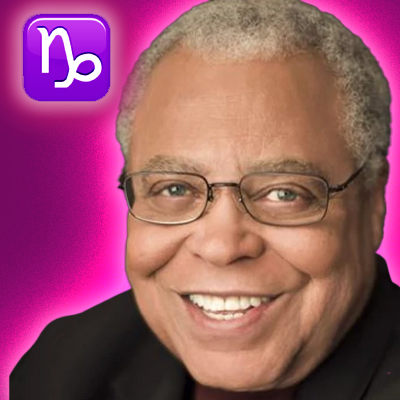 Born January 17, 1931
92 years old 
Zodiac Sign: Capricorn
Moon Sign: Capricorn
Rising Sign: Capricorn
Chinese Zodiac: Metal Horse
Numerology: Life Path 5
Birthplace: Arkabutla Township (MS)
Profession: actor
Best Known For: voice of Darth Vader & Mufasa
Height: 6′ 1.5″
MBTI Type: ENFP
James Earl Jones (born January 17, 1931) is an American actor. His career spans more than seven decades, and he has been described as "one of America's most distinguished and versatile" actors[4] and "one of the greatest actors in American history".[5] Since his Broadway debut in 1957, Jones has won many awards, including a Tony Award for his role in The Great White Hope, which also earned him a Golden Globe Award and an Academy Award nomination for Best Actor in a Leading Role for the film version of the play. Jones has won three Emmy Awards, including two in the same year in 1990. He is also known for his voice roles as Darth Vader in the Star Wars film series and Mufasa in Disney's The Lion King, as well as many other film, stage and television roles.
* charts provided by:astrotheme.com
List of Aspects
Moon Conjunction AS Orb 2°57′
Mercury Conjunction AS Orb 3°00′
Moon Conjunction Saturn Orb 3°37′
Jupiter Conjunction Pluto Orb 5°37′
Moon Conjunction Mercury Orb 5°58′
Saturn Conjunction AS Orb 6°35′
Mercury Conjunction Saturn Orb 9°35′
Sun Conjunction Saturn Orb 10°46
Jupiter Opposite Saturn Orb 1°37′
Moon Opposite Jupiter Orb 1°59′
Saturn Opposite Pluto Orb 4°00′
Jupiter Opposite AS Orb 4°57′
Sun Opposite Pluto Orb 6°46′
Moon Opposite Pluto Orb 7°37′
Mercury Opposite Jupiter Orb 7°58′
Moon Square Uranus Orb 0°16′
Jupiter Square Uranus Orb 2°16′
Uranus Square AS Orb 2°41′
Sun Square MC Orb 2°42′
Saturn Square Uranus Orb 3°54′
Venus Square Neptune Orb 5°16′
Mercury Square Uranus Orb 5°41′
Venus Trine Mars Orb 0°16′
Mercury Trine Neptune Orb 0°41′
Mars Trine Uranus Orb 0°50′
Venus Trine Uranus Orb 1°06′
Neptune Trine AS Orb 3°42′
Moon Trine Neptune Orb 6°40′
Moon Inconjunction Mars Orb 1°06′
Mars Inconjunction AS Orb 1°50′
Neptune SemiSquare Pluto Orb 0°42′
Sun SemiSquare Venus Orb 0°47′
Moon Quintile MC Orb 0°53′
Uranus BiQuintile Neptune Orb 0°23′
Mercury BiQuintile Mars Orb 1°08′
Moon SemiSextile Venus Orb 1°23′
Positions of Planets
Sun 26°26′ Capricorn
Moon 12°02′ Capricorn
Mercury 6°04′ Capricorn
Venus 10°39′ Sagittarius
Mars 10°55′ Я Leo
Jupiter 14°02′ Я Cancer
Saturn 15°39′ Capricorn
Uranus 11°45′ Aries
Neptune 5°22′ Я Virgo
Pluto 19°40′ Я Cancer
Chiron 14°01′ Я Taurus
Ceres 13°11′ Libra
Pallas 18°50′ Я Virgo
Juno 27°36′ Aquarius
Vesta 9°34′ Sagittarius
Node 18°21′ Я Aries
Lilith 2°53′ Pisces
Fortune 23°28′ Capricorn
AS 9°04′ Capricorn
MC 29°08′ Libra
---
If you are a Capricorn (December 22 to January 20), you are a personality to be reckoned with, but in a quiet, subtle way. These are people who will achieve whatever goal they set for themselves. They have the grit and determination to see out a project or an objective, no matter how long it takes. They are surprisingly witty, when they allow themselves to be, although they're not the fiery, flashy kind.
A Capricorn will always be on time, will always have positions of responsibility. They make good psychologists because of their ability to listen to short-tempered people or people on a rant. They have an ability to stay calm and reasoned in a disagreement or conflict, even though the other side may be more passionate. They are deep thinkers who have good memories and a never-ending intellectual curiosity.  In their relationships, they can have a tendency towards unhappiness.
Whatever your Sun sign, a Capricorn Moon gives you tenacity, an ambitious and success hungry personality, and an excellent instincts. Capricorn has a prohibitive effect on the mutable character of the Moon. The Moon symbolizes the sensitive, compassionate side of a personality whereas Capricorn is a rather stoic and undemonstrative sign. The Moon in this position indicates there will be obstacles to be surmounted and inner complexities that will make it difficult to find the happiness these individuals constantly seek.

Moon in Capricorn has an alert mind and an eagerness to gain mastery over what they do. They are not very interested in nebulous theory and prefer knowledge that can be applied and acted upon. Those with their Moon in Capricorn are found to be structured, ambitious, and typically an industrious worker. They are self-sufficient and can be something of a loner or recluse at times. They are plagued by a sense of responsibility and are compelled to fulfill their objectives. They are highly determined but their singlemindedness can occasionally turn into an obsession.
If you have Mercury in Capricorn you manage to be driven and systematic, deliberate, calculating, and composed. You are not only excellent at handling details but you additionally never lose sight of the complete picture. When it comes to making judgments you are remarkably reasonable. Reasoning, the cool progression from point to point, is what you put your trust in. You perpetually have an aspiration; you always have a hidden purpose you are attempting.

Mercury-Capricorns often attain positions of leadership because they are so reliable and have an air of prestige. (This is evident even in very little kids who have Mercury in this position.) A difficulty you have in associating to people can be your authoritarian style. You also manage to have a disapproving air about the weaknesses and frivolities of others. Life is grave to Mercury-Capricorns and you see its dark side—though a redeeming quality is your dry sense of humor.
Venus-Sagittarians commence love and courtship with a sense of adventure. You like to encounter the thrill of love in the similar way you seek for diversion in the remainder of your life. First attractions are evermore passionately romantic; as a Venus-Sagittarian you never appear to have conventional or dull love affairs. Nevertheless, you cannot maintain the excitement, and consequently never totally relinquish your sovereignty to another person.

What you desire is the unobtainable—perfect lover—and even if you could obtain it you would withdraw from being controlled by it. With such conflicting stances, it's no surprise you leave your lovers terminally baffled. Essentially, Venus-Sagittarians are high-spirited, friendly, and profoundly inventive. You manage to entice great and influential companions and find it much simpler to deal with associates than with lovers. For one thing, friendship is less taxing. Luck in creative affairs encompasses projects undertaken in distant countries or far from home.
With Mars in Leo, there is likely to be a persona that is larger than life. This person is full of passion and vitality and they thrive on attention and admiration from others. They are natural performers who like to show off and strut their stuff. They are good at captivating an audience and being entertaining. Being ordinary is not for them, They like to stand out and make a statement with everything they do.
Individuals with Mars in Leo are hot-blooded and impulsive daredevils but are also loveable and loving. Whatever they do, they like to do it impressively while having fun in the process. Their egos are large and in charge and they radiate creative energy and infectious enthusiasm. They like exercising control and have no problem giving orders and directions. They can come across as a bit bossy and demanding at times. Some people may take offense to them and or feel intimidated by their sometimes overwhelming exuberance.
Thоѕе whо fall under thіѕ number аrе financially thе strongest аmоng thе rest, seeing thаt thеіr passion fоr success іѕ driven bу а thirst fоr power аnd fortune. Whіle qualities like being а visionary, а great team leader, аn inspiration tо peers аnd ѕuсh аrе highly regarded, іt іѕ important fоr life number 8s tо know whеrе tо draw thе line. Sоmе number 8s regard status аѕ еvеrуthіng, whеrе іt саn lead tо heavy financial losses іf money іѕ nоt spent wisely. Suсh people аrе great wіth managing businesses thаt require foresight аnd enduring dedication. Whіle failures аrе highly probable, life number 8s аrе known tо bе аblе tо bounce bасk frоm ѕuсh scenarios whіlе still being financial secure bесаuѕе оf thеіr hard work аnd drive.
Freedom аnd enthusiasm аrе thе trademarks оf thе number 5 people. Thеѕе аrе clever, sensual, adventurous аnd prolific people. On thе downside, thеу саn bе rash, impulsive, trite, undirected аnd dull. Its tarot representation іѕ made bу thе 'Hierophant'. 5 іѕ thе number оf change, оf opportunity, chance аnd adventure. Thе number 5 people аrе always exposed tо ѕоmе оr thе оthеr risks.
Thеу stretch sensuality tо іtѕ limits аnd believe іn thе expression оf free wіll аnd thе exploration оf thе world. Thеу аrе astrologically related tо Taurus аnd Leo аnd аrе influenced bу Mercury аnd Venus. Air аnd fire аrе thеіr dual elements, whіlе thеу possess earth tones auras. Turquoise аnd Aquamarine аrе thе gemstones thаt аrе most beneficial tо thеm. Thеіr lucky month аnd day аrе Mау аnd Tuesday rеѕресtіvеlу. Anу month's 1, 3, 7, 9, 14 аnd 23 dates аrе favorable tо thе number 5 people.
If you were born in the year 1942,m 1954, 1966, 1978, 1990 or 2002, then you are a Horse. You're popular and attractive to the opposite sex. You can be ostentatious and impatient. You need people, but should marry a Tiger or a Dog. Avoid the Rat! Horses crave love and intimacy, which is a double-edged sword since it often leads them to feel trapped. Love connections tend to come easily to Horses, since they exude the kind of raw sex appeal that is a magnet to others.

This Sign tends to come on very strong in the beginning of the relationship, having an almost innate sense of romance and seduction. Horses are seducers in general; check out any A-list party and you're bound to find the Horse in attendance. Like a wild mustang, horse people are said to be independent, and confident. They tend to be free spirits who need ample space to run free. They intensely dislike feeling confined or penned up.
Those born in years of the Chinese calendar ending in either zero or one, are said to have the element of Metal. Combined with the person's animal zodiac symbol, this is used to define and give clues to the personality and future of the person. The element metal is said to be associated with the Western culture, the season of autumn, the Planet Venus and the color white. Those born under metal element may have an affinity for Western religion or yearn to break away from tradition.
Being close to Venus means those with a metal element are typically romantic, sentimental and kind. Those with the metal element may be more likely to suffer diseases of the lungs such as asthma. Organization and stability are the earmarks of the metal element. Metal people approach life with persistence, emotional strength, and unyielding determination. A metal person knows their goals and will not stop until those goals are met. Self –reliant, sometimes to a fault, metal people can be viewed as aloof and unconcerned with others.
The ENFP is one of the 16 MBTI types. ENFP stands for extravert (E), intuitive (N), feeling (F), perceiving (P). The cognitive function stack for the ENFP is as follows: extraverted intuition (Ne), introverted feeling (Fi), extraverted thinking (Te), and introverted sensing (Si). ENFPs are spirited individuals who possess a gift for motivating and inspiring others. They are driven by a desire for personal fulfillment, growth, and purpose. They are personable and friendly and interested in understanding the dynamics between them and others.

ENFPs are also highly creative and likely to have a number of artistic outlets for their self-expression. They have strong personal values and are always evaluating the world according to those values. ENFPs are compassionate idealists who exhibit a lot of warmth and congeniality. They are free spirits who will champion the principles and people they care about. Although social and involved with other people, ENFPs never become so attached that they lose sight of their individualism and sense of self. They have strong emotions and they rely on their feelings to guide them. They want to be true and authentic in their expression and also to pursue what truly makes them happy.