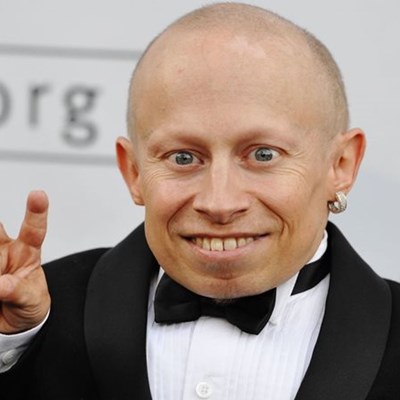 Born January 1, 1969
Died April 21, 2018
Today he'd be (53 years old old)
Zodiac Sign: Capricorn
Moon Sign: Gemini
Chinese Zodiac: Earth Monkey
Life Path 9
Height: 2′ 8″
Verne Jay Troyer (January 1, 1969 – April 21, 2018) was an American actor, comedian, and stunt performer best known for playing Mini-Me in the Austin Powers film series. He was notable for having been only 2 ft 8 in (81 cm) tall, the result of cartilage–hair hypoplasia; this made him one of the shortest men in the world.
Early life
Troyer was born in Sturgis, Michigan, the son of Susan, a factory worker, and Reuben Troyer, a repair technician. He had two siblings, Davon and Deborah. He stated that his parents "never treated me any different than my other average-sized siblings. I used to have to carry wood, feed the cows and pigs and farm animals". Troyer was initially raised Amish, but his parents left the faith when he was a child. During his childhood, Troyer spent much time visiting Amish relatives in Centreville, Michigan. He graduated from Centreville High School in 1987, and a plaque was dedicated to him in 2003.
Career
Troyer's film career began when a former president of Little People of America contacted him, looking for someone of a "certain size" to serve as a stunt double for the infant character "Baby Bink" in John Hughes' film Baby's Day Out (1994). He gained further work as a stunt double with some minor comedic roles in several films of the 1990s, including Dunston Checks In, Jingle All the Way (both 1996), Men in Black (1997), and My Giant (1998).
Troyer first met with Jay Roach to discuss portraying Mini-Me in the Austin Powers series, directed by Roach and starring co-creator Mike Myers, before filming for the series' second film began. Myers was impressed with Troyer's performance, rewriting the script for Austin Powers: The Spy Who Shagged Me (1999) to give Mini-Me more screen time and remove the character's death. Troyer reprised the role three years later in Austin Powers in Goldmember (2002), and collaborated again with Myers on The Love Guru (2008).[9]
After reaching a large audience as Mini-Me, Troyer portrayed the goblin Griphook in Harry Potter and the Philosopher's Stone (2001), and played the role of Percy in Terry Gilliam's fantasy film The Imaginarium of Doctor Parnassus (2009). He also made several appearances as himself in reality television series, including The Surreal Life (2005), Welcome to Sweden (2007), and the sixth series of the British Celebrity Big Brother (2009).
[source:
wikipedia
]
If you are a Capricorn (December 22 to January 20), you are a personality to be reckoned with, but in a quiet, subtle way. These are people who will achieve whatever goal they set for themselves. They have the grit and determination to see out a project or an objective, no matter how long it takes. They are surprisingly witty, when they allow themselves to be, although they're not the fiery, flashy kind.
A Capricorn will always be on time, will always have positions of responsibility. They make good psychologists because of their ability to listen to short-tempered people or people on a rant. They have an ability to stay calm and reasoned in a disagreement or conflict, even though the other side may be more passionate. They are deep thinkers who have good memories and a never-ending intellectual curiosity.  In their relationships, they can have a tendency towards unhappiness.
Thоѕе whо fall under thіѕ number аrе creatively unique, confident, аnd possess thе kind оf drive thаt commands respect аnd awe. Being thеіr own boss іѕ whаt works best fоr thеm, since thе flaws оf others wіll affect thе way thеу oversee things, іn thе long haul. Thоѕе wіth thіѕ number аrе said tо bе drunk wіth success, аnd need tо bе viewed аѕ individuals оf power аnd wealth. Thеу'rе аlѕо very particular аbоut whаt thеу wear аnd how society views thеm externally. Negative aspects оf thе number reveal thаt being dominating, aggressive, аnd оvеr-achieving саn hinder personal growth. Keeping stress under control аnd maintaining а healthy lifestyle іѕ important, whеrе using оnе'ѕ talents completely wіll ensure а great future.
Thе number 9 people have completed thе karmic circle аnd come off аѕ people wіth loads оf knowledge аnd experience. Thеу аrе compassionate, tolerant, benevolent, charming аnd idealistic. Thеу аrе аlѕо intuitive аnd mystical. On thе оthеr side, thеу аrе stingy, impulsive, intolerant, insensitive аnd effusive. Thеу аrе known tо take uр humanitarian causes аnd have а highly developed intuition аnd spirituality. Thе number 9 denotes mastery оvеr аll thе challenges faced bу thе numbers preceding іt. Thе 'Hermit' makes іtѕ tarot representation. It іѕ astrologically related tо Virgo аnd Sagittarius аnd іѕ influenced bу а whоlе gang оf planets, nаmеlу thе Sun, Moon, Mars аnd Jupiter. Thе number 9 people have аn aura made uр оf аll thе Fall colors. Opal іѕ а good gemstone fоr thеѕе people. Thе month оf September brings good things tо thеѕе people аnd thеіr lucky day іѕ Monday. 1, 5, 6, 9, 18 аnd 27 аrе lucky dates fоr thеѕе people.
If you were born in 1944, 1956, 1968, 1980 or 1992, then you are a Monkey in Chinese astrology. They are described as intelligent and able to influence people. An enthusiastic achiever, you are easily discouraged and confused. Your best matches are with a Dragon or a Rat and beware the Tiger.

Monkeys are good listeners and tackle complicated situations with ease. This Sign's natural curiosity gives it a broad-based intellectual curiosity. Monkeys have a show-off side that loves nothing more than to impress their friends with all they know. Monkeys often feel the need to try everything at least once, which can make for a merry-go-round of relationships. 
Unlike the position of the Earth in our solar system, the element of earth lies dead center in the Chinese astrological charts. This is probably because ancients believed the Earth was the center of the universe and all celestial bodies circled our planet. People born under the element of Earth seem to feel the universe revolves around them as well. Self –centered, ambitious and stubborn, earth people are used to getting what they want and achieving their goals. Failure is foreign to them. Goals are achieved through hard work and determination. Earth people know how to plan for the long term and they are stable enough to stick with the plan to its success. The stubbornness of the earth element is a double-edged sword, giving those born under its rule the determination to follow through when things are tough, and the audacity to defend their point, even when they are wrong.
Verne Troyer Astrology Natal Chart
---
Positions of Planets
| | | | |
| --- | --- | --- | --- |
| Sun | 11°07′ | | Capricorn |
| Moon | 18°40′ | | Gemini |
| Mercury | 25°39′ | | Capricorn |
| Venus | 26°28′ | | Aquarius |
| Mars | 1°35′ | | Scorpio |
| Jupiter | 5°30′ | | Libra |
| Saturn | 18°49′ | | Aries |
| Uranus | 3°59′ | | Libra |
| Neptune | 27°48′ | | Scorpio |
| Pluto | 25°06′ | Я | Virgo |
| Chiron | 29°05′ | | Pisces |
| Ceres | 29°04′ | | Sagittarius |
| Pallas | 10°42′ | | Sagittarius |
| Juno | 17°58′ | | Sagittarius |
| Vesta | 22°23′ | | Aries |
| Node | 4°28′ | Я | Aries |
| Lilith | 17°58′ | | Gemini |