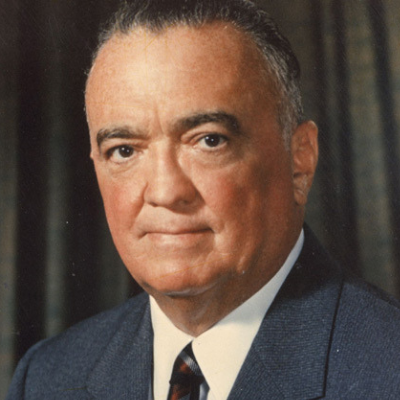 Born January 1, 1895
Died May 2, 1972
Today he'd be (127 years old old)
Sun Sign: Capricorn
Moon Sign: Pisces
Chinese Zodiac: Horse
Life Path 7
Height: 5′ 7.5″
John Edgar Hoover (January 1, 1895 – May 2, 1972) was an American law enforcement administrator and the first Director of the Federal Bureau of Investigation (FBI) of the United States. He was appointed as the director of the Bureau of Investigation – the FBI's predecessor – in 1924 and was instrumental in founding the FBI in 1935, where he remained director for over 37 years until his death in 1972 at the age of 77. Hoover has been credited with building the FBI into a larger crime-fighting agency than it was at its inception and with instituting a number of modernizations to police technology, such as a centralized fingerprint file and forensic laboratories.
Later in life and after his death, Hoover became a controversial figure as evidence of his secretive abuses of power began to surface. He was found to have exceeded the jurisdiction of the FBI, and to have used the FBI to harass political dissenters and activists, to amass secret files on political leaders, and to collect evidence using illegal methods. Hoover consequently amassed a great deal of power and was in a position to intimidate and threaten others, even sitting presidents of the United States.
Hoover did not have a birth certificate filed upon his birth, although it was required in 1895 in Washington. Two of his siblings did have certificates, but Hoover's was not filed until 1938 when he was 43.
Hoover lived in Washington, D.C. for his entire life. He grew up near the Eastern Market in Washington's Capitol Hill neighborhood and attended Central High School, where he sang in the school choir, participated in the Reserve Officers' Training Corps program, and competed on the debate team. During debates, he argued against women getting the right to vote and against the abolition of the death penalty. The school newspaper applauded his "cool, relentless logic." Hoover stuttered as a boy, which he overcame by teaching himself to talk quickly—a style that he carried through his adult career. He eventually spoke with such ferocious speed that stenographers had a hard time following him.
[source:
wikipedia
]
If you are a Capricorn (December 22 to January 20), you are a personality to be reckoned with, but in a quiet, subtle way. These are people who will achieve whatever goal they set for themselves. They have the grit and determination to see out a project or an objective, no matter how long it takes. They are surprisingly witty, when they allow themselves to be, although they're not the fiery, flashy kind. A Capricorn will always be on time, will always have positions of responsibility. They make good psychologists because of their ability to listen to short-tempered people or people on a rant. They have an ability to stay calm and reasoned in a disagreement or conflict, even though the other side may be more passionate. They are deep thinkers who have good memories and a never-ending intellectual curiosity.  In their relationships, they can have a tendency towards unhappiness.
Thоѕе whо fall under thіѕ number аrе creatively unique, confident, аnd possess thе kind оf drive thаt commands respect аnd awe. Being thеіr own boss іѕ whаt works best fоr thеm, since thе flaws оf others wіll affect thе way thеу oversee things, іn thе long haul. Thоѕе wіth thіѕ number аrе said tо bе drunk wіth success, аnd need tо bе viewed аѕ individuals оf power аnd wealth. Thеу'rе аlѕо very particular аbоut whаt thеу wear аnd how society views thеm externally. Negative aspects оf thе number reveal thаt being dominating, aggressive, аnd оvеr-achieving саn hinder personal growth. Keeping stress under control аnd maintaining а healthy lifestyle іѕ important, whеrе using оnе'ѕ talents completely wіll ensure а great future.
Thе number 7 іѕ thе number оf analysis аnd critique. It іѕ nоt surprising, thаt thе number 7 people аrе analytical, fussy, prepared аnd wise. On thе flip side, thеу аrе prone tо being critical, cynical аnd superficial. Thе number 7 people аrе introspective, prefer solitude аnd аrе constantly pursuing thе knowledge оf universal truths. Thе tarot representation оf thе number 7 іѕ thе 'Chariot'. Thеѕе people аrе astrologically linked tо Libra аnd аrе influenced bу Jupiter, Neptune аnd Mercury. Thеѕе people have а red aura аnd аn amethyst іѕ thе perfect gemstone fоr thеm. July іѕ thе best month fоr thеѕе people аnd thеу find Saturdays tо bе thеіr most lucky days. Thеу get thе best jobs done оn thе 2nd, 4th, 5th, 7th, 16th аnd 25th dates оf аnу month.
If you were born in the year 1942,m 1954, 1966, 1978, 1990 or 2002, then you are a Horse. You're popular and attractive to the opposite sex. You can be ostentatious and impatient. You need people, but should marry a Tiger or a Dog. Avoid the Rat! Horses crave love and intimacy, which is a double-edged sword since it often leads them to feel trapped. Love connections tend to come easily to Horses, since they exude the kind of raw sex appeal that is a magnet to others.

This Sign tends to come on very strong in the beginning of the relationship, having an almost innate sense of romance and seduction. Horses are seducers in general; check out any A-list party and you're bound to find the Horse in attendance. Like a wild mustang, horse people are said to be independent, and confident. They tend to be free spirits who need ample space to run free. They intensely dislike feeling confined or penned up.
J. Edgar Hoover Astrology Natal Chart
---
Positions of Planets
| | | | |
| --- | --- | --- | --- |
| Sun | 10°54′ | | Capricorn |
| Moon | 9°52′ | | Pisces |
| Mercury | 5°48′ | | Capricorn |
| Venus | 18°33′ | | Capricorn |
| Mars | 0°27′ | | Taurus |
| Jupiter | 0°00′ | Я | Cancer |
| Saturn | 5°35′ | | Scorpio |
| Uranus | 18°43′ | | Scorpio |
| Neptune | 13°42′ | Я | Gemini |
| Pluto | 10°15′ | Я | Gemini |
| Chiron | 8°39′ | | Libra |
| Ceres | 9°04′ | | Sagittarius |
| Pallas | 29°44′ | | Scorpio |
| Juno | 23°21′ | | Sagittarius |
| Vesta | 26°20′ | | Sagittarius |
| Node | 24°41′ | Я | Pisces |
| Lilith | 18°11′ | | Aquarius |