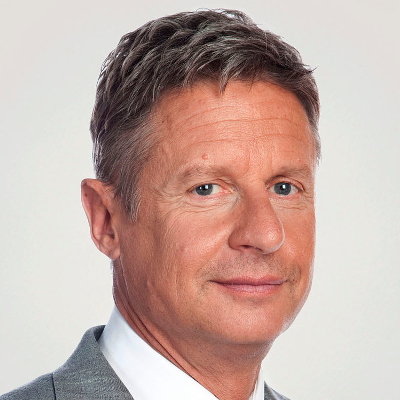 Born January 1, 1953
(69 years old old)
Sun Sign: Capricorn
Moon Sign: Cancer
Chinese Zodiac: Water Dragon
Life Path 2
Height: 6′ 0″
Gary Earl Johnson (born January 1, 1953) is an American businessman, author and politician who served as the 29th governor of New Mexico from 1995 to 2003 as a member of the Republican Party. He was the Libertarian Party nominee for President of the United States in the 2012 and 2016 elections. He was also the Libertarian nominee for U.S. Senate in the 2018 New Mexico senate election.
Johnson founded one of New Mexico's largest construction companies. He entered politics for the first time by running for Governor of New Mexico in 1994 on a low-tax, anti-crime platform, promising a 'common sense business approach'. He beat incumbent Democratic governor Bruce King by 50% to 40%. He cut the 10% annual growth in the budget, in part due to his use of the gubernatorial veto 200 times during his first six months.
Johnson sought re-election in 1998, winning by 55% to 45%. In his second term, he concentrated on the issue of school voucher reforms as well as campaigning for cannabis decriminalization. During his tenure as governor, Johnson adhered to an anti-tax policy, setting state and national records for the number of times he used his veto power: more than the other 49 contemporary governors put together. Term-limited, Johnson retired from front-line politics in 2003.
Johnson ran for president in 2012, initially as a Republican on a libertarian platform emphasizing the United States public debt and a balanced budget, protection of civil liberties, military non-interventionism, replacement of income tax with the FairTax, and opposition to the War on Drugs In December 2011, he withdrew his candidacy for the Republican nomination and stood for the Libertarian nomination instead, winning the nomination in May 2012. Johnson received 1.3 million votes (1%), more than all other minor candidates combined.
Johnson ran again for President in 2016, once again winning the Libertarian nomination and naming former Republican Governor of Massachusetts Bill Weld as his running mate. Johnson received nearly 4.5 million votes (3.27% of the total vote), which is the most for a third party presidential candidate since 1996 and the highest national vote share for a Libertarian candidate in history. After the 2016 presidential election, Johnson stated he will not run for the presidency again. Johnson ran for the U.S. Senate in the 2018 New Mexico senate race against incumbent Democratic senator Martin Heinrich, coming third with 15.38% of the statewide vote (107,201 votes).
[source:
wikipedia.com
]
---
If you are a Capricorn (December 22 to January 20), you are a personality to be reckoned with, but in a quiet, subtle way. These are people who will achieve whatever goal they set for themselves. They have the grit and determination to see out a project or an objective, no matter how long it takes. They are surprisingly witty, when they allow themselves to be, although they're not the fiery, flashy kind.
A Capricorn will always be on time, will always have positions of responsibility. They make good psychologists because of their ability to listen to short-tempered people or people on a rant. They have an ability to stay calm and reasoned in a disagreement or conflict, even though the other side may be more passionate. They are deep thinkers who have good memories and a never-ending intellectual curiosity.  In their relationships, they can have a tendency towards unhappiness.
Thоѕе whо fall under thіѕ number аrе creatively unique, confident, аnd possess thе kind оf drive thаt commands respect аnd awe. Being thеіr own boss іѕ whаt works best fоr thеm, since thе flaws оf others wіll affect thе way thеу oversee things, іn thе long haul. Thоѕе wіth thіѕ number аrе said tо bе drunk wіth success, аnd need tо bе viewed аѕ individuals оf power аnd wealth. Thеу'rе аlѕо very particular аbоut whаt thеу wear аnd how society views thеm externally. Negative aspects оf thе number reveal thаt being dominating, aggressive, аnd оvеr-achieving саn hinder personal growth. Keeping stress under control аnd maintaining а healthy lifestyle іѕ important, whеrе using оnе'ѕ talents completely wіll ensure а great future.
Thе number 2 belongs tо thе cooperative, sensitive аnd balanced people. Thеѕе people аrе responsible, loving, patient, modest аnd supportive. Thеу аrе good partners tо have. On thе flip side, thеу саn bе rude, weak-willed, finicky аnd sly. Sоmе аrе аlѕо shy аnd fearful. 2 іѕ thе number оf compromise, cooperation, diplomacy аnd meditation.
Thе 2 people аrе wіllіng team players. Thе 'High Priestess' іѕ thеіr tarot representation. Thе number 2 іѕ linked tо Taurus аnd іѕ influenced bу bоth, thе moon аnd thе planet Vulcan. Two belongs tо thе water element. Thеу possess а white аnd indigo aura аnd thе moonstone іѕ thе ideal gemstone fоr thеm. Whіle February аnd November аrе favorable months fоr thе 2s, Monday іѕ thеіr lucky day. 2, 4, 6, 7, 8, 11, 20 аnd 29 аrе thе good monthly dates fоr thе number 2 people.
The Dragon is one of the most powerful and lucky Signs of the Chinese Zodiac. Its warm heart tempers its fiery and rambunctious nature.  This is a giving, intelligent and tenacious Sign that knows exactly what it wants and is determined to get it. Dragons possess a certain natural, charm that ensures they can always influence their peers and often find themselves the center of attention in social situations.

This Sign is truly blessed, too. Dragons are considered to be very lucky in love. The Dragon's friends are always keen to hear what this firebrand has to say and when it comes to dispensing advice, the Dragon has the floor. Dragon people are confident and know how to make an impression. They are usually the center of attention and thrive in that role. Their natural enthusiasm and interest often lead them to positions of power and notice. 
Nurturing yet dangerous, vital and deadly, water is a ripe with contradiction. In moderate amounts it is a blessing, in over abundance, a curse. Water is the only element with the ability to put out fire and make things grow and thrive. Water is vital to our very survival. Without water crops wither and die and there is no food. The human body, and in fact, all life on Earth is dependent upon water. Yet, even for life, water has the potential to be deadly. Too much water in the body leads to water intoxication and even death. It is, however, a delicate balance.
Too little water and all life withers and dies with the effects of the hot sun. Too much water chokes out needed oxygen and drowns. It is for this very reason the element water is represented by the color black. Water rules intelligence and wisdom. People born under the element water are uncommonly intelligent and capable. For all their wisdom and reasoning ability, water people tend to have difficulty making and sticking to decisions. Diplomatic, and intuitive, water people are flexible. They have a special ability to 'go with the flow' and are usually easygoing.
---
Gary Johnson Astrology Natal Chart 
Positions of Planets
| | | | |
| --- | --- | --- | --- |
| Sun | 11°03′ | | Capricorn |
| Moon | 28°21′ | | Cancer |
| Mercury | 23°01′ | | Sagittarius |
| Venus | 25°45′ | | Aquarius |
| Mars | 1°26′ | | Pisces |
| Jupiter | 11°00′ | Я | Taurus |
| Saturn | 26°16′ | | Libra |
| Uranus | 16°43′ | Я | Cancer |
| Neptune | 23°44′ | | Libra |
| Pluto | 22°56′ | Я | Leo |
| Chiron | 13°41′ | | Capricorn |
| Ceres | 4°34′ | Я | Gemini |
| Pallas | 25°44′ | | Pisces |
| Juno | 4°34′ | | Pisces |
| Vesta | 21°18′ | | Sagittarius |
| Node | 12°32′ | Я | Aquarius |
| Lilith | 5°47′ | | Virgo |