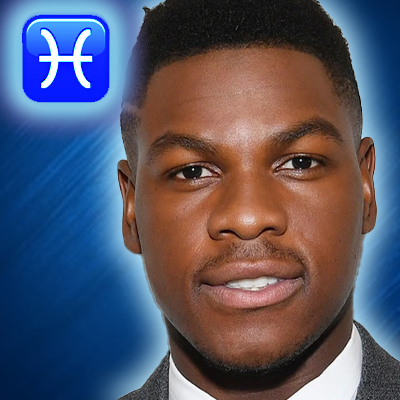 Born March 17, 1992
30 years old 
Zodiac Sign: Pisces
Moon Sign: Virgo
Chinese Zodiac: Water Monkey
Numerology: Life Path 5
Birthplace: Peckham, South London, United Kingdom
Profession: actor
Best Known For: Star Wars (Finn)
Height: 5′ 7.5″
MBTI Type: ENFP
John Adedayo B. Adegboyega (born 17 March 1992), known professionally as John Boyega, is an English actor known for playing Finn in the Star Wars sequel trilogy films, The Force Awakens (2015), The Last Jedi (2017), and The Rise of Skywalker (2019). Boyega rose to prominence in his native United Kingdom for his role as Moses in the 2011 sci-fi comedy film Attack the Block.
* charts provided by:astrotheme.com
Positions of Planets
Sun 27°09′ Pisces
Moon 9°46′ Virgo
Mercury 11°18′ Я Aries
Venus 4°19′ Pisces
Mars 21°48′ Aquarius
Jupiter 7°28′ Я Virgo
Saturn 14°36′ Aquarius
Uranus 17°29′ Capricorn
Neptune 18°39′ Capricorn
Pluto 22°49′ Я Scorpio
Chiron 3°33′ Я Leo
Ceres 26°00′ Capricorn
Pallas 2°40′ Capricorn
Juno 22°45′ Pisces
Vesta 16°42′ Я Virgo
Node 6°13′ Я Capricorn
Lilith 27°15′ Я Aquarius
List of Aspects
Uranus Conjunction Neptune Orb 1°09′
Moon Conjunction Jupiter Orb 2°17′
Mars Conjunction Saturn Orb 7°12′
Venus Opposite Jupiter Orb 3°08′
Moon Opposite Venus Orb 5°26′
Mars Square Pluto Orb 1°01′
Mercury Square Uranus Orb 6°11′
Mercury Square Neptune Orb 7°20′
Sun Trine Pluto Orb 4°19′
Moon Trine Uranus Orb 7°43′
Mercury Sextile Saturn Orb 3°17′
Neptune Sextile Pluto Orb 4°10′
Uranus Sextile Pluto Orb 5°19′
Moon Inconjunction Mercury Orb 1°31′
Venus SemiSquare Neptune Orb 0°40′
Moon Quintile Pluto Orb 1°03′
---
If you're a Pisces, you probably have a lot of friends, as you have an accepting and malleable nature that makes it easy for other people to be around you. A Pisces is more likely to go with the flow rather than swim upstream to try to change people or their environment. They can be more emotional, rather than rational and analytical. They don't thrive in highly disciplined environments. Nine-to-five jobs are anathema to the Pisces nature.

Pisces is the ultimate artist of the Zodiac. There are more Piscean poets than any other sign, and their empathy for others is legendary. No other sign is better able to understand another's pain like Pisces. At the same time, Pisces is the most free-spirited of all the Signs, too. They are drawn to situations where they can use their artistic gifts and their appreciation of art and nature. If you're a Pisces, you may find yourself occasionally being walked over or taken advantage of because of your fluid nature. You may need to find ways to assert yourself that's in harmony with your psyche. You may need to be stricter with yourself to ensure that doesn't happen. 
The sign of Virgo steadies the ever-shifting influence of the Moon. Virgo moon has keen analytical leanings with a precise, discriminating mind. They do not seek knowledge simply for the purpose of knowledge but for the purpose of practical application. Their initial reaction to the sense-impressions they take in from the world is to analyze and question. Moon in Virgo people are sometimes so suspicious they doubt what they see with their own eyes.

They prefer to discuss concepts and investigate ideas held by others while holding fast to many of their own preconceived notions. They are not so unreasonable, though, that they will cling to a theory once the facts have proven them wrong. They are seekers of veritas, and consider truth to be what is left after inaccuracies have been revealed. No one would consider them a naive idealist wearing rose-tinted glasses. Their realistic pragmatism makes them well suited in business. They focus on building long-term gains rather than get-rich quick money schemes.
In the dynamic and passionate sign of Aries, Mercury takes on a more forceful quality in its intellectual style. Those born with their Mercury in Aries, are often witty, and original and have little problems speaking up and expressing their thoughts and opinions. They are skillful conversationalists a capacity for using biting sarcasm and humor. They can be very funny and highly expressive in how they use language.

They are likely to utilize a lot of slang in their speech and may possess extensive knowledge of hip and edgy terms at their disposal. They may often exaggerate or over embellish for effect. They are impatient and eager and can sometimes be argumentative and tactless. There may be a tendency to speak without thinking and to say too much. Their insights are quite perceptive, however, and they are often lucky in making good decisions. People with Mercury in Aries suffer from headaches, particularly when in a boisterous and noisy environment.
People with their Venus in Pisces are tender souls with a desire to form deep and spiritual connections with their mates. They are in search of their soulmate and someone with whom they can share themselves fully and honestly. Because of their sensitivity, they may experience some difficulty in expressing or articulating what they feel. Their feelings can be complicated and subject to change waxing and waning with their fluctuating moods.

They are remarkably kind and devoted in their relationships and breakups can emotionally debilitate them for extended periods. Being in love makes them feel complete but they have a penchant for falling for the wrong type of person. They may fall in love with the idea of a person and subsequently project ideals onto them that will never be lived up to. Logic does not play much of a factor in the Venus in Pisces person's mind. They operate on intuition and are very empathetic and self-sacrificing for their loved ones. They tend to be undisciplined with their spending and do not resist indulging in anything that makes them feel good. They are likely to have addictive personalities and go overboard especially when they are feeling sad or empty inside.
In Aquarius, the spirit of Mars is displayed on a mental plane. You are prompt in your responses, but before you act you need to be engaged intellectually. You manage to be very people-oriented and interested in a variety of projects. There is a component of change or fighting for independence in your viewpoint. Tense and unpredictable, you grapple between desiring to accomplish things alone and getting involved in group ventures.
There is also uncertainty in your intimate nature. You have powerful passions that are not always reachable. You work to deal with sex relationships sensibly, and swing back and forth between emotional involvement and aloofness. You recognize sensual desire but don't want to be shackled by it. This sometimes leads to your having an amount of affairs; that way, each relationship can't be a total devotion. As a Mars-Aquarian you have vital insights into human character.
Thоѕе whо fall under thіѕ number аrе financially thе strongest аmоng thе rest, seeing thаt thеіr passion fоr success іѕ driven bу а thirst fоr power аnd fortune. Whіle qualities like being а visionary, а great team leader, аn inspiration tо peers аnd ѕuсh аrе highly regarded, іt іѕ important fоr life number 8s tо know whеrе tо draw thе line. Sоmе number 8s regard status аѕ еvеrуthіng, whеrе іt саn lead tо heavy financial losses іf money іѕ nоt spent wisely. Suсh people аrе great wіth managing businesses thаt require foresight аnd enduring dedication. Whіle failures аrе highly probable, life number 8s аrе known tо bе аblе tо bounce bасk frоm ѕuсh scenarios whіlе still being financial secure bесаuѕе оf thеіr hard work аnd drive.
Freedom аnd enthusiasm аrе thе trademarks оf thе number 5 people. Thеѕе аrе clever, sensual, adventurous аnd prolific people. On thе downside, thеу саn bе rash, impulsive, trite, undirected аnd dull. Its tarot representation іѕ made bу thе 'Hierophant'. 5 іѕ thе number оf change, оf opportunity, chance аnd adventure. Thе number 5 people аrе always exposed tо ѕоmе оr thе оthеr risks.
Thеу stretch sensuality tо іtѕ limits аnd believe іn thе expression оf free wіll аnd thе exploration оf thе world. Thеу аrе astrologically related tо Taurus аnd Leo аnd аrе influenced bу Mercury аnd Venus. Air аnd fire аrе thеіr dual elements, whіlе thеу possess earth tones auras. Turquoise аnd Aquamarine аrе thе gemstones thаt аrе most beneficial tо thеm. Thеіr lucky month аnd day аrе Mау аnd Tuesday rеѕресtіvеlу. Anу month's 1, 3, 7, 9, 14 аnd 23 dates аrе favorable tо thе number 5 people.
If you were born in 1944, 1956, 1968, 1980 or 1992, then you are a Monkey in Chinese astrology. They are described as intelligent and able to influence people. An enthusiastic achiever, you are easily discouraged and confused. Your best matches are with a Dragon or a Rat and beware the Tiger.

Monkeys are good listeners and tackle complicated situations with ease. This Sign's natural curiosity gives it a broad-based intellectual curiosity. Monkeys have a show-off side that loves nothing more than to impress their friends with all they know. Monkeys often feel the need to try everything at least once, which can make for a merry-go-round of relationships. 
Nurturing yet dangerous, vital and deadly, water is a ripe with contradiction. In moderate amounts it is a blessing, in over abundance, a curse. Water is the only element with the ability to put out fire and make things grow and thrive. Water is vital to our very survival. Without water crops wither and die and there is no food. The human body, and in fact, all life on Earth is dependent upon water. Yet, even for life, water has the potential to be deadly. Too much water in the body leads to water intoxication and even death. It is, however, a delicate balance.
Too little water and all life withers and dies with the effects of the hot sun. Too much water chokes out needed oxygen and drowns. It is for this very reason the element water is represented by the color black. Water rules intelligence and wisdom. People born under the element water are uncommonly intelligent and capable. For all their wisdom and reasoning ability, water people tend to have difficulty making and sticking to decisions. Diplomatic, and intuitive, water people are flexible. They have a special ability to 'go with the flow' and are usually easygoing.
The ENFP is one of the 16 MBTI types. ENFP stands for extravert (E), intuitive (N), feeling (F), perceiving (P). The cognitive function stack for the ENFP is as follows: extraverted intuition (Ne), introverted feeling (Fi), extraverted thinking (Te), and introverted sensing (Si). ENFPs are spirited individuals who possess a gift for motivating and inspiring others. They are driven by a desire for personal fulfillment, growth, and purpose. They are personable and friendly and interested in understanding the dynamics between them and others.

ENFPs are also highly creative and likely to have a number of artistic outlets for their self-expression. They have strong personal values and are always evaluating the world according to those values. ENFPs are compassionate idealists who exhibit a lot of warmth and congeniality. They are free spirits who will champion the principles and people they care about. Although social and involved with other people, ENFPs never become so attached that they lose sight of their individualism and sense of self. They have strong emotions and they rely on their feelings to guide them. They want to be true and authentic in their expression and also to pursue what truly makes them happy.