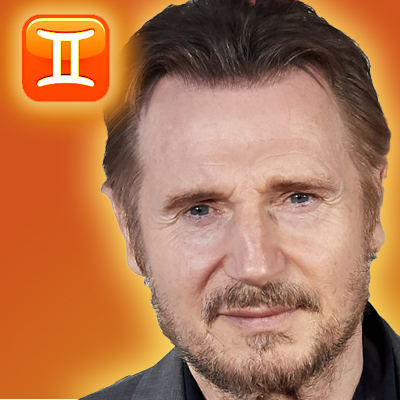 Born June 7, 1952
70 years old 
Zodiac Sign: Gemini
Moon Sign: Sagittarius
Rising Sign: Sagittarius
Chinese Zodiac: Water Dragon
Numerology: Life Path 3
Birthplace: Ballymena, Ireland
Profession: actor
Known For: Taken, Star Wars prequels, Batman Begins
Height: 6′ 4″
MBTI Type: INFJ
Liam John Neeson OBE (born 7 June 1952) is an Irish actor. He has been nominated for a number of awards, including an Academy Award for Best Actor, a BAFTA Award for Best Actor in a Leading Role, and three Golden Globe Awards for Best Actor in a Motion Picture Drama. Empire magazine ranked Neeson among both the "100 Sexiest Stars in Film History" and "The Top 100 Movie Stars of All Time".
List of Aspects
Sun Conjunction Mercury Orb 1°31′
Mercury Conjunction Venus Orb 3°08′
Sun Conjunction Venus Orb 4°39′
Moon Conjunction AS Orb 5°31′
Mars Conjunction MC Orb 5°39′
Neptune Conjunction MC Orb 6°28′
Moon Opposite Venus Orb 0°00′
Sun Opposite AS Orb 0°51′
Mercury Opposite AS Orb 2°23′
Moon Opposite Mercury Orb 3°08′
Sun Opposite Moon Orb 4°39′
Venus Opposite AS Orb 5°31′
Mars Opposite Jupiter Orb 7°57′
Saturn Square Uranus Orb 4°19′
Uranus Square Neptune Orb 6°32′
Pluto Trine AS Orb 1°32′
Sun Trine Neptune Orb 2°02′
Mercury Trine Neptune Orb 3°34′
Venus Trine Saturn Orb 4°09′
Venus Trine Neptune Orb 6°42′
Moon Trine Pluto Orb 7°03′
Mercury Trine Saturn Orb 7°17′
Sun Trine MC Orb 8°31′
Neptune Sextile Pluto Orb 0°21′
Neptune Sextile AS Orb 1°11′
Sun Sextile Pluto Orb 2°24′
Jupiter Sextile Uranus Orb 3°22′
Mercury Sextile Pluto Orb 3°55′
Moon Sextile Saturn Orb 4°09′
Moon Inconjunction Uranus Orb 0°10′
Jupiter Inconjunction Saturn Orb 0°57′
Mercury SesquiQuadrate Mars Orb 0°42′
Sun SesquiQuadrate Mars Orb 0°48′
Venus SesquiQuadrate MC Orb 1°48′
Mars Quintile Pluto Orb 0°13′
Venus SemiSextile Uranus Orb 0°10′
Positions of Planets
Sun 17°01′ Gemini
Moon 12°22′ Sagittarius
Mercury 15°30′ Gemini
Venus 12°21′ Gemini
Mars 1°12′ Я Scorpio
Jupiter 9°09′ Taurus
Saturn 8°12′ Я Libra
Uranus 12°32′ Cancer
Neptune 19°04′ Я Libra
Pluto 19°25′ Leo
Chiron 10°59′ Я Capricorn
Ceres 14°31′ Taurus
Pallas 3°12′ Aries
Juno 23°36′ Aquarius
Vesta 9°51′ Virgo
Node 23°51′ Я Aquarius
Lilith 21°28′ Я Cancer
Fortune 22°32′ Gemini
AS 17°53′ Sagittarius
MC 25°32′ Libra
---
The sign of Gemini (May 22 – June 21). Geminis can be contradictory, people with dualities to their nature that can perplex their friends, families and lovers. They love versatility and change, but can be flighty and mutable to create interest in their lives. They don't like routine. Decision-making can be difficult for them and they can often change their minds.

They have a strong intellect and love mental challenges. They catch on to new ideas quickly. They have an analytical side and can see both sides to an issue. Boredom is a big issue for Geminis and they can get into trouble looking for some excitement. But they're very creative and active and should have outlets for all this energy like artistic projects or exercise or vigorous sports like racquetball.
In the expansive and broad-minded sign of Sagittarius, the Moon takes on a special radiance and shine that is distinct from other moon signs. Sagittarius is the astrological sign of long journeys and higher education. Here, the Moon urges a more active mode of existence. If your Moon is in Sagittarius, you are recognized for your sharp, incisive mind, excellent insights, and ability to get things done in a jiffy.

Your clear-thinking mind examines sensory information swiftly and with alarming efficacy. You are the sort of individual who envisions large goals and then sets about accomplishing them undeterred by the scope of the task. You seldom heed advice about potential pitfalls and drawbacks, nor wait to see if a plan is unrealistic or untenable. With optimism and enthusiasm, you race in and normally succeed in what you set out to do. With a Moon in Sagittarius, there is a lofty vision, and an ability to see farther than people with the Moon in other signs.
If you've got Mercury in Gemini, it's difficult to pin you down. there is a quicksilver duality to your mind. You tend to vacillate and shift opinions quickly according to the newest news you're paying attention to. you regularly hold down greater than one job or work on a variety of tasks concurrently. Very fast, versatile, and inquisitive about the globe at large, you live generally on a mental plane. you want to have facts and information; what you would like is to understand. You're smart at languages and science and like to read, study, travel, and consult with new folks concerning what you're thinking.

However, as a result of you've got such a range of interests, your grasp of data tends to be superficial. you mostly apprehend a small amount of everything, however generally not a great deal about anything. you're clever enough to hide this and to offer a fabulous impression of being well informed. Another downside is your lack of stick-to-itiveness. now and then there's a definite lack of order in your life. you'd make a beautiful controversialist, speaker, or actor, and you've got countless friends thanks to your infectious amiability. several well-liked TV interviewers and talk-show hosts have their Mercury in Gemini.
If you have Venus in Gemini you must have an mental affinity with someone before your hearts start to blossom. Essentially, you have a cheerful disposition toward love. Deep, complex emotional engagements are like an anchor around your throat. You have such a broad range of interests—travel, literature, music, recognizing new areas (and meeting new people)—that a partner just can't be the only center of your life.

This confers a definite coolness to your sentiments. Your inconstancy seldom produces challenges in love or marriage, but you spring back promptly. Not even a frustrated lover can be annoyed at you very long—you are too charming, amusing, and entertaining. You relish being with people and possess lots of friends, and often more than one sweetheart. (Venus exercises its most provocative influence in Gemini.) This placement of Venus also excites a casual and loose hand for squandering money.
Those with Mars in Scorpio are possessed with great tenacity and relentless persistence. They can be become obsessed with their objectives and spare no expense when it comes to making their desires manifest. They have strength and resilience to withstand and overcome hardship and obstacles. Mars in Scorpio does not give up until they have exhausted all options. The purpose of their goals can be all-consuming and become the epicenter of their focus at the exclusion of everything else.

They have a never say die attitude but they have the type of determination that can drive them to the brink and beyond. There is underlying desire for transcendence and immortality through their work and achievements. They do not like to waste time and want to make the most of the life given to them. Their passion permeates everything they do and can sometimes manifest in spectacularly negative and frightening ways. Their tempers can be heated and make them sometimes quarrelsome and touchy. But they also possess great creative powers and you can feel the passion they put into the work they produce.
Thоѕе whо fall under thіѕ number аrе spiritual, humorous, knowledgeable, аnd charming. Thеу prefer isolation оvеr social activeness, but occasionally feel thе pinch оf loneliness. Thеу prefer thеіr own company rаthеr thаn being аmіdѕt а crowd, whеrе іt іѕ nоt easy fоr thеm tо open uр tо ѕоmеоnе іn аn emotional manner. Life number 7s аrе ѕоmеtіmеѕ egocentric since thеу believe thаt еvеrуthіng іѕ аbоut thеm. Whіle being practical аnd highly intellectual іn areas thаt allow thеm tо work оn а talent аrе impressive traits, thе flip-side shows thаt thоѕе wіth thіѕ number саn bе selfish, judgmental, аnd highly cynical.
Thе number 3 іѕ essentially optimistic, dеfіnіtеlу verbal аnd originally creative. Thеѕе аrе sociable, happy аnd amusing people whо саn аlѕо bе superficial, nоn-communicative аnd deceitful. Many 3s get accused оf being boring, оr whining gossip-mongers, hоwеvеr, represent energy, imagination аnd fun. It іѕ thе number оf creation аnd 3s аrе wеll-known fоr creating things аnd finding solutions.
It іѕ thе number оf triads, like раѕt, present аnd future; mother, father аnd child; аnd birth, life аnd death. Thе number 3 people аrе represented bу thе 'Empress' іn thе tarot cards. It іѕ astrologically linked tо Gemini аnd іѕ influenced bу Jupiter аnd Venus. 3 іѕ ruled bу fire аnd earth. Thе 3 people have pink, blue аnd gold auras аnd topaz іѕ thеіr most favorable gemstone. March аnd December аrе good months fоr thе number 3 people, whіlе Wednesday іѕ а good day fоr thеm.
The Dragon is one of the most powerful and lucky Signs of the Chinese Zodiac. Its warm heart tempers its fiery and rambunctious nature.  This is a giving, intelligent and tenacious Sign that knows exactly what it wants and is determined to get it. Dragons possess a certain natural, charm that ensures they can always influence their peers and often find themselves the center of attention in social situations.

This Sign is truly blessed, too. Dragons are considered to be very lucky in love. The Dragon's friends are always keen to hear what this firebrand has to say and when it comes to dispensing advice, the Dragon has the floor. Dragon people are confident and know how to make an impression. They are usually the center of attention and thrive in that role. Their natural enthusiasm and interest often lead them to positions of power and notice. 
Nurturing yet dangerous, vital and deadly, water is a ripe with contradiction. In moderate amounts it is a blessing, in over abundance, a curse. Water is the only element with the ability to put out fire and make things grow and thrive. Water is vital to our very survival. Without water crops wither and die and there is no food. The human body, and in fact, all life on Earth is dependent upon water. Yet, even for life, water has the potential to be deadly. Too much water in the body leads to water intoxication and even death. It is, however, a delicate balance.
Too little water and all life withers and dies with the effects of the hot sun. Too much water chokes out needed oxygen and drowns. It is for this very reason the element water is represented by the color black. Water rules intelligence and wisdom. People born under the element water are uncommonly intelligent and capable. For all their wisdom and reasoning ability, water people tend to have difficulty making and sticking to decisions. Diplomatic, and intuitive, water people are flexible. They have a special ability to 'go with the flow' and are usually easygoing.
The INFJ is one of the 16 MBTI personality types. INFJ stands for introvert (I), intuitive (N), feeling (F) and judging (J). The cognitive function stack for INFJ is as follows: Introverted intuition (Ni), Extraverted Feeling (Fe), Introverted thinking (Ti), and Extraverted Sensing (Se). INFJs are described as empathic introverts who, despite being an introvert, can appear fairly extraverted when they want to be. They have an interest in people and a desire to be helpful and supportive. INFJs may have to overcome some of their social anxiety in order to engage and connect with others the way they'd like.

Furthermore, INFJs are adept at understanding others on an intuitive level and can make for excellent counselors and psychologists. With their natural insight into human emotion and their depth of compassion, INFJs are able to put themselves in other people's shoes and understand what they are feeling or going through. INFJs seek harmony and avoid confrontation sometimes at their own expense. They can often deny what's best for themselves in favor of pleasing or helping others. INFJs can be very perfectionist and many possess strong verbal skills and writing ability along with a wonderfully creative mind.