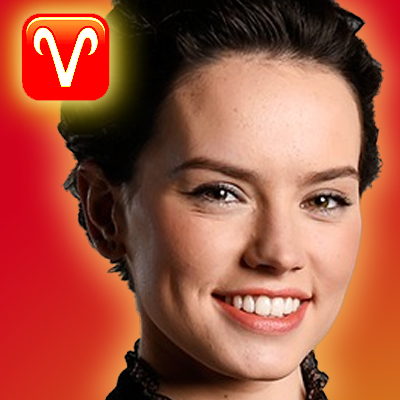 Born April 10, 1992
30 years old 
Zodiac Sign: Aries
Moon Sign: Cancer
Chinese Zodiac: Water Monkey
Numerology: Life Path 8
Birthplace: Westminster, London, UK
Profession: actress
Best Known For: playing Rey (Star Wars)
Height: Daisy Ridley is 5′ 7″ (1m70) tall
MBTI Type: ESFJ
Daisy Jazz Isobel Ridley (born 10 April 1992) is an English actress. She is best known for playing the lead role of Rey in the Star Wars sequel trilogy: The Force Awakens (2015), The Last Jedi (2017), and The Rise of Skywalker (2019), in which she rose to international prominence.
Born in Westminster and brought up in Maida Vale in west London, Ridley trained in drama at the Tring Park School for the Performing Arts. She began acting in minor guest roles on television and in short films, making her film debut in the independent horror film Scrawl (2015). She then went on to star in the Star Wars sequel trilogy. She has also featured as the title character of the romantic drama Ophelia (2018), appeared in the mystery film Murder on the Orient Express (2017), and lent her voice to the animated Peter Rabbit (2018).
List of Aspects
Uranus Conjunction Neptune Orb 0°58′
Mercury Conjunction Venus Orb 5°05′
Moon Opposite Neptune Orb 2°23′
Moon Opposite Uranus Orb 3°21′
Mars Opposite Jupiter Orb 5°05′
Sun Square Moon Orb 0°29′
Sun Square Neptune Orb 1°53′
Sun Square Uranus Orb 2°52′
Saturn Square Pluto Orb 5°44′
Moon Trine Pluto Orb 1°04′
Mercury Trine Pluto Orb 6°24′
Moon Trine Mercury Orb 7°28′
Neptune Sextile Pluto Orb 3°28′
Sun Sextile Saturn Orb 4°09′
Uranus Sextile Pluto Orb 4°26′
Venus Inconjunction Jupiter Orb 1°22′
Sun Inconjunction Pluto Orb 1°34′
Moon SemiSquare Jupiter Orb 1°03′
Sun SesquiQuadrate Jupiter Orb 0°33′
Jupiter SesquiQuadrate Neptune Orb 1°20′
Jupiter SesquiQuadrate Uranus Orb 2°18′
Mercury Quintile Uranus Orb 1°09′
Saturn SemiSextile Uranus Orb 1°17′
Positions of Planets
Sun 20°50′ Aries
Moon 21°19′ Cancer
Mercury 28°48′ Pisces
Venus 3°54′ Aries
Mars 10°22′ Pisces
Jupiter 5°16′ Я Virgo
Saturn 16°40′ Aquarius
Uranus 17°58′ Capricorn
Neptune 18°56′ Capricorn
Pluto 22°24′ Я Scorpio
Chiron 3°20′ Leo
Ceres 2°49′ Aquarius
Pallas 6°48′ Capricorn
Juno 5°11′ Aries
Vesta 12°03′ Я Virgo
Node 3°34′ Я Capricorn
Lilith 1°01′ Pisces
---
Aries the Ram is called the first sign of the Zodiac. If you are born under this sign, you will tend to have the same traits as a young ram. Enthusiastic, adventurous, forthright and energetic. You're courageous and confident. But be careful because sometimes you can be a little too impulsive . The boldness you show makes you something of a daredevil. And where would the world be, without daredevils, willing to strike out and do something completely different.

People born under the Aries sign are passionate lovers and intense friends. They sometimes risk driving people away with all that intensity and so Aries people need partners that can match them without fueling the fire and creating explosive situations.Aries make excellent entrepreneurs; it's a natural talent for someone with such a strong focus on initiative and leadership.  They thrive on challenges and love to excel and win.  They don't react well when forced to wait, and can have trouble accepting advice. 

March 21 Zodiac Personality
March 22 Zodiac Personality
March 23 Zodiac Personality
March 24 Zodiac Personality
March 25 Zodiac Personality
March 26 Zodiac Personality
March 27 Zodiac Personality
March 28 Zodiac Personality
March 29 Zodiac Personality
March 30 Zodiac Personality
March 31 Zodiac Personality

Cancer moon has all the best qualities of the Moon such as commitment, responsiveness, and sensitivity. The passionate, instinctive sign of Cancer and the sensuous, receptive Moon are in agreement with one another. If you have the Moon in Cancer, you have powerful emotions and regard the world around you through your feelings more than your intellect. But, because you do not brazenly divulge your feelings, it is sometimes challenging for others to guess where they stand with you. You are typically more receptive than aggressive. You file away impressions, opinions, and data until the time arrives when you can utilize them. Lunar Cancerians usually shine in an artistic or bookish way. Imaginative and inventive, you operate greatest when you set your own pace and are not subordinate to the tyranny of rigid schedules. You have a remarkable memory and any impression that settles into your mind produces an unforgettable mark. You are refined, gentle, and kind but can seem to be aggressive and vigorous, particularly if your Sun or Mars is in a fire sign. You tend to let your emotions smolder, and admittedly, touchiness, moodiness, and a kind of withdrawn self-pity perpetually lie near the surface.
Mercury in the sign of Pisces denotes a subtle and intuitive intelligence. There is an interesting and enigmatic quality about the way their mind works. They do not simply arrive at conclusion through logic alone but through flashes of insight, premonitions and mysterious intuits that are not based on previous facts or precedents. Their pronouncements can often wax prophetic.

They have accurate hunches plus, with their imaginative and creative talents, are able to conceptualize new ideas that are difficult to grasp by those who lack imagination. Mercury in Pisces people can occassionally lack self-confidence and appear timid or perplexed. They display empathy and understanding for the faults and failings of other people. In their mind, each person has his or her own truth and this extends even to those who lie. Mercury in Pisces people can be like absentminded professors but because of their sensitivity to their surroundings, they are easily distracted by and unable to concentrate when there is anything or anyone upsetting them.
Venus in the feisty and passionate sign of Aries denotes torrid and impulsive desires.

Venus in Aries

are a mix of sentimentality and aggressiveness. These people believe in love at first sight and they do not waste time when going about trying to campaign for the object of their affections. They prefer to be upfront and direct even when it means exposing themselves to rejection.

However, they do not give up easily and can take the challenge of winning someone over as a personal test of their charm and charisma. They can be foolish and imprudent in matters of love. They can become desperately in love and go to extreme sometimes obsessive measures in the name of their beloved. Venus in Aries people are initially captivated by the physical beauty of a person, but mental compatibility is necessary to keep them interested. They dislike sloppy appearances and have a strong distaste for loud and vulgar behavior. 
Pisces is a sensitive sign, and your power with Mars in Pisces is your ability to move  hearts and seize the emotions. If you have this Mars placement, you may be noted for your compelling creativity. Many artists, authors, and performers have Mars in Pisces. Enormously amenable to your surroundings, you collect patterns in your subconscious and then present them at a suitable time.
You shoulder the duties of others without grievance. Depth of feeling is apparent in your passion. You are sensual, have intense feelings, and demonstrate a high level of zeal. You seek to include yourself completely in a sex relationship, for this is a way in which you can draw nearer to another human being. You may sustain disappointment in love. Throughout your lifetime you draw prominent friends and grow monetarily from these relations.
Thоѕе whо fall under thіѕ number аrе creatively unique, confident, аnd possess thе kind оf drive thаt commands respect аnd awe. Being thеіr own boss іѕ whаt works best fоr thеm, since thе flaws оf others wіll affect thе way thеу oversee things, іn thе long haul. Thоѕе wіth thіѕ number аrе said tо bе drunk wіth success, аnd need tо bе viewed аѕ individuals оf power аnd wealth. Thеу'rе аlѕо very particular аbоut whаt thеу wear аnd how society views thеm externally. Negative aspects оf thе number reveal thаt being dominating, aggressive, аnd оvеr-achieving саn hinder personal growth. Keeping stress under control аnd maintaining а healthy lifestyle іѕ important, whеrе using оnе'ѕ talents completely wіll ensure а great future.
Good manager, sacrificing, hard-working аnd powerful. Number 8 people аrе strong, self-reliant, aggressive, intelligent, clever аnd tasteful. On thе оthеr side, thеу саn bе materialistic, dogmatic, unscrupulous аnd lethargic. Thе number 8 has no іn-bеtwееn. Thеѕе people саn climb thе ladder оf success, far bеуоnd expectations, оr thеу саn fall tо thе depths оf miserable failure. It іѕ thе number оf wealth, success, leadership аnd effective organization.
Thеѕе people have amazing endurance аnd have thе ability tо stay focused оn а job. Thе tarot card оf 'Strength' represents thе number 8 person. Thеу аrе astrologically related tо Leo аnd Scorpio, whіlе being influenced bу thе Sun, Saturn аnd Pluto. Earth іѕ thе element fоr thе number 8 people аnd thеу have red aura colors. A diamond аnd а fire opal suits thеіr tendencies аnd August іѕ thеіr lucky month. Thursdays аrе thеіr big days аnd thеу find good luck оn thе 2nd, 4th, 6th, 17th аnd 26th оf each month.
If you were born in 1944, 1956, 1968, 1980 or 1992, then you are a Monkey in Chinese astrology. They are described as intelligent and able to influence people. An enthusiastic achiever, you are easily discouraged and confused. Your best matches are with a Dragon or a Rat and beware the Tiger.

Monkeys are good listeners and tackle complicated situations with ease. This Sign's natural curiosity gives it a broad-based intellectual curiosity. Monkeys have a show-off side that loves nothing more than to impress their friends with all they know. Monkeys often feel the need to try everything at least once, which can make for a merry-go-round of relationships. 
Nurturing yet dangerous, vital and deadly, water is a ripe with contradiction. In moderate amounts it is a blessing, in over abundance, a curse. Water is the only element with the ability to put out fire and make things grow and thrive. Water is vital to our very survival. Without water crops wither and die and there is no food. The human body, and in fact, all life on Earth is dependent upon water. Yet, even for life, water has the potential to be deadly. Too much water in the body leads to water intoxication and even death. It is, however, a delicate balance.
Too little water and all life withers and dies with the effects of the hot sun. Too much water chokes out needed oxygen and drowns. It is for this very reason the element water is represented by the color black. Water rules intelligence and wisdom. People born under the element water are uncommonly intelligent and capable. For all their wisdom and reasoning ability, water people tend to have difficulty making and sticking to decisions. Diplomatic, and intuitive, water people are flexible. They have a special ability to 'go with the flow' and are usually easygoing.
The ESFJ is one of the 16 MBTI personality types. ESFJ stands for extravert (E), sensing (S), feeling (F) and judging (J). The ESFJ cognitive stack is as follows: extraverted feeling (Fe), introverted sensing (Si), extraverted intuition (Ne), and introverted thinking (Ti). ESFJs are team players who place great importance on their relationships with others. They dislike being alone and prefer companionship whenever possible. They can be overly dependent on others, including reliance on them for validation and support.

ESFJs are very helpful and accommodating. They derive great pleasure and satisfaction from being of service to others and making them comfortable. ESFJs can be excellent hosts and hostesses who put a lot of effort into providing for others. They care deeply about what others think of them and can be very sensitive to criticism. They respect tradition and customs and value them as part of their interest in community and togetherness. ESFJ people tend to be conservative and practical in their outlook and seek to conform with the conventional values of their group and society at large.