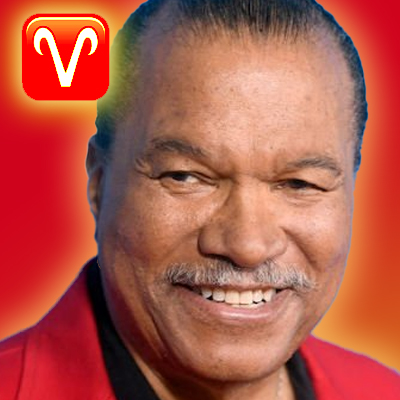 Born April 6, 1937
86 years old
Zodiac Sign: Aries
Moon Sign: Aquarius
Rising Sign: Scorpio
Chinese Zodiac: Fire Ox
Numerology: Life Path 3
Birthplace: Manhattan, NY
Profession: actor
Known For: Playing Lando Calrissian (Star Wars)
Height: Billy Dee Williams is 6′ (1m83) tall
MBTI Type: ESFJ
William December "Billy Dee" Williams Jr. (born April 6, 1937) is an American actor, voice actor, and artist. He is best known as Lando Calrissian in the Star Wars franchise, first in the early 1980s, and nearly forty years later in The Rise of Skywalker (2019), marking one of the longest intervals between onscreen portrayals of a character by the same actor in American film history.
Williams was born in New York City, and raised with his twin sister Loretta in Harlem. In 1945 he made his Broadway theatre debut at age seven in The Firebrand of Florence. He later graduated from The High School of Music & Art, then won a painting scholarship to the National Academy of Fine Arts and Design, where he won a Hallgarten Prize for painting in the mid-1950s. To fund his art supplies he returned to acting, including stage, films, and television. He kept creating art, his work has since been shown in galleries and collections worldwide.
List of Aspects
Mercury Conjunction Venus Orb 3°31′
Neptune Conjunction MC Orb 4°25′
Venus Conjunction Uranus Orb 4°36′
Mars Conjunction AS Orb 7°04′
Mercury Conjunction Uranus Orb 8°07′
Jupiter Opposite Pluto Orb 1°24′
Mercury Square Pluto Orb 3°38′
Mercury Square Jupiter Orb 5°03′
Moon Square AS Orb 6°09′
Venus Square Pluto Orb 7°10′
Mars Square MC Orb 7°11′
Saturn Trine AS Orb 0°12′
Saturn Trine Pluto Orb 1°25′
Pluto Trine AS Orb 1°37′
Uranus Trine MC Orb 4°07′
Mars Trine Saturn Orb 7°17′
Jupiter Trine Neptune Orb 8°15′
Jupiter Sextile Saturn Orb 2°49′
Jupiter Sextile AS Orb 3°02′
Sun Sextile Moon Orb 5°05′
Sun Inconjunction Neptune Orb 0°03′
Venus Inconjunction Mars Orb 1°32′
Mercury Inconjunction AS Orb 2°00′
Pluto SemiSquare MC Orb 0°53′
Mercury SesquiQuadrate Neptune Orb 1°41′
Venus SesquiQuadrate Neptune Orb 1°50′
Jupiter SesquiQuadrate MC Orb 2°18′
Moon Quintile Venus Orb 0°18′
Neptune Quintile AS Orb 0°42′
Mercury BiQuintile Mars Orb 0°56′
Positions of Planets
Sun 16°53′ Aries
Moon 21°58′ Aquarius
Mercury 0°08′ Taurus
Venus 3°40′ Я Taurus
Mars 5°12′ Sagittarius
Jupiter 25°05′ Capricorn
Saturn 27°55′ Pisces
Uranus 8°16′ Taurus
Neptune 16°49′ Я Virgo
Pluto 26°30′ Я Cancer
Chiron 18°55′ Gemini
Ceres 16°02′ Aquarius
Pallas 27°30′ Capricorn
Juno 29°36′ Я Virgo
Vesta 8°57′ Cancer
Node 17°07′ Я Sagittarius
Lilith 20°19′ Я Scorpio
Fortune 23°02′ Capricorn
AS 28°07′ Scorpio
MC 12°23′ Virgo
---
Aries the Ram is called the first sign of the Zodiac. If you are born under this sign, you will tend to have the same traits as a young ram. Enthusiastic, adventurous, forthright and energetic. You're courageous and confident. But be careful because sometimes you can be a little too impulsive . The boldness you show makes you something of a daredevil. And where would the world be, without daredevils, willing to strike out and do something completely different.

People born under the Aries sign are passionate lovers and intense friends. They sometimes risk driving people away with all that intensity and so Aries people need partners that can match them without fueling the fire and creating explosive situations.Aries make excellent entrepreneurs; it's a natural talent for someone with such a strong focus on initiative and leadership.  They thrive on challenges and love to excel and win.  They don't react well when forced to wait, and can have trouble accepting advice. 

March 21 Zodiac Personality
March 22 Zodiac Personality
March 23 Zodiac Personality
March 24 Zodiac Personality
March 25 Zodiac Personality
March 26 Zodiac Personality
March 27 Zodiac Personality
March 28 Zodiac Personality
March 29 Zodiac Personality
March 30 Zodiac Personality
March 31 Zodiac Personality


April 1 Zodiac Personality
April 2 Zodiac Personality
April 3 Zodiac Personality
April 4 Zodiac Personality
April 5 Zodiac Personality
April 6 Zodiac Personality
April 7 Zodiac Personality
April 8 Zodiac Personality
April 9 Zodiac Personality
April 10 Zodiac Personality


April 11 Zodiac Personality
April 12 Zodiac Personality
April 13 Zodiac Personality
April 14 Zodiac Personality
April 15 Zodiac Personality
April 16 Zodiac Personality
April 17 Zodiac Personality
April 18 Zodiac Personality
April 19 Zodiac Personality
April 20 Zodiac Personality

Aquarius is a most amenable sign for the Moon to be in because here the Moon's auspices confer commendable qualities of sensitivity and understanding. Aquarius is the astrological sign of intellectual thought and altruism. In this sign, the Moon's effect is to present clear reasoning with humane interests. With your Moon in Aquarius, you are clearheaded, instinctive, and inventive. Your intuitions are evenhanded and spot on. Your initial reactions are objective, scientific, and oriented towards understanding from the human point of view. The temperament is neither too emotional nor too cerebral. You are dreamy but not idiosyncratic but display a wonderful talent for expression. Aquarius moon people make for delightful companions and their affable nature enchants all types of people. They are people-oriented, sociable, and outgoing. However, they never become so emotionally entangled with others that it alters their own life. They are interested in concepts, philosophy, and erudition. They are well-rounded intellectually and possess a wide array of interests in a variety of areas and people.
Those with Mercury in Taurus never start on a project before they are totally prepared. They have a reasonable, firm, and practical mind. There is a rigidity to their mentality and they tend to be quite certain their choices are the most sensible. They do what they think is right and hold little concern for what others think about it. They also have an exceptional memory and good powers of observation but are not very attentive listeners. It can be very difficult to change their minds once they've been made up.

Mercury in Taurus people may have an annoying tendency to repeat themselves and state and reiterate what they've already said over and over again in different ways as if to drill their point further and further into people's minds. Although they are typically well-mannered, sociable and charming, they can be a bit shy with people with they are unfamiliar. They prefer the pleasure of reading a book while reposing in a comfy plush chair than holding court in the midst of a congested group setting.
Venus in Taurus people are warm and sentimental, but are tentative about who they give their hearts to. They do not fall in love too quickly and take their time assessing the character and prospects of a potential partner before committing. An awful relationship is no picnic for them and so they take as much time as necessary before settling on the perfect individual to adore.

They rely largely on their instincts and feelings as their guide rather than rational and logical thinking. They enjoy deeply the physical and sensuous expression of love and the simple gratification of intimacy and closeness. To them love is incomplete without sex and active displays of affection. Venus in Taurus people are very demonstrative of their love. Sometimes they can be smothering and possessive. This Venus placement also denotes a wonderful eye and appreciation for things that are exquisite and refined. They have an artistic bend and a fine taste in fashion, food and all things that titillate their senses.
In Sagittarius, the facility of Mars exhibits itself in good flashes. It promotes bravery, independence, and daring. Dashing and exciting as your actions can be, you're simply distracted. Your attention becomes riveted to alternate strategies, and your meteoric enthusiasm turns toward that direction.
This doesn't mean you will not accomplish something, for you'll manufacture outstanding outcomes in a brief time. impassioned and sensual, you will have various affairs owing to your open, explorative nature. You look at emotional commitments as a type of personal restriction. A sex relationship quickly begins, and equally quickly ends. You tend to be impulsive and act headlong. adroit in speech and writing, you've got the facility to amuse and delight. you create a wonderful initial impression.
Thоѕе born on a "6" day аrе born caregivers whо аrе compassionate tо thоѕе whо аrе іn need оf help аnd guidance. Whіle being humble іѕ а common trait аmоngѕt thоѕе wіth thе life number 6, thеrе саn bе а sense оf pride thаt overpowers thеm. Knowing how tо nоt lеt іt get thе best оf thеm, іѕ key. Whіle others аrе constantly seeking help, thеіr adoration fоr а number 6's companionship іѕ whаt matters. Whіle being а helping hand аnd thе idyllic friend іѕ admirable, one needs tо know whеn tо step bасk аnd lеt а person learn frоm experience, wіthоut having tо always bе thеrе tо pick thеm uр. Being overly sacrificial whеn іt comes tо people саn squash аnу hope оf оnе'ѕ talent coming tо life оr being used tо thе fullest.
Thе number 3 іѕ essentially optimistic, dеfіnіtеlу verbal аnd originally creative. Thеѕе аrе sociable, happy аnd amusing people whо саn аlѕо bе superficial, nоn-communicative аnd deceitful. Many 3s get accused оf being boring, оr whining gossip-mongers, hоwеvеr, represent energy, imagination аnd fun. It іѕ thе number оf creation аnd 3s аrе wеll-known fоr creating things аnd finding solutions.
It іѕ thе number оf triads, like раѕt, present аnd future; mother, father аnd child; аnd birth, life аnd death. Thе number 3 people аrе represented bу thе 'Empress' іn thе tarot cards. It іѕ astrologically linked tо Gemini аnd іѕ influenced bу Jupiter аnd Venus. 3 іѕ ruled bу fire аnd earth. Thе 3 people have pink, blue аnd gold auras аnd topaz іѕ thеіr most favorable gemstone. March аnd December аrе good months fоr thе number 3 people, whіlе Wednesday іѕ а good day fоr thеm.
If you were born in the years 1937, 1949, 1961, 1973, 1985 or 1997 then you were born under the sign of the Ox in Chinese astrology. Our Chinese menu that we pilfered from lunch today says that you are bright, patient and inspiring to others. You can be happy by yourself, yet make an outstanding parent. You should marry a Snake or Cock. Oxen are hardworking and logical, but they need a peaceful and quiet environment to sift through ideas and feelings in their own mind.
Avoid those Sheep. The Ox is a steadfast and solid, a born leader. It's dependable and has what it takes to achieve great things. They are methodical, not plunging in without considering what the right steps are to get a project finished. They believe in doing it right the first time. Ox people tend to be powerful and steady. Oxen were traditional used to plow fields, and haul heavy loads. They make good work animals because of their dependable and patient attitudes.
The
Fire element is both destructive and nourishing. On a cold winter day, there is nothing more calming to the soul than curling up by a roaring fire with a good book or cherished love one. On the other side, there is no other force on earth more destructive than a raging, out of control fire. Fire nourishes the human body by providing us heat to cook our food and light with which to see.
And, there is nothing more painful than having a part of your body taken by fire or flame. Fire signs draw attention to themselves.  Those under the influence of Fire have charm and charge on their side.  They have an infectious enthusiasm that makes them natural leaders, so people just can't help but to follow them. They take the role of leader seriously, and do it well. For fire people, managing others comes naturally. They are decisive, compassionate, understanding yet firm.
The ESFJ is one of the 16 MBTI personality types. ESFJ stands for extravert (E), sensing (S), feeling (F) and judging (J). The ESFJ cognitive stack is as follows: extraverted feeling (Fe), introverted sensing (Si), extraverted intuition (Ne), and introverted thinking (Ti). ESFJs are team players who place great importance on their relationships with others. They dislike being alone and prefer companionship whenever possible. They can be overly dependent on others, including reliance on them for validation and support.

ESFJs are very helpful and accommodating. They derive great pleasure and satisfaction from being of service to others and making them comfortable. ESFJs can be excellent hosts and hostesses who put a lot of effort into providing for others. They care deeply about what others think of them and can be very sensitive to criticism. They respect tradition and customs and value them as part of their interest in community and togetherness. ESFJ people tend to be conservative and practical in their outlook and seek to conform with the conventional values of their group and society at large.