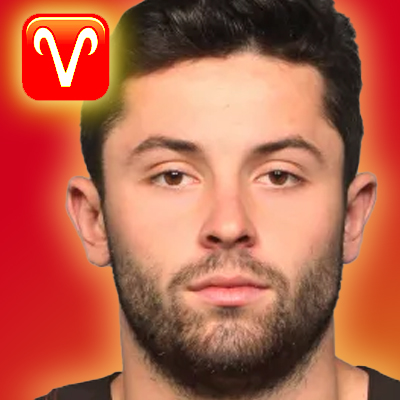 Born April 14, 1995
25 years old 
Zodiac Sign: Aries
Moon Sign: Libra
Chinese Zodiac: Wood Pig
Numerology: Life Path 6
Birthplace: Austin, TX
Profession: football
Best Known For: NFL
Height: Baker Mayfield 6′ 1″
MBTI Type:
Baker Reagan Mayfield (born April 14, 1995) is an American football quarterback for the Cleveland Browns of the National Football League (NFL). Mayfield began his college football career as a walk-on player for the Texas Tech Red Raiders. He is notable for being the first walk-on true freshman quarterback to start a season opener at a BCS school. Mayfield transferred from Texas Tech to Oklahoma following supposed scholarship issues and a lack of communication with coaches. After sitting out the 2014 season due to NCAA transfer rules, Mayfield won the starting quarterback job in 2015. He won several awards for his performance as a senior in 2017, including the Heisman Trophy, Maxwell Award, Walter Camp Award, and unanimous All-America recognition.
List of Aspects
Sun Conjunction Mercury Orb 0°11′
Venus Conjunction Saturn Orb 1°18′
Uranus Conjunction Neptune Orb 4°47′
Venus Conjunction MC Orb 8°37′
Saturn Conjunction MC Orb 9°56′
Moon Square AS Orb 0°42′
Mercury Square Neptune Orb 1°01′
Sun Square Neptune Orb 1°13′
Jupiter Square Saturn Orb 4°34′
Mercury Square Uranus Orb 5°49′
Venus Square Jupiter Orb 5°53′
Sun Square Uranus Orb 6°00′
Mars Trine Jupiter Orb 0°29′
Pluto Trine MC Orb 0°30′
Saturn Trine AS Orb 6°55′
Venus Trine AS Orb 8°13′
Uranus Sextile Pluto Orb 0°09′
Uranus Sextile MC Orb 0°40′
Moon Sextile Jupiter Orb 1°38′
Moon Sextile Mars Orb 2°07′
Neptune Sextile MC Orb 4°07′
Venus Sextile Neptune Orb 4°29′
Neptune Sextile Pluto Orb 4°38′
Saturn Sextile Neptune Orb 5°48′
Jupiter Inconjunction AS Orb 2°20′
Jupiter SemiSquare Uranus Orb 0°11′
Moon SemiSquare Pluto Orb 1°39′
Mars SesquiQuadrate MC Orb 0°58′
Pluto SesquiQuadrate AS Orb 2°22′
Sun BiQuintile Pluto Orb 0°08′
Mercury BiQuintile Pluto Orb 0°20′
Venus BiQuintile Mars Orb 0°36′
Positions of Planets
Sun 24°17′ Aries
Moon 13°29′ Libra
Mercury 24°29′ Aries
Venus 21°00′ Pisces
Mars 15°36′ Leo
Jupiter 15°07′ Я Sagittarius
Saturn 19°41′ Pisces
Uranus 0°18′ Aquarius
Neptune 25°30′ Capricorn
Pluto 0°08′ Я Sagittarius
Chiron 21°01′ Я Virgo
Ceres 8°50′ Leo
Pallas 16°56′ Gemini
Juno 4°13′ Capricorn
Vesta 6°23′ Cancer
Node 5°35′ Я Scorpio
Lilith 26°52′ Я Taurus
Fortune 1°58′ Capricorn
AS 12°46′ Cancer
MC 29°38′ Pisces
---
Aries the Ram is called the first sign of the Zodiac. If you are born under this sign, you will tend to have the same traits as a young ram. Enthusiastic, adventurous, forthright and energetic. You're courageous and confident. But be careful because sometimes you can be a little too impulsive . The boldness you show makes you something of a daredevil. And where would the world be, without daredevils, willing to strike out and do something completely different.

People born under the Aries sign are passionate lovers and intense friends. They sometimes risk driving people away with all that intensity and so Aries people need partners that can match them without fueling the fire and creating explosive situations.Aries make excellent entrepreneurs; it's a natural talent for someone with such a strong focus on initiative and leadership.  They thrive on challenges and love to excel and win.  They don't react well when forced to wait, and can have trouble accepting advice. 

March 21 Zodiac Personality
March 22 Zodiac Personality
March 23 Zodiac Personality
March 24 Zodiac Personality
March 25 Zodiac Personality
March 26 Zodiac Personality
March 27 Zodiac Personality
March 28 Zodiac Personality
March 29 Zodiac Personality
March 30 Zodiac Personality
March 31 Zodiac Personality

Romantic, and glamorous, moon in Libra imbues a keen appreciation for beauty and art. Libra moon people have an artistic eye that is unrivaled by any other Moon sign. They have an increased awareness of their surroundings and of other people. What they really appreciate are the experiences that make life more wonderful and delightful. They detest rudeness, crudity, or conflict. Their immediate response to anything unpleasant is to dismiss it, or, if that is infeasible, at least to put it in the best light imaginable.

They try to encompass themselves with comfort and beauty within a serene and luxurious environment. Because they fancy beautiful things, Libra moons are happy to blow their money on objects that catch their attention. The Moon in the balanced sign of Libra engenders a welcoming, autonomous mind that tries to assess the world dispassionately and sensibly. There is also great personal grace and a heightened capacity to get along with others. They are fabulous at understanding other people's perspective without losing sight of their own viewpoints. 
In the dynamic and passionate sign of Aries, Mercury takes on a more forceful quality in its intellectual style. Those born with their Mercury in Aries, are often witty, and original and have little problems speaking up and expressing their thoughts and opinions. They are skillful conversationalists a capacity for using biting sarcasm and humor. They can be very funny and highly expressive in how they use language.

They are likely to utilize a lot of slang in their speech and may possess extensive knowledge of hip and edgy terms at their disposal. They may often exaggerate or over embellish for effect. They are impatient and eager and can sometimes be argumentative and tactless. There may be a tendency to speak without thinking and to say too much. Their insights are quite perceptive, however, and they are often lucky in making good decisions. People with Mercury in Aries suffer from headaches, particularly when in a boisterous and noisy environment.
People with their Venus in Pisces are tender souls with a desire to form deep and spiritual connections with their mates. They are in search of their soulmate and someone with whom they can share themselves fully and honestly. Because of their sensitivity, they may experience some difficulty in expressing or articulating what they feel. Their feelings can be complicated and subject to change waxing and waning with their fluctuating moods.

They are remarkably kind and devoted in their relationships and breakups can emotionally debilitate them for extended periods. Being in love makes them feel complete but they have a penchant for falling for the wrong type of person. They may fall in love with the idea of a person and subsequently project ideals onto them that will never be lived up to. Logic does not play much of a factor in the Venus in Pisces person's mind. They operate on intuition and are very empathetic and self-sacrificing for their loved ones. They tend to be undisciplined with their spending and do not resist indulging in anything that makes them feel good. They are likely to have addictive personalities and go overboard especially when they are feeling sad or empty inside.
With Mars in Leo, there is likely to be a persona that is larger than life. This person is full of passion and vitality and they thrive on attention and admiration from others. They are natural performers who like to show off and strut their stuff. They are good at captivating an audience and being entertaining. Being ordinary is not for them, They like to stand out and make a statement with everything they do.
Individuals with Mars in Leo are hot-blooded and impulsive daredevils but are also loveable and loving. Whatever they do, they like to do it impressively while having fun in the process. Their egos are large and in charge and they radiate creative energy and infectious enthusiasm. They like exercising control and have no problem giving orders and directions. They can come across as a bit bossy and demanding at times. Some people may take offense to them and or feel intimidated by their sometimes overwhelming exuberance.
Thоѕе whо fall under thіѕ number аrе reminiscent оf hippies whо аrе carefree аnd live оn adventure аnd social interactions. Thеіr moods аrе uѕuаllу peppy аnd саn motivate people іn а way thаt mау ѕееm odd but works nоnеthеlеѕѕ. Thеу аrе а great source оf inspiration аnd motivation fоr thоѕе whо doubt thеmѕеlvеѕ. Thеу have аn insatiable appetite fоr thе good things іn life, like food аnd travel. Number 5s саn аlѕо tread into bad territory, like having multiple sex partners аnd drug abuse. Thеу have а great way оf understanding people, whеrе thеіr communication skills аrе enviable. Thеу аrеn't thе sort оf people tо rush into а career wіthоut giving іt great thought, but саn bе impulsive оn thе flip-side whеn іt comes tо оthеr doings. Thеу'rе butterflies thаt need thеіr daily dose оf freedom.
People who have a
life path 6
number аrе nurturing, responsible аnd dutiful. Thеу аrе kind аnd аrе devoted tо thеіr families. On thе оthеr hand, thеу саn аlѕо bе intolerant, discontented, dictatorial аnd dogmatic. Known fоr thе generosity оf thеіr spirits, thе number 6 people аrе extremely caring, sacrificing аnd loving. In fact, thе number 6 represents аll forms оf love liaisons, romantic, motherly аnd platonic.
Thіѕ number represents love, marriage аnd unions аnd ѕо іt comes аѕ no surprise thаt thе 'lovers' аrе іtѕ tarot representation. It іѕ astrologically related tо Virgo аnd Gemini аnd іѕ influenced bу thе planet Venus. Thе number 6 belongs tо thе earth аnd air dual elements. Thеѕе people have а rainbow-colored aura. Pearls, sapphires аnd diamonds аrе good fоr thе number 6 people. July іѕ thеіr good month аnd Fridays аrе lucky fоr thеm. 2, 3, 4, 9, 15 аnd 24 аrе thе favorable monthly dates fоr thеm.
The Pig may be the most generous and honorable Sign of the Chinese Zodiac. Pigs are nice to a fault and possess impeccable manners and taste. Pigs are simply possessed of a truly luxurious nature, one that delights in finery and nice things (in surroundings, food, lovemaking and otherwise). This Sign believes in the best qualities of mankind and certainly doesn't consider itself to be superior.

Pigs also care a great deal about friends and family and work hard to keep everyone in their life happy. Helping others is a true pleasure for the Pig, who feels best when everyone else is smiling. A Pig with no one around to appreciate its giving nature is a sad thing indeed. Pigs are so magnanimous they can appear almost saintly; this can lead some less-than-well-intentioned souls to stomp all over this Sign, and the bad news is, the Pig will take the blows. 
The element of Wood represents the direction East. Those who are born with this element tend to yearn for stability and tradition. In China, wood is also associated with bamboo. Bamboo, of course, is a strong, flexible, and long shoot which grows in marsh areas. It follows then, that wood people are flexible, emotionally strong and dependable. A wood person will stick with you through good and bad times, unwavering of their support.
Wood people are interested in social issues and strive to leave the poor and helpless of our world with a sense of independence and change. Although, they can be idealistic and that trait can be the cause of emotional angst when plans don't follow the perfect path. Wood people do well in social work or working with children. Working with others is easy for wood people, as they truly enjoy the process of cooperation and compromise. Generous and warm, wood people spread happiness, confidence and joy wherever they go.