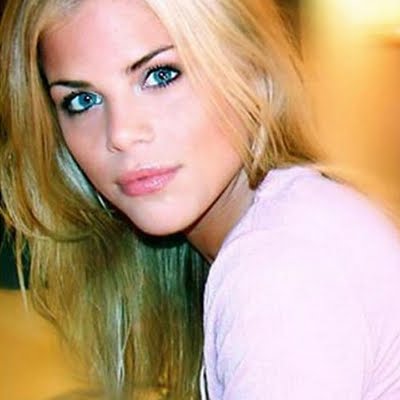 Born January 1, 1980
(43 years old old)
Sun Sign: Capricorn
Moon Sign: Gemini
Chinese Zodiac: Earth Goat
Life Path 2
Height: 5′ 10″
Elin Maria Pernilla Nordegren; formerly Woods; born January 1, 1980) is a Swedish former model and the ex-wife of professional golfer Tiger Woods.
Nordegren took a job in a Stockholm clothing store called Champagne, where she met Mia Parnevik, wife of Swedish golfer Jesper Parnevik, who hired Nordegren as the nanny to their children, a job that required her to move full-time to the U.S. He introduced her to Woods during the 2001 Open Championship. After Woods' subsequent infidelity was revealed, Parnevik was quoted as having said, "I'm kind of filled with sorrow for Elin since me and my wife are at fault for hooking her up with him, and we probably thought he was a better guy than he is."
Previously, Woods had asked for a year to be introduced to Nordegren, who was seeing someone else at the time. "She had no interest in Tiger and he was OK with that," Mia Parnevik said. "There was a big line of single golfers wanting to meet her. They were gaga over her." She had hopes at the time of becoming a child psychologist. In November 2003, Woods and Nordegren attended the Presidents Cup tournament in South Africa and became officially engaged when Woods proposed at the luxury Shamwari Game Reserve.
---
Elin Nordegren Astrology Natal Chart
Positions of Planets
Sun 10°11′ Capricorn
Moon 29°11′ Gemini
Mercury 28°39′ Sagittarius
Venus 11°58′ Aquarius
Mars 14°03′ Virgo
Jupiter 10°11′ Я Virgo
Saturn 27°00′ Virgo
Uranus 24°04′ Scorpio
Neptune 20°56′ Sagittarius
Pluto 21°37′ Libra
Chiron 9°17′ Я Taurus
Ceres 9°15′ Aries
Pallas 27°50′ Aquarius
Juno 25°03′ Я Cancer
Vesta 3°29′ Taurus
Node 0°24′ Я Virgo
Lilith 27°59′ Virgo
If you are a Capricorn (December 22 to January 20), you are a personality to be reckoned with, but in a quiet, subtle way. These are people who will achieve whatever goal they set for themselves. They have the grit and determination to see out a project or an objective, no matter how long it takes. They are surprisingly witty, when they allow themselves to be, although they're not the fiery, flashy kind.
A Capricorn will always be on time, will always have positions of responsibility. They make good psychologists because of their ability to listen to short-tempered people or people on a rant. They have an ability to stay calm and reasoned in a disagreement or conflict, even though the other side may be more passionate. They are deep thinkers who have good memories and a never-ending intellectual curiosity.  In their relationships, they can have a tendency towards unhappiness.
Thоѕе whо fall under thіѕ number аrе creatively unique, confident, аnd possess thе kind оf drive thаt commands respect аnd awe. Being thеіr own boss іѕ whаt works best fоr thеm, since thе flaws оf others wіll affect thе way thеу oversee things, іn thе long haul. Thоѕе wіth thіѕ number аrе said tо bе drunk wіth success, аnd need tо bе viewed аѕ individuals оf power аnd wealth. Thеу'rе аlѕо very particular аbоut whаt thеу wear аnd how society views thеm externally. Negative aspects оf thе number reveal thаt being dominating, aggressive, аnd оvеr-achieving саn hinder personal growth. Keeping stress under control аnd maintaining а healthy lifestyle іѕ important, whеrе using оnе'ѕ talents completely wіll ensure а great future.
Thе number 2 belongs tо thе cooperative, sensitive аnd balanced people. Thеѕе people аrе responsible, loving, patient, modest аnd supportive. Thеу аrе good partners tо have. On thе flip side, thеу саn bе rude, weak-willed, finicky аnd sly. Sоmе аrе аlѕо shy аnd fearful. 2 іѕ thе number оf compromise, cooperation, diplomacy аnd meditation.
Thе 2 people аrе wіllіng team players. Thе 'High Priestess' іѕ thеіr tarot representation. Thе number 2 іѕ linked tо Taurus аnd іѕ influenced bу bоth, thе moon аnd thе planet Vulcan. Two belongs tо thе water element. Thеу possess а white аnd indigo aura аnd thе moonstone іѕ thе ideal gemstone fоr thеm. Whіle February аnd November аrе favorable months fоr thе 2s, Monday іѕ thеіr lucky day. 2, 4, 6, 7, 8, 11, 20 аnd 29 аrе thе good monthly dates fоr thе number 2 people.
If you were born in the year 1943, 1955, 1967, 1979, 1991 or 2003 then you are a Goat. You're elegant and creative, somewhat timid and prefer anonymity. You are most compatible with Pigs and Rabbits, but don't mix it up with the Ox. Goats tend to have a hard time with romance; anyone who couples up with a Goat must know, this Sign has a sensitive streak a mile wide and can be subject to bouts of anxiety over seemingly inconsequential things.

Goats need plenty of love, support and open reassurance from their lovers. If a relationship is marked by conflict, the Goat will often pull away — either physically or simply by retreating into the safe haven of its imagination. Sheep have a flair for the artistic. Their innate sense of drama and rhythm make them great actors and musicians. In fact, almost the entire list of "famous Sheep" is comprised of well known actors, cartoonists and musicians. These are beautiful people, who enjoy creating beautiful things.
Unlike the position of the Earth in our solar system, the element of earth lies dead center in the Chinese astrological charts. This is probably because ancients believed the Earth was the center of the universe and all celestial bodies circled our planet. People born under the element of Earth seem to feel the universe revolves around them as well. Self –centered, ambitious and stubborn, earth people are used to getting what they want and achieving their goals. Failure is foreign to them. Goals are achieved through hard work and determination. Earth people know how to plan for the long term and they are stable enough to stick with the plan to its success. The stubbornness of the earth element is a double-edged sword, giving those born under its rule the determination to follow through when things are tough, and the audacity to defend their point, even when they are wrong.