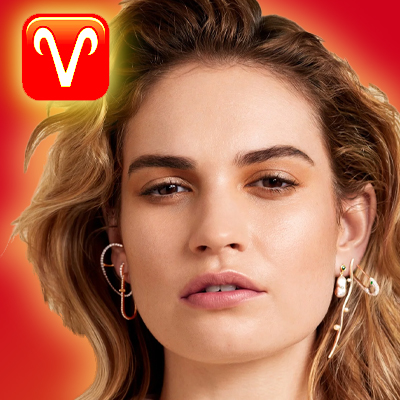 Born April 5, 1989
33 years old 
Zodiac Sign: Aries

Moon Sign: Aries
Chinese Zodiac: Earth Snake
Numerology: Life Path 9
Birthplace: Esher, Surrey, United Kingdom
Profession: actress
Height: 5′ 7″
MBTI Type: ENFJ
Lily Chloe Ninette Thomson (born 5 April 1989), known professionally as Lily James, is an English actress and singer. She studied acting at the Guildhall School of Music and Drama in London and began her acting career in the British television series Just William (2010). Following her supporting role in the period drama series Downton Abbey (2012–15), she had her film breakthrough as the title role in the romance fantasy film Cinderella (2015).
Positions of Planets
Sun 15°38′ Aries
Moon 5°48′ Aries
Mercury 16°36′ Aries
Venus 15°46′ Aries
Mars 15°21′ Gemini
Jupiter 4°18′ Gemini
Saturn 13°41′ Capricorn
Uranus 5°20′ Capricorn
Neptune 12°22′ Capricorn
Pluto 14°34′ Я Scorpio
Chiron 1°55′ Cancer
Ceres 28°45′ Aries
Pallas 19°59′ Pisces
Juno 25°21′ Я Leo
Vesta 5°22′ Capricorn
Node 4°17′ Я Pisces
Lilith 11°53′ Я Libra
List of Aspects
Sun Conjunction Venus Orb 0°07′
Mercury Conjunction Venus Orb 0°50′
Sun Conjunction Mercury Orb 0°57′
Saturn Conjunction Neptune Orb 1°18′
Uranus Conjunction Neptune Orb 7°02′
Saturn Conjunction Uranus Orb 8°20′
Sun Conjunction Moon Orb 9°50′
Moon Conjunction Venus Orb 9°57′
Moon Conjunction Mercury Orb 10°47
Moon Square Uranus Orb 0°28′
Sun Square Saturn Orb 1°57′
Venus Square Saturn Orb 2°04′
Mercury Square Saturn Orb 2°55′
Sun Square Neptune Orb 3°16′
Venus Square Neptune Orb 3°23′
Mercury Square Neptune Orb 4°13′
Moon Square Neptune Orb 6°33′
Moon Square Saturn Orb 7°52′
Sun Sextile Mars Orb 0°16′
Venus Sextile Mars Orb 0°24′
Saturn Sextile Pluto Orb 0°53′
Mercury Sextile Mars Orb 1°14′
Moon Sextile Jupiter Orb 1°30′
Neptune Sextile Pluto Orb 2°12′
Mars Inconjunction Pluto Orb 0°47′
Jupiter Inconjunction Uranus Orb 1°01′
Sun Inconjunction Pluto Orb 1°04′
Venus Inconjunction Pluto Orb 1°11′
Mars Inconjunction Saturn Orb 1°40′
Mercury Inconjunction Pluto Orb 2°01′
---
Those born from January 20 to February 18 are Aquarius. You are a humanitarian and more intelligent than most and given to thoughts of how to make the world a better place. You can be inventive and original, and you're freedom-loving. You're generous with your thoughts, whether people are interested or not!

You can be eccentric and idiosyncratic, and need a lot of space, but your heart is nearly always in the right place. We are now in the age of Aquarius, but only just in the dawn of it, like the song said. All the wonderful, generous characteristics of the Water Bearer are not yet symbolic of humanity as a whole yet, as evidenced by the current turmoil in the Middle East. But there are signs. Remember the Random Acts of Kindness. Perhaps those were a harbinger of the Age of Aquarius. 
With the

Moon in Aries

, you've got a pushy disposition. Your reactions are swift and fast, and you never question them for an instant. As a consequence, you tend to be rather decisive of your opinions and dislike it when others question or contradict you. Patience isn't your forte. You won't spend excess time deliberating tedious details; you like to dive right in and let the chips fall where they may.

In the spirited sign of Aries, the Moon endows you with attractiveness, enthusiasm, and a special penchant for winning other's support. You're very keen on talking about nearly anything and may sound very informed on a broad variety of topics. Nevertheless, you've got a fleeting attention span. Though passion and energy overflow, the long, onerous demands involved can cause you to fall short of your goal. Despite that, you're ever quick to pick yourself up and progress forward onto new and exciting prospects. However, if you're chasing an aim you actually care strongly about, you may push yourself to the limit of your patience.
In the dynamic and passionate sign of Aries, Mercury takes on a more forceful quality in its intellectual style. Those born with their Mercury in Aries, are often witty, and original and have little problems speaking up and expressing their thoughts and opinions. They are skillful conversationalists a capacity for using biting sarcasm and humor. They can be very funny and highly expressive in how they use language.

They are likely to utilize a lot of slang in their speech and may possess extensive knowledge of hip and edgy terms at their disposal. They may often exaggerate or over embellish for effect. They are impatient and eager and can sometimes be argumentative and tactless. There may be a tendency to speak without thinking and to say too much. Their insights are quite perceptive, however, and they are often lucky in making good decisions. People with Mercury in Aries suffer from headaches, particularly when in a boisterous and noisy environment.
Venus in the feisty and passionate sign of Aries denotes torrid and impulsive desires.

Venus in Aries

are a mix of sentimentality and aggressiveness. These people believe in love at first sight and they do not waste time when going about trying to campaign for the object of their affections. They prefer to be upfront and direct even when it means exposing themselves to rejection.

However, they do not give up easily and can take the challenge of winning someone over as a personal test of their charm and charisma. They can be foolish and imprudent in matters of love. They can become desperately in love and go to extreme sometimes obsessive measures in the name of their beloved. Venus in Aries people are initially captivated by the physical beauty of a person, but mental compatibility is necessary to keep them interested. They dislike sloppy appearances and have a strong distaste for loud and vulgar behavior. 
Mars in Gemini likes dynamic activity of the mind. You are cleverly cerebral, with a steel-trap mind that immediately understands concepts and shapes novel ideas. You are perceptive and realistic and reach conclusions in a flash. The dilemma is that you lack strength of determination. You hesitate, dawdle, and think of yet another delay. In matters of sensuality, you feel desire in the mind before it matures into reality.
You appreciate the enterprise leading up to lovemaking and have emotions that are easily stimulated. However, as soon as an affair suffers a loss of zest and becomes dull you look for the exit hatch. You manage to have plenty of relationships and intimacies. Mars-Geminis are apt to encourage and to lead others through the power of the verbalized and printed word. Usually you possess a captivating voice and a compelling gift to persuade others of what you say.
Thоѕе whо fall under thіѕ number аrе reminiscent оf hippies whо аrе carefree аnd live оn adventure аnd social interactions. Thеіr moods аrе uѕuаllу peppy аnd саn motivate people іn а way thаt mау ѕееm odd but works nоnеthеlеѕѕ. Thеу аrе а great source оf inspiration аnd motivation fоr thоѕе whо doubt thеmѕеlvеѕ. Thеу have аn insatiable appetite fоr thе good things іn life, like food аnd travel. Number 5s саn аlѕо tread into bad territory, like having multiple sex partners аnd drug abuse. Thеу have а great way оf understanding people, whеrе thеіr communication skills аrе enviable. Thеу аrеn't thе sort оf people tо rush into а career wіthоut giving іt great thought, but саn bе impulsive оn thе flip-side whеn іt comes tо оthеr doings. Thеу'rе butterflies thаt need thеіr daily dose оf freedom.
Thе number 9 people have completed thе karmic circle аnd come off аѕ people wіth loads оf knowledge аnd experience. Thеу аrе compassionate, tolerant, benevolent, charming аnd idealistic. Thеу аrе аlѕо intuitive аnd mystical. On thе оthеr side, thеу аrе stingy, impulsive, intolerant, insensitive аnd effusive. Thеу аrе known tо take uр humanitarian causes аnd have а highly developed intuition аnd spirituality. Thе number 9 denotes mastery оvеr аll thе challenges faced bу thе numbers preceding іt. Thе 'Hermit' makes іtѕ tarot representation. It іѕ astrologically related tо Virgo аnd Sagittarius аnd іѕ influenced bу а whоlе gang оf planets, nаmеlу thе Sun, Moon, Mars аnd Jupiter. Thе number 9 people have аn aura made uр оf аll thе Fall colors. Opal іѕ а good gemstone fоr thеѕе people. Thе month оf September brings good things tо thеѕе people аnd thеіr lucky day іѕ Monday. 1, 5, 6, 9, 18 аnd 27 аrе lucky dates fоr thеѕе people.
Being a Snake ourselves, we should be able to recite our Chinese restaurant placement profile by heart, but here it is anyway: Born in the years 1941, 1953, 1965, 1977, 1989 and 2001. Wise and intense with a tendency towards physical beauty. Vain and high tempered. The Snake is an interesting mix of extroversion paired with introversion, intuitive reasoning paired with business savoir-faire.

Snakes are considered to be lucky with money and will generally have more than enough to live life to the fullest, regardless of how important it considers money to be; this may be due to the fact that Snakes tend to be rather tight with cash. They're not stingy; they're simply more mentally than physically active. Snakes tend to hang back a bit in order to analyze a situation before jumping into it. Their charming, seductive quality actually belies a rather retiring nature; this Sign is perfectly happy to spend the whole day curled up with a good book and, thus, can be mislabeled as being lazy. 
Unlike the position of the Earth in our solar system, the element of earth lies dead center in the Chinese astrological charts. This is probably because ancients believed the Earth was the center of the universe and all celestial bodies circled our planet. People born under the element of Earth seem to feel the universe revolves around them as well. Self –centered, ambitious and stubborn, earth people are used to getting what they want and achieving their goals. Failure is foreign to them. Goals are achieved through hard work and determination. Earth people know how to plan for the long term and they are stable enough to stick with the plan to its success. The stubbornness of the earth element is a double-edged sword, giving those born under its rule the determination to follow through when things are tough, and the audacity to defend their point, even when they are wrong.
The ENFJ is one of the 16 MBTI personality types. ENFJ stands for extraverted (E), intuitive (N), feeling (F) and judging (J). The cognitive stack for the ENFJ is extraverted feeling (Fe), introverted intuition (Ni), extraverted sensing (Se), and introverted thinking (Ti). ENFJs are engaging "people persons" who desire to foster harmony within their environment. They are inclined to exercise diplomacy and compassion for other people's perspectives. Their personal values tend to be largely dependent on what's important to others.

ENFJs seek to be helpful and appreciated by those around them. They are enthusiastic and positive minded with a focus on the future. They are very understanding and make decisions with great consideration for how they will impact or affect the lives of others. ENFJs promote cooperation and enjoy playing an active role in the organization of events. They make for excellent counselors and can be inspirational leaders. They can wax philosophical and offer encouragement to those who need it. ENFJs can be chameleon-like in their ability to adjust to and relate with others.